What SUP With The Werner Paddles Bent Shaft Grand Prix Race Paddle?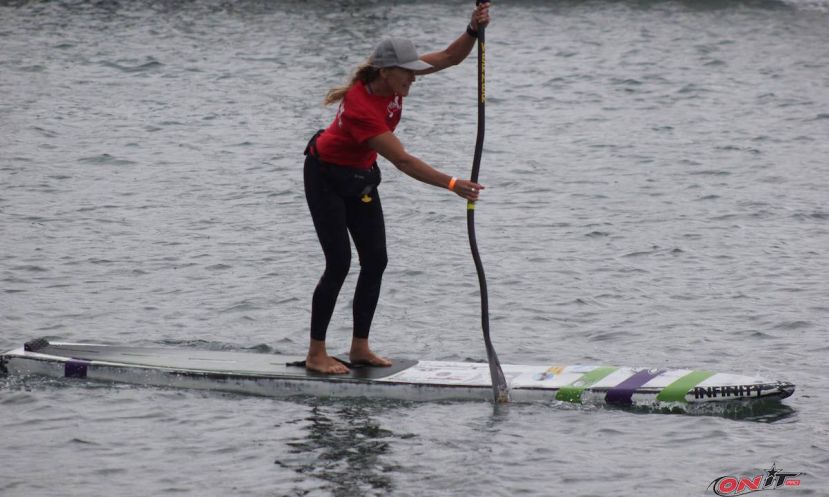 Kristin Thomas is a firm believer in bent shaft, and in the 50 and over class is a spokeswoman for those who should be paying the most attention to its benefits. | Photo: Onit Pro
SULTAN, Washington - So many people come see the Werner Paddles crew at stand up paddle races and ask, what's up with the Werner Paddles Grand Prix bent race paddle? But even with interest due to its strange look, you hardly ever see any on the water...so what's up with that? Here, Werner Paddles gives us a look at the story behind it.
First, let's start by taking a quick look at what the design does for a racer and why Werner Paddles invested in the concept. (Werner is actually the leader in bent shaft kayak paddles and the innovator of the fit option in production SUP paddles.) So, the primary benefit to the Bent Shaft in SUP is how it naturally aligns your wrists in a more ergonomic position, no matter how tightly you grip the shaft. As we over exert and fatigue it is natural for technique to break down and a loose grip to become a tight one. Plus, many paddlers just like the confidence of all four fingers in contact with their bottom hand and hold on too tight without knowing better. As we tighten our grip for whatever reason, the hand to wrist alignment contorts into an uncomfortable and dangerous position.
Proper ergonomic hand, wrist and forearm position alleviates stress and strain and the potential for injury. So, the more natural alignment created by bent shaft makes for a great fit option for those racing or anyone looking to protect their body. So that sounds great! A more confident grip with less chance for causing pain and injury — well then why do you not see more of them on the water if the benefits are so great? It must be the price? No, not really. With the costs of many top end race paddles easily making it to the $500 mark these days, the $465 of the Grand Prix in a bent shaft is right in there. Plus, as we get older but still want to play, can we put a cost on preventing injury?
| | |
| --- | --- |
| | |
Pictured: (L) Example of over-gripping with the straight shaft. Note the angle at which the knuckles are to the wrist. / (R) Note that with bent shaft, even with a secure 5 finger contact with the shaft, the forearm, wrist and knuckles are in a straight-ergonomic alignment. | Photo Courtesy: Werner Paddles
The next bit of reasoning you might be thinking is that it must be a lot heavier. While it does add about 3.5 ounces, but when you factor weight vs. pain, more people should really accept the tiny difference and protect their bodies.

What it really comes down to is that these paddles are difficult for dealers to sell and therefore there are not a lot to try out. Due to the fact that the length from the palm grip to the grip area needs to remain consistent, to get the ergonomic benefits for a wide range of paddlers, dealers cannot cut the top off and glue the handle in and fit many size paddlers with one paddle. So, this means A LOT of sizes are needed (especially when you factor in three blade sizes) and a A LOT of dollars tied up in inventory. So it's a chicken or the egg kind of scenario. Bent shaft is not popular, so it is hard for a dealer to stock lots of it. BUT, since paddlers have a limited ability to touch it and paddle it...bent shaft is not popular. Werner Paddles have always chosen to support the local surf and paddle dealers and not sell direct, making these paddles hard to get a hold of.
Werner marketing manager, Danny Mongno, was the contributing author to this piece and he had this to add, "My goal was not to make this a sales piece, but really just enlighten paddlers about a fit option that means so much to me. Last year I trained hard for and was able to race the 31 mile Chattajack race in Tennessee. Mile after mile and hour after hour you are trying to find things to take your mind off the agony of that distance, so I found myself thinking a lot about my paddle. Bent shaft is a huge reason why I can still paddle, especially compete. At 43, now my wrists and hands have taken a beating after decades of paddling. Like many paddlers, I didn't have the benefit of high-end coaching, so I was self-taught and bad habits lead to aches and pains down the road. I'm not saying bent shaft is for everyone, but I KNOW it will help a lot of people. I really wanted to share this piece with the hope that more people will give it some thought knowing it is an option that could help."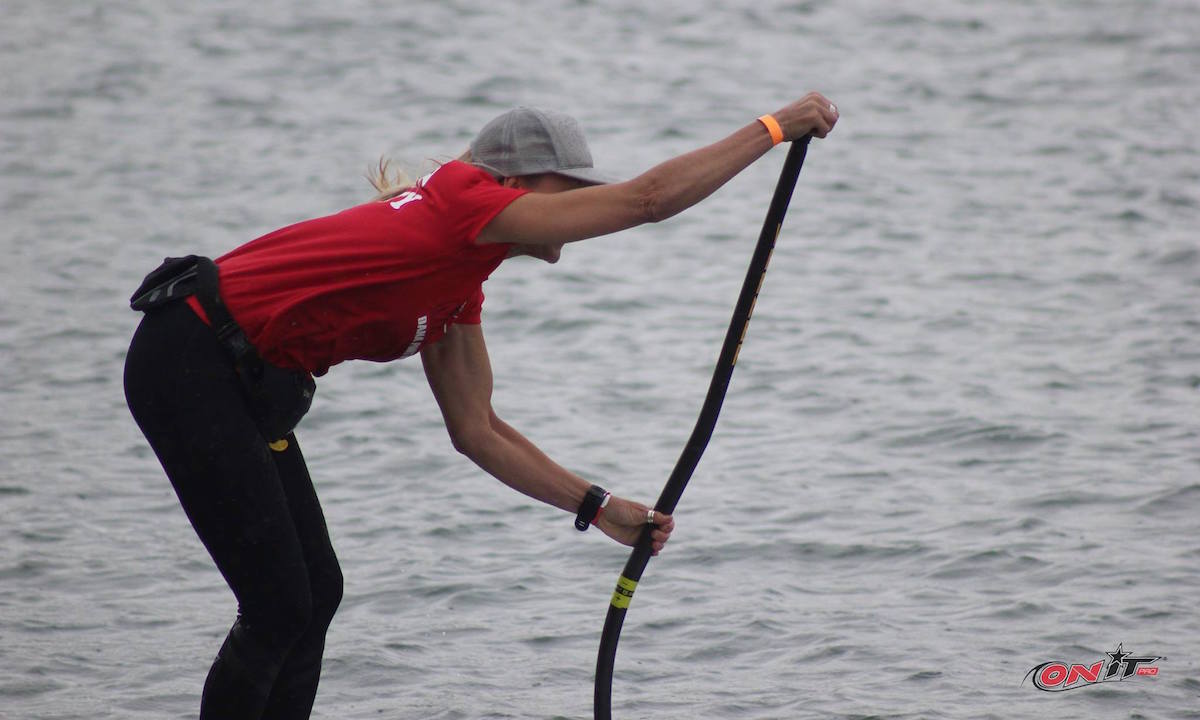 Kristin Thomas loves the bent shaft shape of the Grand Prix. | Photo: Onit Pro
So there you kind of have it, that's what's SUP with the design idea and sales limitations of the bent shaft Grand Prix race paddle.
To see more SUP Gear, click HERE.
Last modified onWednesday, 13 April 2016 12:10

Submit your news, events, and all SUP info, so we can keep promoting and driving the great lifestyle of stand up paddling, building its community, and introducing people to healthier living.
Website: supconnect.com