2017 Spring Paddle Boarding Gear Guide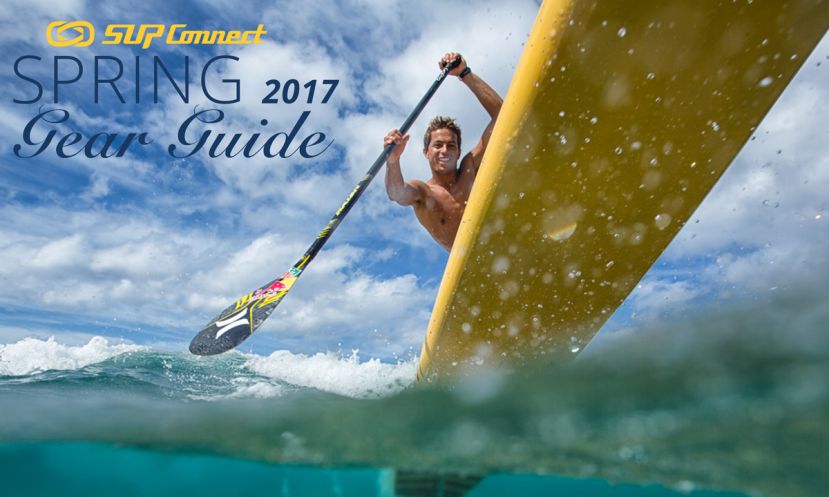 SAN DIEGO, California - The sun is starting to shine, ice is melting and spring is starting to peek it's head around the corner. With temperatures rising and waterways defrosting into lakes and rivers again, it's time to start getting geared up and ready to get back on the water and out of the winter hibernation. Here, we've put together a list of SUP gear, accessories, and of course boards for everyone from a beginner to the advanced SUP'er for the 2017 Spring paddle boarding season, so there's sure to be something in this guide for everyone!
Take a look at the 2017 Spring Gear Guide below:
Paddles & Accessories
Werner Rip Stick

The Rip Stick is the answer to what stand up paddle surfers want. More power from a smaller blade. To generate more power, we developed an innovative double concave dihedral in the power face of the blade. Power pockets from the dihedral accelerate you into more waves, outrace outside sets and blast over foam piles. The double concave shape of the blade face also creates a super stable stroke, for all the crazy angles you'll find yourself paddling.

Slingshot Traveler Paddle

With the ability to be separated into three pieces for luggage stowage when traveling, Slingshot's Traveler is the ideal choice for those wanting a sturdy adjustable paddle in a package small enough fit into a checked-bag at the airport or the same stock bag as one of Slingshot's inflatable boards. When pieced together, the Traveler paddle is adjustable from 66 - 97" with the easy-to-use Slinglock clamp installed, making any on-the-fly adjustments a breeze.

LiftSUP Handle

The LiftSUP Handle from SUP Think Tank is constructed of recycled, reinforced polycarbonate and is a patented retractable handle that allows the user a significantly safer and more comfortable way to carry, maneuver and secure their board. The LiftSUP handle sits flush with with the deck of the board when not in use and leaves no large openings to step onto or into. The handle also has a strength of over 850 lbs which provides a solid attachment point for a lock and cable to deter theft.

Fusion STEREOACTIVE™

The STEREOACTIVE is the world's first portable floating watersports stereo, designed for the challenge of life on the water. The combination of world-class industrial design, high quality music reproduction, intelligent functionality and an extensive feature set has resulted in a rugged portable stereo that is prepared for anything. Sources include Bluetooth, radio tuner, USB and iPhone & Android audio playback and charging. Let STEREOACTIVE provide the soundtrack to your next SUP Adventure.

SUP Pocket

Don't have any bungee chords on your SUP to hold gear? Enter the SUP Pocket. Made in the USA from quality, durable components, easy to attach and remove with its four super-strong suction cups. The zipper design keeps your items securely inside the supPOCKET and attached to the board. The supPOCKET's super low profile design means that it's less affected by wind or water.


BOTE Kula

The five gallon bucket and cooler are some of BOTE's best selling attachments. Meet the KULA 5, a new cooler that combines the best parts of a cooler with a five gallon bucket. Use it as a cooler, seat, bait-well, rod holder, cast net holder, equipment storage or just about anything that you can do with a five-gallon bucket. The KULA 5 is the ultimate attachment for any SUP board.
Boards - Inflatables
SIC Maui Flow Air Glide

The FLOW Inflatable series is the inflatable alternative to the FLOW 9.6, 10.6 and 11.6. With all of the same attributes of the Air Glides, but more generous volumes, the FLOW inflatables are a stable and economical first step in your SUP career. New technology is SIC's Stringer Support Technology (SST) which, provides structure and rigidity to the board when inflated, but collapses and folds to store inside of a backpack.

SIC Maui Bullet Air Glide

The Air Glide Bullet is the inflatable version of the Supconnect Award-Winning Bullet. The board is ideal for touring, racing and of course the downwinders. The board uses Dyneema stringer technology (DST) which utilizes an ultra durable single layer PVC tarpaulin skin and has double reinforced rail construction.

Surftech AT11 Ranger

The new Air Travel Series introduces three unique inflatable shapes to the Surftech lineup that provide boards for paddlers looking for the best option for their recreational and touring adventures. The new boards combine progressive outlines, strategically placed handles with integrated deck pads and fin boxes, and the most advanced technology to create one of the most lightweight inflatable compact travel partners.

NSP O2 Inflatable Allround


With its generous volume, it's easy to balance for riders of all sizes and skill levels. It features a modern, double concave bottom shape and fluid outline which will make this a super fun board on flatwater and in the surf, under light to medium conditions. If you are into SUP Yoga – this board provides the perfect platform! It is also a perfect cross-trainer, recreational flat-water paddler and light wave board. Developed to make the sport accessible to all skill levels it has generous width making it a great first board.

Starboard Touring Deluxe

A highly efficient shape for cruising and exploring with good glide to cover distance for riders up to 105 kg, the Starboard Touring board with the Deluxe construction is awesome. Maximizing glide and stability, the Inflatable Touring is designed to carry supplies and accessories for all adventures. Equipped with bungee tie-downs, multiple FCS insert for mounting a GoPro Camera and paddle holder on the tail. The new Deluxe inflatables are lighter than the Zens, eliminate the use of glue and feature a 3K carbon rail stringer.

Pelican Antigua 100

Pump and go with the Pelican Premium ANTIGUA 100 inflatable SUP. This ultra-light SUP features an anti-slip cushioned deck pad for comfort and secure footing, an elastic bungee cord for storage, multiple carrying handles and a removable 10" fin. It comes equipped with a carry bag, pump and leash. So grab your ANTIGUA 100 and create fun stories worth sharing with everyone. See you on the water!

Aqua Marina Thrive

The Thrive is super accessible and stunning with the eye-catching new design. It is also super stable but flexible due to its wide shape and tail kick pad. With its generous volume, Thrive is ideal for those lighter riders on flat water and for those who want to enter the waves.

Slingshot Crossbreed Inflatable

Slingshot's Crossbreed inflatable paddle boards are your ticket to user-friendly fun in the great outdoors. They're light weight, durable, portable, super safe and they feel like hardboards when fully inflated. Anyone looking for a sturdy and straightforward all-around board that will hold up for years to come, these are them.
Boards - Hard Tops
Boardworks Super Natural


Designed for stability and glide, the SuperNatural boards are a pleasure to paddle, great for cruising and mellow surfing. The hull design provides a comfortable ride with smooth easy glide and good surf performance, while the generous width offers good stability in a variety of water conditions. They are the perfect choice for entry level to advanced paddlers at an affordable price.

Boardworks Verve

The Verve is the ultimate long distance, high speed training and fitness SUP for smaller paddlers. Our Carbon Vector Net construction results in a high performance hull that is light weight and stiff for optimum acceleration. With a mildly recessed cockpit for lower center of gravity and easy foot movement, the Verve is perfect for women and smaller paddlers.

Boardworks Rukus

The Rukus is a great do-it all standup paddle board for the whole family that is versatile, built to take a beating, and last season after season. The performance hull design offers excellent stability, flotation & glide. And with our ultra strong Bombshell construction, the Rukus is a virtually indestructible, lightweight board.

Surftech Universal TEKEFX

The Universal TEKefx brings the organic texture of bamboo, a translucent array of vibrant colors, and fresh designs to recreational paddling. The TEKefx construction reduces the weight of this high volume, surf-inspired shape, making it a great first board or a must-have addition to your quiver.

SIC Maui FeelGood

The new Feelgood and Agent all around cruisers are the go to boards in SIC's line for any type of paddling scenario. These boards were designed with fun in mind. Whether it is flat water paddling or catching a few fun ones at your local break, these versatile boards will perform in all conditions. Available in a large range of lengths, widths and volume to accommodate any type of rider.

Pelican Flow 106

The Pelican FLOW 106 is an easy-to-paddle flat water SUP with superior stability. It features an anti-slip cushioned deck pad, integrated rail ramps for leverage and better balance, bottom grooves for increased tracking and a 5" flexible rubber fin. Made of RAM-X™ impact-resistant material, this SUP is built to last. So get on your FLOW 106 and create memorable paddling stories worth sharing with everyone. See you on the water!

Pelican Baja 100

Versatile enough to dig in and go or to achieve total zen, the Pelican BAJA 100 SUP is the perfect choice for any level of paddlers. Extremely rigid and durable, this stable SUP features an anti-slip cushioned deck pad, an elastic bungee, a bottle holder, a 5" flexible rubber fin and carrying handles for easy transport. So get on your BAJA 100 and create fun stories worth sharing with everyone.

Naish Hokua GTW 9'6

While the 2017 Naish Hokua range has many options available from the Kai Lenny inspired Limited Edition Pro Performance Series to the Ultra Stable and Versatile X32 Series, one stand out is the Hokua All Around Wave GTW series. Ideal for intermediate to advanced wave riders, the GTW excels in any surf condition - anywhere in the world. Designed in collaboration with Gerry Lopez, the Hokua GTW comes in three sizes focusing on fast, predictable and responsive down the line wave riding delivering top performance allowing the rider to make the most of every session, every time.

Pau Hana Endurance Touring


The Pau Hana Endurance is a rugged touring board built for off the grid adventures. The board is protected with Ricochet and features thirty nine strategically placed seamount attachment points. The deck of the board doubles as a sleeping platform for your bivy sack. Named after Ernest Shackleton's famous trans-antarctic attempt at the turn of the century, this board is dedicated to the hardy characters who choose create their own adventure.

BOTE HD Gator Shell

From the darkest shadows of BOTE's Darkroom, comes the HD Gatorshell - our toughest board yet in our most popular shape to date. We combined our most versatile paddling platform with our toughest construction methods to produce this masterpiece of design and innovation. Sporting the same design and standard features, the Gatorshell HD stands apart with its extremely durable outer shell, which is 6x stronger than our handcrafted epoxy boards and just as beautiful. So If your looking for a "one board for everything" that provides superior abrasion and impact resistance, then the HD Gatorshell is for you.

Jarvis Boards Pecos

The Pecos board is the lightest and smallest wood SUP made by Jarvis Boards. It measures 9'4" x 32" and makes a great all around SUP for lighter paddlers and is a wave catching machine for medium to larger paddlers. Like all wooden paddle boards from Jarvis Boards, it is hand shaped in Austin, TX and is a feather weight at only 22 pounds.
Make sure to head to your local retailer to find all these items and more during this Spring season!
Last modified onFriday, 28 April 2017 15:18

Submit your news, events, and all SUP info, so we can keep promoting and driving the great lifestyle of stand up paddling, building its community, and introducing people to healthier living.
Website: supconnect.com