YOLO Board Seaside Celebration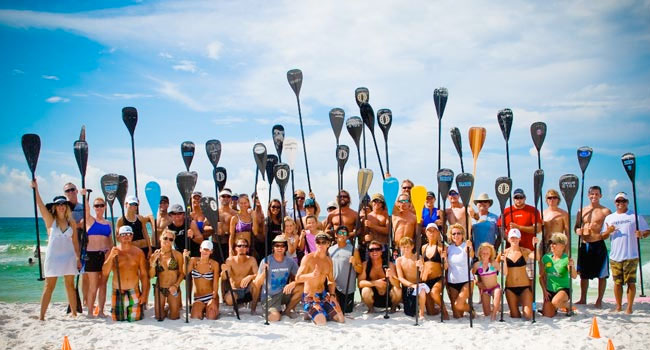 Santa Rosa Beach, Florida — YOLO Board announces details of the 2nd Annual YOLO Board Seaside Celebration scheduled from Tuesday, September 14th to Saturday, September 18th in Seaside, FL.  The celebration planned includes five days of Stand-Up Paddleboard (SUP) inspired activities ranging from a Seven Mile Elite Race and a Three Mile Recreation Race with over $5,000 of prizes awarded for each race, a SUP inspired Art Show, a free concert, equipment demos and a Silent Auction Fundraiser to benefit the South Walton Fire Department Junior Lifeguard Program.   Special celebrity SUP guests will include Nikki Gregg and Chuck Patterson.  The family-friendly event is open to the public.

"One of our original goals at YOLO was to give back to the local community and expand the presence of SUP both locally and nationally," explains Jeff Archer, co-founder of YOLO Board LLC.  "The inception of the YOLO Board Seaside Celebration has allowed us to do just that.  We're really excited about the expansion of the race portion of the event this year to include both elite and recreational divisions, attracting higher profile paddlers to our area."
Nikki Gregg of Oahu, HI-based NRG Lifestyle Fitness Training (www.nikkigregg.com) will host an NRG Boot Camp on September 14th, 15th and 16th in conjunction with the event.  Widely considered the spokeswoman of SUP, Gregg is a certified SUP 'Master Instructor' and is affiliated with both the WSUPA (World Stand Up Paddleboard Association) and the WPA (World Paddle Association).  Noted Big Wave Surfer and All-Around Waterman Patterson (www.chuckpattersonsports.com) will host a special pre race clinic on September 17th.  Patterson has competed professionally in tow surfing, SUP, surfing, kiteboarding, skiing and snowboarding.

"I can't wait to head out to the Gulf Coast for the Seaside Celebration festivities," adds Gregg.  "I'm honored to be invited to introduce my Stand Up Paddle Boot Camp to Florida and spread my passion of fitness and SUP.  It's going to be fun!"
The celebration highlights Seaside and the surrounding South Walton community as a premier destination for SUP with both the Gulf of Mexico and the rare coastal dune lakes serving as backdrops for scheduled activities.  The Cottage Rental Agency (www.cottagerentalagency.com) is offering special packages for paddlers and event guests ranging anywhere from $59 per night for a group home to $175 per night for a private cottage.  Rates are based on 3-night occupancy.  For additional information on special rates, please contact The Cottage Rental Agency at 866.966.2565.

"We were overwhelmed by the outpouring of support from the community at the inaugural YOLO Board Seaside Celebration in 2009 and we're excited to work with YOLO to continue the event," explains Adam Shiland, Event Producer for Seaside.  "We feel that the YOLO lifestyle and mantra of 'You Only Live Once' captures the spirit of all things Seaside, and the event exemplifies the giving nature of our community.  It is truly a special event and we're looking forward to September."
YOLO Board is currently seeking sponsors to partner on the much-anticipated event, including donated items for the silent auction.  For more information regarding sponsorship opportunities or to donate an item for the silent auction, please contact YOLO Board 850.622.5760 or visit www.yoloboard.com.

About SEASIDE:
The Town of Seaside is a gulf front community located on Scenic Highway 30A between Destin and Panama City Beach, Florida. Founded in 1981, this renowned New Urbanist town is the flagship cultural center of The Beaches of South Walton. Seaside has over 400 homes and cottage rentals, and more than 50 specialty retail shops and restaurants. Seaside's thriving town center includes civic, cultural and educational institutions; a public charter school, an inter-faith chapel, a repertory theater and The Seaside Institute. Parks, a swim and tennis club, and an amphitheatre provide year-round recreation and entertainment. The Seaside Amphitheater provides a wonderful venue for recreation and hosts numerous events throughout the calendar year.

About YOLO Board:
Founded by business partners Tom Losee and Jeff Archer in 2006, YOLO Board LLC is a locally owned stand-up paddleboard (SUP) company based in Santa Rosa Beach, Fla.  Aptly named for the mantra, "You Only Live Once," the company has quickly gained the reputation along Northwest Florida's Gulf Coast and beyond as the custom paddleboard of choice, garnering widespread attention from the media including: Spirit Magazine, Southern Living, Coastal Living, The Weather Channel, Standup Journal, Florida Trend, Ocean Drive, Standup Paddle Magazine and Garden & Gun. The company manufactures a variety of boards suited to fit any paddler: the Original YOLO, YOLO Express, YOLO Explorer, YOLO Yak, YOLO EcoTrainer, YOLO Planeador, YOLO Eclipse, and the recently debuted Steve Brom-custom race and surf performance line.  Rentals, lessons, corporate and team building packages and a complete array of YOLO accessories are available.  For more information, visit www.yoloboard.com or call 850.622.5760.
Last modified onWednesday, 21 January 2015 16:39
Email

This email address is being protected from spambots. You need JavaScript enabled to view it.