The Shouses, a Paddleboard Love Story
written by Ashley Welton
Abraham and Donica Shouse found each other through their passion for the ocean.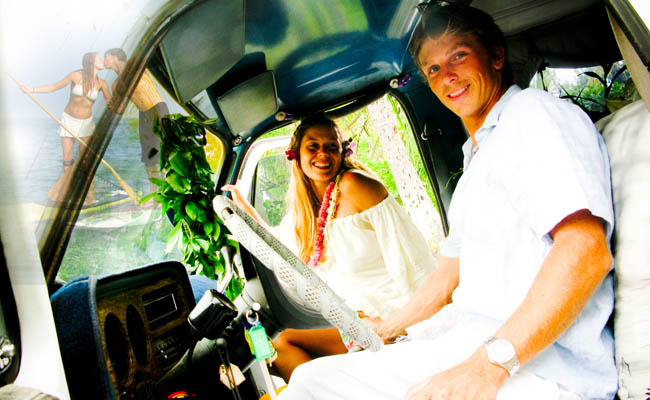 Abraham and Donica Shouse, two people very passionate about what they do. Photo courtesy Abe & Donica Shouse
Swell Living

---
"Swell Living Five"

---
Abe SUP Surf

---
Not bad for a guy from Arizona.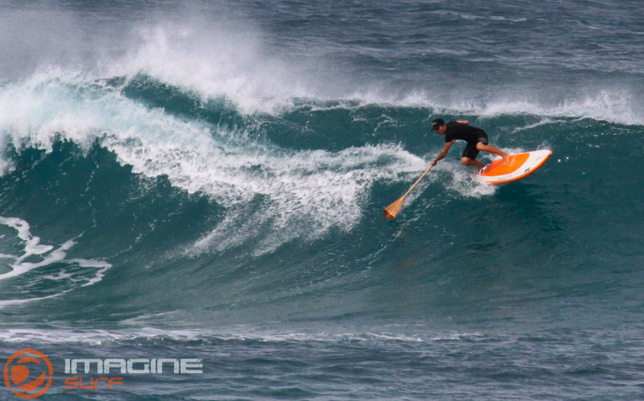 ---
Donica SUP Surf

---
Donica is an impressive waterwoman.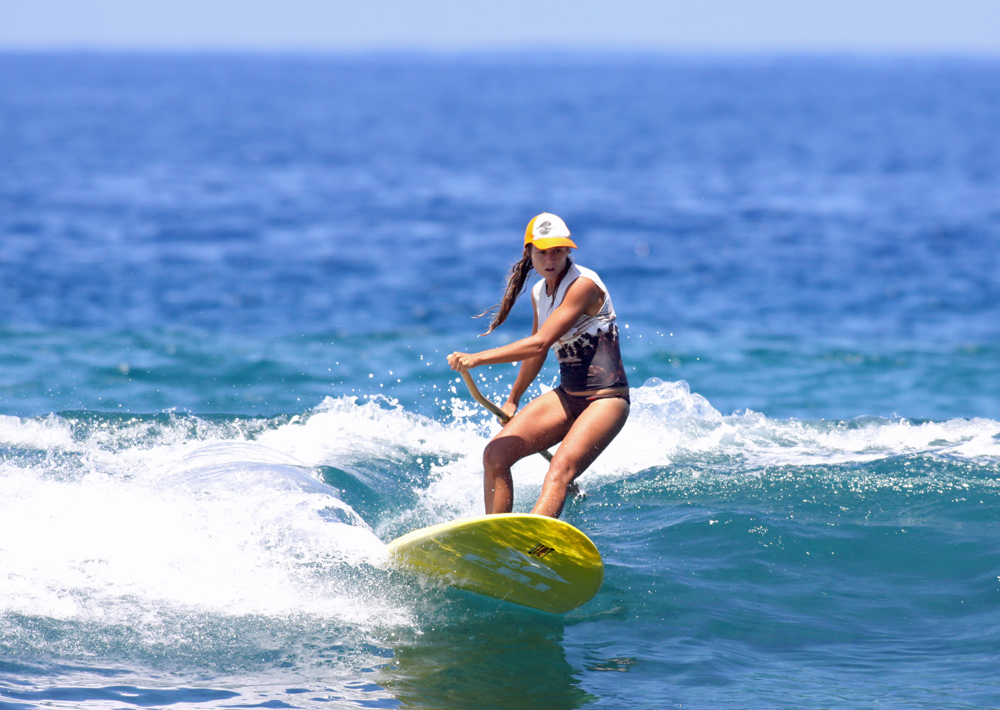 ---
Paddle Hawaii

---
Abe combining two great passions.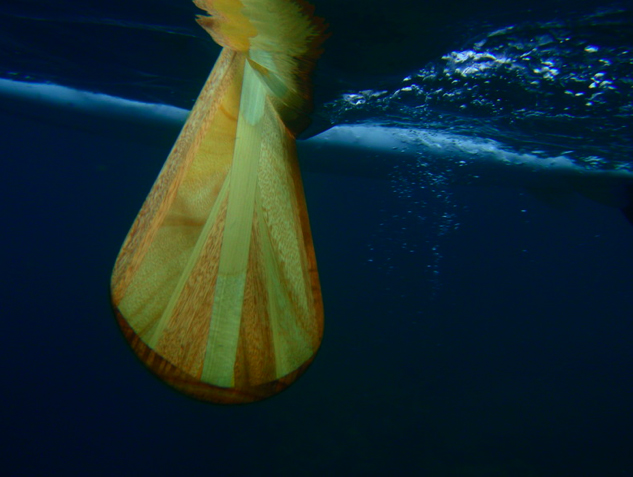 ---
SUP Yoga

---
Donica perfectly poised.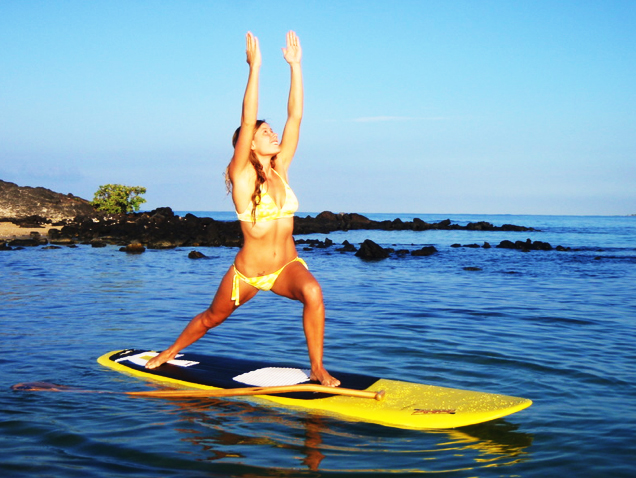 ---
Lifestyle

---
The ocean presents endless oportunities for the Shouses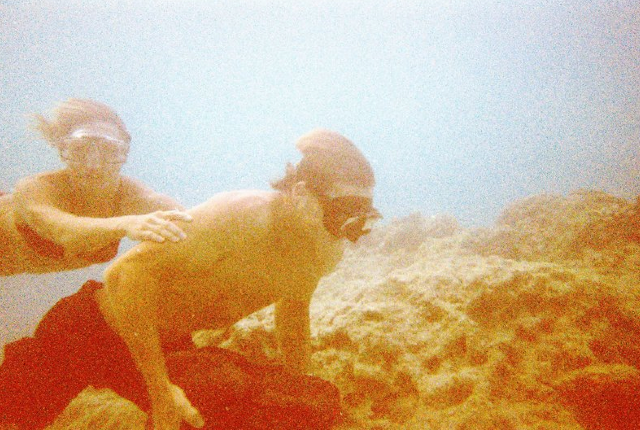 ---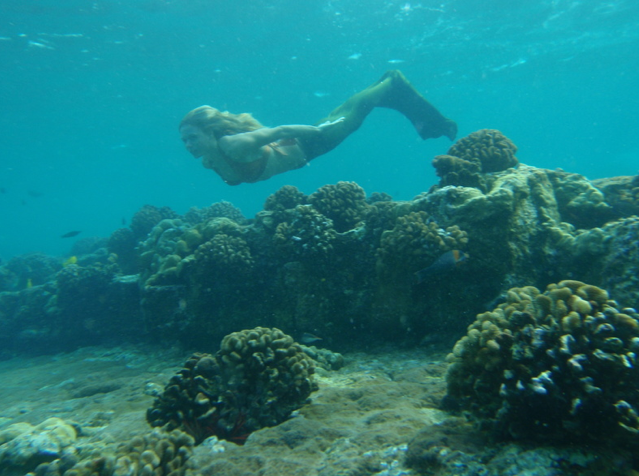 ---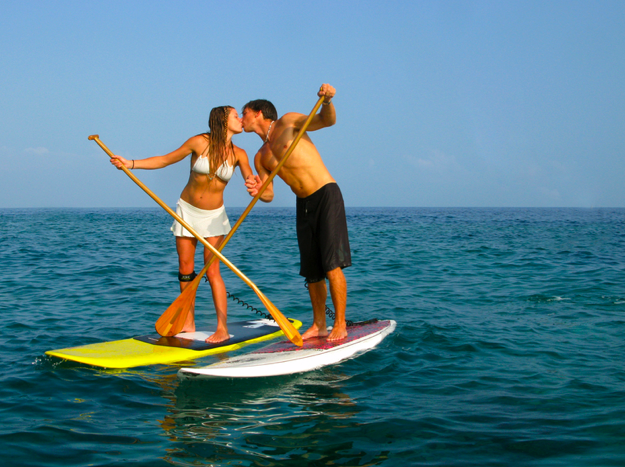 ---
BIG ISLAND, Hawaii – What are the chances that a girl from Oregon and a guy from Arizona hear the call of the ocean so deeply that they move to Hawaii – separately – fall in love, and become two of the most beautiful ocean ambassadors around? Pretty good, if you're the Shouses.

Donica is originally from Waterloo, Oregon, an hour and a half from the frigid and unforgiving coast where she taught herself to surf at the age of 17. Abe is from Arizona, the real life Rick Cane, and spent his childhood flip-flopping between the West Coast and the East Coast every two years, submerging himself in all things surf wherever possible. He knew he'd live in Hawaii one day, like most people know they'll grow old, and when he met Kawika from Hilo, HI he took it as a sign and turned the land-locked Hawaiian into his California road trip surfing buddy. It didn't matter that Kawika didn't surf, he was from Hawaii, surely he wanted to learn!

For Donica and Abe, their geographical distance from our salty playground didn't obscure the closeness they felt for it in their hearts. And so, as the ocean will do, it sent them a message saying, "Come to Hawaii, you'll love it here."

Donica moved to Hawaii in 2004, and Abe shortly after in '05. They met surfing, where else? Abe spent the session showing off, hollering and smiling at Donica, as they caught wave after wave – a true waterman's courtship.

Stand Up Paddleboarding entered their lives in the Fall of '08. They would borrow boards from friends at a local surf shop and paddle around Kahalu'u Bay. Seeing the sport's potential, they dedicated themselves to developing their skills, expanding their knowledge, and participating in SUP tours.

Through their curiosity and growing love of SUP, they met the surfer, stand up paddleboarder, and craftsman extraordinaire, Leleo Kinimaka. Leleo offered to make Abe an apprentice to teach him the craft of building paddles. Abe, having been a woodworker since high school, jumped at the opportunity to marry two loves: surfing and woodcraft. They were only a few months into their apprenticeship, when Leleo was offered a job on the North Shore. He sold his equipment and materials to Abe, and Paddle Hawaii took its first breaths.

Abe started making paddles out of their garage, but, apparently, it's illegal to operate heavy machinery from a residence, and the State shut him down. It was then he decided to fully commit to SUP. He rented a shop and jumped headfirst into crafting some of the most beautiful, ergonomic, and eco-friendly paddles on the market. He continues to develop new paddle designs that support the constant evolution of the sport.

Donica, in addition to being a badass waterwoman, is a massage therapist, culinary experimentalist, bathing suit seamstress, and full circle living specialist. She infuses everything she does with light and love, and when she's not in the ocean, she's finding new ways to cook and eat delectable dishes. She believes that, "Food is the best medicine, and well worth the time." She also developed and teaches a Paddleboard Yoga program. She makes it look effortless - it's not.

When they're not in the water, they're focused on work, food, and how to improve on daily life by continuing to live full circle and reducing their impact on the environment. They also film an episodic program called Swell Living, which covers everything from food to fitness - offering inspiration for better living.

They started seeking sponsorship by sending out Surf Resumes, an ingenious avenue to spread the word about their talents and intentions. A secretary has a resume, why not a surfer? They've recently joined the Imagine Surf Team, and have picked up other sponsors as well, which include: Organik Clothing, Wave Chi, P3Kona Boys, and of course Paddle HI.

They intend to continue educating people on SUP safety and etiquette, promoting the development of the sport, and pushing the limits on performance driven SUP surfing and manufacturing. But above all, they seek to follow their hearts, open themselves to new ideas and live life through fun and love.
Story Courtesy Ashley Welton - Photos Courtesy Abe & Donica Shouse
Last modified onSunday, 25 January 2015 18:09
Email

This email address is being protected from spambots. You need JavaScript enabled to view it.