Swedish Paddler Paddles 2300km Through Sweden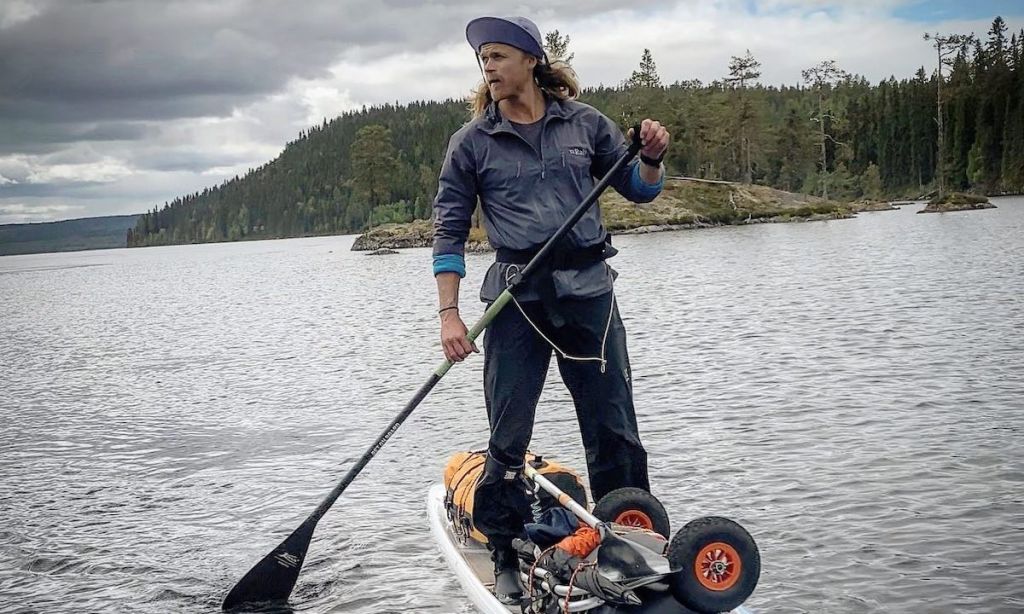 Erik Sander on his way through Sweden. | Photo courtesy: Erik Sander
Erik Sander loves the outdoors and adventure, especially long distance adventures. In fact, in 2017 and 2018 Erik explored Iceland (1400km) and Sweden (5080km) on his longboard skateboard! So after those two adventures on land he figured it was time to hit the water for a 40-day, 2500km journey through beautiful Sweden on his standup paddle board! Erik ended up paddling his way through almost the entire length of Sweden from lake Akkajaure all the way down to Smygehuk in the very south of Sweden. Total distance on water was 2300 km.
We caught up with Erik to talk about his trip and find out what motivated him to go on this adventure. Check out our interview with him below.
What inspired you to take this trip?
First of all I have a big passion for being outdoors and experiencing new places I´ve never been before. Second, I love all kinds of board sports and long distance SUP is something I´ve been thinking about trying out for quite some time. But maybe, most importantly was the fact that no-one has ever paddled from north to south through Swedens mainland before. Not even in a canoe or a kayak. So that was of course a big motivator for me to try to be the very first!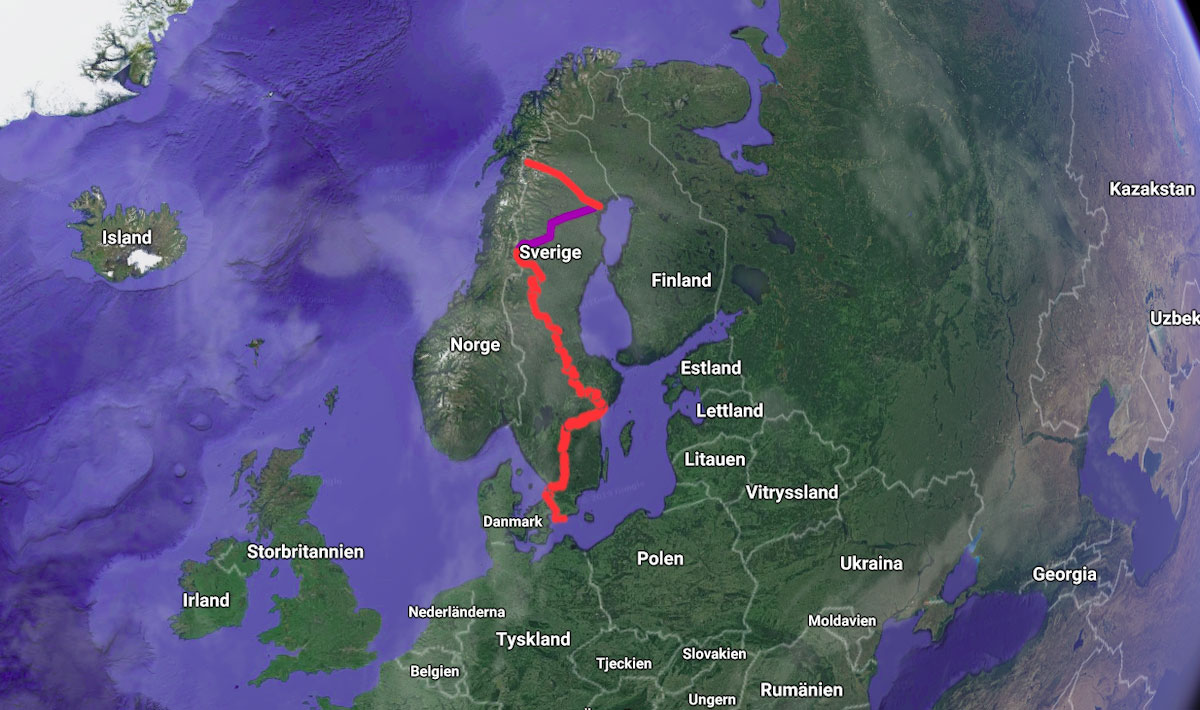 How did you plan for the trip and what was the preparation like?
I did most of my route planning by sitting days and days in front of the computer looking at Google Earth and Google Maps to see how all the lakes, rivers and streams were linked together. Sweden is a great country to plan an adventure on water due to the fact that we have a ridiculous amount of it! But even so, it actually took me a couple of months to find what I figured was the best possible route. With as little land passages as possible, as few white water passages as possible, as little hydropower plants as possible and so on. And also, of course, I talked to a lot of canoe enthusiasts for tips!
The training preparation before the adventure consisted of SUP paddling for about four hours a day, four to five days a week from the first of April to the start of the adventure at the end of June.
What gear did you take/use?
I brought two waterproof duffel bags (one 70 liter and the other 40 liters). The small duffel was for all my food and candy and the big one was for all the necessities. That is tent, sleeping bag, sleeping pad, clothes, first aid, food containers, hygiene products and so on. And of course I had a waist bag for all the things I needed to have in reach throughout the day while on water.
On top of the duffel bags I stored my water bag, canoe carriage for the land passages, water bottle and an extra paddle.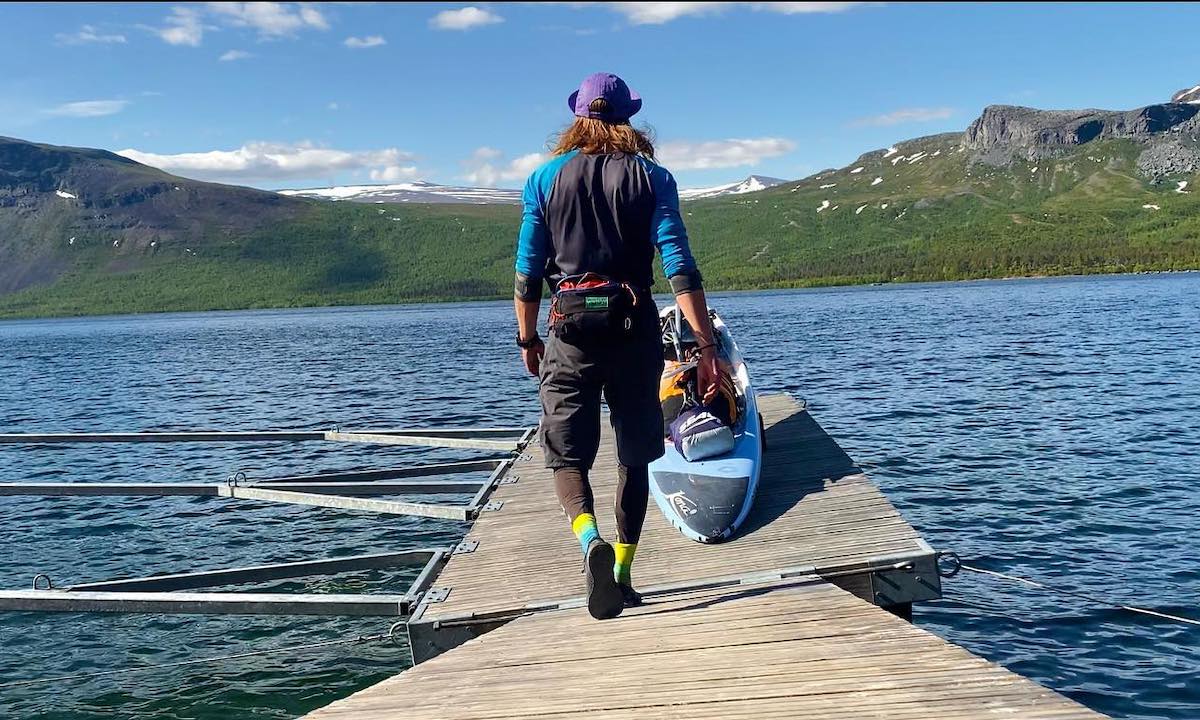 Photo courtesy: Erik Sander
Were you solo? Unsupported?
I fulfilled my adventure solo and unsupported in a way and in another way I got a little bit of help. What I mean by saying that is that I never got any help while being on water and I was always carrying all my gear both on water and on land. I always slept in my tent and all that. But what I got help with was most of my longer land passages (those over 10 km) but it was never planned in advance.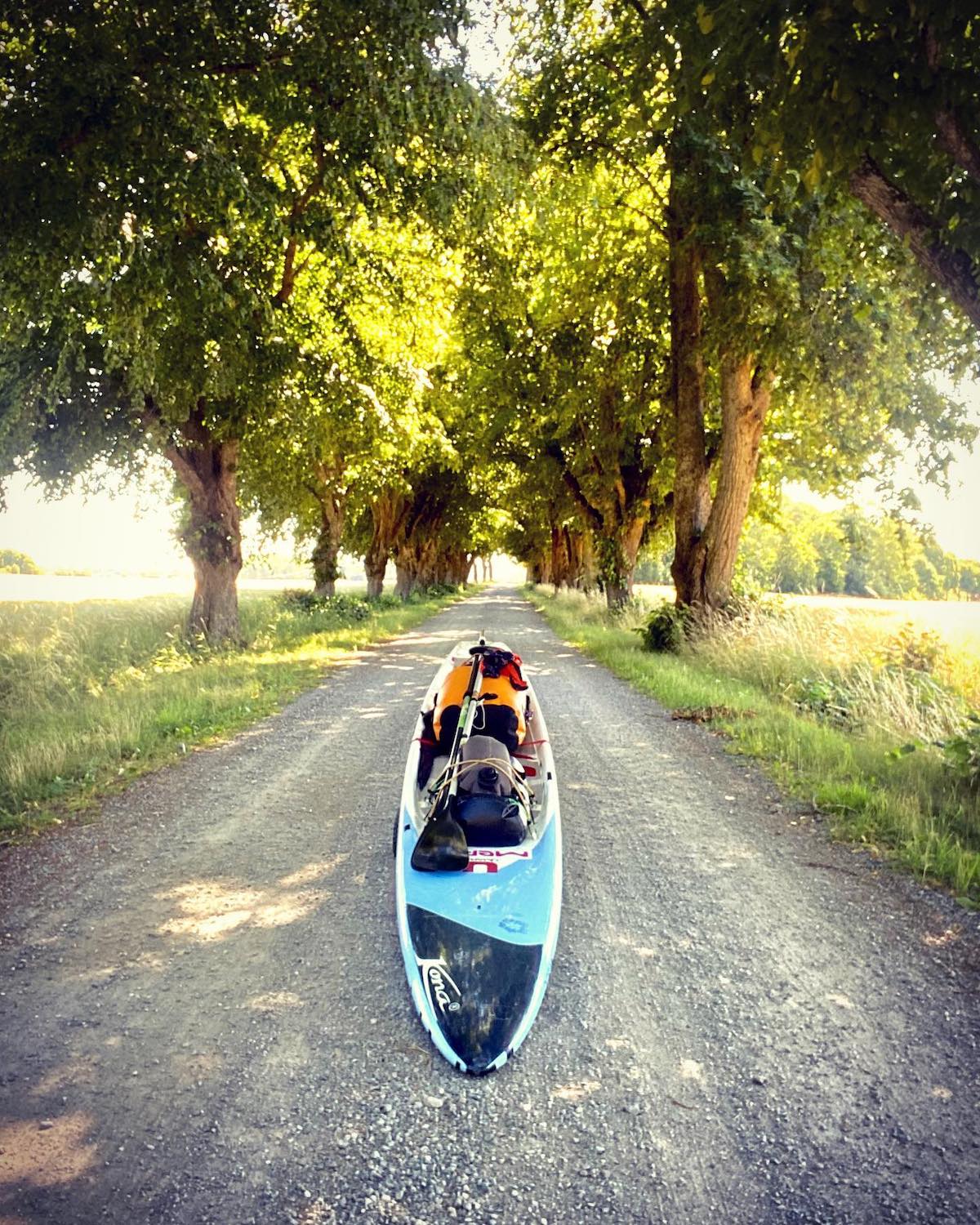 To explain: When I got to the end of a water passage and had to walk say 20 km to the next river. I wrote on my Instagram that if anyone nearby would like to give me a lift to the start of my next water passage I would gladly take that help – and also get to know a person I´ve never met before! And guess what – people in this world are very nice! So as it turned out I got help on all my longer land passages from complete strangers – some of which I will most definitely meet again cause we hit it off so well! Isn't that amazing!?
I had two main rules set for myself on this adventure and it was very important for me to stay true to them.
First, I always have to sleep in my tent. If it is in the wilderness high above the arctic circle or in someone's garden it doesn't matter as long as it always is in my tent. And so I did. Both in the wilderness high above the arctic circle and in nice peoples gardens that is! Second, I can never skip a water passage just because I'm tired, due to bad weather or just because I'm sick and tired of it.
Those two rules were holy to me and I think it is very important to set those kind of rules for yourself in advance. Otherwise it's easy to get comfortable and all of a sudden you're too comfortable to get up the next morning and continue on your adventure and reach your goal!
What safety measures did you take?
The biggest, and according to me most important, safety measure I took was to put months on planning my route. Reading up on where the whitewater was, how much stream there was in the rivers, note on my map where I could resupply food, make sure I had enough powerbanks to always have battery on my phone so that I could alarm if in need, make sure I had all the right gear all the way from my tent, sleeping bag to the board.
Apart from that I made, what I call, a calculated risk analysis and concluded that even if a satellite transmitter could possibly be good to have I didn't get one. And I did not have a life jacket. To paddle 10-14 hours a day is sweaty business and with a life jacket it would be even more so.
The way I looked at it the risk for me to fall of the board and hit my head and become unconscious was so small and the fact that I actually stood on a 4,27m long lifebuoy (my SUP) that's attached to my leg made me make the decision to not have a life vest.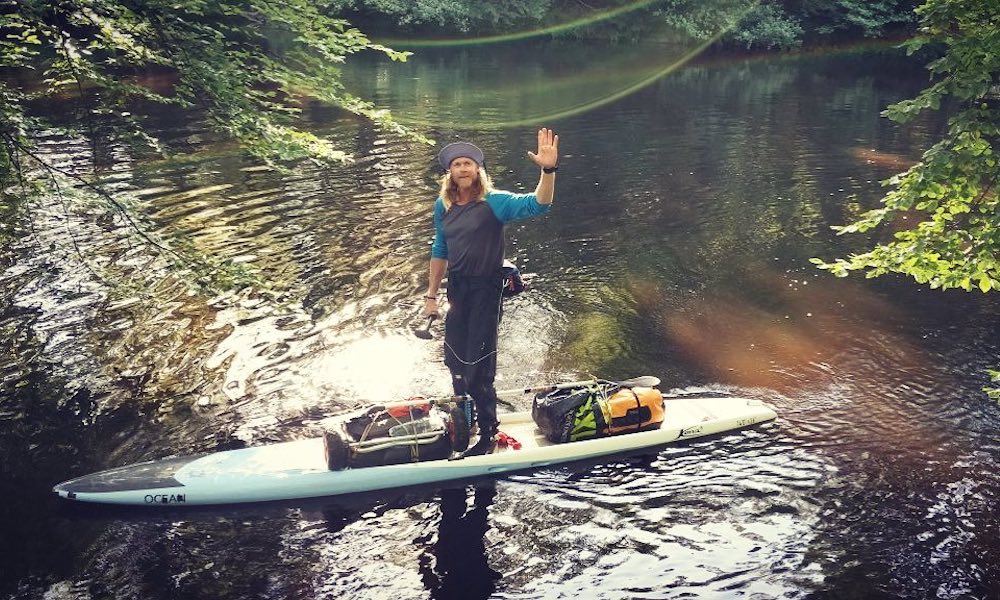 Photo courtesy: Erik Sander
How much time did you spend on the water daily? What was that like?
Every day I spent between 10-14 hours on the board (lunch and smaller breaks included) and thats the only secret there is to paddle very long distances. The volume of paddling is far more important than going really hard from time to time when conditions happens to be good.
To always, no matter the weather, be on the board all day every day is the only secret as to why I managed to paddle the 2300 km in 40 days that I eventually did when it was all said and done.
I will tell you what my days looked like every day, roughly that is:
Wake up between 4:30 to 5am and eat breakfast and read the weather reports, look at the day's route, note down all the critical parts (hydropower-plants, land passages and so on) and then take down the tent and pack all the gear and place it on the board.
Start paddling somewhere around 6am to 7am and then just keep on going until lunch. Around 10 am I eat two energy bars.
Lunch around 1 pm. Then I have to be on land so that I get a good rest.
Around 12:45pm I start paddling again and take a snack (two energy bars or candy bars) around 4pm to 5pm and then paddling until the clock is somewhere between 6pm to 9pm depending on how I feel and if I actually find a place to camp for the night or not.
And then you just do it all over again the next day. And the next, and the next…
It was fantastic, awful, beautiful, tough, scenic, ugly, fun, boring and all of the emotions you could ever think of. And it was like that all in one day every day. And thats exactly what a real adventure is and should be like!
For example, one day when I was paddling open water and a storm was coming in the waves got bigger and bigger, the rain smashed my face like tiny nails, I was far away from land and I could see how all the boats took shelter in the small natural harbors in the archipelago AND THEN all of a sudden my paddle broke. I managed to get into a natural harbor nearby and there I met some super nice people who helped me fix the paddle, gave me warm food and in a matter of minutes I went from being in a state of half panic to euphoria!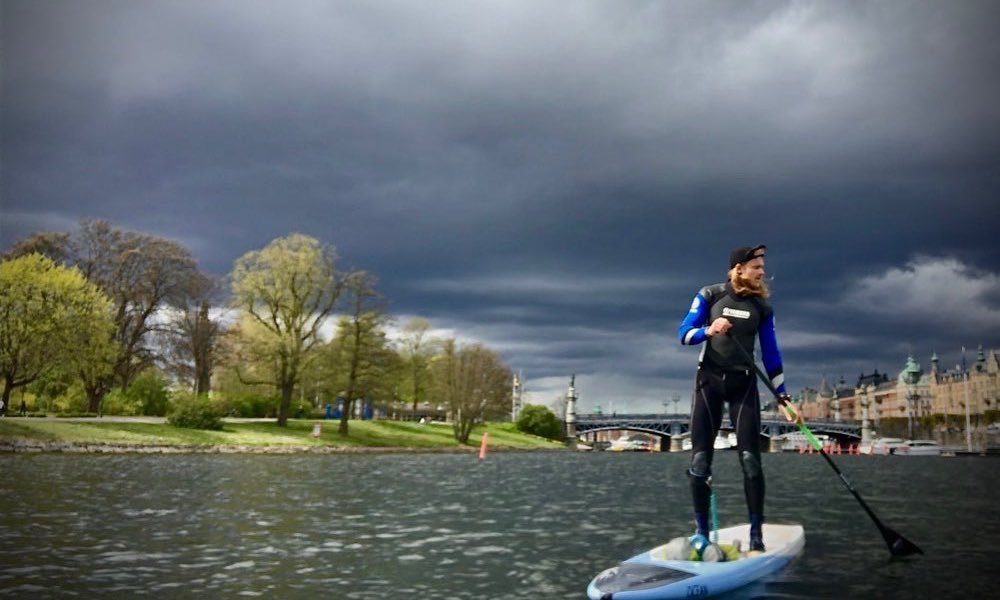 Photo courtesy: Erik Sander
What was the best part of your trip?
The best part of the trip was by far to experience my homeland from a different perspective than I have before. Sweden is a beautiful country with so much nature – and so much unexploited nature – and also the surroundings shift almost day by day due to the fact that Sweden is such a long country. It is almost like paddling through several different countries all in one adventure!
When I started this adventure by the 26th of June I was far above the arctic circle and was surrounded by massive mountains all covered in snow. You can imagine how cool that is! As a matter of a fact the ice on the river where I started had disappeared from the water only 4 days before I started paddling, so you can imagine it was a little bit cold in the water!
It's not so easy to single out only one thing that was the best part of the adventure but to summon up I will say this:
To get an idea of a never-before attempted adventure and then plan your very own route/trip and not really know if it's even possible or not – and then it actually works – is such a fulfilling and satisfying feeling that I wish that everyone sometime in their life get to experience it!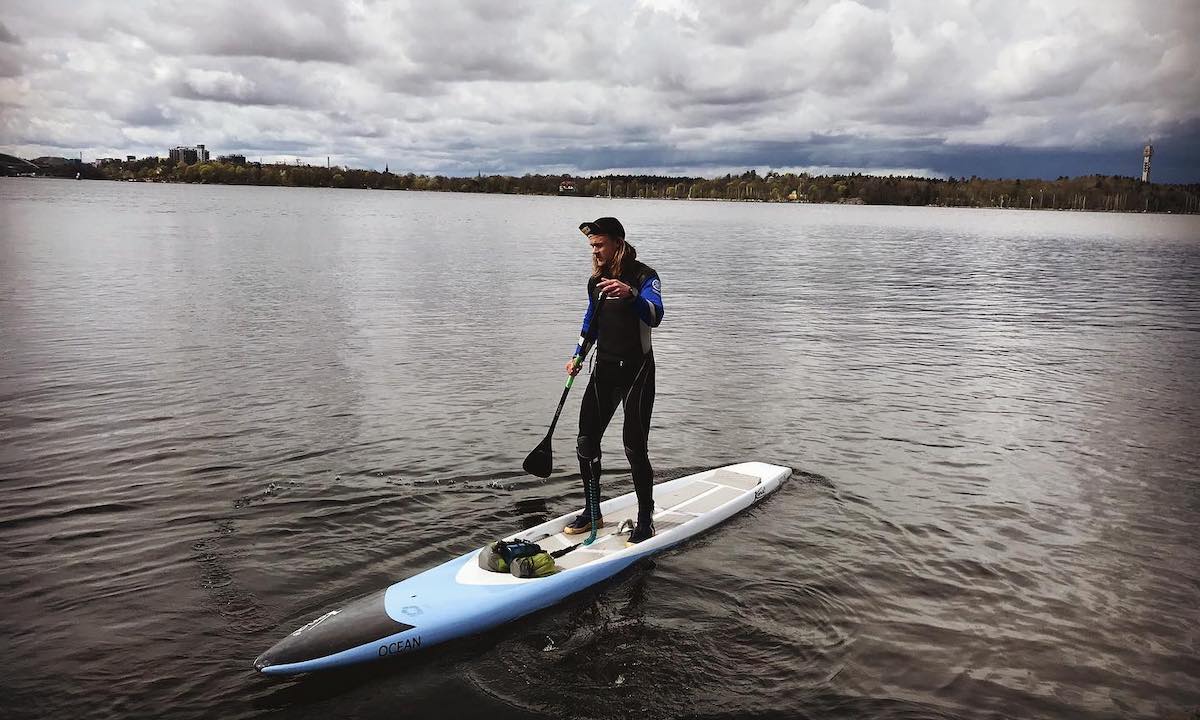 Photo courtesy: Erik Sander
What was the worst/hardest part of your trip?
The worst part was by far the boring food I had to eat every day, three times a day. But I did so by choice of course. For breakfast, lunch and dinner I ate cold soaked oatmeal, chia seeds, protein powder and chocolate powder and then I ate my portions with as much salted peanuts I could!
I chose not to bring a stove on this adventure. By doing so I could spend about 2 more hours a day or so on water getting forward instead of stopping, taking out the stove and all the cooking equipment, cook, wash it all up and pack it down three times a day.
Instead now I pre-packed all my meals in portion bags and when I ate dinner for example, I had already prepared that meal after lunch. And after dinner I put the oatmeal in my food container, poured cold water on it and ABRACADABRA in 30 seconds food is prepared for the next meal!
Obviously it is very hard physically to do something like this, but my opinion is that the physical part "is what it is". If you train for it in advance very seriously and you're determined to succeed you will make it alright. The toughest part and also the only thing you can never train for or be really prepared for is all the things that happen along the way – most preferably when you're physically drained and tired. When you lose some gear in the water, when you realize that you just paddled the wrong way for a couple of hours, when you start to miss your friends and family – thats when the real challenges start to kick in. And then you have to know why you even started in the first place.
Living in a tent, taking dumps in the woods in company of millions of mosquitoes feeding on your blood, never having the opportunity to get your clothes dry and all the logistics that make it possible to live on your SUP and in the nature for 40 days isn't all that fun to be honest. But when you wake up in the morning somewhere along a northern river above the arctic circle and you're surrounded by reindeers, the fog dancing on the water and you feel like you're the only person in the world – that's what makes it all worth it!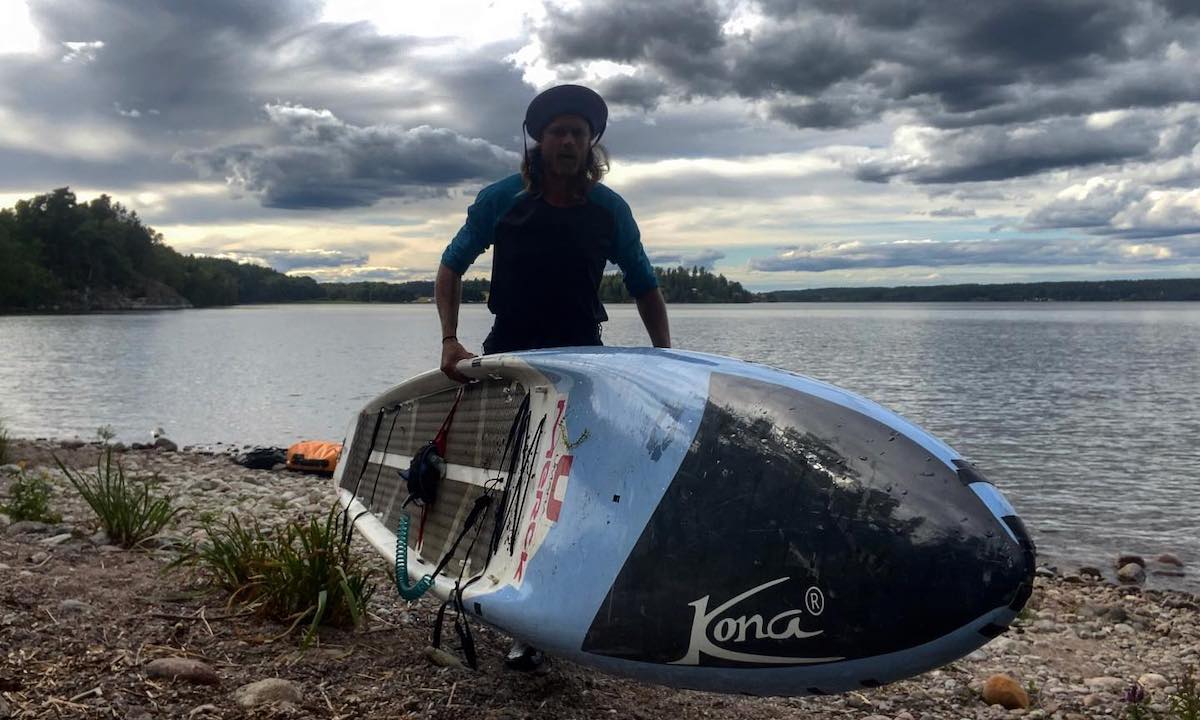 Photo courtesy: Erik Sander
Would you do it again?
Maybe, but most likely not! I contrast to when I've done my longboard adventures everything is so much more complicated when being on water all the time. You're far away from people who can help – or just have a little chat with someone – far away from food, all your gear is constantly wet and most of all you're constantly so much more exposed while being on water if anything happens.
And on top of that all the small things like when you're paddling in head-wind all day you can never ever take a break – cause then you go backwards! While on land on a longboard you can just hop of your board, sit down by the side of the road and feel sorry for your self for a little while and then get at it again from the exact same point as you stoped.
With that being said – this adventure from north to south of an entire country has been an incredible experience and I'm so glad and grateful I actually did it!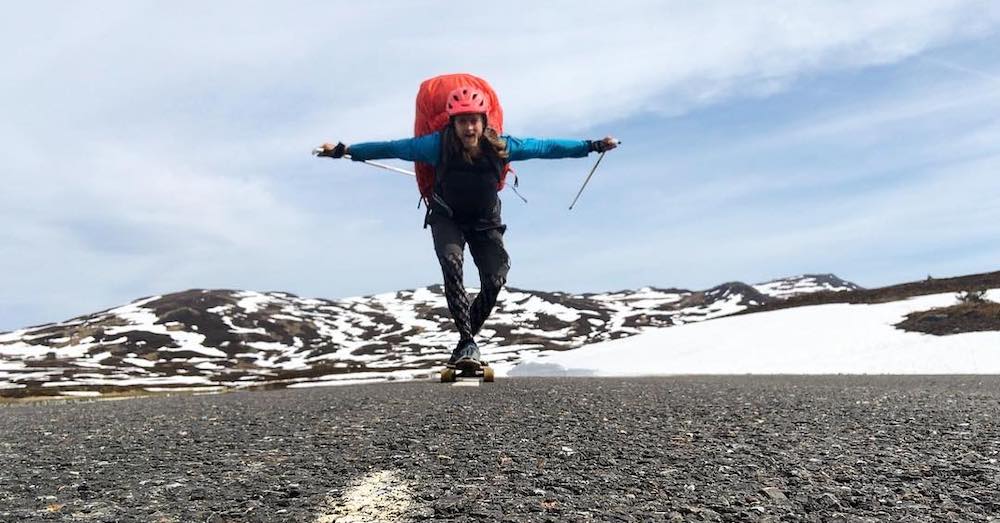 Erik during one of his longboard adventures. | Photo courtesy: Erik Sander
Anything unexpected that you encountered that you weren't prepared for?
The boring answer is actually no. Of course things happened that I could not control. Like when I got to a small river and the water was so low that I could not paddle that part for 40 km. But that was always part of the plan if you can say so. I knew that part would be impassable if the water was low so I can not say it was unexpected.
And another river where a lot of people contacted me when I got closer to a specific part of the river and they informed me that a 30km long passage was impassable due to hundreds of trees blocking the river because beavers had cut them down!
Because of these unexpected events and a couple of more my adventure became 2300km in the end instead of 2500 km that was the original plan.
Do you have a SUP expedition that you want to share? Send us an email.
Last modified onFriday, 04 September 2020 11:16

Submit your news, events, and all SUP info, so we can keep promoting and driving the great lifestyle of stand up paddling, building its community, and introducing people to healthier living.
Website: supconnect.com
Email

This email address is being protected from spambots. You need JavaScript enabled to view it.