SUPers Converge on Jordanelle Reservoir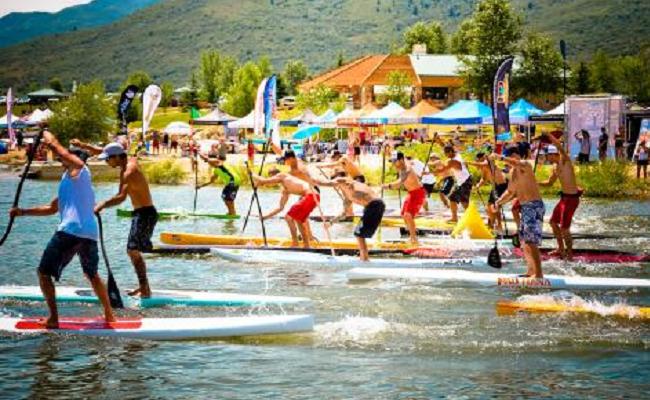 PARK CITY, Utah - It all begins today! Stand Up Paddle people are pulling in. They are coming in full force with boards, paddles and their game faces on to compete in the beautiful mountains of Utah.
In 2009 an event, then titled the H2O Overdrive SUP Cup™, held its first event at the Jordanelle Reservoir near Park City, Utah. It was such a hit that organizers decided to hold the event again with the promise of adding new races and even more fun. Today marks the start of the 4th annual event, now known as the "H2O Overdrive Summer Series", and it looks like it will once again be a blast and that the promised additional races will be a reality.
This year competitors will not only enjoy the traditional events of the past but will also have fun with new events including a kids race (ages 16 and under), a kayak event called the 8-ball Kayak, and a whitewater team race. A total of $10,000 will be given away in cash prizes to winners from the events. For those people not competing, there will also be at least 40 vendors on site during the Saturday events with lots to look at and talk about.
Below you will find a quick snapshot of the weekend schedule. For full details please visit www.h2ooverdrivesummerseries.com
Friday at Newpark Resort, Park City:
1:00 PM Registration opens at the Newpark Resort, 4:00 PM Kahuna Creations Exhibition and Slalom/Obstacle Course Challenge at the Newpark Resort,5:30 PM Apetizers for all H2O Overdrive Summer Series competitors, 6:00 PM H2O Overdrive presents American Hitmen on stage at the Newpark Town Center
Saturday at Jordanelle Reservoir and State Park:
8:30 AM H2O Overdrive Ghost Town Paddle open age race begins,10:30 AM H2O Overdrive SUP Cup Elite Race begins,12:45 PM Kids Race begins, 2:00 PM H2O Overdrive Luck-of-the-Draw Relay Race Begins, 3:00 PM Awards Ceremony on the beach, 6:00 PM Dinner and Drinks at Maxwell's Restaurant, 7:30 PM Fashion show begins on stage at the Newpark Town Center, 10:00 PM Festivities end
Sunday at Taggart Falls on the Weber River:
9:00 AM H2O Overdrive SUP Cross River Challenge heats begin,11:00 AM H2O Overdrive Kayak 8-Ball Challenge heats begin, 1:00 PM H2O Overdrive SUP Cross River Challenge semifinals & finals, 3:00 PM Supsquatch team river challenge heats begin
.
Last modified onThursday, 26 July 2012 23:26
Email

This email address is being protected from spambots. You need JavaScript enabled to view it.