Best All Around Stand Up Paddle Boards 2022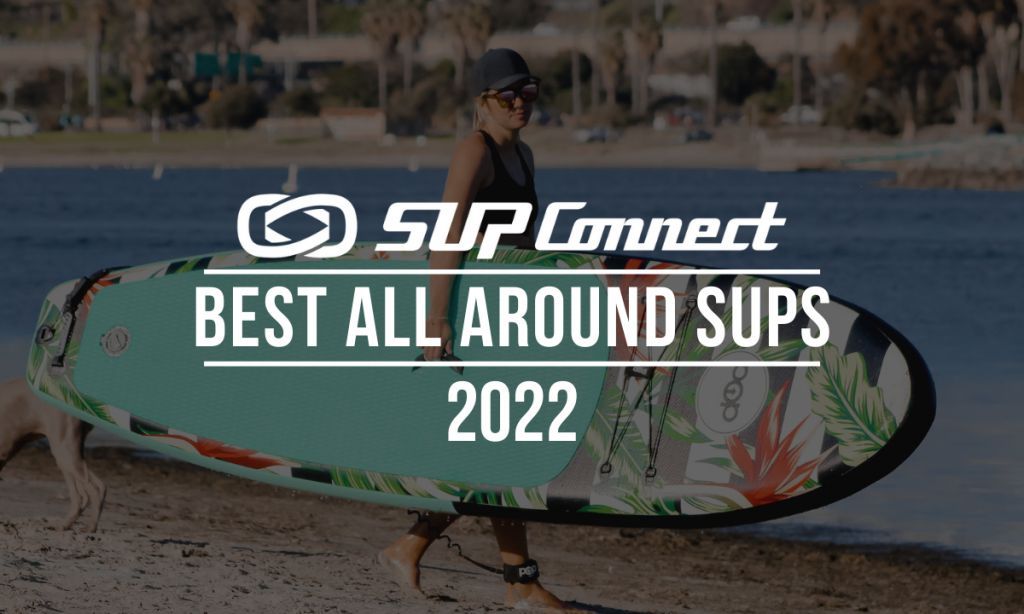 After personally paddling, weighing, and thoroughly testing 200+ boards, our expert staff has selected the best all around stand up paddle board 2022 models. These are designated by the "A" grade and organized by categories (inflatable, all-around, touring, etc). In its 6th year the Supconnect team spent countless hours individually assessing each one of the SUP boards below, counting a total of 23 metrics per board and consistently applying them across all products. The end result: simply the most comprehensive, consumer-friendly, value-added review platform in the stand up paddle world. Click through each one of the reviews and find a consistent, in-depth assessment of each product listed.
Quick Answer:
The Best All Around SUP Boards 2022
| | |
| --- | --- |
| | |
A Comparison
The Best All Around Paddle Boards 2022

All Around Paddle Boards 101
3 Things to Consider to Find the Best All Around SUP
1. USE
An all around SUP is meant to be used and should perform well in a variety of conditions, thus its category name. All around boards can be used for multiple purposes but are primarily intended for recreation. Whether it be paddling close to shore or around the dock all around boards are best for short-distance paddling and are ideal for families and beginner paddlers.
2. SHAPE
All around SUPs are primarily shaped with a round nose and tail and are near 30 inches in width at its center point. However, there are all around paddle boards that cross over into the other disciplines of stand up paddling so it's important to determine your primary and secondary use for the board. If you want to use your paddle board around the beach and dock for some casual cruising but might want to add in some SUP yoga, you're going to want to find a board that has a shape that caters well to both, which in this case would be a board with a generous width (32+ inches) in the center of the board and also a wider nose and tail. Or, if you want your board to be able to catch a few waves in addition to cruising around you might want to get a narrower board (less than 30 inches at the board's mid-point) with more pulled in nose and tail for better maneuvering. Whatever your primary and secondary use for your all-around board may be, make sure you choose one that caters to both if not more uses.
3. BUILD
All around sup boards come in various constructions. First, decide whether you should have an inflatable or non-inflatable board. Inflatable boards are easy to store and very lightweight, making them perfect if you don't want the board to take too much space. Most inflatables come with a backpack to hold them and can be thrown in car trunks and checked in at airports without any oversize fee. Inflatables, though, normally have less glide and less overall performance when compared to non-inflatable boards. Moreover, non-inflatables often times score higher on durability. Non-inflatable boards with carbon or bamboo tend to be lightweight and durable while plastic constructions tend to be durable but incredibly heavy. Fiberglass/epoxy builds fall in between these two and are the most common non-inflatable constructions.
Best All Around Paddle Board Reviews
IROCKER CRUISER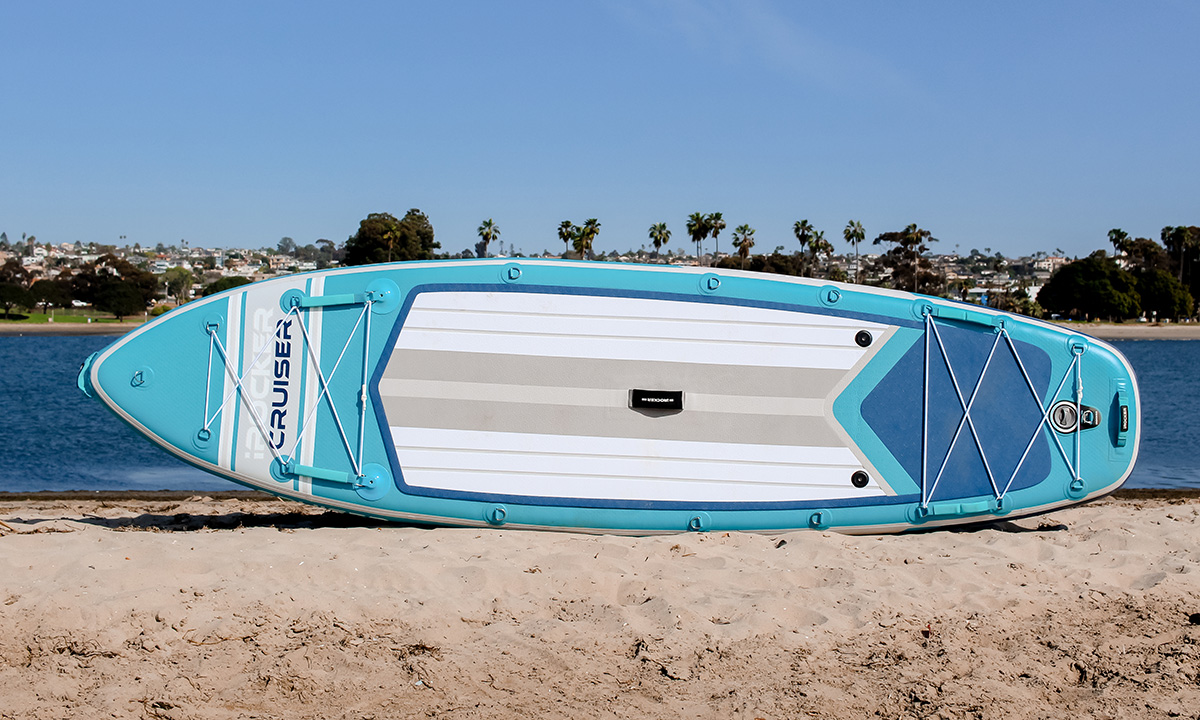 At first glance the details put into this package immediately drew our attention. Every piece of equipment in the package was branded and matched across the board. The board, bag, leash and paddle all matched beautifully. Diving even deeper into the details, the deckpad had their logo stamped all over it versus having a standard diamond pattern to it. Nice touch! The Cruiser is also packed with a ton of great features: bungee cords on the nose and tail, a ton of D ring attachment points, extra handles on the nose and tail and more. The bungee cords also feature grab handles on the sides that are incredibly helpful when bringing your kids with you, giving them something to hold onto. Another nice touch! With the D rings all over, you can add a kayak seat attachment, cooler, or something else if you like adding all the more versatility to this board. The roller bag that the board comes in is also very nice and high quality. As an optional add on, you can upgrade and get the iRocker electric pump to make the inflation process even more seamless. We had the pleasure of testing it out and definitely recommend it. Once on the water the board felt very stable and was smooth on the water, easy to maneuver. With the board capacity at 400 lbs this board is a great option for paddlers of all sizes and skill levels so anyone really that wants to get an inflatable board and wants that stability, I think this is a great board. With the thoughtful branding touchpoints, quality of equipment and pricepoint the iRocker Cruiser is well-deserving of the A-Grade.
| | | |
| --- | --- | --- |
| Price: $799.99 | Build: Inflatable | Weight: 21.4 lbs |
| Use: All Around | Skill: Beginner | Sizes: 10'6" |
BODY GLOVE PERFORMER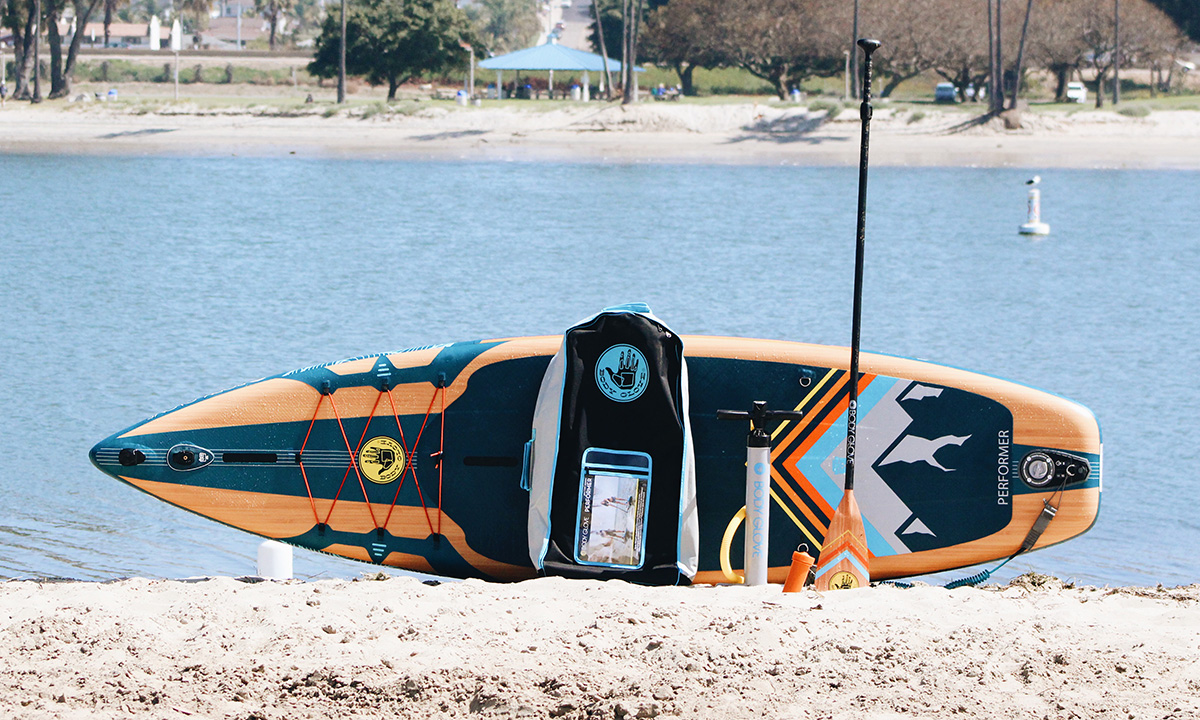 Updated for 2022, the Performer 11 has once again received a nice makeover both graphically and for the package as a whole. The first upgrade we noticed was the inclusion of the electric pump which made inflating the board easier than ever before. That alone is a huge value-add. The 2022 graphics are also a really nice upgrade, probably our most favorite to-date. The deep blues mixed with the wood graphics and the pop of Body Glove's branded yellow really go together nicely. Another subtle but nice feature change was the detail they put into the deckpad. Before, the pad was a standard diamond pattern that you see with many brands on the market but this year their deckpad features their logo etched in in tiny little circles as the pattern and it even has foot placement guides etched in. Big points on thoughtfulness there. Not new for this year but still worth noting, are all the bells and whistles that the board comes equipped with. The bungee on the nose, the reinforced nose bumper, the tow attachment on the nose, the action camera attachment and the center handle that also doubles as a paddle or water bottle holder, all add so much value to this package. On the water the board felt very stable as expected and the pointed nose helped the board glide smoothly. The board even felt stable enough to bring along a first time paddler, Sage the 5-month old Weimaraner puppy without issue. One thing to point out here is that the fins are permanently attached to the board so you'll have to be a bit more careful as to not damage the fins or the board when the board is not in use but other than that we have nothing but praises for the 2022 Performer 11'. Overall, this board and package is very well put together. From the graphics across each touchpoint, the board quality, the add ons and the included accessories all make the value of this packaged unmatched, especially if you're a Costco member where the package price drops down to an unbeatable $399. Once again, excellent job to Body Glove on putting this together.
| | | |
| --- | --- | --- |
| Price: $999 | Build: Inflatable | Weight: 24.6 lbs |
| Use: All Around | Skill: Beginner | Sizes: 11' |
POP BOARD CO ROYAL HAWAIIAN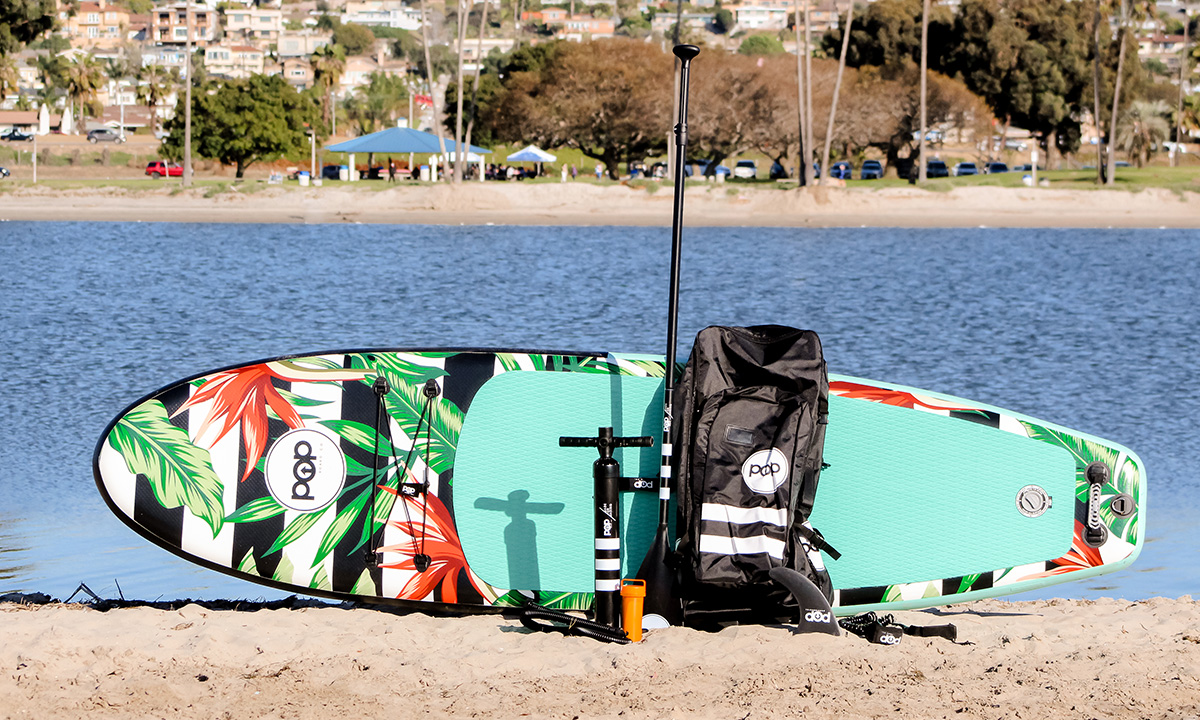 Details, details, details. The first thing we noticed about this board, and the entire package was the thought and detail that went into each element of the package. From the board, to the bag, to paddle, to the pump and leash this package was perfectly coordinated and had beautiful branding throughout. The color scheme of this board is eye-catching, the black and white stripes with the floral, really just the overall scheme of being on the water, ocean, beach, it is just beautiful. Graphics aside, the board felt and appeared to be very well-made. Same goes for the 3-piece paddle that's included. The pump was a standard dual-action and worked well. Another perk of this package/board is the universal single fin box so while it comes with it's own fin, you're able to swap it out for a different one if you like. Additionally, the backpack seemed to be very good quality with both good straps and wheels for pulling behind you. The board weighed in at 22 lbs which is pretty lightweight considering the heavier construction and carrying it down to the water wasn't too difficult. Another thing to point out – although the board is 30 in. wide, it still felt very stable and was comfortable to stand on so beginners considering this board shouldn't have too much difficulty finding balance. While paddling, the board was easy to turn and had a nice glide to boot. The graphics tend to lean more towards a feminine vibe but depending on your taste, this board would be a good choice for just about anyone. Overall, this board was a great experience all-around. The coordinated branding and colors across each item in the package, the construction, the add on's and the price point all point towards the Royal Hawaiian deserving Supconnect's A-Grade.
| | | |
| --- | --- | --- |
| Price: $849 | Build: Inflatable | Weight: 22.12 lbs |
| Use: All Around | Skill: Beginner | Sizes: 10'6" |
THURSO SURF WATERWALKER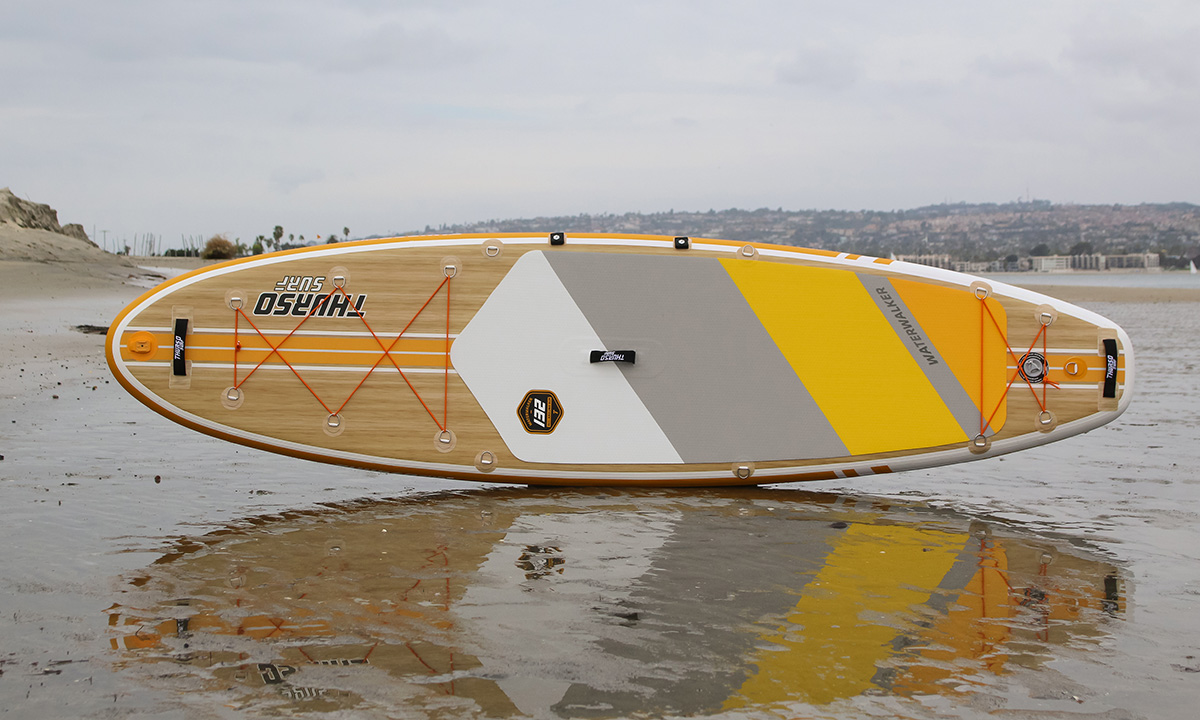 The 2022 version of the Waterwalker is the 3rd iteration of this board that we've reviewed. We first reviewed the model back in 2018 and did another one in 2020. We're pleased to note that with each update we keep noticing an improvement and this 2022 version is no different. One of the biggest downsides on the earlier versions was the weight of the board but with this version there's been considerable improvement. The board now weighs 24.4 lbs which makes such a big difference when carrying and paddling. For 2022, the board also got updated on the graphics which is also an improvement. There's more coordination with the colors of the board matching with the deckpad showing more thought was put into it. Speaking of the deckpad, the material used was really soft, comfortable and easy to grip with your feet. Now here's the kicker and another great feature we don't see all-too-often in inflatable boards: carbon rails. The infusion of carbon rails here really help with the rigidity of the board. Well done! As with the previous versions the board does have a lot of add on's with bungees on the nose and tail of the board, added d-rings, extra handles on the nose and tail, a keyless 3-fin setup and a paddle holder on the rail and comes with a very nice bag with the large wheels that make it easy to transport as a luggage piece and is still one of the best that we've seen on the market. Additionally, and this is something we don't see all too often is the fin setup with 3 removable fins. Typically we see with inflatables either 1 removable center fin or the two sidebites are built in, but here, all 3 fins are removable. Carrying the board down to the water was manageable, especially with the decrease in weight. Once on the board it was nice and stable. Instantly I felt confident; I believe if I was a beginner, this is definitely an inflatable board you would want to learn on. When turning the board it doesn't feel wobbly, it kind of just is a smooth flat surface. Overall, this board is great for beginners and it's going to last you a long time the way it's made. It's beautifully designed with the bright colors, eye-catching. With all the updates, improvements and features this board has, we're giving it the well deserved upgrade and grading it an A for being an all around inflatable.
| | | |
| --- | --- | --- |
| Price: $849 | Build: Inflatable | Weight: 24.4 lbs |
| Use: All Around | Skill: Beginner | Sizes: 10', 10'6", 11' |
BLACKFIN MODEL XL
The first thing that stood out to us on the Blackfin Model XL was the attention to detail. Everything included in the package: the board, paddle, leash, bag, pump and fins all had the same color coordination across the board. Then, the deckpad even had the Blackfin logo etched in all throughout. You can see the detail and thoughtfulness that went on behind the scenes of this package. The features and add ons that this board has is extensive. The bungee cords on both the tail and nose of the board feature grab handles which is great for kids to hold on to or for better securing your cargo. The added handles on the nose and tail of the board are also super helpful when carrying down to the beach or even using them as attachment points when you're on the water. Because this board was designed with fishing in mind, you've also got a ton of attachment points for fishing mounts, coolers, action cameras and more, making it extremely easy to customize to what you're looking for. When it comes to durability, the Model XL features a carbon rail that makes the board more durable but it also helps give the board a more rigid feel which does translate into the board being slightly heavier, at around 25lbs. Not too heavy at all but something to keep in mind. For the accessories that are included in the package we were not disappointed. The 3-piece paddle was pretty lightweight and felt comfortable and the 3 lock-in fins included add a nice touch. For the backpack - this was really impressive. The branding was nice, wheels were solid and there were really nice pockets on the front, both zippered and mesh, that are great for any additional items you want to store with your SUP. Additionally, the backpack was really comfortable to carry on your shoulder or back. On the water the XL felt really stable which is what you'd hope for in a board designed for SUP fishing and adventure paddling. It also had a nice glide and felt smooth. Now while this board would be a good option for SUP fishing, don't let it fool you: it can also double as a great board that the entire family can enjoy when you're looking for a more chill day on the water. Overall, the thoughtful details on design and packaging, the add ons included and quality of product all point to the Blackfin Model XL earning itself an A-grade.
| | | |
| --- | --- | --- |
| Price: $1,149 | Build: Inflatable | Weight: 25.1 lbs |
| Use: All Around | Skill: Beginner | Sizes: 11'6" |
BOTE HD AERO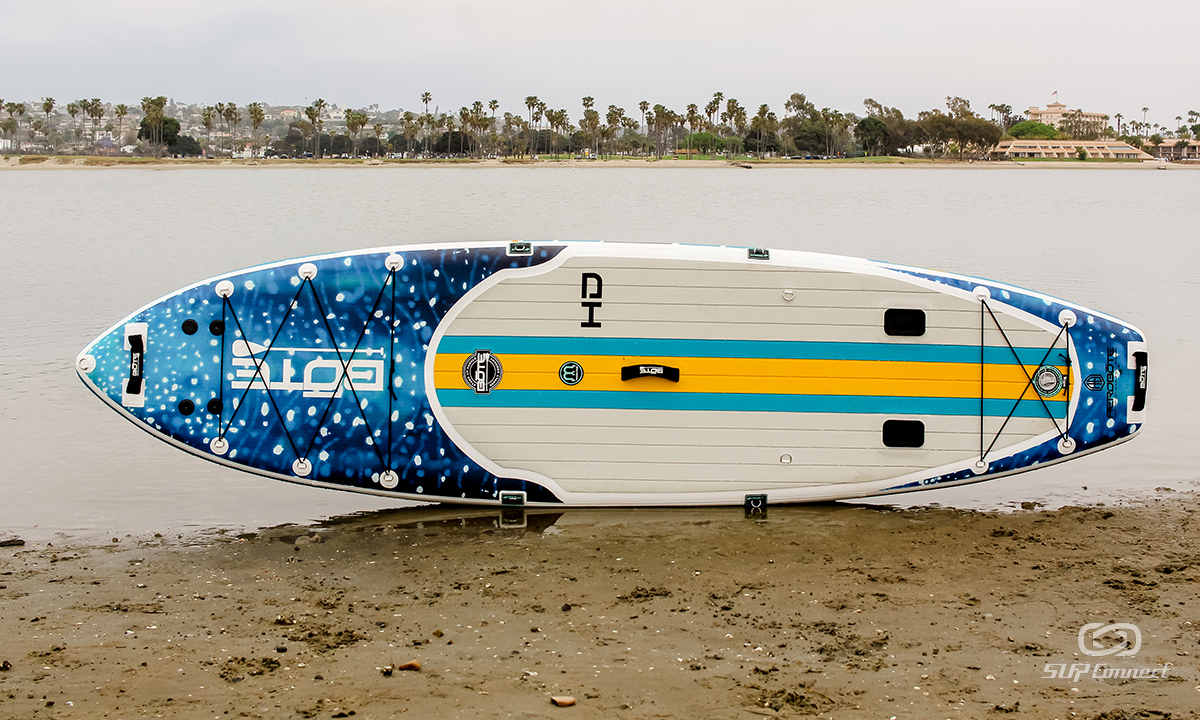 For the specific board we reviewed we had the whale shark design and at first glance, we couldn't take our eyes off of it. The beautiful graphic detail of the whale shark design placed on the nose and tail with their logo popping through the yellow stripe on the deck and also through multiple parts on the board was so unique and cool-looking…not that we'd expect anything less from the BOTE team. They're notorious for amazing graphics on their boards and across their product range. On the water, the board was surprisingly fast for an inflatable and very strong, able to lug around everything you need for long ventures or even a fishing trip. This overall package is packed with great accessories such as 3-piece adjustable SUP paddle, a 10″ removable center fin, a repair kit, a hand pump, and a travel bag. The bag was nice (no wheels unfortunately) but the material is like a waterproof material which was pretty cool and obviously handy. One thing that also stood out was that the package didn't come with a leash, which is concerning for safety reasons, but it did come with multiple surprising accessories, like an inflatable kayak seat, removable Aero paddle sheath, and a pair of slide-in Aero rac receivers. All amazing add on's no doubt, but a leash is definitely something that should be an included accessory in the package. Overall, this board was exciting, fun, came with a ton of great features, has great quality and for that we're giving it an A-grade.
| | | |
| --- | --- | --- |
| Price: $1,149 | Build: Inflatable | Weight: 25.4 lbs |
| Use: All Around | Skill: Beginner | Sizes: 11'6" |
IROCKER ALL AROUND ULTRA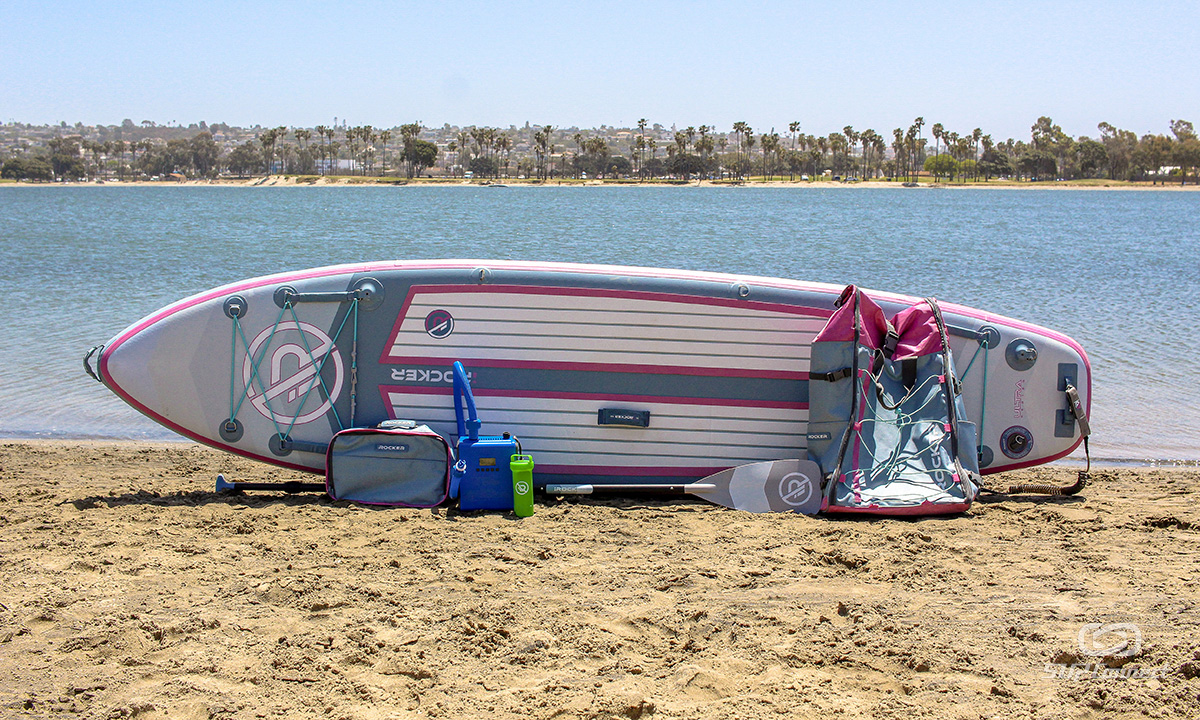 To sum up this board in a word: wow. There was so much that stood out on this model it's hard to even know where to start but we'll give it our best shot. The specific model of the All-Around came in iRocker's brand new Ultra technology which makes the board incredibly compact and lightweight. So much so that the backpack is half the size of regular bags that you'll see on the market. There's only a select few that we've seen of boards that come in a pack this small. And speaking of the backpack, the design details and quality were outstanding. Speaking of details, EVERYTHING was branded with the iRocker logo and colors from the board itself, the deck pad, nose, and straps to the design of the backpack, paddle, electric pump bag, and fins. Great details that just catch your eye! Another thing that stood out to us was the electric pump that's included in the package which is something that we've only seen elsewhere once or twice and is a huge value-add! The electric pump came in a branded bag that matched the color style of the board but was a bright blue (can't miss it!) and it was super easy to set up and inflate. Once getting up on the board in the water it felt stable,—not as much as their other models that we've tried, but stable nonetheless. This board would probably be most comfortable for smaller to mid-sized paddlers, kids, or someone looking for a compact, lightweight and small board to take everywhere and have fun! Overall, this board was very thoughtful with the branding touchpoints, quality of the overall package, and sticking to a mid-tier price point, and for that, the iRocker All-Around is well-deserving of an A grade.
| | | |
| --- | --- | --- |
| Price: $799.99 | Build: Inflatable | Weight: 19.13 lbs |
| Use: All Around | Skill: Beginner | Sizes: 10', 11' |
Photo Gallery
A Look at Imagery from our SUP Reviews
More Resources
© Supconnect.com Copyrighted Exclusive Content
Last modified onMonday, 18 July 2022 11:18

Submit your news, events, and all SUP info, so we can keep promoting and driving the great lifestyle of stand up paddling, building its community, and introducing people to healthier living.
Website: supconnect.com