Speedo USA Launches 'Fueled by Water' Campaign Featuring Standup Paddle Boarding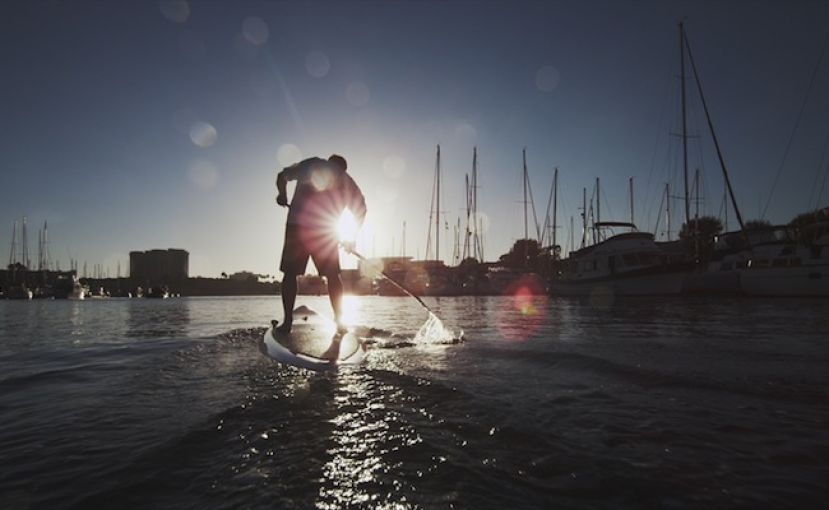 Mike Vaughan, competitive paddler and all-around standup paddling ambassador, is featured in Speedo's 'Fueled by Water' Campaign.
LOS ANGELES (January 14, 2015) – SPEEDO USA, a division of PVH Corp. has launched Fueled by Water, a new digital and social media campaign designed to celebrate all things water and people's lifelong passions for a wide range of water sports.

Through a series of video vignettes, filmed throughout the past year and now live at speedousa.com/fueledbywater, Fueled by Water features 33 individuals – young and young-at-heart – who embody an active lifestyle in and around the water and share a personal connection to the world's most precious resource.

The 16 mini-documentaries, which each live within the Fueled by Water website, are also edited into an engaging, two minute-and-thirty second anthem video that ties each individual story together by a common thread – the love of the water – and showcases the lifelong nature of water sports.
"As the world's leading aquatic brand, Speedo has been 'fueled by water' for more than 86 years," said SPEEDO USA President Jim Gerson. "With this new campaign, we wanted to 'fuel' a fresh and new conversation about why people love the water and celebrate their passions for the pool, lake, ocean, river, etc."
The Fueled by Water video series, which takes consumers on an aquatic journey and speaks to the inherent power of water on the mind, body and soul, features:

· Stand up paddleboarder Mike Vaughan, who uses the water as a form of meditation when he isn't competing, paddling 10-15 miles at a time
· 91-year old Senior Masters swimmer and world record holder Jurgen B. Schmidt, who first started competing in his 50's and has now been a part of Masters Swimming for more than 40 years
· Body surfer Mark Cunningham, retired City and County of Honolulu lifeguard and arguably the greatest body surfer of the modern era
· 64-year old open water "channel swimmer" Jim McConica, also an accomplished collegiate and Masters swimmer, and 41-year old runner-turned-open water swimmer Tamie Stewart, who are both a part of the Deep Enders swim group
· Los Angeles County Lifeguard Captain Mike Inscore, who has been saving lives on the beaches of Southern California since 1980
· 14-year veteran aqua aerobics instructor Allyson Bailey, who inspires class members like Forrest Allison and his wife Lisa Strong during their low impact, high-intensity water workouts
· Fitness swimmers Shana Doronn, 49, and Dave Medina, 32, from the Bruin Swim Club, who are fueled by the camaraderie of a team environment
· Team Speedo stars and Olympic gold medalists Ryan Lochte, Natalie Coughlin, Cullen Jones and Nathan Adrian, who have a true passion for swimming and embody what it means to live a healthy lifestyle in and around the water
· Professional Surfer CJ Kanuha of Hawaii, who comes from a long line of ocean lovers, and designs and shapes surfboards when he's not competing
· Competitive free diver and professional dive instructor Ocean Ramsey, who dedicates herself to the mental training and focus it takes to hold her breath for more than six minutes
· Professional Cliff Diver Tara Tira, who looks to the water for an exhilarating effect and has been diving since she was six years old
· Triathlete Mariel Calloway of Houston, Tex., who continues to improve her stroke with every race and practice
· Rose Bowl Aquatics high school swimmers Javier Lopez and Douglas Nogueira, who say swimming is the most fun – and most athletic – sport they've ever competed in and enjoy both the team and individual elements of swimming
· Goalie Nikki Doumas and Attacker Sophia Baia from the Santa Margarita High School water polo team, fierce competitors who have a passion for the grueling sport and are always working to improve their game
· Claire Barton, Monica Velazquez-Stiak, Elizabeth Wiita and Gillian Brassil from the USA Jr. National Synchronized Swimming Team, who love working together to achieve the perfect balance of endurance, acrobatics and fluid movement in their routines
· Beginner swimmers Jose Barreto, Caitlyn Chailitierd, Nicolai Ross, Natalie Gregori, Isabela Salas, and Mina Sadegni from Rose Bowl Aquatics, who swim for fun, and to learn all of the strokes so they can be great swimmers when they get older.

As part of the Fueled by Water campaign, SPEEDO USA is looking for consumers to submit their own stories via a six week-long social contest. Beginning today, people can share how they are "Fueled by Water" by tagging @SpeedoUSA, on Twitter and Instagram with the hashtag #fueledbywater. [The] SPEEDO USA [marketing team] will post its favorite user-generated posts on the Fueled by Water microsite and select a weekly winner to receive a Speedo gear pack, curated to include top picks from SPEEDO USA's performance, fitness and active recreation collections of swimwear and accessories.
"People are creating their own stories in and around the water every day," Gerson added. "Through Fueled by Water, we are offering a platform for water sport enthusiasts everywhere to talk about their connection to water and its role in their unique and individual mission to live a healthy and active lifestyle."
The campaign's curated product sets and the link to SPEEDO USA'S wide-ranging product line – which features functional and fashion-forward swimwear, footwear, training aids, accessories, and apparel for all things aquatic – underscores SPEEDO's commitment to providing the best products and gear for everyone who loves the water.
"We're very proud of Fueled by Water and can't wait to see how our consumers and the aquatic community engage with us through this new campaign," said Alyssa Igawa, Marketing Director for SPEEDO USA. "This new and immersive digital campaign gives us a great opportunity to celebrate the water sports community – and to highlight SPEEDO's longstanding commitment to bring performance, comfort and style to all who enter the water, whether racing for a record finish, swimming laps for better health, or making memories at the beach."

Fueled by Water is a true first for SPEEDO USA; it has launched online campaigns in the past but this is its first content-driven experience that covers such a wide range of water sports beyond swimming and dives deep into peoples' passions for all things water.

It is the latest campaign from Hello Design for SPEEDO USA; based in Culver City, Calif., the agency signed on as SPEEDO USA's digital agency in 2013.
"We all have a powerful connection to water that's elemental—it's a part of us and all around us, said David Lai, CEO/Creative Director for Hello Design. "Water also connects people in so many ways, including sports and play. This innate love of water is core to Speedo's DNA, and we wanted to give people a glimpse into this world and connect water lovers everywhere."
Speedo is a registered trademark of and used under license from Speedo International Ltd. Warnaco Swimwear, Inc., a subsidiary of PVH that does business as SPEEDO USA, holds the exclusive license from Speedo International Ltd in North America and the Caribbean.
About Speedo
The world's leading swimwear brand, Speedo is passionate about life in and around the water, creating revolutionary new technologies, designs and innovations, and supporting swimming from the grassroots to the elite level. In the 1920's Speedo made history with the Racerback, the world's first non-wool suit. In 2008, Speedo redefined swimwear again with Fastskin LZR RACER, one of the fastest and most technologically advanced swimsuits ever created; 2011 saw Speedo unveil another world first with the Fastskin Racing System - a cap, goggle and suit designed to work together as one. Speedo is owned by Speedo Holdings B.V. and distributed in over 170 countries around the world; in North America and the Caribbean, Speedo is licensed exclusively to Warnaco Swimwear Inc., a wholly owned subsidiary of PVH Corp. To find out more, visit www.speedousa.com.
About PVH
PVH Corp., one of the world's largest apparel companies, owns and markets the iconic Calvin Klein and Tommy Hilfiger brands worldwide. It is the world's largest shirt and neckwear company and markets a variety of goods under its own brands, Van Heusen, Calvin Klein, Tommy Hilfiger, IZOD, ARROW, Warner's and Olga, and its licensed brands, including Speedo, Geoffrey Beene, Kenneth Cole New York, Kenneth Cole Reaction, MICHAEL Michael Kors, Sean John, Chaps, Donald J. Trump Signature Collection, DKNY, Ike Behar and John Varvatos.
Last modified onThursday, 22 January 2015 11:52

Submit your news, events, and all SUP info, so we can keep promoting and driving the great lifestyle of stand up paddling, building its community, and introducing people to healthier living.
Website: supconnect.com
Email

This email address is being protected from spambots. You need JavaScript enabled to view it.