Schweitzer and Logreco Win at Turtle Bay
Among the vert best Hawaiian stand up paddlers, Zane Schweitzer takes first place in the sprint race and Andrew Logreco takes first place in the 12-mile distance race.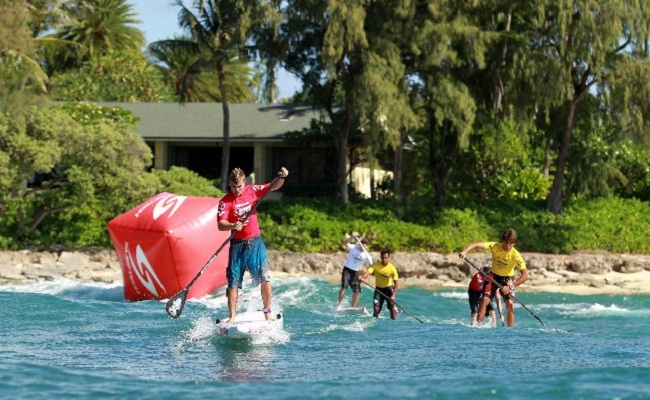 Zane Schweitzer and Kai Lenny battle it out on the sprint race course during the North Shore Paddle Challenge hosted by the Turtle Bay Resort.
Read the full article leading up to the Turtle Bay Resort North Shore Paddle Challenge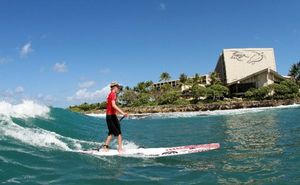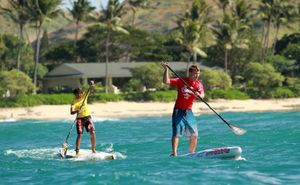 KAHUKU, Hawaii – The North Shore Paddle Challenge was held at the Turtle Bay Resort from October 13th – 16th. Stand up paddle athletes from around the world decended upon the iconic North Shore of Oahu to participate in the final event in Watermen League's exciting 2011 race series.

In a new sprint format unveiled for this race and to set the template for races to come in the 2012 Stand Up World Series events, Starboard's Zane Schweitzer dominated. In a fierce battle between the best Hawaiian talent, Zane came out on top ahead of Kai Lenny (2nd), Noe Ginella (3rd), Kaeo Abby (4th), Noland Keaulana (5th) and Connor Baxter (6th).

Kai Lenny clinched the overall Title of North Shore Paddle Champion for 2011, proving his ability to excel in a variety of race and event formats. Lenny, who is currently atop the pack in the Stand Up World Tour, looks to extend his dominance in the 2012 race series.

In the 12-mile distance race held on Sunday, racers competed on the legendary downwind run from Turtle Bay to Haleiwa. Unable to make the sprint race held on Saturday, lifeguard Andrew Logreco arrived on Sunday ready to compete with the best distance racers. Ultimately, Logreco powered through a grueling course to finish ahead of recent Battle of the Paddle Champion Connor Baxter, Slater Trout, Kai Lenny and Livio Menelau.

The Turtle Bay Resort provided a prime location for all the events and festivities surrounding the North Shore Paddle Challenge and will continue to serve as an excellent location to hold stand up paddle events year round.

Congrats to Zane Schweitzer and Andrew Logreco for their impressive wins!
.
Last modified onWednesday, 19 February 2014 17:04

After spending the first part of her life in Minnesota, Morgan traded in her snow boots for sandals and moved to sunny California. After graduating with a degree in Communication from The University of Southern California, she eventually made her way down south to San Diego and is taking advantage of the living by the best beaches and burritos California has to offer. If it's sunny, you can find her at the beach relaxing, or exploring the calm water in the bay via paddleboards and kayaks.
Email

This email address is being protected from spambots. You need JavaScript enabled to view it.