Mongoose Paddle Festival Put Smiles on Many Faces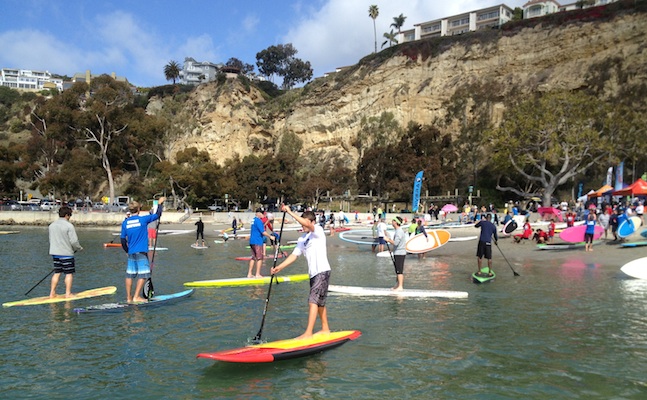 The 4th annual Mickey Munoz Mongoose Festival
DANA POINT, California - When paddlers of all levels show up at the Mickey Munoz Mongoose Stand Up Paddle Festival, they know they are coming together for a good time. ·Yesterday, hundreds of people showed up at Baby Beach to paddle together and then learn from some SUP instruction followed by sprint races, the highlight of which were the "Luck of the Draw" relays.

The relays were literally organized by drawing names out of a hat and placing people on 5 man teams to duke it out on a short sprint course with a few buoy turns. The excitement levels were high and the fun was tangible as elite level paddlers and new beginners teamed up and cheered one another on to the finish.
The 4th annual Mongoose Festival has once again been declared a success and Mickey himself was there to not only sign autographs but also to paddle and have a great time along with everyone else.
About Mickey Munoz:
Mickey Munoz, born in New York City in 1937, is an early pioneer of surfing and well-known surfboard shaper. Once described as the "surfer's surfer", Mickey has been riding waves since the 1950s and has been featured in many popular surfing films and documentaries. Winning the first professional surf contest and pioneering big wave surfing at Waimea Bay are a few of Mickey's surfing accomplishments. Munoz was the stunt double for Sandra Dee in the 1959 teen film Gidget and he developed an iconic surf stance that became known as the "quasimoto". Mickey currently lives in Capistrano Beach, CA with his wife Peggy and is an avid stand-up paddler (SUP).
.
Last modified onSunday, 10 March 2013 01:59
Email

This email address is being protected from spambots. You need JavaScript enabled to view it.