Lauren Rodriguez To Enter Grueling 340 Mile SUP Race Across Missouri: The MR340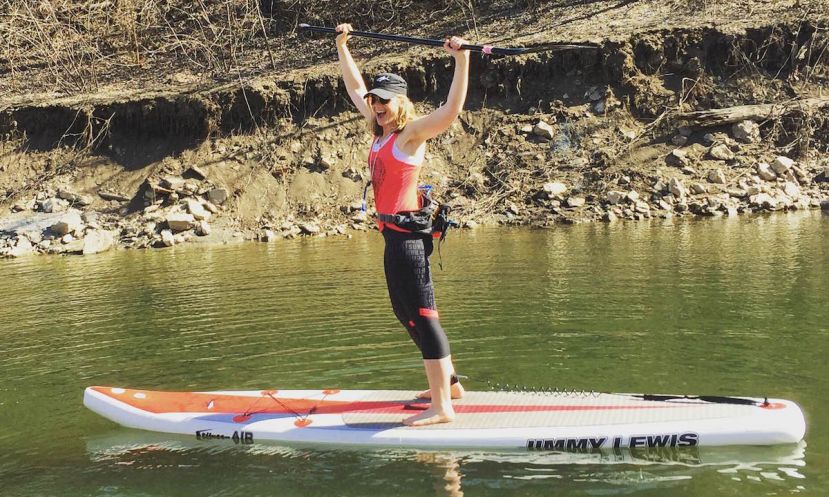 Lauren Rodriguez after finishing 100 miles for the 100 mile challenge. | Photo Courtesy: Lauren Rodriguez
KANSAS CITY, Missouri - The MR340, a 340 mile paddling race on the Missouri River will take place on July 19th, 2016 and no female has ever crossed the finish line. This year, Lauren Rodriguez will attempt at being one of the first, if not the first, female to finish this race and all alongside her team of eight including Shane Perrin, who once held the World Record for longest paddle in 24 hours. As only one of two females entering the race this year Lauren is determined to not only cross the finish line but to also raise funds and awareness for GoRedforWomen.
To learn more about Lauren and the MR340 we got in touch for a chat about it all and what she's looking forward to, expecting, and how she's been preparing for the big race. Check it out:
Lauren, so stoked to hear you're going to take part in the MR340! For those who aren't familiar with this race, can you explain a bit about the race and what it's all about?
The Missouri 340 (MR340) is an endurance race across the state of Missouri. Competitors will start in Kansas City and if you finish, you'll end in St. Charles, Missouri. Participants are allowed exactly 88 hours to complete the course. Only 2/3 of teams finished last year. The MR340's website describes it perfectly: "Imagine a race across the entire state of Missouri, just you and your boat thrown against 340 miles of wind, heat, bugs and rain. This ain't no mama's boy float trip. This race promises to test your mettle from the first stroke in Kansas City to the last gasp in St. Charles." There has never been a female to cross the finish line on a SUP since the race's inauguration in 2005. This year there are two females registered and I plan on being one of them crossing that finish line.
How did you get involved with the race this year, and is it the first time you will be taking part in the event?
This will be my first time in the MR340. I didn't even know about the race until I moved back to Kansas from San Diego in 2015. An old college rowing buddy of mine texted me and said "Hey Lauren, now that you're back in Kansas, you need to check out the MR340!" I had no clue what it was. I looked it up and thought "No way! Those guys are crazy!"

Fast forward five months and I went to a SUP race in St Louis, Missouri. I met Shane Perrin (aka Stand Up Guy), one of the top endurance SUP racers in the US. Shane and I clicked immediately, sharing the same passion: promoting SUP in the Midwest and helping it grow. Shane contacted me a few months later and asked if I would like to be one of the first women to finish the MR340. Without hesitation, I said yes.
Tell us a bit about your team and what you're racing for…
Our team is composed of one woman and eight men, ranging in age from 30's to 80 (yes, 80!) and from Florida, Kansas, Missouri, Oregon, Tennessee & Wisconsin. It's a very diverse team hand picked by Shane, (with military veterans, business owners, contractors, medical, etc) who all add unique qualities to the dynamics of the team. We are all starting and finishing together.

We're all paddling for a cause of our choice, mine being GoRedforWomen (the American Heart Association). Heart disease prevention and awareness is my passion; heart disease kills more women each year than all cancers combined-a fact that is not well known and awareness is still lacking. My goal is to raise $5000 for GoRed. This may be a lofty goal but as long as I reach people, lead by example, educate and possibly save a life then that's good enough for me.
With no female ever having crossed the finish line on a SUP before do you feel added pressure to finish the race?
Of course! I am honored that Shane asked me to join his team. I know it's going to be grueling, with good times and bad, but I'm ready. When people look at me and ask, "Why are you doing this?" I respond "Why not?" I know that this will be an amazing experience; the added perk is that we are doing it as a team. I love the mental challenge of endurance sports. I've ran three marathons, biked across Kansas, why not paddle across Missouri?
With around 14 hours a day on the river for three and a half days, how have you been preparing?
Right after Shane asked me to join his team last fall, I broke my elbow skateboarding. I was sidelined for three months. On December 31, I was released from physical therapy to resume paddling. Since that day, I have been out on the water in all of the weather conditions that Kansas gives you: negative temps, high winds, snow, ice and rain. Now that spring is here, my buddy Frank (who is also doing the race) and I are training by paddling on a smaller river that is slower and almost stagnant, increasing our paddling time each week, building up to 14 hours in a day two weeks before the race. We are paddling with our slower, heavier boards and paddles. Besides the long paddle, we do a 5k SUP race every week, cycling, yoga and weights.
14 hours per day 3.5 days straight is sure to be grueling to your body — mentally and physically. How do you plan to stay properly nourished during this race?
In my experience with other endurance sports, nuts and dried/fresh fruits were the best for my body. I love RevHoney, I consume that instead of Gu's. It's a natural complex fuel made with real honey and fruit. It's delicious and keeps my energy levels up. Best of all, it's made by a family here in Kansas. I've always used Nuun in my water to replace my electrolytes. As our training progresses and becomes more intense, I have other options to try. One of my friends who has placed in the M20 has given me several options for meal and electrolyte replacements and I know Shane has advice/options too. More importantly, at the end of the day, I have found that a very cold beer is the best carb reloader.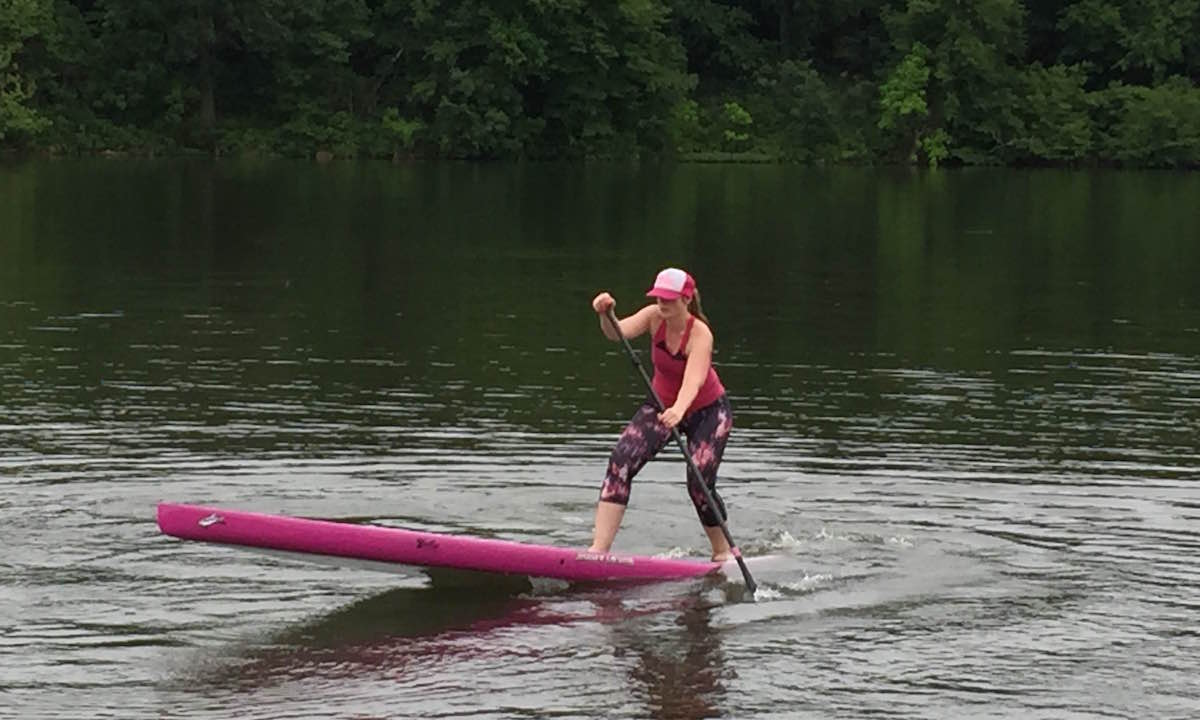 Lauren practicing buoy turns at the lake. | Photo Courtesy: Lauren Rodriguez
What are you most excited for?
There are several things I'm excited about! I'm not only excited about the experience of the race and what I will learn about myself- they say this race will change your life. I'm also excited to meet other people that are challenging themselves in the same way mentally and physically. SUP not only feeds my competitive edge, but it has also created a second family for me. I am excited to be on a team of like-minded individuals who not only love SUP, but we will be there to support each other when times get tough. I think this will be the biggest factor in our success of finishing the race. The competitors in this race come from all backgrounds. I'm excited to see what we will all learn from this experience. Connecting with people, creating new memories & connecting with the community is something that we all need to have for balance in our lives. How can one not be excited about this?
Any reservations?
Besides the chance that my hands may never being the same again, no.
To learn more about the MR340 click HERE.
To see more SUP Race news, click HERE.
© Supconnect.com Copyrighted Exclusive Content
Last modified onFriday, 01 April 2016 12:03

Allie Beucler is orginally from Kona, Big Island and, as an islander, her life has been in the water – ocean more precisely. She has been a sponsored competitive surfer, represented the NSSA College National Champions while surfing for San Diego State University, and today remains deeply connected to the watersports lifestyle. Brown is both a shortboarder and a paddleboarder, loving to take out her inflatable SUP for a ride. With a journalism degree from San Diego State University and her passion for the water life, she brings an excellent combination of skill and passion to Supconnect.
Email

This email address is being protected from spambots. You need JavaScript enabled to view it.