GoPro Mountain Games 2016 Recap & Results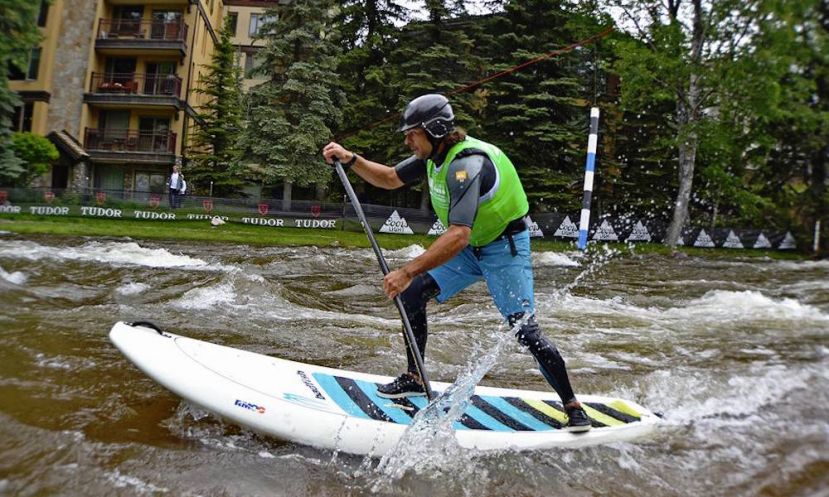 Mike Tavares, SUP Skills Invitational champ. | Photo: Shannon Thomas
VAIL, Colorado - The GoPro Games really outdid themselves with the stand up paddle events this year. The number of competitors was higher than any previous year having close to 100 SUP athletes registered for the event. They spiced things up with the start for the SUP Cross event and they kept the crowd on their feet with the SUP invitational event.
The starting list of competitors was at an all time high. Not only was the number of competitors crazy, the level of competition that showed up was spectacular. Spencer Lacey from Boulder, Colorado had an impressive performance and took first place in both the cross and the down river sprint and came in second behind an on-form Mike Tavares in the SUP Skills Invitational. For the women, Rebecca Giddens took first place in the down river sprint, Camille Swan took first in the SUP Cross and Natali Zollinger took the top spot in the SUP Skills Invitational.
The race director added a unique start to the SUP Cross event which made it all the more exciting for both competitors and spectators. Paddlers lined up on land holding their boards and paddles facing the water. At the start, competitors run and dive onto their boards into the water. This unique start helped eliminate any advantage to starting position. The SUP invitational race allowed the crowd to see SUP at its finest. This event being an invitational ensured the crowd to watch top competitors in the sport. The course for this race was very technical and completing it clean was quite a show!
Photos: Shannon Thomas
Overall, the event was one for the books and big kudos to GoPro for putting on another great event this year for the 2016 GoPro Mountain Games. Check out highlights from all the action courtesy from photographer/filmmaker Paul Clark Below.
Results:
Down River SUP Sprint
Men
1. 671 Spencer Lacy
2. 641 Michael Tavares (Boardworks)
3. 617 Masayuki Takahata
4. 8104 Brent Redden
5. 680 Dan Gavere (Starboard)
Women
1. 634 Rebecca Giddens
2. 627 Camille Swan
3. 649 Ashley Bean
4. 637 Hiiroko Kinuki
5. 8106 Jenny Macarthur
See full list HERE.
SUP Skills Invitational
Men
1 Mike Tavares (Boardworks Surf)
2 Spencer Lacy (Badfish SUP)
3 Dane Jackson (Pau Hana SUP)
4 Miles Harvey (Badfish SUP)
5 Eric Gidden
Women
1 Natali Zollinger (Badfish SUP)
2 Rebecca Giddens
3 Izzi Gomez (Starboard)
4 Nadia Almuti
SUP Cross
Men
1 Spencer Tracy
2 Mike Tavares
3 Luke Hopkins
4 Eric Giddens
Women
1 Camille Swan
2 Rebecca Giddens
3 Nadia Almuti
4 Trinity Wall
To see more SUP River news, click HERE.
Last modified onWednesday, 15 June 2016 10:34

Alex Mauer is a long-time Colorado resident who since the age of 12 has been riding the local river waves. More recently, he has enjoyed the wonders of stand up paddling and has become one of its most passionate advocates and representatives. Mauer is one of Supconnect's most active contributors and an avid representative of the sport in his area. He can be reached and befriended via his profile page on Supconnect.
Website: /Mauer
Email

This email address is being protected from spambots. You need JavaScript enabled to view it.