Connor Baxter Wins the DaHui 2013 SUP Race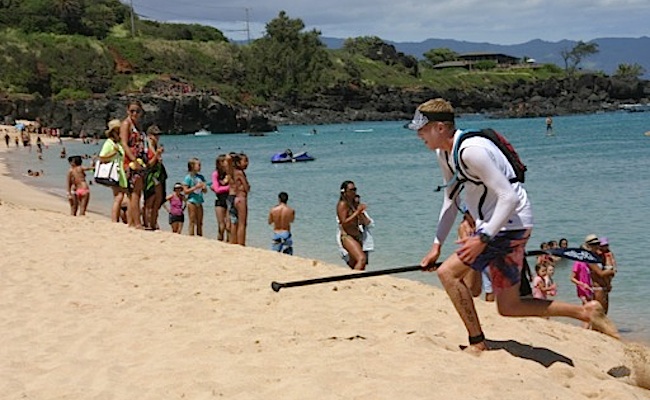 Connor Baxter Climbs the sand to take the win at the 2013 Dahui Race on the North Shore of Oahu. Photo by: Karen Baxter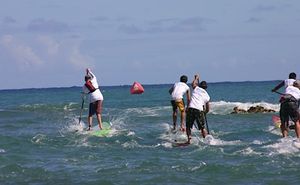 2013 Dahui Race Start - Photo By: Karen Baxter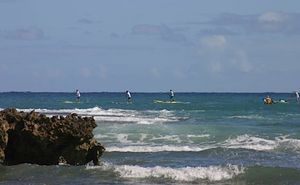 2013 DaHui Leaders (LtoR) Connor Baxter, Mo Freitas, Kody Kerbox - Photo by: Karen Baxter
This past 4th of July there were many stand up paddle races and fun SUP events that took place.·One of them was the 2013 DaHui race on the North Shore of Oahu which began at the incredible and gorgeous Turtle Bay Resort!
The pro/elite course this year was 7 miles long and many great paddlers showed up to compete including Connor Baxter, Travis Grant, Scott Gamble, Kody Kerbox, Mo Freitas and Kaeo Abbey, to name just a few.
This year it was Connor Baxter who came our victorious as he continues to have an extremely dominating year! In his own words he said, "Once I got through the reef I did a quick left hand buoy turn and started sprinting catching every bump I could. I stayed in the front the whole time not letting anyone pass me. The farther we got the less windy it got - plus it started blowing off shore. So I stayed close to shore and tried to stay in front."
Baxter continued, "I stayed in front for the rest of the race all the way until the finish where I hit the beach and had a 300 meter sprint uphill in deep sand just to top it off. Overall I was super stoked on my first place, especially since I will be racing most of these guys for the next three weeks."
Congratulations to Connor, and it goes without saying that the SUP world is excitedly watching to see how the rest of the year plays out for this extreme athlete.
.
Last modified onThursday, 12 December 2013 11:05
Email

This email address is being protected from spambots. You need JavaScript enabled to view it.