Connor Baxter Wins Overall Title At St. Maxime SUP Race Cup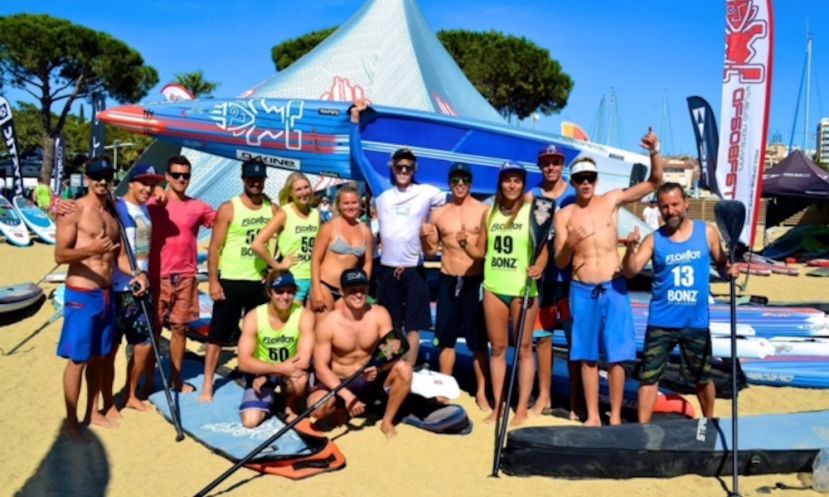 Team Starboard and friends all smiles before the big race. | Photo Via: Karen Baxter
ST. MAXIME, France - The 2016 SUP Race Cup here in St. Maxime was a lot of fun - but so hard core racing. Like most all events it was a two-day event with a course race and distance race. The first day we had a 6 kilometer course with 7 buoys, which was super sick, because drafting was a lot more difficult. On race day the winds were perfect and we had enough for some small bumps - that I knew I could use to my advantage. Once we all lined up I had my focus and mind set on turning that first buoy in the top three. When they started the race I sprinted into the water and was out of there right beside Beau O'Brian.
I kept the full throttle on to the first turn and whipped my new 14' Allstar around the buoy. Heading to the next buoy there were some small bumps and I did what I love to do. When I got to the next turn I had a good gap and got into a comfortable pace. I managed to hold Michael [Booth] and Titouan [Puyo] off starting the second lap, but I made sure I stayed in front because there were only three laps. The second lap I had the same game plan and that was to make these guys work for the first place, so I took advantage of every little bump to make a little gap between us.
Connor leading the pack. | Photo Via: Karen Baxter
I led the second lap again and then switched gears for the last lap. I didn't look back and just focused on perfect buoy turns and keeping a high pace so there were no chances. Plus, for the overall, it was a combined time for the course race and distance race so I knew every second counted. Once I turned the fourth buoy I was feeling pretty confident but I knew it wasn't over. I made the last few turns as smooth and as quick as possible and rode some bumps to the beach then sprinted up with my board.
I was super stoked to start the Euro Tour off with a first place, but it wasn't over yet, because we still had the distance race. That night I ate a huge meal and got a great night of sleep so the next day I was fueled up and well rested.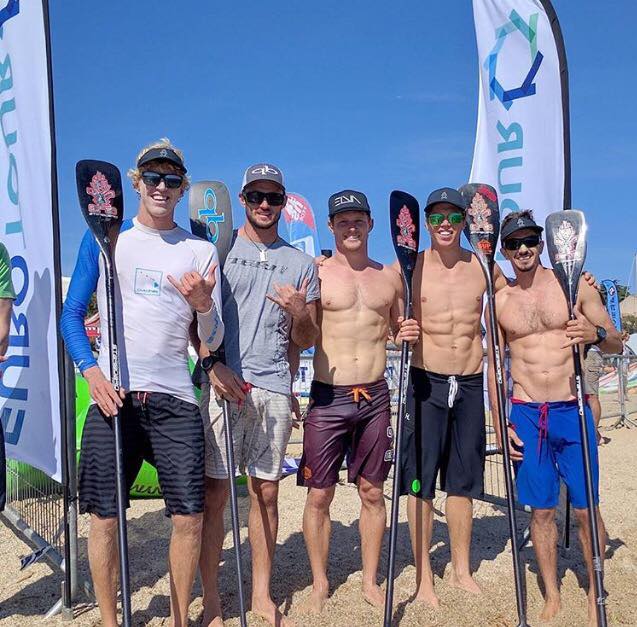 For the distance, I was locked and loaded with water and some Hammer Gels for the 15 kilometer race. Once again it was a beach start and I tried to have a good start, but was not worried about being out in front right away. When the horn blew I made sure to get some clean water, but not burn all my energy to be the first to turn. I turned the first buoy in the top five and then everyone pulled into a train and started heading upwind. There was one moment where Michael and I tried to pull away, but everyone was on it and didn't let up. I realized this and decided to save some energy and draft. Everyone was super hungry to win so the train was consistently moving around.
It wasn't until right before the half way mark that Michael made his second attempt to break away and this time he was successful. He managed to pull away and hold us off for the rest of the race, so then it was the race for second and to make sure he didn't beat me by more then one minute. Titouan and Steve were with me battling it out and trying to catch up to Michael. We did about 7 kilometers like this and then the last two kilometers I knew I had to loose Titouan and Steve - Plus catch up to Michael as much as possible to secure the overall win.
So, I put my head down and there were a few bumps so I started to get into my rhythm. Next thing you know I broke away and was in my own water. I had my eye on Michael and tried to catch up as much ground as possible until the finish line. I saw him cross and tried to count, but was more focused on just crossing that line as fast as possible. I ran up in second place, which I was super stoked on and then was very interested to see what the time difference was between us.
It took a little bit of time for the race organizers to tally up everyone's times - but when the result came in I was super stoked to see that I got First Overall - I just barely got it by 9 seconds. Team Starboard killed it and got 4 out of the top 5 overall results. Next stop - Germany for the infamous Lost Mills Event.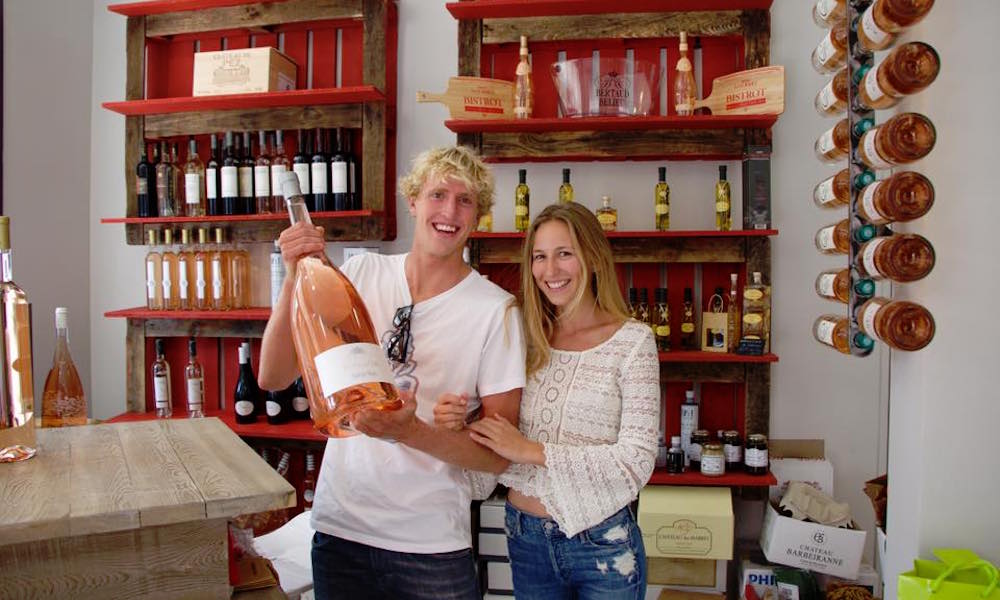 Connor and his lovely girlfriend enjoying some time off of the water. | Photo Via: Karen Baxter
I want to thank my sponsors for all their support – Starboard, Dakine, Maui Jim Sunglasses, Futures Fins, Hammer Nutrition, GoPro, Garmin, Waterman's Sunscreen, OnIt Pro, UB Super and Hi-Tech Sports.
Also a big Mahalo to all the event organizers and all the volunteers. Great Event!!
Last modified onTuesday, 24 May 2016 11:23

Maui, Hawaii - Connor Baxter is a highly accomplished stand up paddle racer and is one of the best in the world. His unique paddling technique is now named after him – "The Connor Baxter Choke Stroke" and people worldwide have adapted to his style of paddling. Connor was born on the island of Maui and raised on the water. When competing in a race, chances are you will see Connor finish on the podium. 
Website: connorbaxter.com/
Email

This email address is being protected from spambots. You need JavaScript enabled to view it.