Boardworks & Badfish Unveil New Inflatable SUP
The new Multi Chamber Inflatable Technology (MCIT) developed with Boardworks and Badfish will elevate the performance and stability of inflatable stand up paddleboards.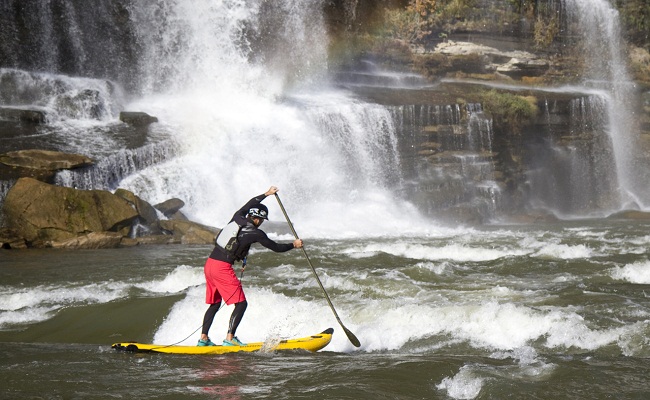 The dynamics of whitewater SUP require stability and agility. The new MCIT SUP brings both and more.
Read more about the Boardworks and Badfish partnership
ENCINITAS, California - Boardworks, a market leader in the standup paddleboard (SUP) industry, recently announced a new game-changing inflatable SUP predicted to lead the market in terms of performance and stability.

Registering a patent on its new innovation—Multi Chamber Inflatable Technology (MCIT) and the Axially Stabilizing Apparatus— the company has challenged the design constraints of existing drop-stitch inflatable SUP technology to create a board with tapered rails and enhanced rigidity. The result is Boardworks/Badfish's new MCIT Inflatable for 2012.
"Conventional drop-stitch material construction which is used by the leading inflatable SUP manufacturers, has a consistent thickness, limiting design variations to outline shape and rocker curve," says designer Phil Rainey. "Our new technology lets us create design elements previously only possible in hard boards including tapered rails which increase responsiveness and stability." MCIT's I-Beam Stiffening System is another design innovation, he adds, that greatly boosts rigidity.

These features and more make the MCIT the perfect choice for all levels of SUP paddlers, from beginners and surfers to fitness paddlers and river runners. It's also perfect for instructional programs, combining ease of storage and transport with stability, safety and durability.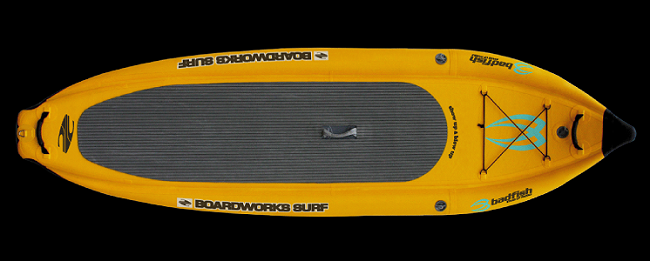 With its superior rigidity and stability, the MCIT is also expected to open the doors to the world of river SUP, which is what Boardworks partner Badfish SUP of Salida, Colo. plans to capitalize on with the design it helped create.

"Because of their durability, ease of storage, and transport benefits, Inflatable boards are popular for river use, but until now they have required sacrifices in stability and performance," says Badfish co-owner Mike Harvey, who helped design the board with partner Zack Hughes and the Boardworks' design team.  "The new MCIT SUP is the most stable inflatable in whitewater by a large margin, yet incredibly nimble and downright fun to paddle. It does many of the things that make our MVP hard board a great river runner."

Perhaps its best feature, he adds, is the board's secondary stability. "You can lean it over on edge to make eddy turns and the rails don't grab, which is a critical feature for river SUP boards," Harvey says, adding, "It also has three air chambers compared to one in conventional inflatable SUPs. It also punches holes and surfs waves well. We're proud to have it in our Badfish line."

The Boardworks Badfish MCIT line is comprised of 9'0", 10'6" and 11'6" models and will be available in the spring of 2012. Stay tuned to boardworkssup.com and badfishsup.com for more news on this revolutionary new line of inflatable StandUp Paddle boards.

About Badfish
Located in Salida Colo., Badfish Stand Up Paddle is the market leader in river-specific stand-up paddleboards, with founder Zack Hughes one of the first shapers to design surf and SUP boards specific to river applications. Partner Mike Harvey has built whitewater parks all over the country, many of which include standing waves for SUP surfing. www.badfishsup.com

About Boardworks
Encinitas, California-based Boardworks' mission is to share its passion for all things water, and to make stand up paddle and surfing more fun for more people. Boardworks represents some of the best shapers and brands in the world and, with its proprietary construction technologies, bring their premier SUP and Surf models to the global water community. Boardworks' SUP brands include Badfish Standup Paddle, Infinity, Rusty, Paddle Surf Hawaii, Morrelli and Melvin, and Ohana; its Surf brands include Von Sol, Hynson, Aipa, Kane Garden, Dewey Weber, and Eaton and Hansen.  www.boardworkssurf.com.
.
Last modified onWednesday, 21 January 2015 14:41

After spending the first part of her life in Minnesota, Morgan traded in her snow boots for sandals and moved to sunny California. After graduating with a degree in Communication from The University of Southern California, she eventually made her way down south to San Diego and is taking advantage of the living by the best beaches and burritos California has to offer. If it's sunny, you can find her at the beach relaxing, or exploring the calm water in the bay via paddleboards and kayaks.
Email

This email address is being protected from spambots. You need JavaScript enabled to view it.