Big Milestones Reached for SUP Industry Association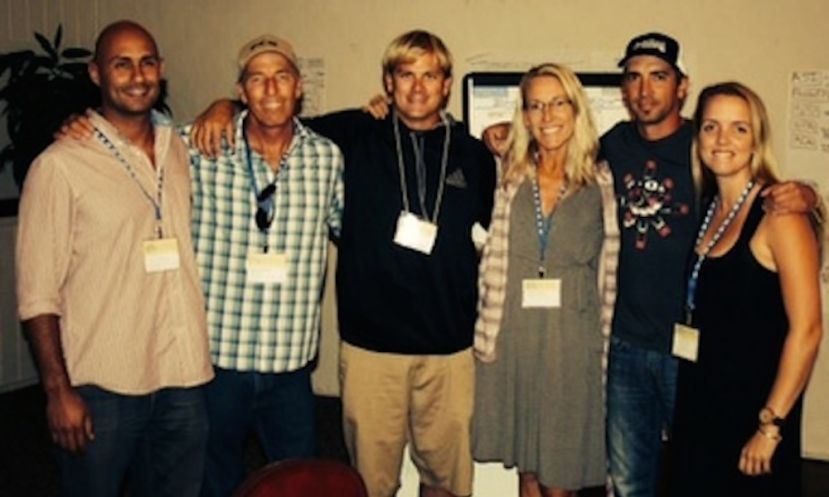 DANA POINT, California - On September 24 and 25, Stand Up Paddle Industry Association members gathered at Aliso Creek Golf Course for its first SUP-IA SUMMIT. Fifty people from SUP businesses around the United States and from as far as Germany, France and Australia joined for two days of networking, discussion and debates about the Stand Up Paddle Industry. Guest speakers, panel lead discussions and quite few drifting conversations allowed the group touch base on a range of topics from the growth and development of SUP, youth involvement, water access, government regulation, safety, and the Olympics.
From the Introduction session, the unifying nature of Stand Up Paddle resonated, many participants shared the motivation for the development of their SUP business: Most companies driven by the inclusive nature, health benefits and the feeling of paddling for the first time. Overwhelmingly their attendance at the event was based on their desire to see the sport flourish.
Speakers, Panel Members and Highlights
Summits do not happen without planning and a lot of help. We were lucky enough to have some fabulous speakers and panel Members:
Anthony Vela
Chase Kosterlitz
Chris Parker - lead the Events and Racing panel
Brody Welte, Julie Roach, Byron Kurt, Chris Stec, Tania Nesbitt - all contributed to our Certification & Safety Panel.
Don Meek from Engine focused on available technologies which can dramatically assist businesses of all sizes and provided a glimpse of future technologies that could rock our world.
Both Matt Collins of Tax & Financial Group as well as Gary Sirota & Seyamack Kouretchian from Coast Law Group shared business insights in break out sessions in Financial Planning & Ecommerce respectively.
Anthony Scaturro, CEO of Flow Sports, provided great insight into the rise and decline of Windsurfing and Snowboarding, pointing out the power of an industry association to set the 'tone' of sport and generated a fantastic discussion about the brand image of "Stand Up Paddling"
Beautiful lunches served on the patio, an open industry party, generously sponsored by Kona Brewing and a members only dinner provided a great chance for manufacturers, retailers, event planners, media, instructors and athletes to meet and socialize.
Outcome Of The Summit
The outcomes from the Summit saw universal agreement that the growth of the sport, the support of youth and grassroots events, access to water and the ability of the Industry Association to be a proactive driver of the sport were all vital to the ongoing success and sustainability of the sport.
As a result a number of committees were formed covering SUPIA Growth and Funding, SUPIA Youth Initiative (Initial Focus: Grant) and SUP Resources (Initial Focus: Access), SUP Best Practices (Initial Focus: Safety Guidelines) A number of members have already volunteered their time to these committees.
Thanks you to all of you able to attend: Michael Aguirre /Standup Paddle West, Peter Byrne/SPZ Sports, Kelly Byrne /Time to Play Fitness, Tyler Callaway /FCS SUP, Mark Capper /Kompas Strategies, Paul Cherry /VestPac, Michelle Clarke /Full Moon Paddleboard, Bill Cochrane /Nalu SUP & Surf, Matt Collins /Tax & Financial Group, Matt Friedman /SUP Think Tank, Ryan Guay /Boardworks, Deb & Matt Johnston /Suplove, Tom Jones /SPZ Sports, Braly Joy /SIC Maui, Rick Karr /Rogue SUP, Seyamack Kouretchian /Coast Law Group, Mark Kelly /Global Surf Industries, Brad Kingsley /SIC Maui, Chase Kosterlitz, Byron Kurt /WPA, Eric & Suzanne Lair /SUP Oklahoma, Joe & Jordan Lapekas /Lake Powell Paddleboard, David Lester, Andrew Mencinsky /Paddle Events Management, Mike Muir /Riviera, Tania Nesbitt /ASI, Andre Niemeyer /SupConnect, Christopher Parker /SUPRacer, Darren Petterson /Knee Deep Living, Brad Rambo /Riviera, Eveline & Christian Relling /SUP Shop, Julie Roach /H2yO, Anthony Scaturro /SIC Maui, Gary Sirota /Coast Law Group, Chris Stec /ACA, Sean Sweet /Sweet Waterwear, Kristin Thomas /SUPIA, Josh & Lori Vajda /Precision Paddleboards, Dan Van Dyke /Seventy Percent Plus, Anthony Vela /Performance Paddling, Brody Welte /Paddlefit, Diane Wenzel /Westwind Sailing
If you have a stand up paddle business, please join SUPIA and leverage the power in the numbers to further advance your company's success in this great sport of ours.
More information is being released regularly. Please sign up for a newsletter on our website and find us on Facebook and Twitter.
About SUP Industry Association
SUPIA is the Trade Organization of all Stand Up Paddle businesses: Manufacturers, Retailers, Service Providers, Media, Sales Reps, Distributors, Suppliers, etc. SUP Industry Association will strive to move Stand Up Paddling forward in a positive direction, while improving each members individual business. In their first 10 months since forming, they already have almost 150 member businesses representing 7 countries and 31 states.
.
Last modified onTuesday, 23 June 2015 19:30

Truscott is a widely published author in the surfing and travel world, has a master's degree in creative writing, and comes from a diverse backgroun in water sports.
Email

This email address is being protected from spambots. You need JavaScript enabled to view it.