8 Takeaways from the Hawaiian Leg of the 2017 APP World Tour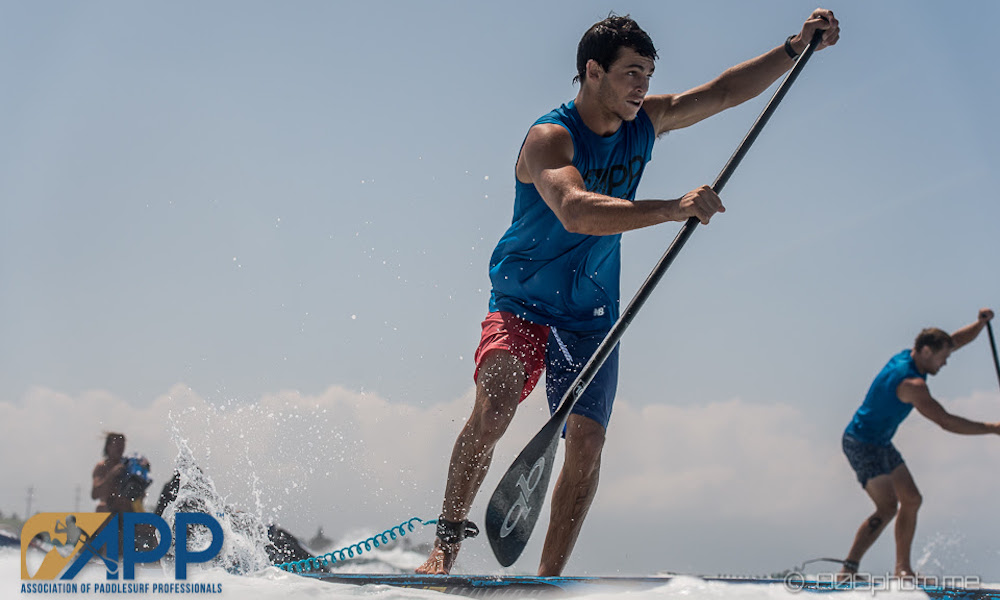 Mo Freitas during the Maui Pro-Am. | Photo: APP World Tour / 808photo.me
OAHU, Hawaii - With the Hawaiian leg of the 2017 APP World Tour coming to a close there were some important facts to be aware of after the events wrapped up. The early leaders were named, the double-threats to look out for and more. Here are eight takeaways:
1. Mo Freitas is a serious double threat and looking better than ever, with a finals berth at Sunset for surfing and win at the Maui Pro-Am
If there were any uncertainty on Mo Freitas' form and potential coming into 2017, it was answered this past weekend, where he put on a standout performance in both the surf sprints and the long distance grind, the latter that saw very untypical conditions for Maui's iconic Maliko downwind run.
As one of the World's leading Stand Up Paddle surfers, you would anticipate that his strength would be in surf racing, which was proven with his 2nd place finish in the sprints. However, you wouldn't necessarily put your money on him in flat water grind conditions, but Mo stepped up this weekend and made a clear statement: regardless of the conditions, he is one of the very best racers in the world, and has his sights clearly set on the World Title in 2017.
What is perhaps the most impressive however, is that his performance across the Hawaiian leg of the APP World Tour this year sees him take a very dominant position in the Overall World Rankings, with a 4th place in Surfing and victory at the Maui Pro-Am, boosting him convincingly to the top of the leaderboard for Racing after Stop #1.
While the intensity of the competition in Maui has clearly illustrated what a fiercely competitive year we have ahead of us here, Mo has shown he is every bit up for the challenge and will now be hoping to build on his momentum as we prepare for the upcoming Japan Pro-Am from the 5th - 7th May in Enoshima.
Here is a snapshot of the Top 5 on the overall leaderboard for both Surfing and Racing after the completion of the Hawaiian leg of the 2017 APP World Tour:
Mo Freitas, Hawaii
Bernd Roediger, Hawaii
Casper Steinfath, Denmark
Giorgio Gomez, USA
James Casey, Australia
2. Terrene Black is also a double threat, and major contender for the World Racing Title in 2017, with an impressive victory on Maui.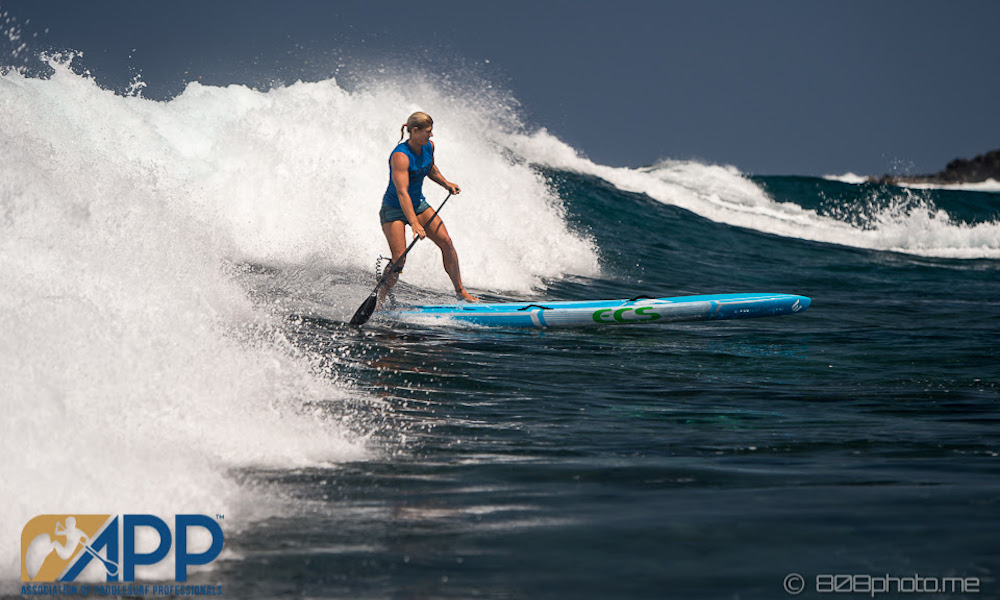 Terrene Black during her epic performance at the Maui Pro-Am. | Photo Courtesy: APP World Tour / 808photo.me
Terrene Black has been previously acclaimed for her stunning channel crossing performances and endurance races. However, the opening season of the 2017 APP World Tour saw Terrene excelling in both Surfing at Sunset Beach last month where she secured a 7th place finish, followed by an impressive victory amidst a star studded field of Women on Maui for racing.
There is no doubt that Terrene has set herself up for an incredible year ahead at this opening leg in Hawaii, placing herself squarely in the mix for World Title contention as we move onto Stop #2 in Asia, the Japan Pro-Am from the 5th - 7th of May.
While the conditions will be very different in Enoshima, Terrene has clearly demonstrated that she is a force to be reckoned with and versatile across all forms of paddling, so expect big things from this talent from down-under as we progress through the season on the 2017 APP World Tour.
3. Michael Booth is an animal of a paddler, especially when conditions require brute strength and conditioning to overcome the odds.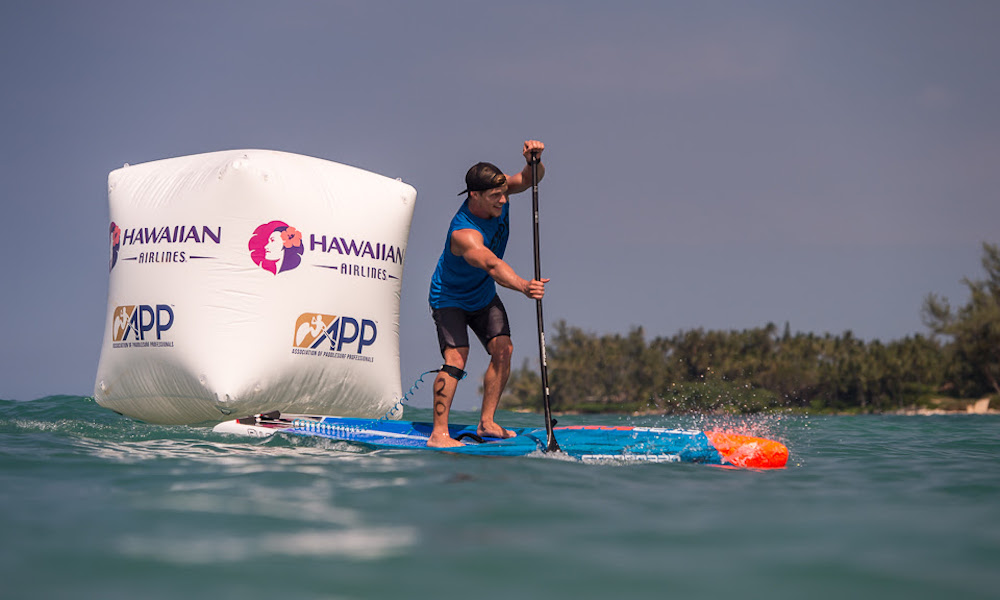 Michael Booth is all smiles during the Maui Pro-Am. | Photo Courtesy: APP World Tour
While it was a disappointing first day of action in the surf sprints for Starboard Dream Teamer Michael Booth from Australia, every bit of frustration and determination was channeled into a powerful performance on Day 2, as Michael clearly showed he is one of the most dangerous paddlers in the world, particularly when it comes to flat water / calm conditions. Stroke for stroke, pound for pound, Michael is an animal and is here to win, taking his first victory of the season on the 2nd day of competition on Maui.
As we look ahead to Japan in May, there is no doubt that Michael will once again excel, with conditions clearly suiting the powerhouse from down-under. Last year he was narrowly beaten by 2016 World Champion and fellow Starboard teammate Connor Baxter in the long distance, but will be looking for redemption this year, something that he has shown he is 100% capable of.
Watch out for Michael Booth on this year's APP World Tour as he sets his sights on the World Title in 2017.
4. Fiona Wylde confirms that she continues to be one of the World's most well rounded talents, leading the overall rankings after Hawaii.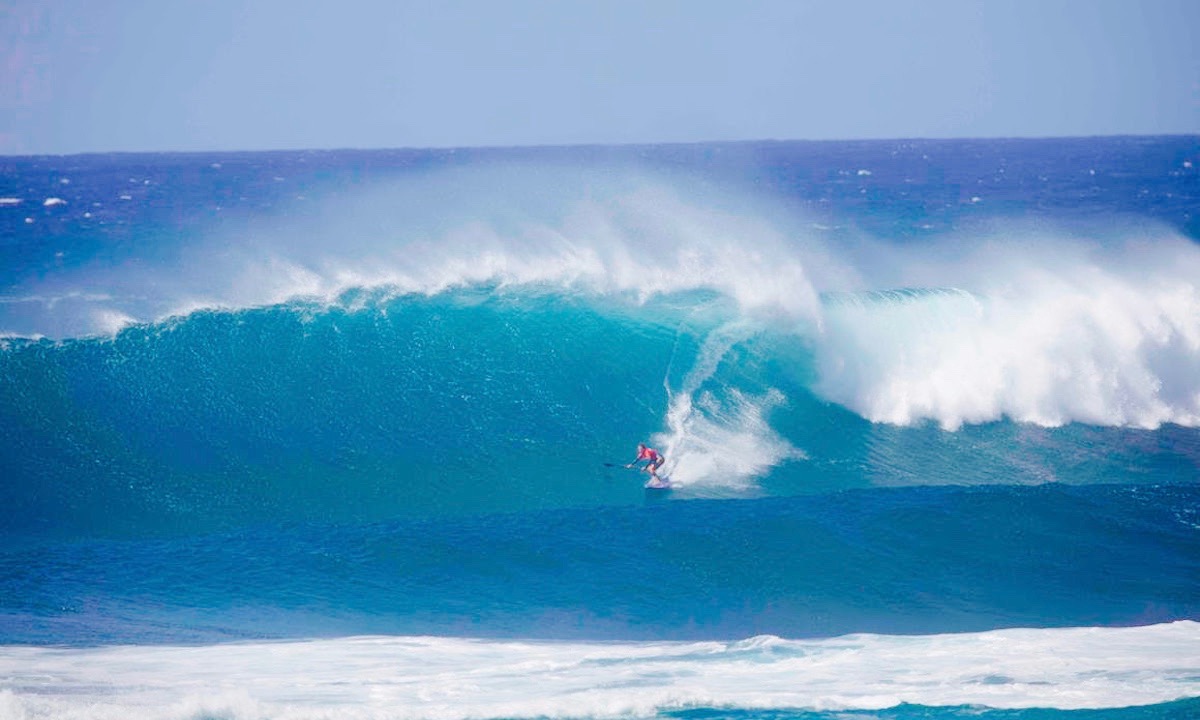 Fiona Wylde charging at Sunset Beach. | Photo Courtesy: APP World Tour
Starboard and Werner Paddles athlete Fiona Wylde was coming off a stand out performance at Sunset Beach last month, where she finished in an impressive 2nd place, and caught what was arguably one of the best waves of the event. Transitioning over to Racing for the Maui Pro-Am was therefore momentum filled, as she was looking to capitalize on the great start to the year and defend her yellow jersey position at the first Racing stop of the year, as 2016 World Champion.
While a 6th place in the 3rd heat of surf sprints certainly slowed her down on Day 1, the 1st and 2nd secured in the first two heats was enough to keep her in 3rd place overall for the sprints. And Day 2, saw Fiona manage the long distance impeccably, finishing in an impressive 2nd place behind the long distance master, and Starboard teammate Sonni Honscheid and as a result, 2nd place overall for the event.
What this means is that Fiona's position as leader of the pack when it comes to the overall result across Surfing and Racing is maintained, demonstrating how dangerous Fiona is any form of board riding. However, it is a tight pack at the top in the women's division with Izzi Gomez (Starboard) stepping up to race in Maui, the young phenom Annie Reickert from Maui and of course the Maui victor, Terrene Black all in the mix. Here is the current Top 5 overall for the Women after the Opening leg of the Tour in Hawaii:
Fiona Wylde, USA
Izzi Gomez, USA
Terrene Black, Australia
Annie Reickert, Hawaii
Lara Claydon, Hawaii
5. Casper Steinfath is still the most dominant sprint racer in the World.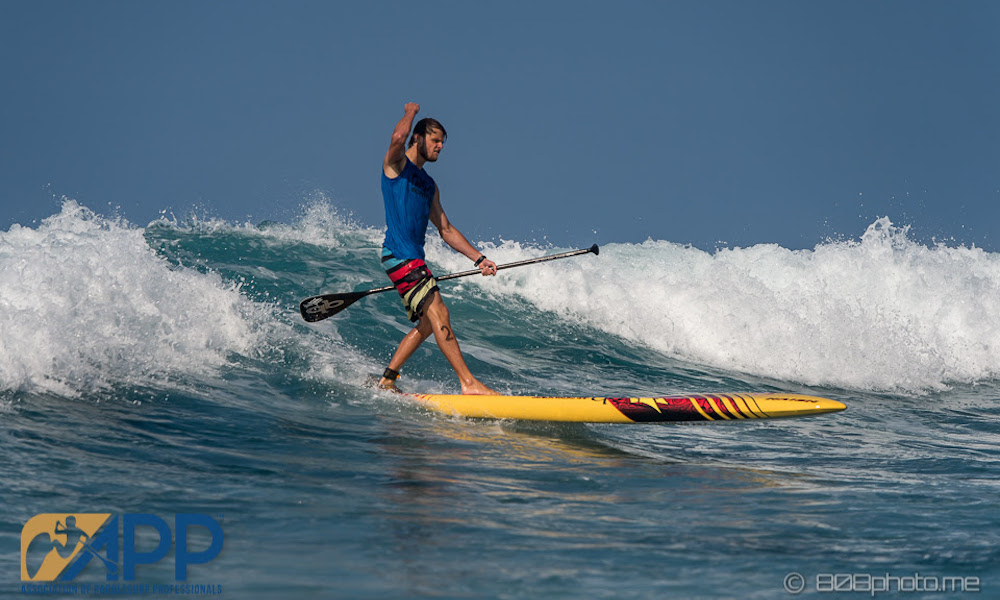 Casper Steinfath on his way to the win in the Sprints at the Maui Pro-Am. | Photo Courtesy: APP World Tour / 808photo.me
Naish team athlete Casper Steinfath, the Viking from Denmark has once again kicked off the year as he means to continue: with a solid performance in the surfing at Sunset last month, he went onto dominate his favorite racing discipline, Surf Sprints in Maui again this year, a result that continues his pole position in sprint racing as a whole.
While the long distance was tougher for the Viking, he put on a solid performance to take 7th place, keeping him on the podium for the overall for the event with a 3rd place finish at the Maui Pro-Am and setting him up for a great year ahead.
What is also impressive is that while you would expect the Hawaiians, Americans (US and Hawaii are deemed separate) and Australians to be sitting right up there on the overall Podium for Surfing and Racing, you wouldn't necessarily expect a Danish competitor to be in the mix after the Hawaiian leg of the Tour. However, Casper has clearly shown he is one of Europe's greatest stars and a clear threat across the board, now sitting in 3rd place overall for both Racing and the Overall going into the next stop of the APP World Tour in Japan.
6. Sonni Honscheid is a distance master when it comes to racing, and is learning fast in surf racing: no doubt a Title Contender in 2017.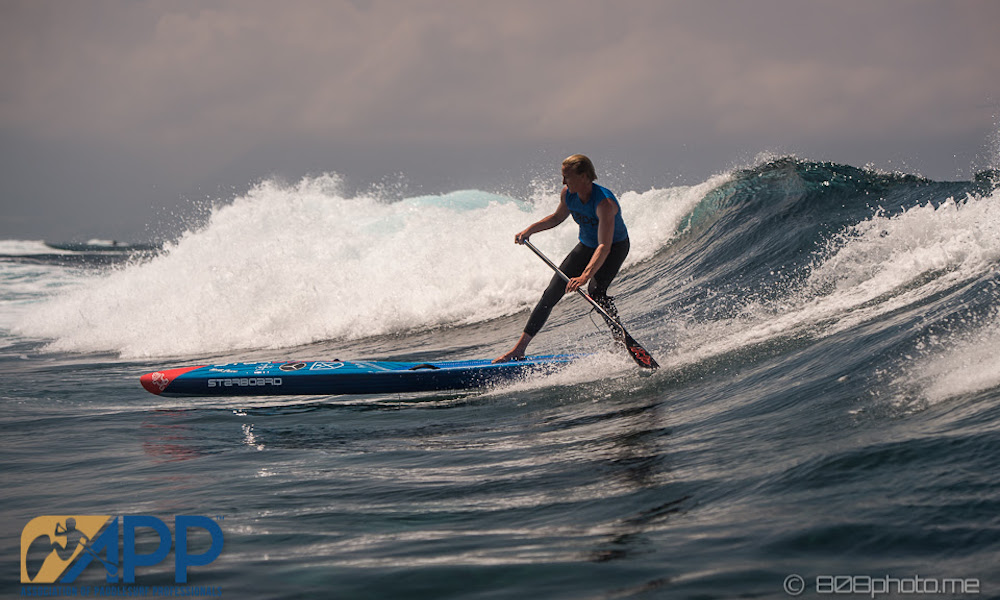 Sonni Honscheid put on a powerful performance in Maui. | Photo Courtesy: APP World Tour / 808photo.me
New Starboard team athlete Sonni Honscheid won the Mercedes-Benz SUP World Cup in epic fashion last year, clearly showing that she is a force to be reckoned with on the World Championship Tour. In addition, her vast experience in Hawaiian waters and success in the Channel Crossing races has also showed that she is one of the World's leading paddlers.
While the first day of racing at Ho'okipa Beach Park was all new for Sonni and took some getting used to, on the second day, she put on a performance that threatened some of the leading men on Tour in the long distance.
One thing is for sure: Sonni is a major threat and one of the leading contenders to look out for as we prepare for Japan in May (5th - 7th), but also when we head back to her home, Germany, for the Mercedes-Benz SUP World Cup in Scharbeutz.
7. Connor Baxter continues to be the man to beat regardless of the conditions, the competition or style of racing.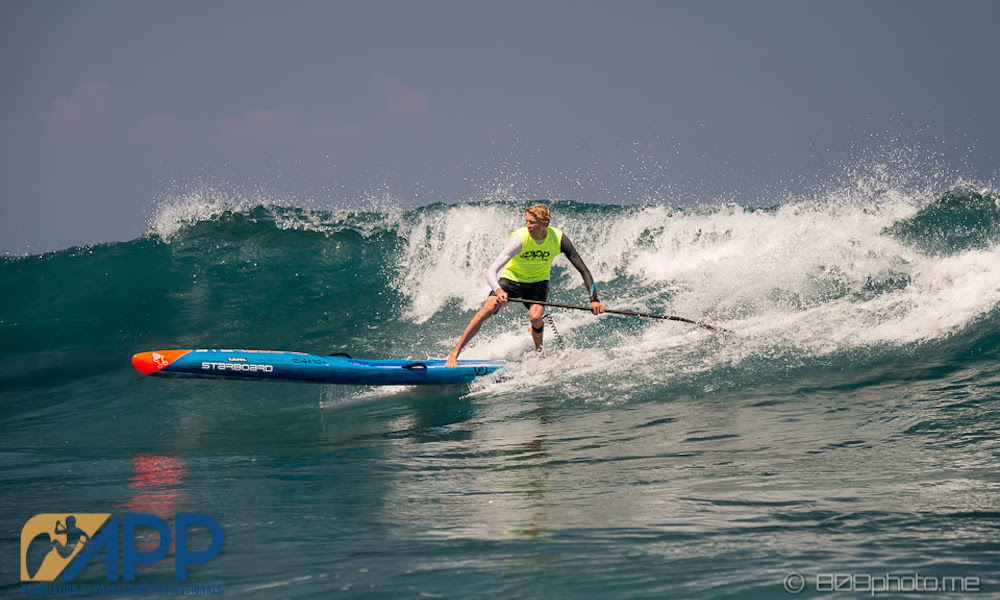 Connor Baxter catching a ride to the beach during the Maui Pro-Am. | Photo Courtesy: APP World Tour / 808photo.me
It is unusual to not see Starboard's Connor Baxter winning at least one of the disciplines on the APP World Tour, especially at his beloved home on Maui. However, one thing is for sure, Connor has not skipped a beat and is looking as dangerous, if not more dangerous than ever.
A third place finish in the sprints coupled with a second in the long distance is a clear testament to this, and there is no doubt that Connor is ideally positioned and prepared to defend his World Title in 2017.
As we look ahead to Japan, there is no doubt that Connor will be laser focused on the win across both disciplines, and if there is one thing that this weekend has shown, Connor is one of the absolute best across all forms of racing, regardless of the conditions and it is no surprise that he already has 2 World Titles to his name.
8. At only 16 years old, Annie Reickert's run has only just begun and she is already a major double threat across racing and surfing.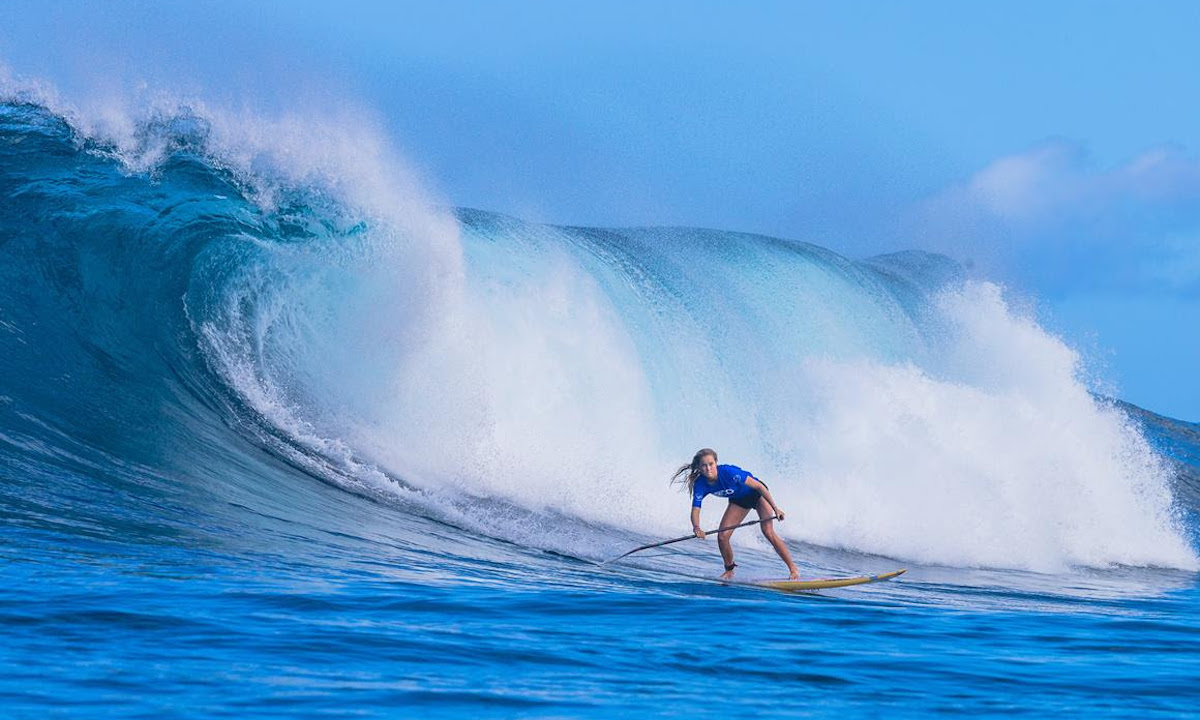 Annie Reickert charging at the Sunset Beach Pro. | Photo Courtesy: APP World Tour
One of the most exciting elements of this opening two stops on the APP World Tour is the extent of young new talent coming into the sport and joining the elite ranks on the World Tour.
Annie Reickert from Maui personifies this new generation in the best way possible - at just 15 years old, Annie is a major double threat and has only just got started. Surfing at Sunset in the first Women's showing at this iconic break last month, Annie put on a stellar performance, narrowly missing out on the Final 4 to finish in 5th place overall.
Returning home to Maui, she once again stepped up, finishing in 2nd place overall in the Surf Sprints and just missing out on the podium to finish in 4th place overall for the first stop of the APP World Tour Racing season. This also puts her in 4th place overall for the combined leaderboard for Surfing and Racing, an incredible achievement for someone so young.
In fact, there is an exciting new wave of talent emerging, and once again Maui is proving to be a melting pot for much of this talent, as we see Annie leading the charge, along with Na Kama Kai Champion from Sunset, Finn Spencer and his brother, Jeffrey Spencer, both of whom made it into the Main Event at Sunset.
However, it is not just Hawaii, as we are seeing talent emerging from France, Italy, Spain, Brazil, the US, Japan, Peru and Australia to mention just a few of the major growth areas - it is an exciting time for the sport and the development of the APP World Tour platform and we can't wait to see how it all unfolds this year on the APP World Tour.
Join us throughout the year for all the action at www.appworldtour.com and follow us on social channels: #appworldtour
About the APP World Tour and the Waterman League Group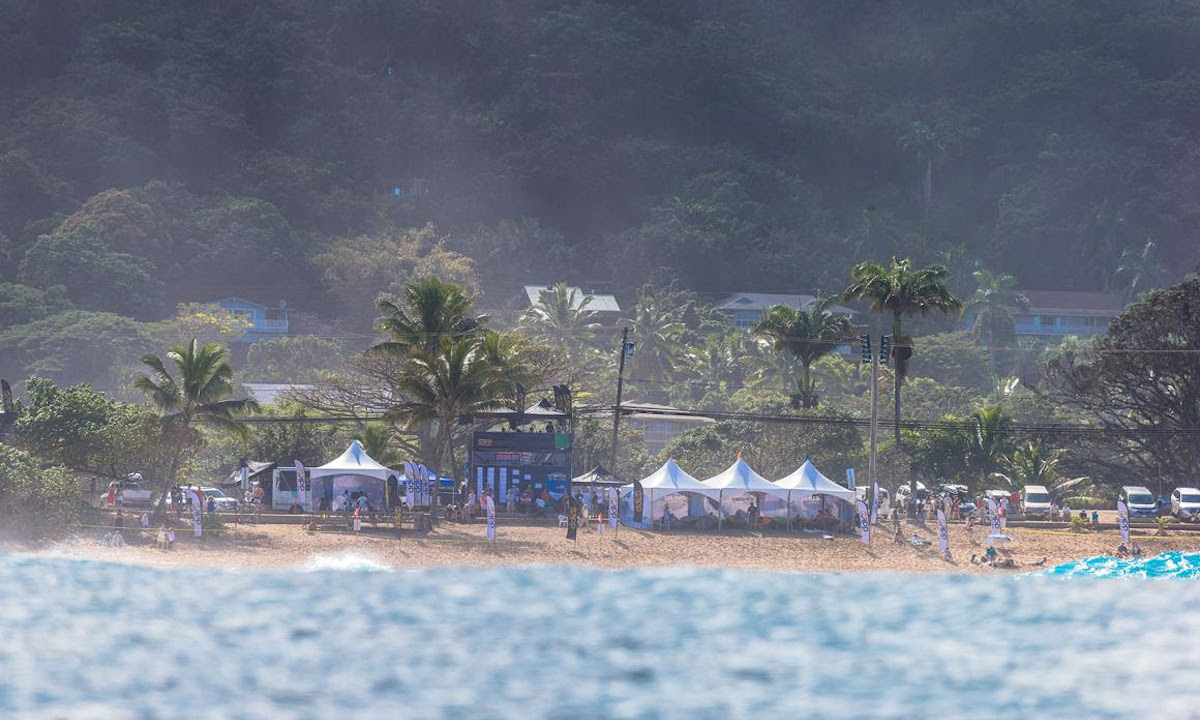 The Waterman League Group is an event management and media production company headquartered in Hawaii focused on developing multi-disciplined water sports. The term 'waterman' refers to versatile athletes who can engage in various forms of water sports at the highest level.
As founders of the World Championship Tour for Paddlesurfing (also known as Stand- Up Paddling), the Waterman League has been crowning Men's and Women's World Champions for both racing and surfing since 2010, with flagship events across the Americas, Asia, Europe and the Middle East, now branded as the APP World Tour.
The APP World Tour produces a complete inventory of programming, including live and post produced broadcasts from all its events, with distribution to over 100 countries worldwide via premier global networks such as CBS Sports Network and supported by IMG Media.
Information is available at appworldtour.com and fans can follow events @appworldtour on Facebook and Instagram.
Last modified onFriday, 28 April 2017 15:16

Submit your news, events, and all SUP info, so we can keep promoting and driving the great lifestyle of stand up paddling, building its community, and introducing people to healthier living.
Website: supconnect.com
Email

This email address is being protected from spambots. You need JavaScript enabled to view it.