2023 Master of the Ocean Kicks Off With Fun Conditions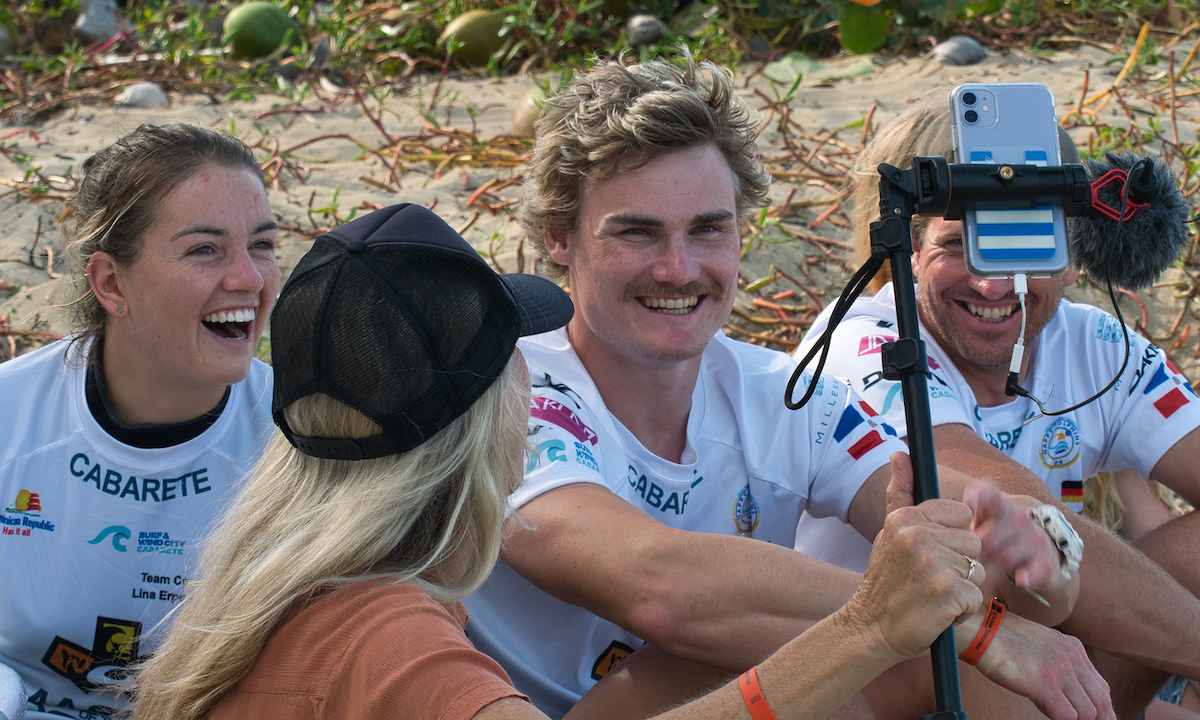 In Photo: Three Members of Team Condor (Germany): Lina Erpenstein, Linus Erdmann, & Coach Christopher "Del Mar" Bünger, watching teammate ] | Photo Credit: Oli Dadswell of EyeFly Films
CABARETE, Dominican Republic - Master of the Ocean 2023 is a unique, five extreme sport competition, and so much more! This is the 18th running of a true 'water sports decathlon' consisting of Surfing, SUP Surfing, Windsurfing, Kiteboarding and Wing Foiling in Team, Overall, and Expression Session categories. Along with the fierce competition with many international athletes as well as locals, the themes of community, sustainability and positivity run strong throughout the event.
Registration the evening before, was an event in itself with the packet pickup, great local drum group, and introductions by our wonderful hosts Marcos and Patricia at El Cocotazo Cafe. The three youngest competitors Victoria Bramtot (DM), Kilian Rosskopf (Switzerland) and Bobo Gallagher (Hawaii/USA) were recognized on stage. Bobo - a well known Stand Up Paddler from Maui, Hawaii - is the youngest competitor going for the overall title at just 13!
Conditions were mild, but very contestable with 2 to 4-foot swells and consistent winds of 12 to 17 knots. Wing Foiling heats for both Overall & Team showcased the talent of the famous Swiss athlete Balz Mueller from the Edelweiss team, Bobo Gallager from Team Paradise Island, as well as two athletes from Dominican Republic, Francis Gonzalez Martinez and Joselito del Rosario. Fun to learn about and witness moves such as kiteloops, handle passes, and one-foot jumps for the first time. Kite Team events showcased impressive talent and skill's from Switzerland's Edelweiss team and the Condor team from Germany.
In Photo: Four of the Five Disciplines (no windsurfing so far):
Andre Rodriquez (DM) SurfPhoto Credit: Meghan Margo / BossTalk Pro
Balz Mueller (Switzerland) SUP Surf Photo Credit: Kiernan Smith / We Love Kiteboarding
Bobo Gallegher (Hawaii.USA) Wing Foil Photo Credit: Chris Cass / BossTalk Pro
Victoria (DM) Kiteboarding Photo Credit: Oli Dadswell / EyeFly Films
I had the pleasure of hanging out with the hard working photo & drone media crew that included the talented team of Chris & Meghan of BossTalkPro based in Miami, Oil Dadswell of EyeFly Films, and locals Marckendy and Kiernan.
Bonus events in the first half of the competition included a Community Day that coincided with the second day of competition. While the athletes ripped up the waves, local students learned about a variety of coral farming, plastic pollution, and lifesaving from a group of amazing leads & volunteers. The session wrapped up with the lively folkloric drumming from the New Horizons girls' ensemble. That same evening a 'Zero Drownings' evening fundraiser with auction was hosted by Happy Dolphins foundation at the gorgeous Natura Cabana property.
With lower winds, surfing both traditional & SUP on small glassy waves was were the morning focus. Athletes made the best of the smaller surf, managing to impress the judges and crowd on the sand. The third day of the Master of the Ocean 2023 started with another fresh morning filled with tropical sunshine and glassy small but fun wave conditions. Many rounds of surf were carried out with a strong display of surfing skills put on by Francis Gonzalez Martinez (Dominican Republic), Bobo Gallagher (Hawaii), Antonio Lusson (Cuba), Daniel Weiss (Germany), Christopher Buenger (Captain of the German Team) and Brian ¨Action Man" Talma (Barbados). The commodore was palpable between the athletes; a fantastic vibe throughout the event.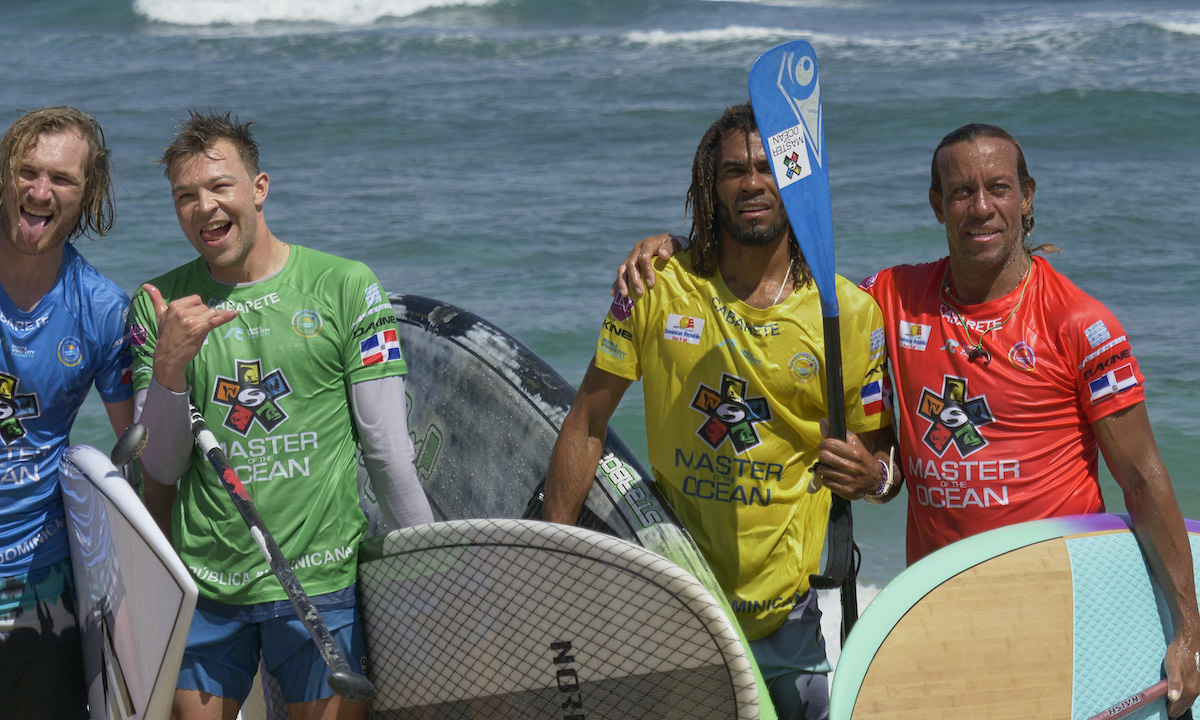 In Photo: Balz Müller (Switzerland) , Yannick Mittas (Germany), Francis Gonzalez Martínez (DR) & Brian "De Action Man" Talma (Barbados) | Photo Credit: Oli Dadswell of EyeFly Films
Closing out the third day was a lovely cocktail party put on by the Germany Embassy at Kibayo on the Cabarete Lagoon; Maike Friedrichsen, German Ambassador and Katrin Werdermann, deputy head of the German Embassy in Santo Domingo, were there to greet everyone.
It's clear that the wonderful team that puts this together works hard all year. Most notably the collection of fantastic sponsors: Condor, Edelweiss, Copa Airlines, MITUR, Banco de Reservas, Corona, Millenium Resorts and Spa, Viva Wyndham Resorts, Natura Cabana, Tubagua and the German Embassy in Santo Domingo are all helping to make Master of the Ocean 2023 a success.
If you didn't catch Kristin Thomas on the Daily 'Lives' from the event, you can find 6 different segments on our supconnect Instagram Reels.
Stay tuned for more Master of the Ocean news as the event wraps.
Last modified onFriday, 03 March 2023 16:20

Email

This email address is being protected from spambots. You need JavaScript enabled to view it.