2 Weeks Left Until The Endless SUP Race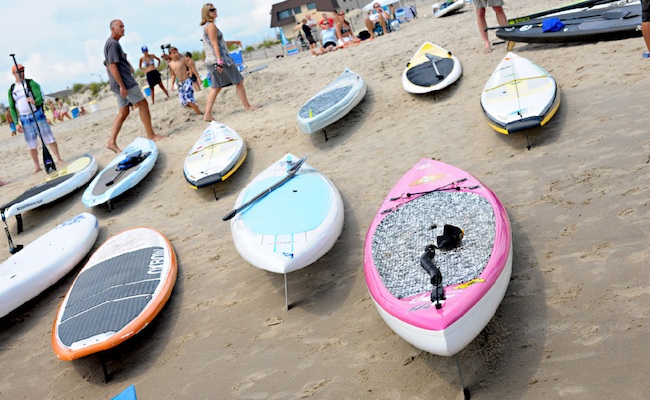 BRADLEY BEACH, New Jersey - Just two weeks until The Endless Sup Race will take place at Bradley Beach, New Jersey on August 1st, 2013. ·This is a WPA Sanctioned Event (WPA Series Event, Region 8 – NJ/NY/PA) and will include a 6 mile ocean elite race, a 1 mile fun SUP and prone race and SUP Yoga instructor classes available by Paddle Board Bliss.
It's not to late to make arrangements to go and have a great time!
The Endless SUP Race event will have fun for everyone with vendor tents on the beach and live music to enjoy. There will also be lessons and exhibitions from local SUP clubs, board demonstrations and a beer garden set up by Kona Beer. Make sure to also stick around for a fun after party with a live band, raffles and food and drink specials to go along with the awards ceremony.
Remember that all proceeds from this race will be used for cash prizes for the winners as well as several charities, Including Surfers Environmental Alliance, Manasquan Surf Team and choice charities of the mens and women winners of the 6-mile Elite race.
Check out the schedule below and click here to visit the event website and register for the ENDLESS SUP RACE
Events Schedule:
Wednesday July 31, 2013
9:00 A.M. & 10:30 A.M. - SUP Yoga Classes taught by Paddle Board BlissL Street Beach, Shark River, Belmar (see registration link to sign up)
Time TBA - Pre-Registration Party and early goodie bag pick-up; Hosted by Kona Brewery and Patron Spirits Connolly Station, 507 Main Street, Belmar, NJ 07719(732) 280-2266
Thursday August 1, 2013 - RACE DAY 3rd and Ocean Ave, Bradley Beach, NJ 07720
7:00 A.M.---Registration for ALL races begins; Shore Smoothies Patio: 211 Ocean Ave, Bradley Beach, NJ 07720 (732) 774-4543
8:00 A.M.---Stand Up Paddle Yoga Class; Instructed by Taylor and Amelia of Paddle Board Bliss; 3rd Avenue Beach Race Site
8:00 A.M.---SUP lessons hosted by Summer Time Surf School
8:30 A.M.---Registration ENDS for 1-mile prone paddle
9:00 A.M.---1-mile prone paddle race START
9:00 A.M --- SUP Race Clinic with Darian Boyle of Stoke Radio and YOLO Elite Team Rider
9:00 A.M.---Vendors open on beach!
9:00 A.M.---END registration for all races
10:00 A.M.---1-mile SUP fun race start
11:00 A.M.---Kona Brewery Beer Garden open on Shore Smoothies patio; Across the street from the race site
12:00 P.M. --- 6-mile WPA Regional Qualifier race START
12:15 - 1:45 P.M. --- Yoga Class on the beach hosted by Paddle Board BlissInstructors Taylor and Amelia
4:00 P.M. ---Vendor area closed
4:00 P.M. ---Beer Garden closed
4:00 P.M. ---After party hosted by Kona Brewery and Patron Spirits at The Columns, 601 Ocean Ave Avon, NJ (732) 988-3213
6:00 P.M. ---Awards ceremony at the Columns
All times and races subject to change due to weather or race participation.
.
Last modified onFriday, 19 July 2013 00:11
Email

This email address is being protected from spambots. You need JavaScript enabled to view it.