Baxter Wins Maui Paddle Champs & Prepares for M2O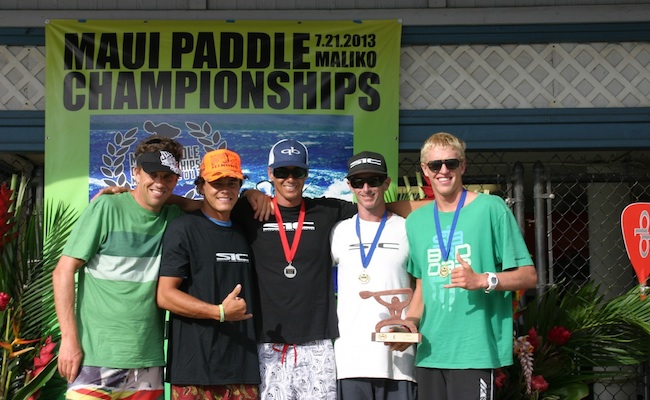 Connor Baxter was the winner of the 2013 Maui Paddleboard Championships on July 21st, 2013.
MAUI, Hawaii - This is becoming a familiar story to report! ·Connor Baxter has simply been spectacular in 2013! ·With Stand Up Paddlers already having finished more than half of the 2013 season, it's impressive that Connor Baxter has won almost every race he has entered!
This time it was the 2013 Maui Paddleboard Championships on July 21st, 2013. The race began at 1:00 pm in the afternoon and was 9.5 miles of pure downwind fun put on "by paddlers, for paddlers." The race runs from Maliko Gulch to Kahului Harbor and has a beach run to the finish.
In his own words Connor's described the start this way, "This year it was an outside start, which was awesome because I could get pretty far out on the line and set myself up for a perfect run. We all had to sit down on our boards and wait for the horn to blow. They waived the yellow flag from the start boat and shortly after the horn blew... I quickly jumped up on my feet... for a perfect start. Livio Menelau and Jeremy Riggs pulled a little ahead but I was not going to let that happen, so I put my head down and caught up to them quickly and actually started to make a gap on them. I kept catching bumps and trying to connect all my glides."
Connor never stopped cranking and in a little under an hour he hit the mouth of the harbor. His goal was to beat a time of one hour and ended up paddling one hour and one minute which beat the 2012 record. Connor was slightly more than 3 minutes ahead of the rest of the field and turned in another performance for the record books.
In some final words about the event connor shared, "I want to thank my sponsors for all their support – Starboard, Maui Jim Sunglasses, Rainbow Sandals, Trident Sports, Futures Fins, Dakine, GoPro, OnIt Pro, Waterman's Sunscreen, Igloo Coolers, Sunrite Maui, Hammer Nutrition, iDcard, EFX and Hi-Tech Sports. Also a big Mahalo to all the event organizers and volunteers. The Gangini Family did an awesome job - John, Karla, Talia & Tehani. Great Event!!"
Following this incredible event, will be the the 17th annual M2O (Molokai 2 Oahu) set for this coming Sunday, July 28, 2013 where Connor will face one of the most competitive groups of Stand Up Paddle men the race has ever seen. Connor is the men's defending champion and set a course record of 4 hours, 13 minutes and 26 seconds in 2012. Other incredible paddlers who will race this year include Kai Lenny, Danny Ching, Travis Grant, Scott Gamble, Livio Menelau and many other great performers.
Stay tuned to Supconnect for information and results as these great athletes compete for one of the most coveted titles in our sport!
More on the female competitors to be shared tomorrow!
.
Last modified onTuesday, 23 July 2013 22:09
Email

This email address is being protected from spambots. You need JavaScript enabled to view it.