Paddling the Natchez Trace Parkway With Shane Perrin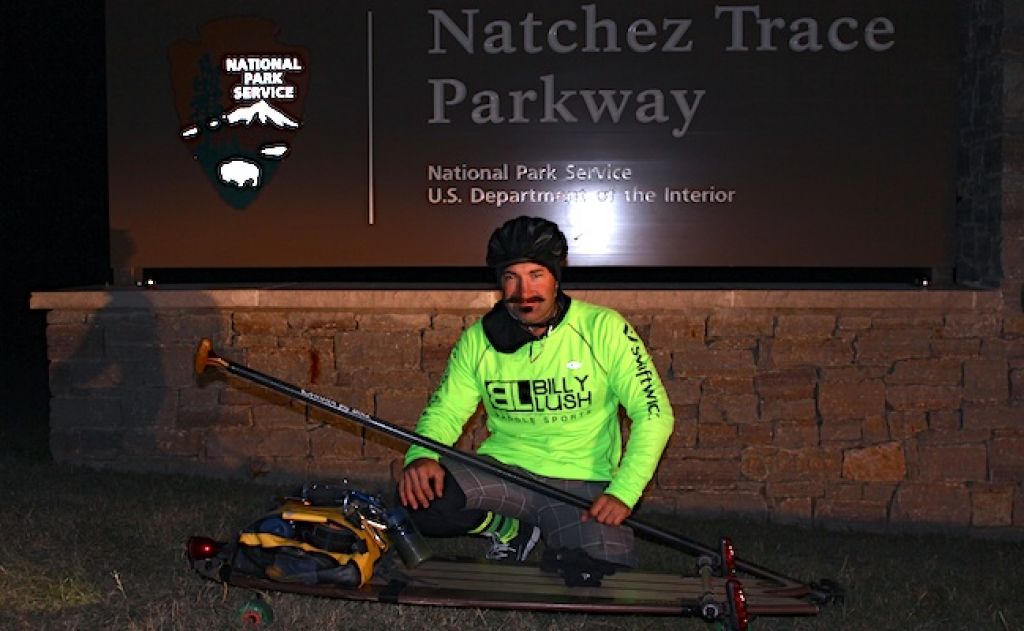 NASHVILLE, Tennessee - Shane Perrin, number 7 in the 2013 Supconnect Man of the Year Ratings, is no stranger to extreme paddle events. His impressive list of conquests, which includes a self-titled "Iron Athlete" route over 530 miles long, across three rivers, being the first person to ever complete the 260 mile Texas Water Safari on a stand up paddle board and the Florida Everglades Challenge (300 ocean miles in 6 days), and it's always growing. Recently Shane added another slightly outrageous and physically astounding journey to his resume, completing a 444 mile land paddle from Natchez, Mississippi to Nashville Tennessee.
The Route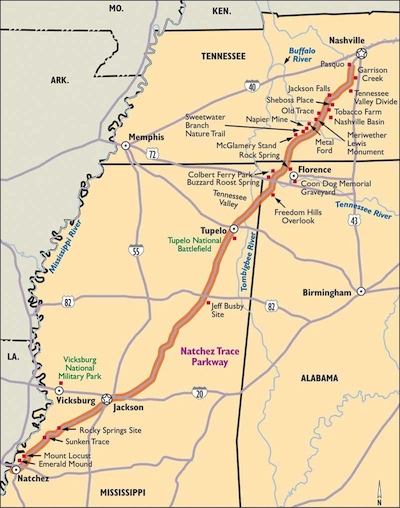 Total Distance: 444 Miles (715 Kilometres)
The Board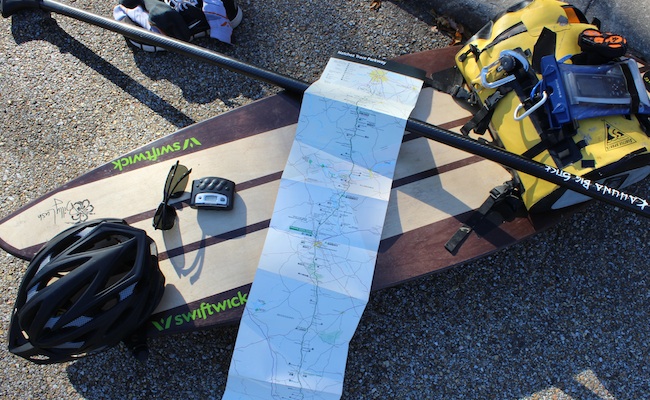 The Billy Lush Brand "Orca" board - 19" wide and 60" long. Unlike traditional skateboards, the 'Orca' allows you to stand in true SUP stance, feet under your hips/shoulders. The true benefit of the board is that it allows me to paddle on both sides without having to switch my stance. While it was created to give the most realistic stand up paddle cross training, from this expedition we've found it is perfect for distance and expeditions. The expedition opened up a whole new area of land paddling to explore. To paddle, I used a carbon Kahuna big stick.
Daily Log
November 6 (Wednesday): I worked all day for the city, then left at 3pm and drove to Nashville to meet my crew: David Widmer and Tim Keen.
November 7 (Thursday): Drive from Nashville down to Natchez, Mississippi. I started paddling from the southern terminus of the Natchez Trace Parkway at 7:15pm, covering 54.8 miles that night before sleeping in a tent for 2 hours.
November 8 (Friday): (my birthday). I started at 5am and paddled till midnight, covering 112 miles to end at milepost 167 before setting up camp again. I indulged with 4 hours of sleep.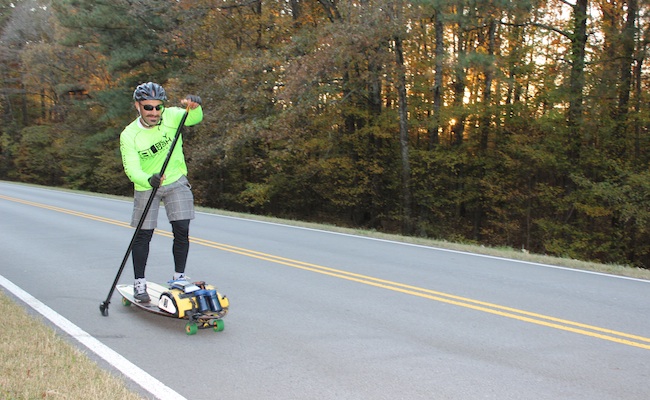 November 9 (Saturday): I paddled from 5am to 11:30 pm, covering 106 miles and ending at milepost 273. Another night of camping - 4 hours of sleep again.
November 10 (Sunday): I started paddling on Sunday at 6am and went through till midnight, ending at milepost 371. I covered 98 miles that day and rewarded myself with 3 hours of sleep.
November 11 (Monday): I started paddling at 5am and finished to milepost442 at 4:30pm. The Natchez Trace Parkway is billed at 444 miles, yet it only goes to 442. At the finish I paddled an extra mile and back to get the full 444.
Challenges
The expedition was riddled with challenges. the hills were long uphills - some lasting 4 miles - and the downhills were long and rolling, but much fewer in abundance than the uphills. I had to switch kick for nearly all the hills which took alt of energy out of me. Some down hill I was going speeds over 20mph (scary as hell!) From all the hard braking it wore my new sneaks out completely. I found out post expedition that the total elevation gain from natchez to Nashville was 23,731ft!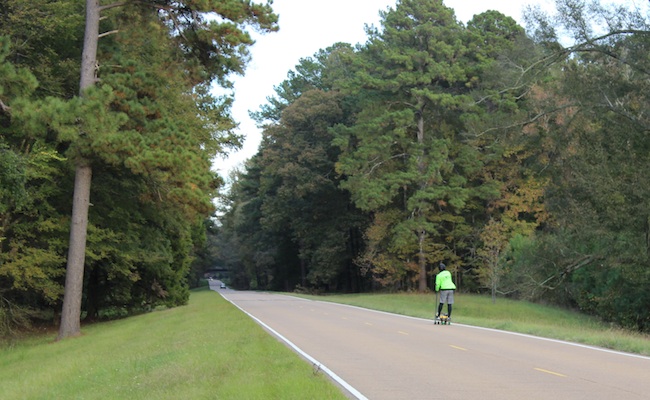 The weather also played a big part. Lows were in the lower 40's and highs were in the 60's. Monday morning I started the day and it was 29degrees. I put on every article of clothing I had just to try to warm up. The expedition pushed me past a new threshold. I'm conditioned to SUP on water hundreds of miles at a time with very little sleep. The land paddle required much more out of me physically. Friday, Saturday and Sunday evenings my body was failing me badly. I had severe leg cramps, soreness, and aching I have never felt before. My back was wrenched, forcing me to be more rigid in the evenings and mornings.
Rewards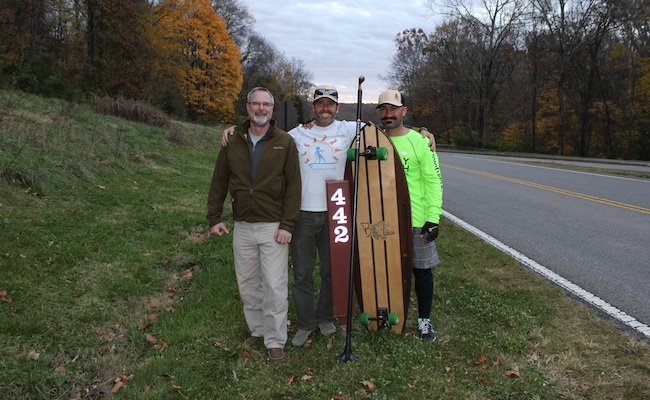 The expedition was a combination of a celebration and exploration. November 7 was crewman Tim Keen's birthday, November 8 was mine, but also a couple weeks later on the 16th, I would be celebrating my 12 year anniversary of my kidney transplant. I always try to find a way to celebrate that 2nd chance at life. The exploration part was a land paddle of this length has never been pulled off before. Let alone the elevation. For me it was a way to promote a sport I love and show people that theres always adventure out there.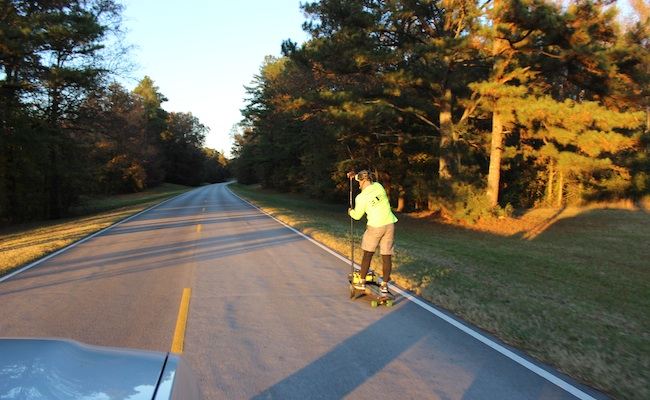 Thanks
A big thanks to my sponsors: Billy Lush Paddle Sports, Kahuna and Soulshine SUP in Nashville,TN, sponsored the expedition along with Swiftwick socks.
Aside from being a phenominal paddler and ambassador for our sport, Shane is the founder of SUP St. Louis, the SUP guide and tour company that brings Mahalo to the Mid West.
© Copyrighted & Exclusive SupConnect.com Content
Last modified onWednesday, 28 January 2015 10:46

Submit your news, events, and all SUP info, so we can keep promoting and driving the great lifestyle of stand up paddling, building its community, and introducing people to healthier living.
Website: supconnect.com
Email

This email address is being protected from spambots. You need JavaScript enabled to view it.