European SUP Journey: Norway To Sweden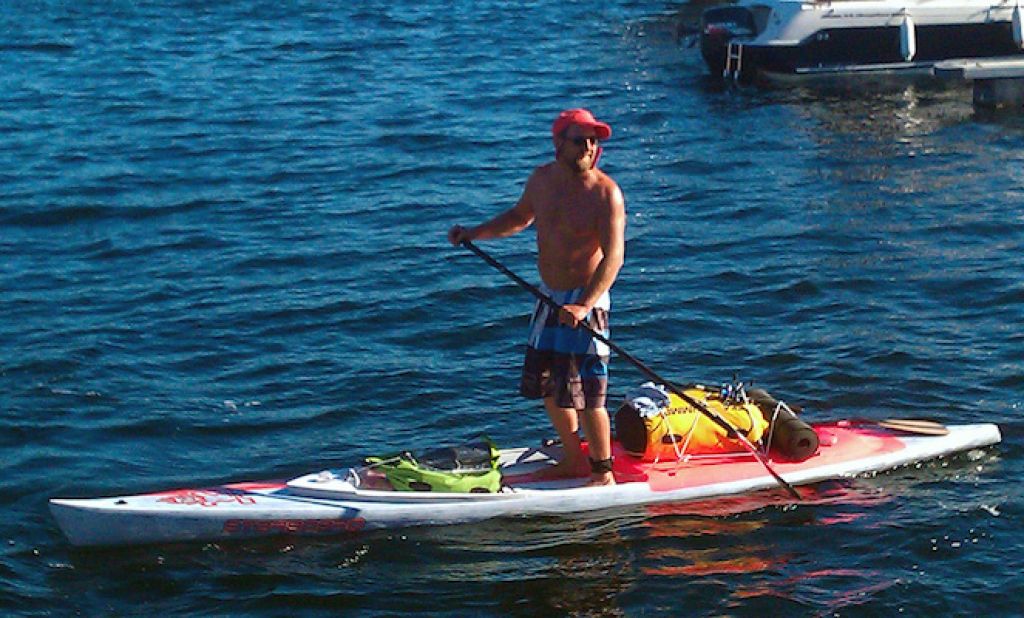 OSLO, Norway - Standup paddling journeys are an awesome, alternative way of travel these days. Whether it be three-months long journeys or a few-days journey, traveling and exploring by paddleboarding is an experience every standup paddler should try at least once.

Titus Kodzoman is one who decided to take a journey and he paddled from Olso, Norway to Sweden. Here is his story:

"I had been paddling on Oslo-fjord alone for nearly 2 years before I met another SUP'er. As a traditional kayaking nation, I had mixed reactions from the natives seeing an SUP for the first time. My favourite was a drunk, middle-aged bloke shouting from the shore what roughly translated as; "Why are you standing up in your kayak? Have you got hemorrhoids or what?"

After testing the waters racing, chasing other people round buoys and then trying some endurance paddling with a couple of 20 milers over Oslo-fjord (alone, save for the occasional harbour porpoise). I was pretty certain where my heart lay with stand-up paddling.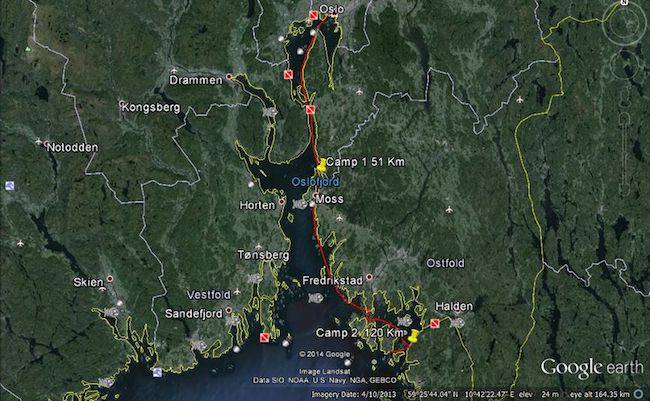 I wanted to paddle from Oslo, Norway to Sweden, a nice little 75 mile trip to test myself and my equipment in preparation for a much larger expedition planned for 2015. I love the Norwegian coastline and my own company so I took everything I needed for an unsupported paddle of 5 days. As it turned out, it took only 2.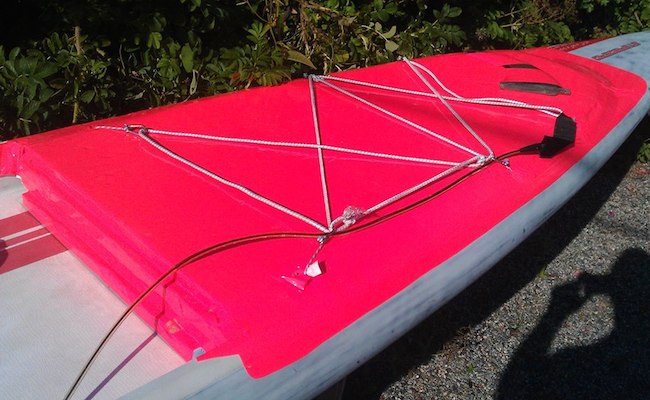 The only board I owned was my flat-water Starboard K-15 Carbon. It's a great touring board but I knew from experience that in a rough sea, it ships water into its large well-deck faster that it can drain. So an afternoon spent in 'A-team' mode, saw the filling of the large cock-pit with Styrofoam and the fitting of a compass together with holders for a spare fin and paddle.
All up weight was 43Kg. The modified K-15 was 18Kg. Equipment/stores 20 Kg and 5 Kg water (refilled each day). Supplies were trimmed to a bare minimum, my only luxury being a fishing rod. Unfortunately the fact that I am possibly the worst fisherman in the world made this a bit pointless. Fish seen around me each day, Thousands … Fish caught, Nil.

Day 1

I left Oslo in sunshine and light/variable winds with the hottest days of the year forecast for the week and started heading South.

In endurance paddling, you have two states of mind. The left brain mode, which is continually breaking down the journey into different units of distance and time, calculating paddle-strokes and distance covered etc. Then you have the right brain mode, which is being totally present in the moment. Time and distance lose their hold and you're completely 'in the zone'. Fantastic! Hours and miles slip by unnoticed and it takes tremendous discipline to force yourself to stop paddling and hydrate, check your navigation etc. Speaking to my friend David Cornthwaite (a world record holding distance paddler), he has the same problem and sets his watch alarm every hour to avoid hydration and other problems. Every drop of the daily 5 litres of water went into my mouth.

Due to the hot weather heating the land, by 14:00 the forecast light Northerlies gave way to a strong afternoon diurnal wind from the South-West. I slipped in behind a large long island and followed the 7Km channel between it and the mainland but by 18:00 the wind focused by the channel got up to 30Knots straight on the nose. I found a small sheltered beach under a lighthouse on the island and called it a day. 50Km/31miles covered.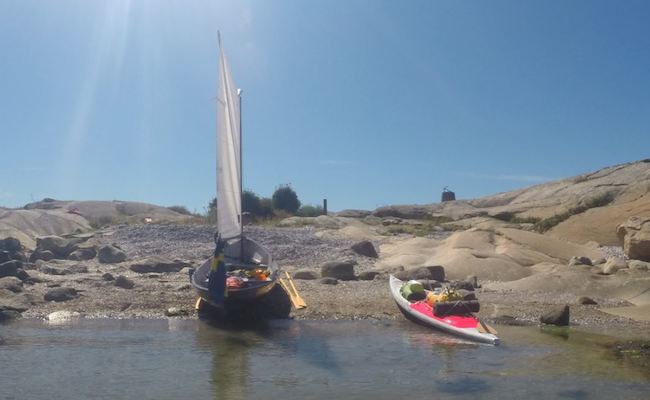 Day 2

After a 07:30 start and dodging traffic at a large ferry port at the end of the channel I was made very aware of my chosen mode of transport's diminutive size and was glad to be traveling away from population centres as I paddled South. Rounding a headland and with a following current I found myself paddling through a fantastic jelly-fish bloom, tens of thousands of the stinging red variety making for a potentially painful soup.

An increasing cross-headwind started at 11:30 and even though I ducked behind two large islands, for the last nine hours straight of a thirteen and a half hour day, I paddled on the port side only against the wind. Bart de Zvart is coming out with an expedition board next year with a forward adjustable fin to compensate for crosswinds and let me tell you, I am first in line.

I made camp across the border in Sweden at 20:30 with 44miles/70Km behind me for the day and a total distance of 120Km/75 miles for the complete trip.
Inspiration for expedition/endurance paddling is easy to come by with amazing journeys from Matt Crofton, Dave Cornthwaite & of course the incredible Bart de Zvart to name but three. Following these guys online and reading their books and blogs is a great way to prepare for a long SUP adventure.

With this in mind, I'm ready & really looking forward to getting some serious miles behind me in 2015."
Last modified onSunday, 25 January 2015 16:48

Submit your news, events, and all SUP info, so we can keep promoting and driving the great lifestyle of stand up paddling, building its community, and introducing people to healthier living.
Website: supconnect.com
Email

This email address is being protected from spambots. You need JavaScript enabled to view it.