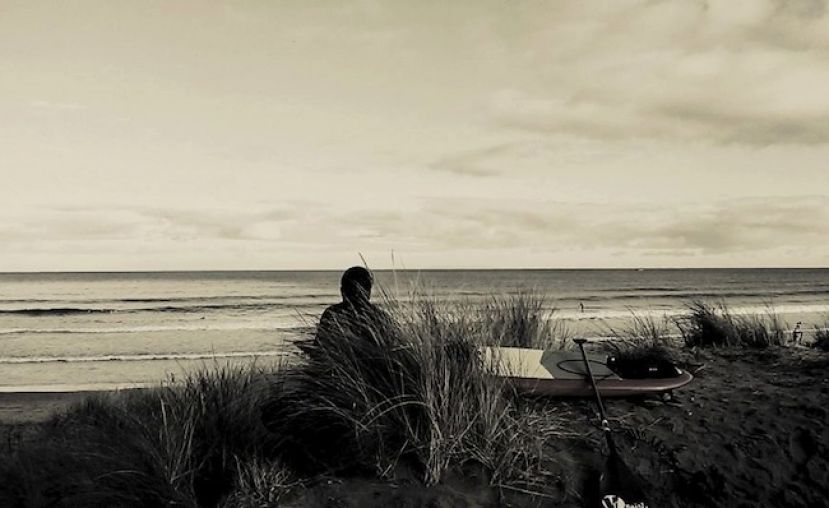 DUBLIN, Ireland - The Stand Up Paddle boarding scene in Ireland is growing and thriving simultaneously. After we spotted a series of SUP surfing beautiful pictures circling around the Supconnect community, we decided to contact Owen Waters and find out more about the paddling scene in Ireland.
Word by Owen Waters.
SUMMARY
Waves and touring can be accomplished in close proximity. When it comes to waves, you are looking at a world class arena - they can get big and heavy but can be great shapes during smaller swells. You can go as hard as you want to, the North West down to the South East Coast are miles of good solid waves all with varied conditions, something for everyone. Most spots you have several breaks within 5-10 minutes of each other.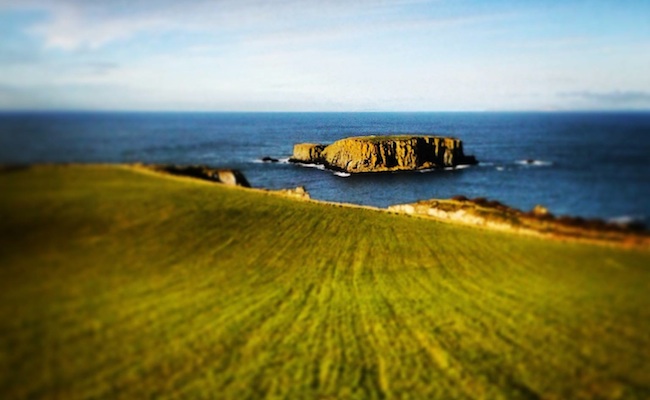 Ireland is lush and beautiful - you won't believe your eyes
Pack your warmest wetsuit (or drysuit), booties and gloves. Come winter, conditions get pretty frigid.
There's immense diversity - you can paddle in flat water and waves.
It's a friendly place
There's plenty of room for exploration
Seasons
Winter: Icy cold with wind, rain and vicious ocean swells
Summer: Long, temperate days. The hills sparkle.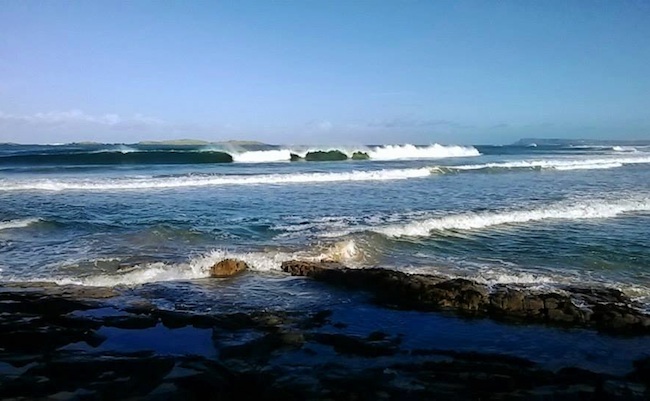 Some days in Winter you'll find yourself one of the few people out. Winter brings big raging storms and a mixture of cold fronts with North winds and off shore variations with Southern orientated winds. On weekends and Summer the water is busier; people like to surf, like to learn but there is space for everyone. It's healthy. Summer can be milder and if you want to be out on the water till ten pm at night or from 4am, time is on your side.
Gear
For waves: a selection of different fins - I switch between thruster and quad. Waves can be steep and hollow, speed and grip combo is what you need. As to other gear, a good paddle can make any board work. Even if you are cruising a rental, bring a good paddle if you have one and a good wetsuit - ( 5/4/3 in Winter and lose the boots and mitts for a 3-2 in Summer). Support local stores, you can get good wetsuits, boots, gloves and hoods, a walk away from the beach in good surf towns.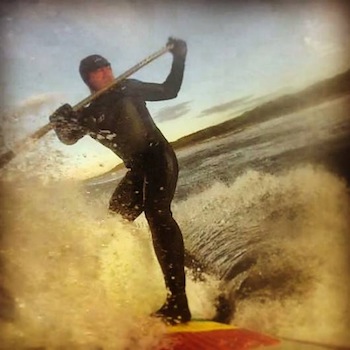 Owen demonstrates proper winter paddling attire
Hidden Essential: I couldn't have hit the ground running without a soft rack. Just throw it on the rental car and you are off with your board. That and a sense of humor goes a long way.
Hot Spots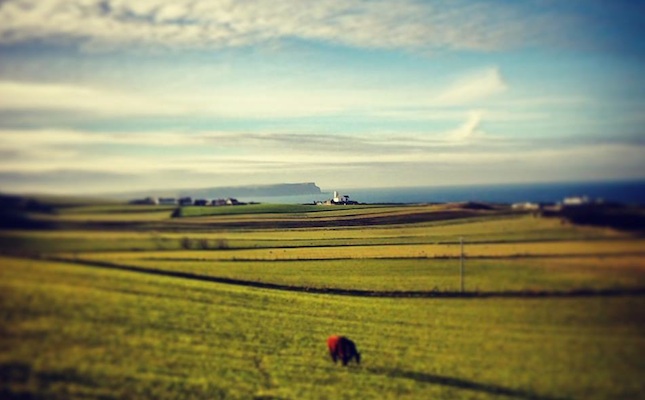 Right now the North West coast has some of the richest spots for waves I have ever seen, needless to say so does most of Ireland. If you are doing a waterman adventure, consider surfing up and down the coast and balancing between adventures on SUP location rentals, you can do both in days reach of the other or there are plenty of days you can just go hiking or take in the scenery.
My best advice is to tour, it doesn't have to be epic distances. You can actually hit several spots in a day, just have a go for it attitude. Look up some surf guide info and then be amazed the breaks are so close together, check in with a local shop or school and follow your nose to the beach. Most towns have great Bed and Breakfast and Hotels, you can't beat an Irish Breakfast.
SUP COMMUNITY
There is a great SUP community in Ireland among the watermen and women. Groups always get together to paddle coastlines and there are plenty of schools offering rentals and tours. It isn't about conversion, Ireland has always had a healthy outlook to the Ocean - my first paddle out into waves was greeted with a come one, come all. This is a great venue for a world class format - neither competitors or organizers would be disappointed.
If you find yourself in Ireland and need a point of contact, check out Stand Up Surf Zone, based in Dublin, who offer tours, lessons and rentals.
Advice For Paddling in Ireland
Keep an open mind and travel, see more. Ireland has so much to offer on all fronts. The coastline is absolutely beautiful, steeped in History and people so friendly. Time your paddle right and enjoy the rest it has to offer, and take your time, no need to rush, it's all good fun.
See more travel destination features by supconnect:
Stand Up Paddle in Cape Town, Stand Up Paddle in San Juan, Stand Up Paddle in Indonesia
All images by Owen Waters
© Copyrighted & Exclusive SupConnect.com Content.
Last modified onMonday, 10 August 2015 17:06
Email

This email address is being protected from spambots. You need JavaScript enabled to view it.