Nosara Paddlesurf Celebrates Women With Special SUP Surf Camp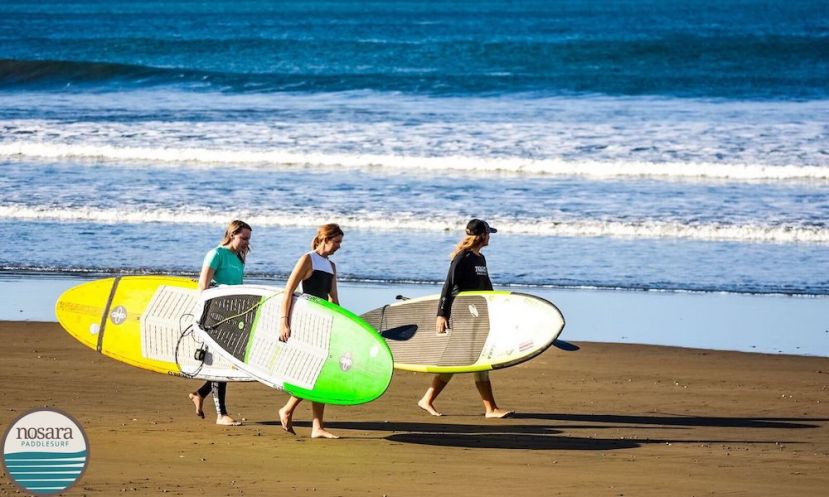 photo courtesy of Nosara Paddlesurf
NOSARA, Costa Rica - Nosara Paddlesurf, a SUP surf coaching company that offers camps in Nosara, Costa Rica, will be hosting a women-specific camp this January 6-13, 2018. Throughout the year, Nosara Paddlesurf offers a variety of all-level weeklong SUP surf camps that give guests the opportunity to improve their SUP and SUP surf skills through surf-specific movement training, on-the-water coaching, theory lessons, and video feedback. The camp has daily organized SUP surfing lessons as well as one free day where guests can do yoga, pilates, rent an ATV, go ziplining, or simply relax and enjoy a day out of the water. Women and men from all around the world attend to enjoy the company's weeklong intensive camps in the beautiful tropical location. With an increasing amount of female interest and engagement in their SUP surf camps, women now make up 38% of camp guests. Excited about this growing number, they decided to dedicate a week to women in celebration.
"Historically, women have been celebrated much less in sports. As a result, they have not had nearly the same amount of empowerment and confidence - of boosting accolades as have their male counterparts. SUP and SUP surfing is a small medium by which many women have found a means to push and challenge themselves. We wanted to celebrate this unique opportunity by allowing women to learn from each other, challenge themselves and confront their fears head on without any kind of judgment or a need to compare their progress with others."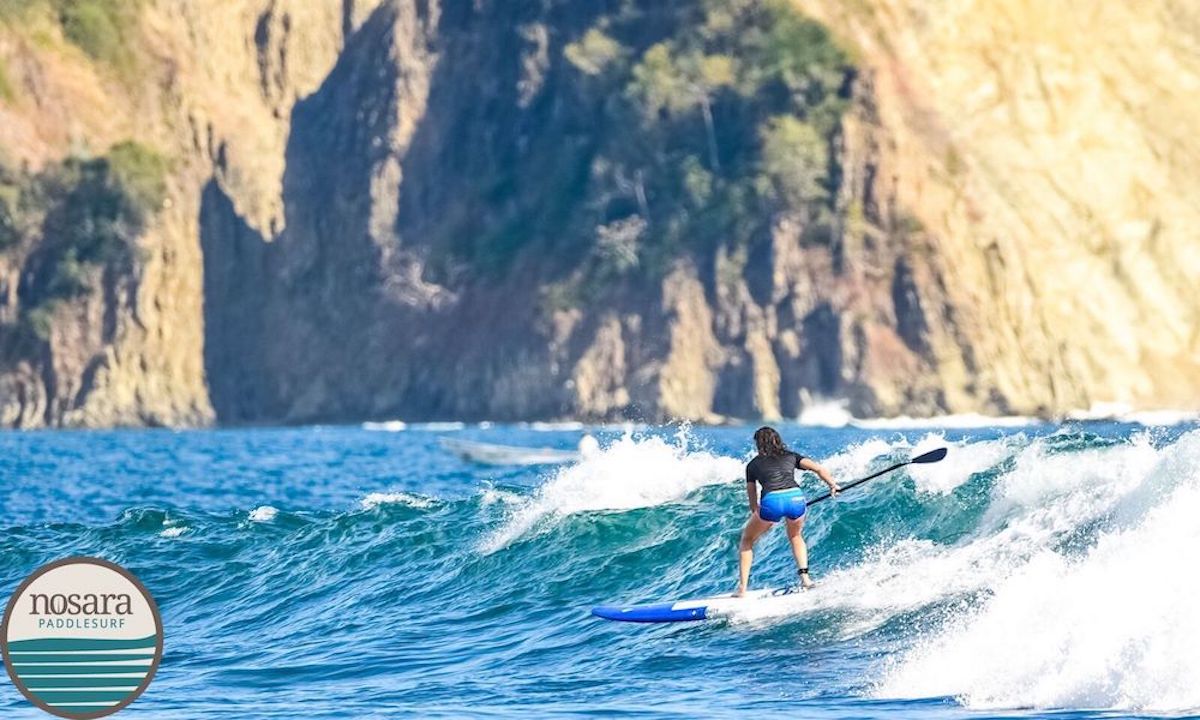 photo courtesy of Nosara Paddlesurf
The Nosara company has hosted women-specific camps before and discovered that guests had very positive experiences. From their perspective, the women-specific SUP surf camp offers many women a unique opportunity within their family and work-oriented lives to fully focus on themselves and treat their bodies and minds to something meaningful.
"This week will allow us to focus just on women, who typically put themselves last, to get out in front and celebrate their SUP surfing progression, whether it be breaking the initial barriers to surf or helping them become more top to bottom surfers."
The weeklong Nosara Paddlesurf camp is open to eight guests of any skill level. During the camp, guests will be split up into smaller skill-based groups and assigned one of the four camp coaches. In this setup, coaches focus specifically on 1-3 guests throughout the week, utilizing both one-on-one training and group coaching sessions. They believe this approach builds trust, confidence, and commitment individually and between surfers and coaches. From early on in their program, Nosara Paddlesurf decided to avoid categorizing their camps by skill and instead combine both beginners and advanced athletes into each camp while still providing the necessary coaching for all different levels. The remoteness of the surfing locations also makes it a great opportunity for everyone to get lots of repetition without a large crowd. For advanced SUP surfers, the coaches use video footage to help them master their movements on the water.
"At the higher levels the video coaching plays a big role. Often times the focus is on body position, paddle transitions, timing and identifying targets. And the repetitions help increase the success rate for good bottom turns that use the entire wave face, particularly as we become better top to bottom surfers. The most fun is when we start to link together different turns on the wave and talk about flow."
photo courtesy of Nosara Paddlesurf
The training staff is equip with strong expertise and quality coaching techniques to benefit each guest. Regardless of skill level, the company trusts that with a learning space that is free of judgement and loaded with encouragement, all women can expect breakthroughs and empowerment from the camp that will follow them back to their everyday lives.
"We won't be surprised if the women participants walked back into their offices with their heads held a bit higher."
The Women's Week Camp fosters an environment for women to train, learn, and connect with one another and the ocean. The camp staff has noticed different interactions between SUP surfer women and men and a different experience in the women-specific camps.
"Women and men tend to approach learning a sport or physical challenge differently. Women tend to encourage each other more and naturally create camaraderie amongst them that is unique and empowering. Seeing our women SUP Camp guest numbers increase tells us women are taking to SUP surfing and it's giving them an additional opportunity to get out there and enjoy the ocean."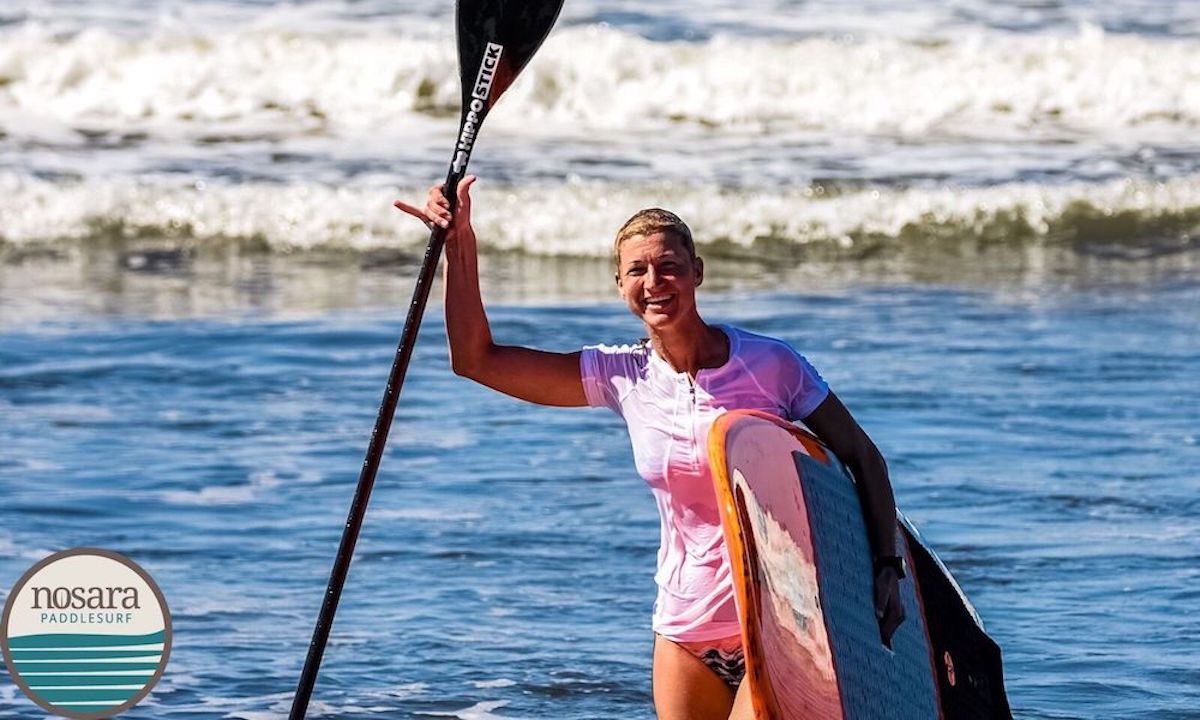 photo courtesy of Nosara Paddlesurf
But amongst the appeal and benefits of SUP surfing, there are a lot of small yet significant details that go into mastering the sport. Nosara Paddlesurf shares that one of the biggest challenges that aspiring SUP surfers face is time on the water.
"We all get attracted to surfing by seeing the 6 seconds of sexiness riding the wave. The reality is that time on the wave is a miniscule part of surfing. It's about learning the ocean, reading waves, building a real-time and on the spot decision making capacity, overcoming your fears in a new environment and building confidence; all so that you can be safe and enjoy whatever mother nature sends your way."
There is a spiritual aspect to the sport and an unspoken respect for the ocean that plays a critical part of the SUP surfing experience. Building intuition on the water takes hours of practice, strong perseverance, and a fearless attitude.
"As our clients discover, SUP surfing is a progression that needs patience, you need to learn to love the ocean and what it gives you and when it gives you the chance, that perfect wave, you have to find the confidence to make the most of it. For most, realizing that they have zero control over the waves is very challenging as well. Particularly with type A personalities that have found much success in other athletic endeavors. Surfing is not like most other sports and forms of exercise where the environment can be very much controlled; this freaks most people out no matter how successful you've been in other sports."
photo courtesy of Nosara Paddlesurf
When it comes down to it, SUP surfing is a uniquely challenging sport for most because of these uncontrollable elements. Beginners and advanced athletes alike face these obstacles every time they get in the water, and figuring out how to read and work the waves and when to capitalize on opportunities is equally as crucial in improving your overall ability. Learning the ropes requires patience, practice, and a deep understanding of the environment.
"We always share the concept that the ocean is a great equalizer. She doesn't care what your job title is, how many accolades you've received or how many zeros are in your bank account; she will take hers from everyone and requires our respect."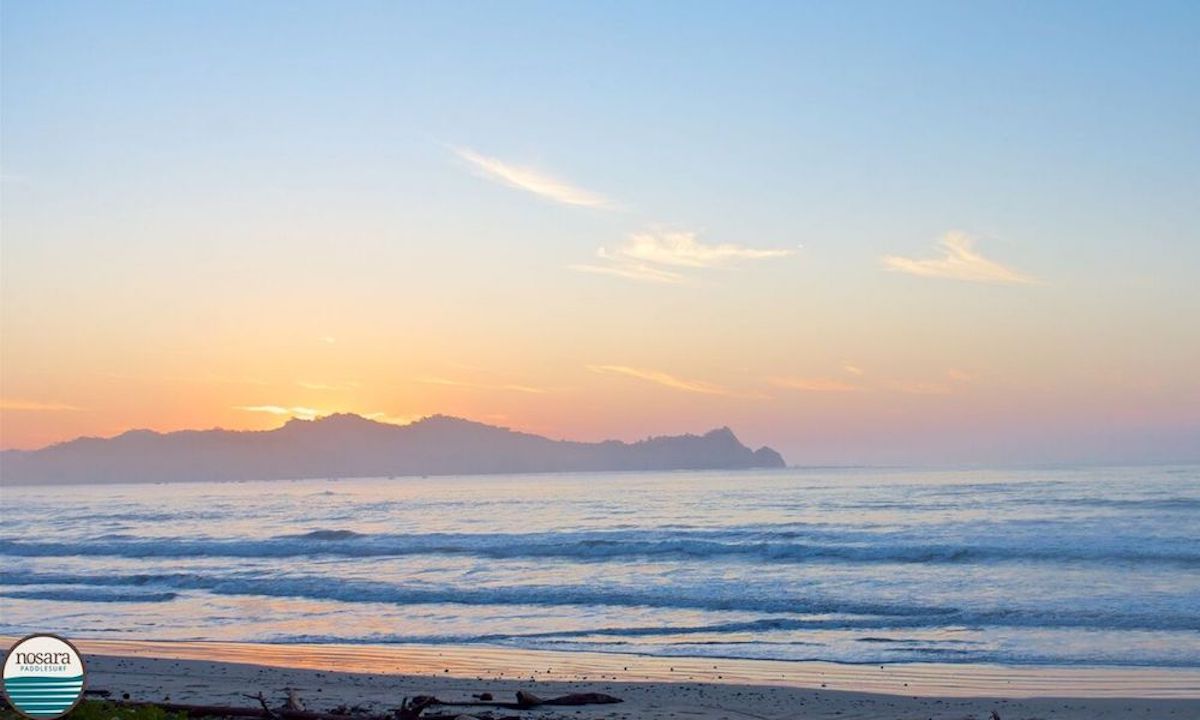 photo courtesy of Nosara Paddlesurf
Ocean sports can be an intimidating place for many, but there is a true beauty in it for those who learn and love it. For hesitant SUP surfers that are interested in giving the sport a try, Nosara Paddlesurf says that persistence is key.
"Start and don't quit. You've got to push past your comfort zone and embrace the "suck." Surround yourself with like-minded people and recognize your improvements. Many people will be hesitant to take that first step. The ocean humbles you but that is the beauty of it, it teaches you humility and perseverance and you'll be surprised how much you learn about yourself in the process. To them and everyone who has an opportunity, we say give it a try, an honest try before you decide if it's for you."

SUP surfing can be an extremely rewarding sport, not in spite of its innate challenges but exactly because of them. Nosara Paddlesurf Women's Week Camp is a great opportunity to overcome those fears while learning from expert coaches and connecting with like-minded women. For aspiring SUP surfer women willing to push through the initial barriers, fail, and relentlessly try again, and advanced athletes ready to turn the heat up a notch, this camp is definitely for you.
For additional information about the camp click HERE
For additional SUP surf destination info click HERE
Last modified onThursday, 19 April 2018 09:24

Submit your news, events, and all SUP info, so we can keep promoting and driving the great lifestyle of stand up paddling, building its community, and introducing people to healthier living.
Website: supconnect.com
Email

This email address is being protected from spambots. You need JavaScript enabled to view it.