written by Karen Mirlenbrink
SUP Exercise expert Karen Mirlenbrink of SUPilates teaches us the 'Twist' exercise. Follow along below and give it a try this weekend on your stand up paddleboard.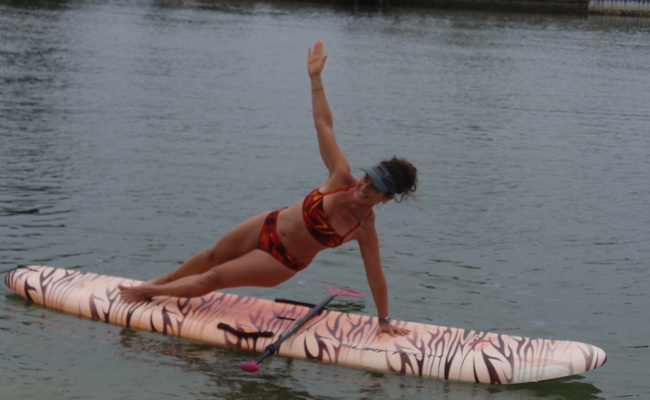 Ever seen a stand up paddleboard made out of a tiger? Now you can't honestly say you haven't.
Remember to check out last week's SUPilates exercise.
Name of Exercise: Twist

Difficulty Level: Hard (extremely difficult on dry land!!!)

Body Points: This exercise works obliques and shoulder girdle stabilizers, specifically quads, latissimus dorsi, quadratus lumborum and erector spinae.

Instruction:
Side Plank Position

Twist

Begin seated sideways, with your hand placed directly under your shoulder.
Bend your knees, and bring your legs around to the other side of you, so that your legs wrap around you.
Turn your top leg out, so that foot is flat on the board.
Inhale, and on your exhale, press into your feet, extend your legs and your torso so that you end up in a side bend (side plank) position.
Reach your top hand to the sky.
Inhale again, and on your exhale, scoop in the abdominals, and reach your top hand towards your back ankle.
You will need to lift onto your tip toes and lift your hips in order to do this.
Inhale, return back to the side bend position, and exhale release, sitting down onto the board.
To make this exercise harder, add another step - once you return to side bend after twisting, reach the top arm back, opening your chest to the sky. This is very hard to do on the board!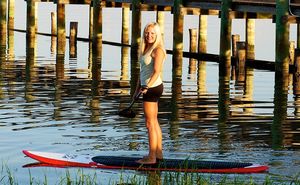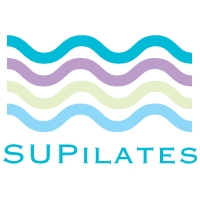 The Twist is a Classical Pilates exercise that challenges core strength and shoulder stability. The abdominal muscles work to move the spine through flexion, extension, lateral flexion and rotation to create flatter abs and a flexible spine.

Make sure you are comfortable with the Side Bend (a.k.a. side plank) exercise before attempting the Twist, as this challenges the shoulder girdle a lot.
About Karen Mirlenbrink
Karen Mirlenbrink is an avid water woman and owner of the Dunedin Pilates Studio in Dunedin, FL. Karen is a PMA Certified Pilates Instructor, an NSCA Certified Strength and Conditioning Specialist, Certified Wellcoach and a Master Trainer for the Pilates Academy International. She also holds a bachelor's degree in Exercise Science from the University of South Florida, and has been working in the fitness field for over 10 years.

Karen's paddling background includes years of experience in Surfski, Outrigger Canoe, and SUP. She has created a program called SUPilates, that aims at teaching fitness and paddling professionals how to bring mind-body fitness classes to the stand up paddleboard. Karen is thrilled to combine her two passions, and bring her enthusiasm for paddling to the fitness industry.

Important Links:

Dunedin Pilates Studio
SUPilates
Have any SUP excerises to share? Post a picture on SUP Connect and tell us about it.
.
Last modified onWednesday, 28 January 2015 11:13

After spending the first part of her life in Minnesota, Morgan traded in her snow boots for sandals and moved to sunny California. After graduating with a degree in Communication from The University of Southern California, she eventually made her way down south to San Diego and is taking advantage of the living by the best beaches and burritos California has to offer. If it's sunny, you can find her at the beach relaxing, or exploring the calm water in the bay via paddleboards and kayaks.
Email

This email address is being protected from spambots. You need JavaScript enabled to view it.