4 Beginner Tips for Picking The Right Conditions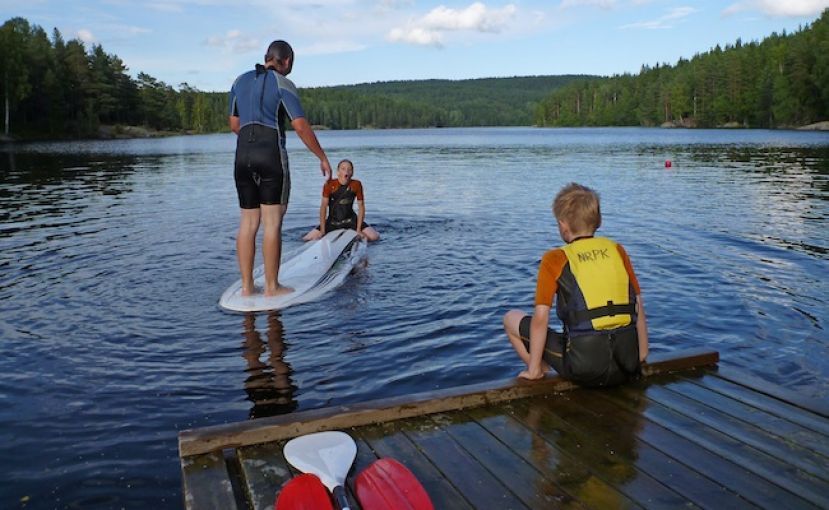 Nøklevann Lake, Oslo, Image: Knut Sørby 
SAN DIEGO, California - Every paddler remembers their first session. It's a fun, humbling experience that turns your curiosity for a new sport into something more - a lifelong pursuit for many. Choosing the right conditions to go out there is an important decision. Today we're going to be talking about the ideal location to start paddling, with safety in mind. All the other personal and physical benefits of paddling are underpinned by personal safety. You'll want to learn the basics of paddling in a safe and calm environment, to build up confidence and get the feel for standing on the board.
1. Ask For Help
We all need a hand in the beginning. People with a background in canoeing, surfing, kite surfing or kayaking will have a better foundation to build on, but nobody starts off an expert. If you feel nervous about using a board for the first time, take a lesson. There are SUP lessons available through most rental agencies and having a guide to lead you through the opening stages provide the element of safety that makes for an enjoyable introduction.
2. The Ideal Location - Flat Water
There are some variables you can't predict - the air temperature, the wind and the rain. But knowing where to paddle will help you have a positive first SUP experience. Don't go near breaking waves with a SUP if it's your first time and you've never ridden a surfboard, longboard, skateboard or kayak. Every beginner should start off in flat water - it's the safest, easiest and most logical place to start. You wouldn't advise a beginner snowboarder to take the gondola up to a green run on their first try, and the same logic applies to waves. Rather go to lakes, rivers and calm bays, where there is no risk of waves or swells suddenly rising up. The vast majority of SUP rental facilities are based at a location suitable for beginners.
3. Crowds
It's good to have friends around you, especially because paddling can be a very social activity. But make sure you are clear of swimmers and other water users. If you fall and accidentally shoot your board out, you don't want it flying into someone else.
4. Currents and Beach Access
Make sure that you aren't paddling where a rip or tidal changes can lead to danger. This is why taking a SUP out in the ocean during your first time is potentially dangerous. Ideally, you should have a secure, fixed path to safety.
Last modified onSaturday, 24 January 2015 15:00

Truscott is a widely published author in the surfing and travel world, has a master's degree in creative writing, and comes from a diverse backgroun in water sports.
Email

This email address is being protected from spambots. You need JavaScript enabled to view it.