How To Position A Fin On A SUP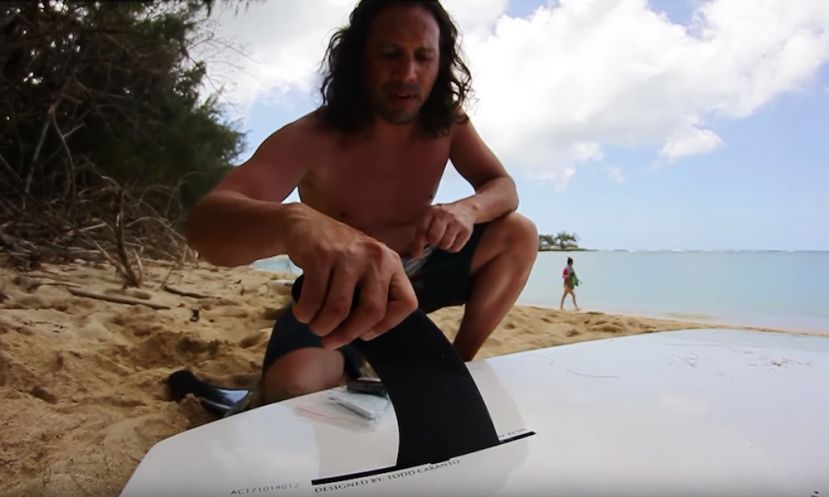 Learn how to properly place the fin on your stand up paddle board.
OAHU, Hawaii - So you know how to install your fin into your stand up paddle board but want to learn how to properly position the fin within the fin box? Todd Caranto from Pau Hana Surf Supply demonstrates how to properly position a fin on a stand up paddle board (SUP). There are three different positions in which you can place the fin: forward, middle or back. Depending on the type of paddling you are planning on doing, the placement of the fin can have a great impact on the way the board handles. Learn more about these three fin placements and watch Todd demonstrate these placements in the video below.
Forward Fin Positioning
After you put your fin into the board, slide the fin forward towards the nose of the board. Positioning your fin forward will make the board easier to maneuver, or turn right or left. This is where you want to have your fin if you plan on SUP surfing.
Back Fin Positioning
If you don't want your board to maneuver as easily, position your fin towards the back of the fin box in towards the tail of the board. Positioning your fin at the tail will stiffen the movement of your board and make it go in a straight direction for a longer amount of time.
Center Fin Positioning
If you're just cruising around on your paddle board having your fin centered in the fin box is the best choice.
To see more stand up paddle tips, click HERE.
About Pau Hana
Pau Hana Surf Supply a leading designer and manufacturer of innovative stand up paddle boards for every SUP lifestyle. Pau Hana means the "Time after work" and it's all about the spirit of play. We're dedicated to the craft, to the sport, and to serving our customers with aloha.
Last modified onWednesday, 20 January 2021 12:36
Email

This email address is being protected from spambots. You need JavaScript enabled to view it.