How To Keep Your Kids Safe on A SUP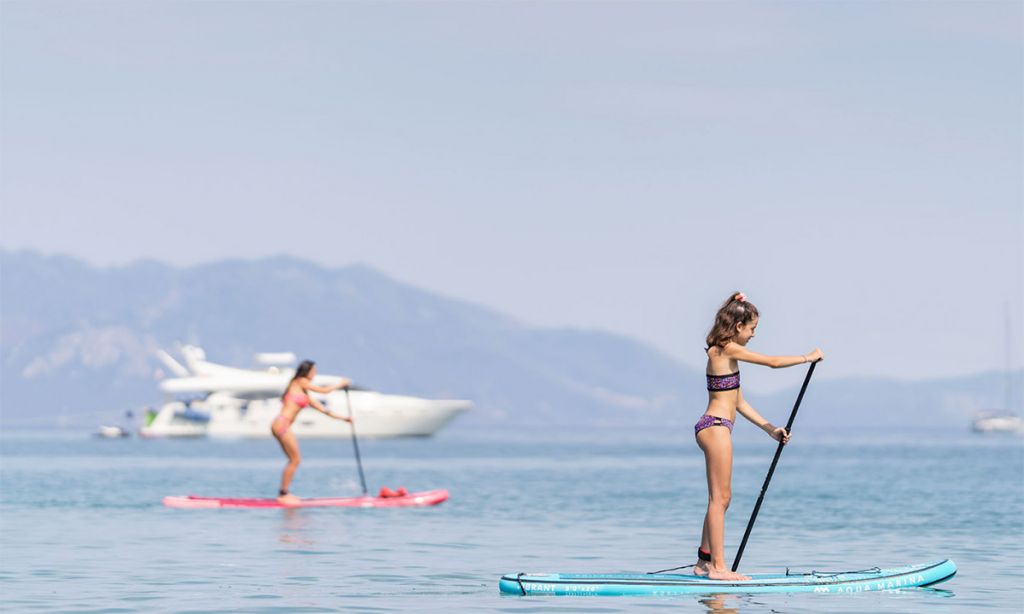 Photo Courtesy: Aqua Marina
Stand up paddle boarding is one of the fastest growing activities in the world, and with good reason: it's a blast! However, as with all water-based activities, 'safety first' is a good motto to keep in mind. Particularly when it comes to your kids. Here are a few key safety points to remember, so that you and your kids can get the most out of your paddle boarding and feel safe while doing so.
Confidence in the Water
Before taking your child out onto the water, be sure that they are confident in and around large bodies of water. While it isn't necessary for your child to have gone through rigorous swimming lessons, we don't really want a 'thrown in the deep end' kind of learning curve. It should be fun, and for that you need to make sure your child won't panic in water. Because while the goal of paddle-boarding is to stay on the board, this is no guarantee. And even if you are there to pick them right out of the water, you don't want your child to associate paddle-boarding with an anxiety of deep water.
Wear a PFD
Even if your child is able to swim confidently, a Personal Flotation Device is always a good idea. In the swimming pool, your boy might be the next Michael Phelps, but open water is a different story. In the ocean there are waves, rocks, wind and a number of other complicating factors. Lakes, too, can unsettle an otherwise good swimmer with murky waters, sticks, debris and all forms of aquatic plant life. What's more, the paddle board itself can be a danger. If it tips unexpectedly, your child can get a knock on the head, or become briefly trapped beneath the board. For these, and any number of unforeseen reasons, a PFD can help your child to feel comfortable in the water, no matter the situation.
Strap in!
Along with wearing a PDF when needed, always ensure that your child is connected via leash to the board when they are paddling on their own boards. Especially if they are learning to ride on their own, a leash is an essential piece of safety equipment. In windy, stormy or even moderate conditions, once you lose control of the board it can get away from you in seconds. Think of an SUP as a lifeboat, and by simply linking your child to it at all time with a leash (connected at the ankle), you could very well be saving their life
Photo Courtesy: Shutterstock.com
Paddle-board Dimensions & Terrain
If you are paddling with your child on board, then make sure the paddle-board is wide and buoyant enough for the load. You want a board that will have you feeling in control. Then you will hold the ship steady for your kids so that the ride can be a fun, stress-free experience! For more information on safe, affordable SUP options, you can take a look at our reviews HERE.

The same thing goes for your choice of location. There's no reason to go charging big waves and rough waters—no matter how experienced you are. If you want your child to get back in the water, it's important that he or she feels safe enough to return, and a calm, smooth-watered destination is the best chance for achieving this
Sit, Kneel, Stand!
A great way to get your child comfortable on an SUP, and to give them confidence along the way, is to turn the process into a progression of steps.

To begin with, kids can simply sit on the board while you do all the heavy lifting. This will let them get a feel for the water, and teach them to be still on board or else risk falling off. For older and stronger kids who want to start paddling by themselves, sitting can also be a good way to begin. The next step is kneeling, either with or without a paddle. This requires a higher degree of balance, and it lets your child feel that he or she is making real progress.
Finally, once they are strong and confident enough, let them stand with a helping hand. Children are natural adapters, and you'll be amazed at how quickly they learn to balance themselves—the key is to encourage them all the way, and to break it down into simple steps like these.
Hydration
With any sport, you should make sure that your child is keeping hydrated. When it comes to paddle-boarding, this is especially so. Not only are there the added stressors of sun and wind, but just being in and around the water is enough to dehydrate at a quicker rate. Make sure to drink every 10-15 minutes until the child is no longer thirsty
Sunscreen/Protective clothing
Sunny or overcast, be sure that your child is wearing sunscreen and protective clothing. This includes a wide-brimmed hat and long-sleeve swim material clothing. Not only will it protect your child from sunburn, it will ensure that they are in no danger of heatstroke while being out on the board for a long time.
Have fun!
Last, but not least, make it a fun experience for your child! Perhaps it will seem strange, children can be more inclined to being safe if they are having fun. If they are really motivated and excited to get out on the paddle-board, they will listen to any safety requirements you put in their way.
Photo Courtesy: Shutterstock.com
A child that is having fun is a child that is focused on what he or she is doing, and that's the safest way to be. For more SUP Tips, click HERE.
Last modified onFriday, 28 April 2023 12:22

Adam Eyal writes for fringepursuits.com, an extreme sports blog. He has been passionate about water sports since he started surfing and paddle boarding in the mid-90s.
Website: fringepursuits.com
Email

This email address is being protected from spambots. You need JavaScript enabled to view it.