Finding The Right Board For You!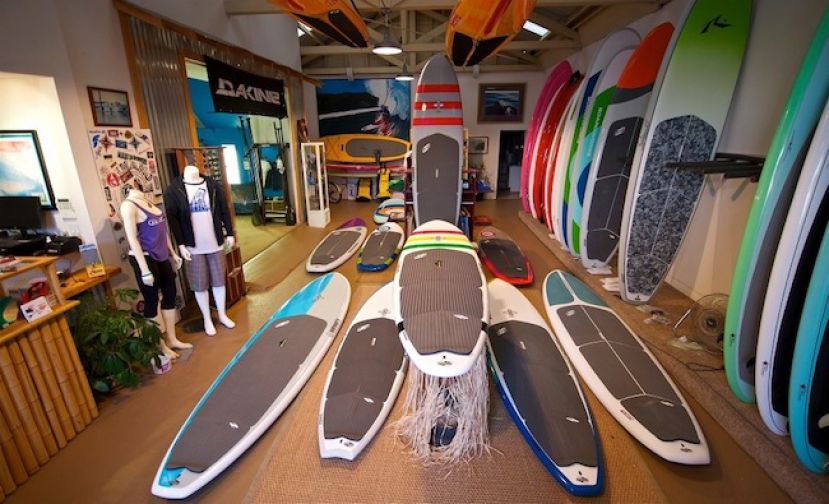 Photo above shows a wide range of all around boards to choose from, which ones right for you?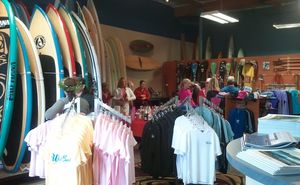 West Coast Paddle Sports, Owned by Bob Long
Video of West Coast Paddle Sports Grand Opening
SAN DIEGO, California - One of the first questions Bob Long of West Coast Paddle Sports asks customers when they come into his shop is "how do you want to use the board and what do you want the board to do for you". A customer will often say they want to paddle 95% of the time and surf the rest of the time. In this case, Bob says he would put the paddler on an "all arounder". The best way to describe this would be a big surfboard. The size of the board is determined by the size of the paddler but generally this board would be wider, longer and thicker.
If someone wants to enjoy some of the many fun races, they would need a race board. The shape this board is much different than the all arounder. For example a race board is typically more narrow and aerodynamic than a surf/SUP. For a recreational racer, Bob recommends a board in the 12'6-14' range with a width in the 27-28 inch thick range. An Elite racer will be in the higher end, riding a 14', 16' or unlimited. These boards are also very narrow and extremely lightweight. Not many Elite paddlers use stock boards, most have board custom built for them.
If someone wants to strictly paddle flat water, then Bob would recommend a touring board. These boards are very stable in the 31 and 32 inch range. Again, depending on the size of the paddler, women would typically be on an 11' board and men typically on a 12' board.
Bob Long has been a local legend, surfing locally in San Diego since 1964. He was the owner of Bob's Mission Surf for 18 years, selling that store and opening West Coast Paddle Sports a year ago. West Coast Paddle Sports carry's a wide variety of makes and model boards, paddles and accessories for all your paddling needs. Bob can be reached at 858-272-3278.
.
Last modified onWednesday, 28 January 2015 10:14
Email

This email address is being protected from spambots. You need JavaScript enabled to view it.