7 Safety Tips for Stand Up Paddle Boarding
Photo courtesy Marcos Hanscom 
SAN DIEGO, California - We often talk about the fun aspects of the SUP lifestyle, but enjoying the ocean, rivers, lakes and other bodies of water doesn't come without its share of risks. Today we're going  to cover 7  tips that go a long way towards making your time paddling safer for you and others.  
7. Watch Out For Others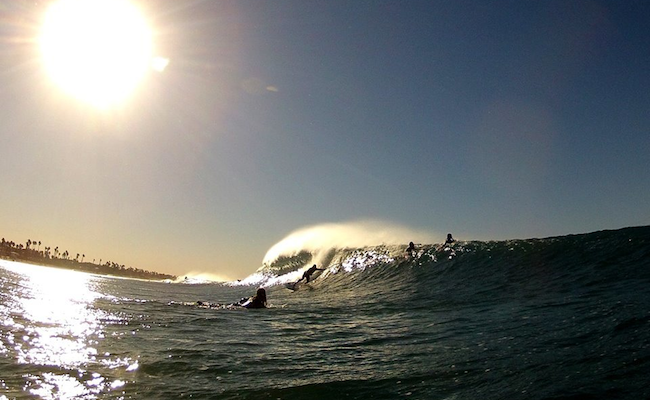 Ralph Bill navigating the crowded lineups of Souther California resposibly
Riding a SUP in a crowded lineup is a big responsibility. If there are bathers or scores or little surfers around, be mindful of their presence and watch out for them. For more tips on Surfing in crowded lineups, check out our article on the rules of SUP Surfing.
6. Wear Sunscreen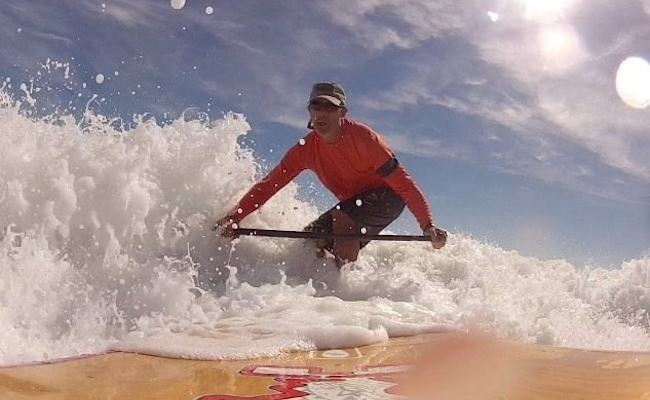 Richard Bubnowski wearing essential items in some perfect weather.
Skin cancer is no joke. Being in the sun for hours on end puts your health at risk if you're not wearing good sun screen (Factor 20 and above - not Maui Babe or bronzing oil) and covering up your pasty bits when during the hottest parts of the day. It doesn't even need to be sunny for you to get burned - overcast days are just as risky because of the sun's glare that reflects off water.
Not to be a downer, but the sun's dark side is simply a very serious reality that we all have to face and take precautions against. According to skincancer.org, in the last three decades more cases of skin cancer have been diagnosed than all the others combined. Skin cancer kills more paddlers than sharks, big waves and accidental drownings. The only thing more dangerous than not taking precautions against skin cancer is driving blindfolded or drunk to the beach.

5. Tell Someone Where You're Going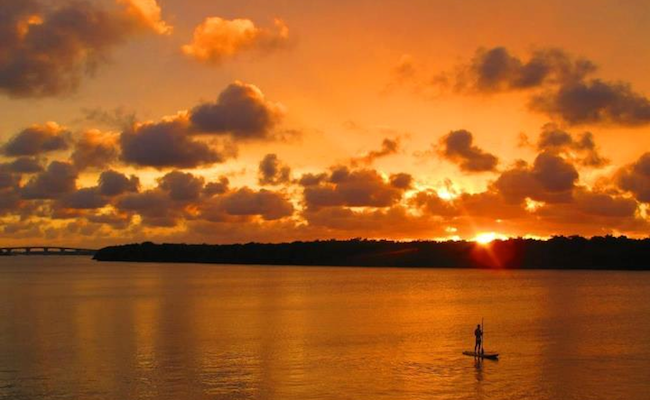 Julio Filho captures the beauty of a calm sunset solo paddle. 
Going for a morning or evening session by yourself is good for the soul - sometimes you just need distance from people, work, traffic and all the periphery stuff that clutters our lives on land. But don't disappear without letting someone know where you're going. Even the most accomplished paddlers can get into trouble on the water. It sounds a bit dramatic (especially if you're going for a paddle in a flat bay where other people can see you), but it's a good habit to get into and your family will thank-you on days when the water is so nice or the waves are so good that your quick session turns into marathon.

4. Use A Leash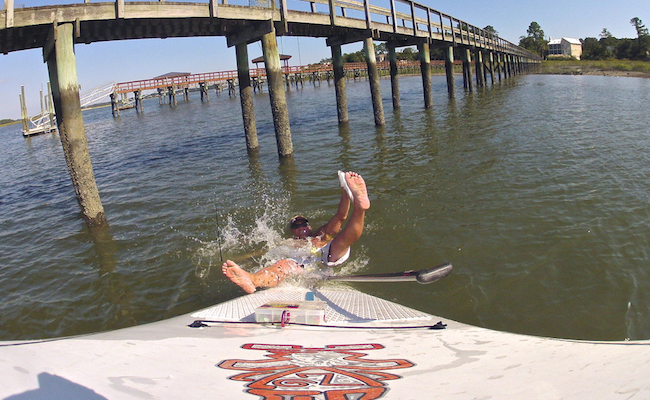 Whether it's catching waves or cathcing fish, everybody falls at some time or another. Glen Barrocini knows. 
Everybody falls. No exceptions. A leash is vital for all SUP surfers, river surfers, beginner paddlers and weak swimmers. In the ocean, it'll save you from swimming back and forth way too many times and it'll save others from being steamrolled by your board in the process. 

3. Wear A PFD & Helmet When Appropriate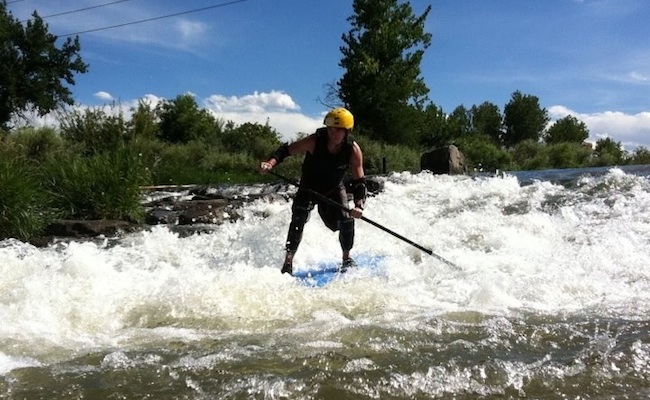 Alex Mauer, one of the world's best SUP River Surfers, still wears a helmet and PFD when it counts.  
PFD's (personal flotation devices - or life jackets if you're from the southern hemisphere) have come a long way since the days of bulky orange vests that looked as cool as a neon fanny pack. What hasn't changed is the sentiment behind wearing one. If the conditions are danegrous enough to warrant one, don't be a fool - wear one. 
2. Know The Elements - Rip Currents and Tidal Changes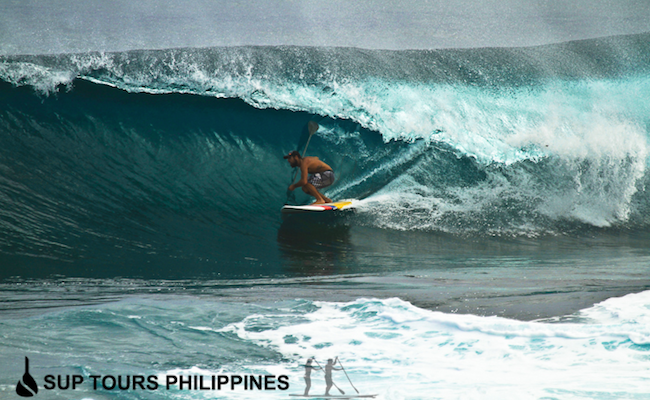 Photo of the Year, 2013, winner Soupart Fredeic taking calculated risks during a SUP tour of Siargao Island.  
Whether you're paddling in the ocean or a river, it's important to know where rip currents are forming and what direction the water is moving. People who've grown up on the coast and know the ocean well might not appreciate this as much, but getting stuck in a rip can be pretty scary if you don't know where you'll end up. People who get scared end up trying to paddle against the power of the ocean, which is like getting into an arm wrestling match with God, and end up in a flat panic. It's a recipe for disaster. This can all be avoided by sussing out the conditions before you get into the water.
If the waves or rapids are big, don't be too proud to stay out of the water. Water is our best friend, but it's a respectful relationship that has very clear boundaries we can only push once we're comfortable and informed. At the same time, be aware of the water and air temperature, and follow this up by wearing appropriate gear to regulate your body temperature. Click the link for a full article on tips for paddling in the winter. 

1. Don't Be Scared To Ask Questions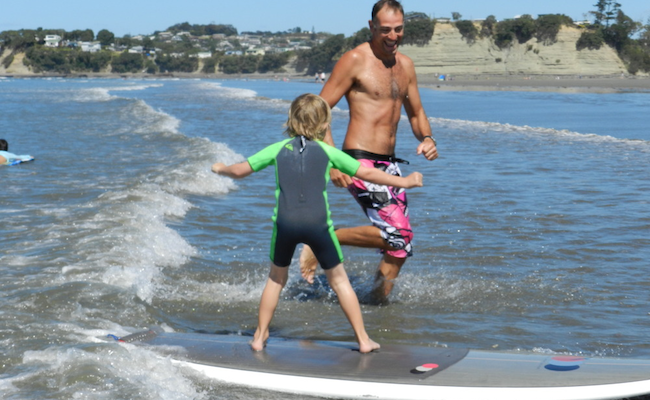 Everybody starts somewhere - just ask 5 year old Loukas Rainger. Image: Natasha Rainger (Mom)
If you're not sure about where to paddle or what the best place to get into the water is, just ask someone. If you don't know anyone that SUP's ask us via Facebook and we'll be happy to chat. Or better yet, join the Supcpnect community and 

© Copyrighted & Exclusive SupConnect.com Content.
Last modified onMonday, 26 January 2015 12:51

Submit your news, events, and all SUP info, so we can keep promoting and driving the great lifestyle of stand up paddling, building its community, and introducing people to healthier living.
Website: supconnect.com
Email

This email address is being protected from spambots. You need JavaScript enabled to view it.