SUP Pictures by Jimmy Martinello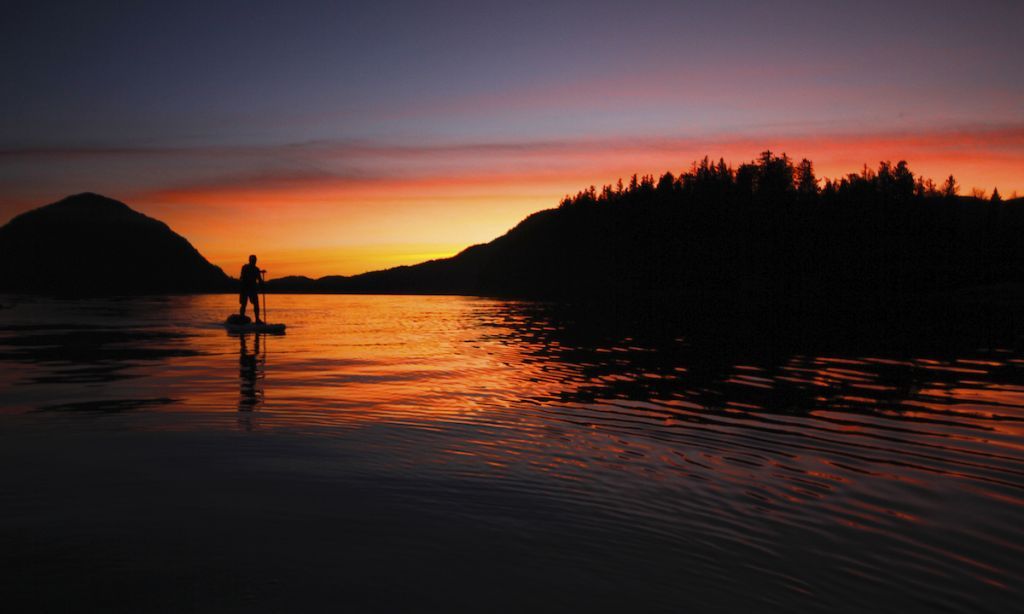 Jon Burak catching the sunset after paddling to Anvil Island to climb BC Canada. | Photo: Jimmy Martinello
We all can appreciate a good photo when we see one and in the Supconnect Photographer Series, we do just that. We connect with exceptional photographers in and out of the stand up paddle boarding world and showcase some of their many fantastic photos. This week, we are stoked to highlight adventure photographer Jimmy Martinello from the British Columbia.
Jimmy Martinello's roots lay in the Sea to Sky Corridor for the past 32 years. His current home base is Squamish, British Columbia where he lives with his beautiful wife and two amazing children. Jimmy has been an avid adventurer his whole life, and in the last 25+ years, his travels have taken him across the globe. His passions are revealed through his iconic photography and memorable film work from the documentations of his explorations. His work has been published worldwide, from National Geographic to Epic T.V., Arcteryx, Outside Magazine, Patagonia, Standup Journal, Alpinist, Rock&Ice, Ski Journal, Backcountry and Mountain Life to name a few. We recently caught up with Johny to talk about his adventures that he's captured and chat about his photos. Check out what he had to say about his experiences below: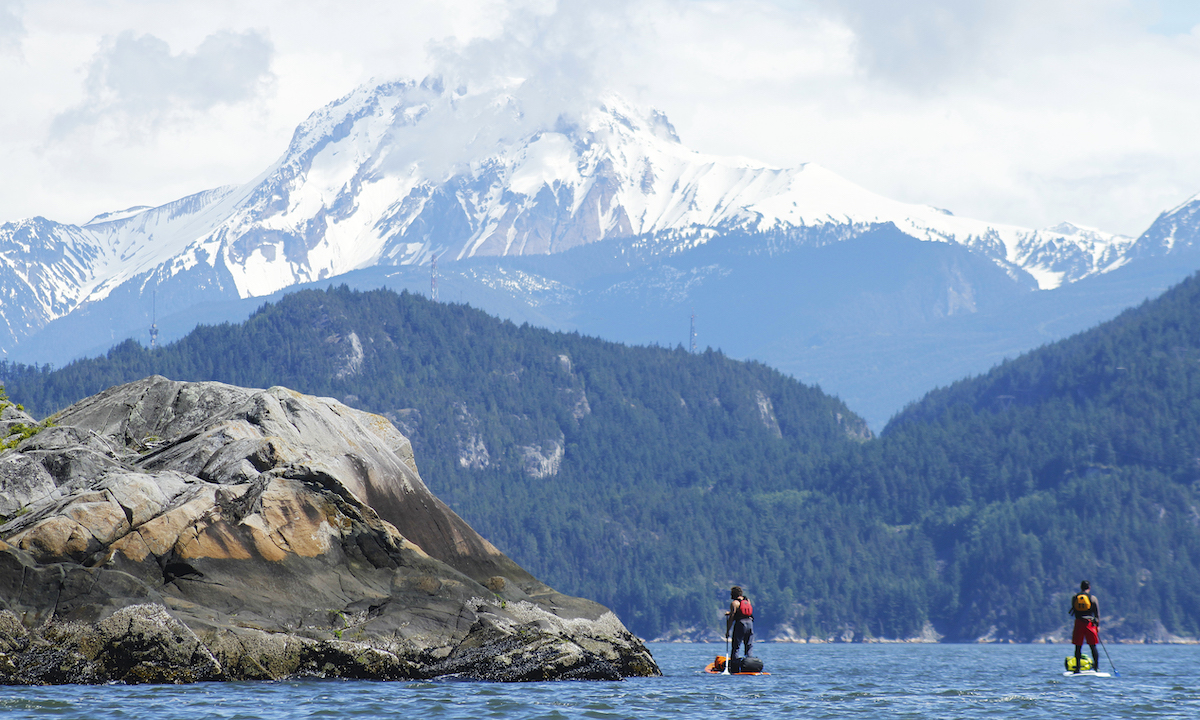 Heading back to Squamish after a couple days of camping and climbing out on the ocean of the Howe Sound. | Photo: Jimmy Martinello
What sparked your interest in photography and how long have you been taking photos?
When I got out of High school 1993 I decided to travel the world that is when it all started for me. Seeing some many incredible places, cultures, scenery, and loved capturing imagery along the way.
Did photography come easy for you or was it something you had to work at?
It was something for sure I had to work at, learning how to shoot with an SLR manual camera, light exposure back then no digital, shooting slide film and BW.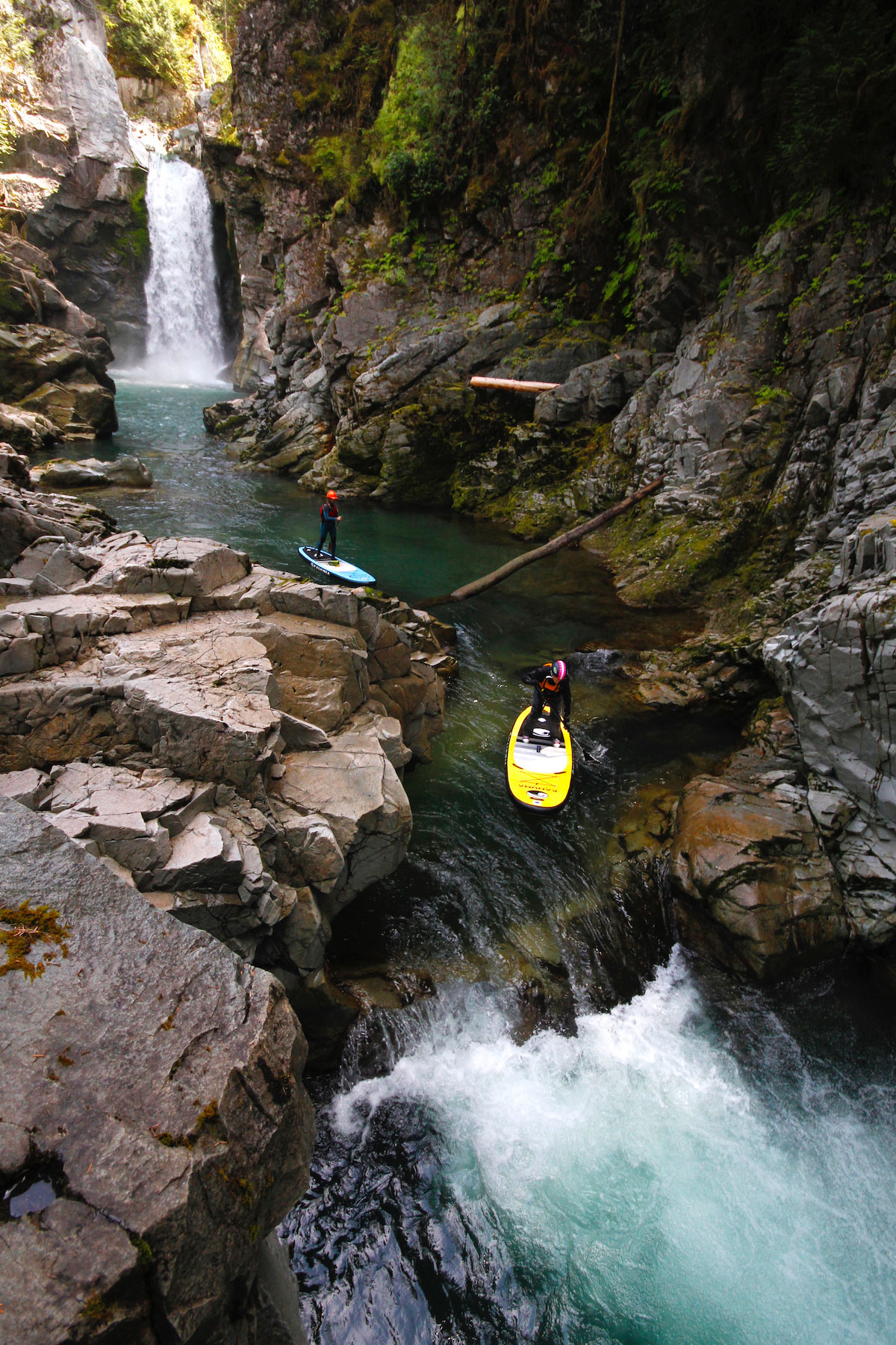 What type of gear do you use?
I first started out with Nikon, now I have a range of Camera's. Canon, Sony and Olympus all Digital SLR'S.
What do you hope to say with your photographs, and how do you actually get your photographs to do that?
I truly just want to inspire all, tell a story through the imagery. Getting the right light, composition and shooting cool and inspiring stuff really love adventure in the outdoors more remote the better.
Do you have a lot of post-production work?
I try not to do much post production, really try to get the true light and exposure to all images. Sometimes you see images and people mess with them way too much.
What is the SUP scene like in Squamish?
The SUP scene is growing for sure lots of people and family's out on the lakes and more on the ocean now. Still the river crew hasn't grown too much but Wow there is so many great rivers to run and awesome water for all levels, I'm sure they will be more on the scene soon.
Why do you enjoy photographing stand up paddlers? / What's your favorite part about shooting SUP?
Shooting SUP is awesome because most of the time you're in beautiful places and a lot of the stuff we paddle the back drop is amazing and the expression of people paddling is great.
What got you hooked to SUP?
I love Surfing and being on the rivers which is close to it surfing down the rapids. Also it's such a cool way to explore waterways and see the world. Really nice way to be out with your family in Nature as well.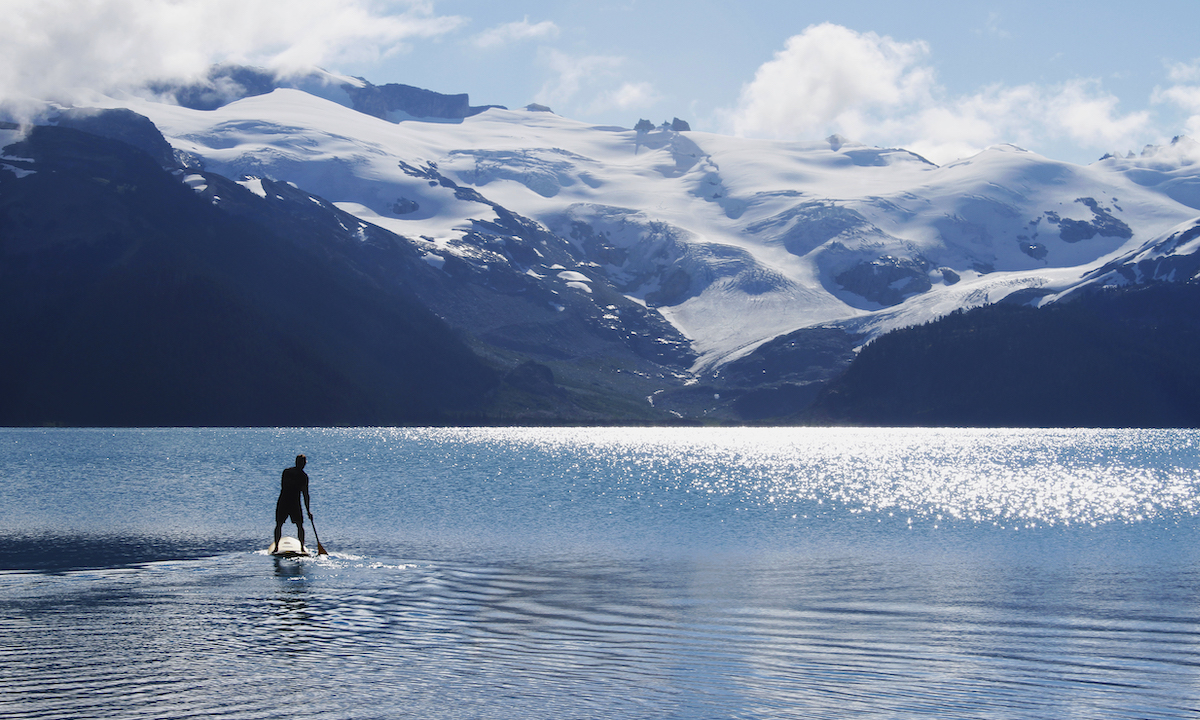 Jamie Baxter on a Garibaldi Lake on a Sea to Summit mission. | Photo: Jimmy Martinello
When did you take your first stand up paddle photos and what was the occasion?
First SUP images and first experience was a 3 day SUP paddle down the Thompson River in the interior on BC. Up to class 3 rapids and so much fun I have been hooked on it ever since.
Where do you think would be the ideal location to do photo shoots for stand up paddlers?
Ideal location many, just being outdoors, lakes, river the ocean so many inspiring and cool places to get great imagery.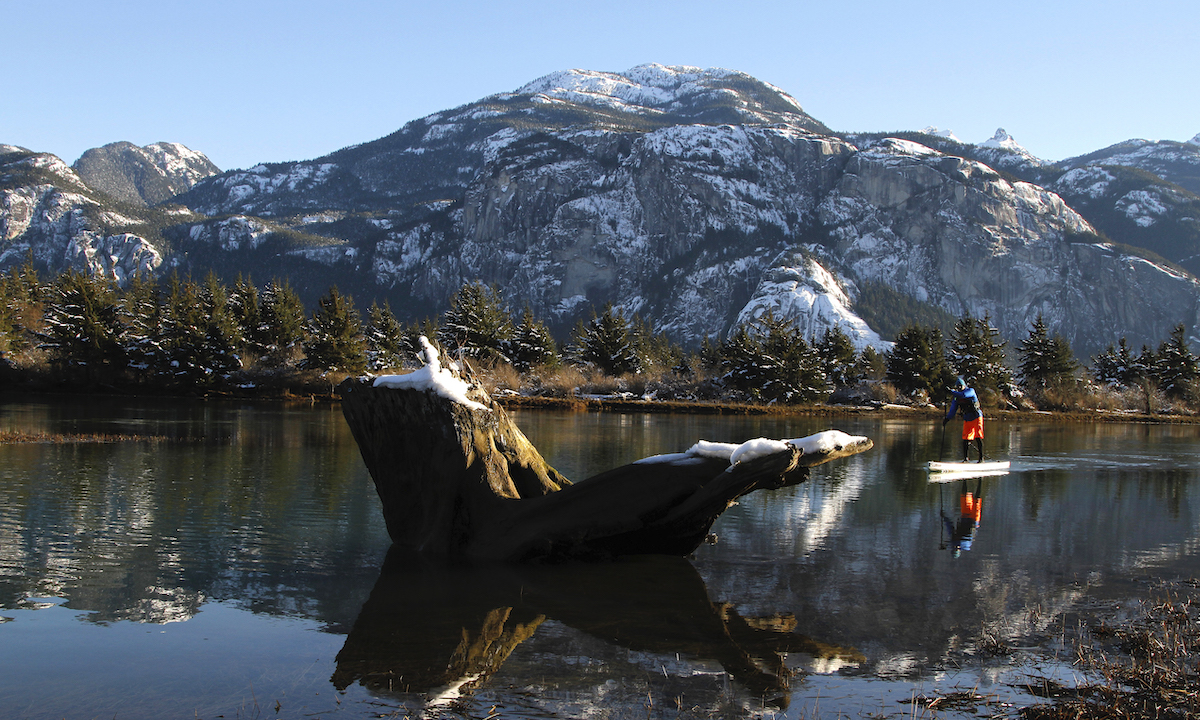 Norm Hann winter paddle Squamish Estuary. | Photo: Jimmy Martinello
Where has your favorite location been for shooting SUP?
One of my favorite was up in NWT (North West Territories) of Canada. We paddled for 2 weeks on the Mountain River. One of the most magical places I've ever been so remote, full of wildlife, untouched Mountains and backdrops that words could never even explain but hopefully the imagery helps take you there. One of the favorites for sure.
What was the most dangerous or most risky photo you have taken?
I guess shooting while moving down a raging river or big surf. Some might think hanging on a side of a cliff but I feel safe with that I have been rock climbing my whole life. When out shooting, people see me doing that sometimes solo they get freak out but I know my limits.
On the river. | Photos: Jimmy Martinello
Other than your own, whose photos do you most admire?
There are so many incredible photographers, I enjoy many. My wife and children take beautiful images as well and also some of my close friends are amazing photographers which is super inspiring.
Is photography your main profession or just a hobby?
It's a little of both that is why I love it so much. I make good income but I mix it up and don't shoot all the time. I like being selective and mostly shoot passion projects or stuff I'm keen to shoot when it feels right not fulltime, diversity the spice of life.
Which of all your photos is your favorite one?
Well that's a hard one, I like many. One of my Favs would be an image from Myanmar (Burma) of a local fisherman on Inle Lake also image from NWT Mountain River.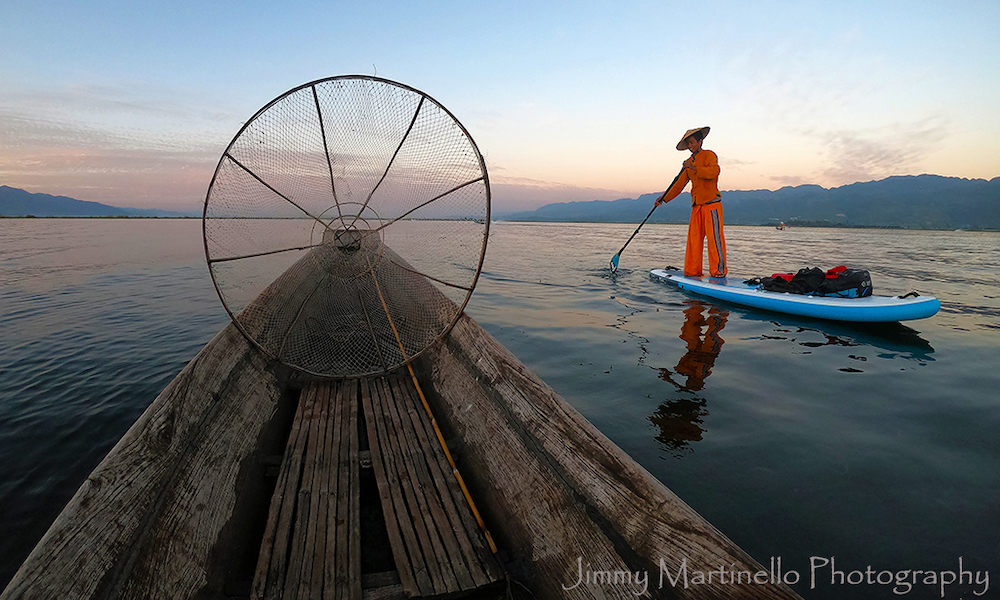 Myanmar. | Photo: Jimmy Martinello
Where'd your passion for travel/adventure come from?
From reading books and seeing imagery and films from around the world. I just love seeing new places and the world is full of them.
How have you managed travel during the pandemic?
I love my home and my surrounding here in BC so I been stoked on adventures close to home but I will be stoked when things open up again, hopefully fall, Iceland.
How'd you connect with Red Paddle Co and become an ambassador?
I've been an ambassador with Red almost from the get go when they got started. They sponsored us for a trip to the N.W.T and Yukon believing in us for a wild project and multi-sport adventure which is 4 part film with Epic T.V called R.A.W (Rock, Air, Water). Ever since that trip I have been working with them. So proud of the whole Red Paddle Co team a great crew of people and all striving to make the best product, their boards are kick ass and have taken me everywhere and a whole family of friends to so many wild and beautiful places. Striving for excellence and sharing that so many can get out and enjoy the outdoors, SUP good times.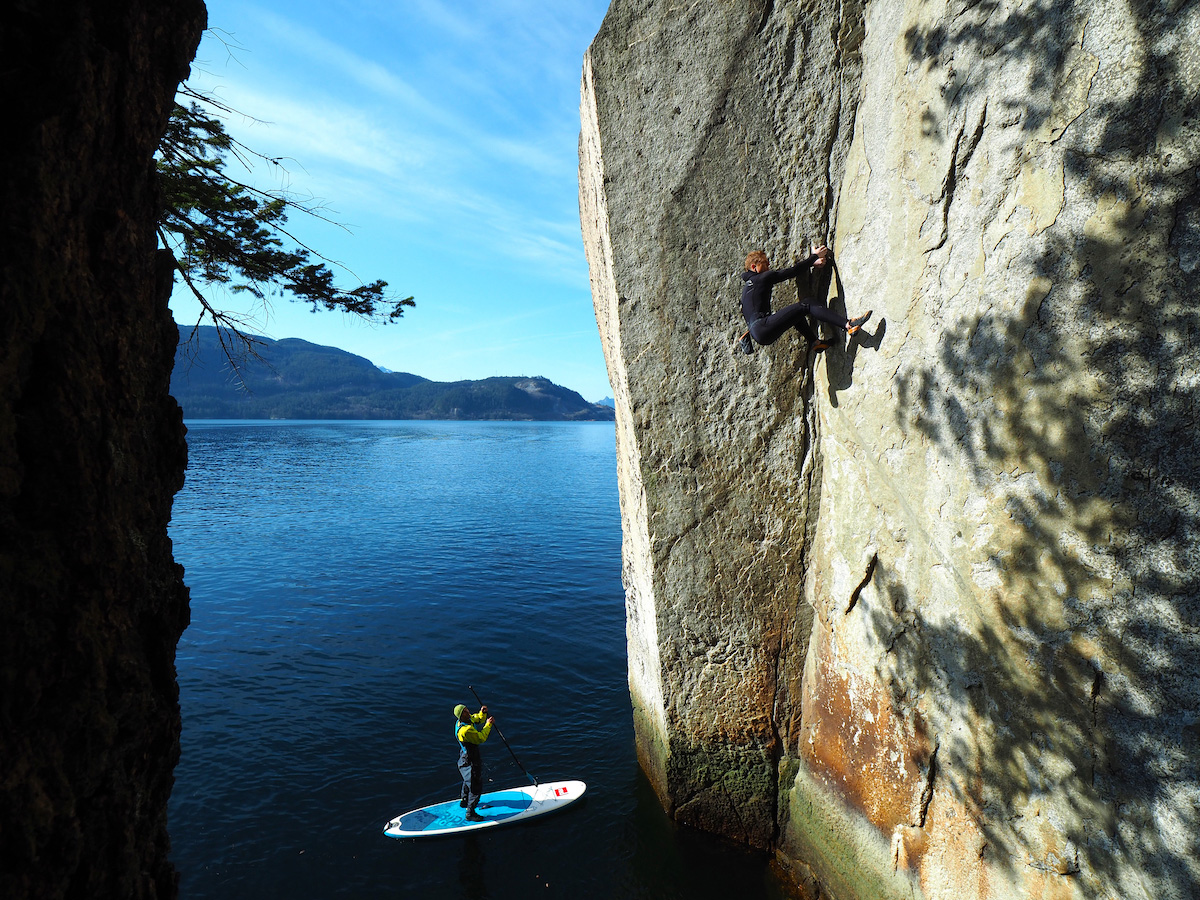 Always on adventure. | Photos: Jimmy Martinello
Anything else you want to add?
Really just Grateful for the whole SUP community. Big Thanks to everyone sharing the goodness.
To see more from Jimmy check out his website here.
© Copyrighted Exclusive SupConnect.com Content.
Last modified onFriday, 11 June 2021 12:49

Submit your news, events, and all SUP info, so we can keep promoting and driving the great lifestyle of stand up paddling, building its community, and introducing people to healthier living.
Website: supconnect.com
Email

This email address is being protected from spambots. You need JavaScript enabled to view it.