Finding Balance is About Going with the Flow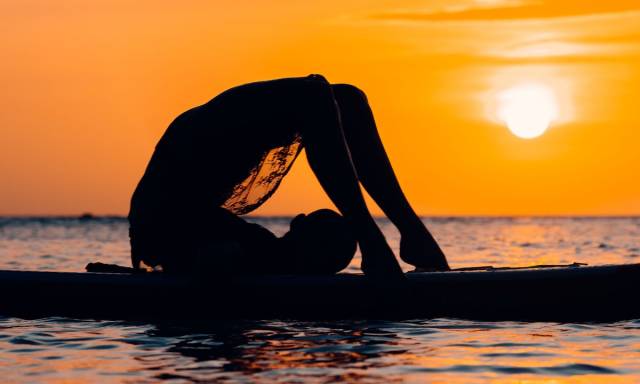 Tori Kubick finding balance. | Photo: Edrick Krozendijk
The challenge drew me in like the tide, and I was hooked.
I am a professional contortionist who performed for Cirque du Soleil, NYFW, Royal Caribbean and much more. After performing the same routine day in and day out in a dark dusty enclosed theatre, I craved to be illuminated by the sun's blazing orb and not an artificial stage light. My routine grew stagnant, uncirculated, and swampy. That is what kickstarted me, and inspired me to teleport my performance onto the water, using my stand up paddle board as a floating stage.
It is the best feeling in the world, finding that wafer thin fleeting slice of balance, and tangoing with the ebb and flows of the water.
I love that water is flexible, shape shifting, gentle, yet robust enough to carve through rock. As a contortionist that is what I crave to be, malleable but mighty. The board, the water, and I have to have a constant conversation using pure body language in order to coalesce.
Photos by Patrick Jansen
I gradually transferred my entire contortion routine from the stable stage to my unpredictable SUP, step by step piece by piece. First, I began with elbow stands, head stands, and other yoga like poses. Once that became manageable I moved on to holding handstands, handstand push-ups, and more difficult contortion poses. Currently, I am amping up the danger factor by adding floating flaming foot archery and handstand canes created by Flat-water Paddle Company to the puzzle.
In the very beginning, this would have seemed impossible, I could barely standup, and I didn't even know that standing on a specific area in the center of the board would help me balance. It was extremely difficult to do contortion on my SUP. I convulsed in each pose like I was balancing on a washing machine, and I capsized countless times. But the challenge drew me in like the tide, and I was hooked. After lots of deep communication with my board, we can read each other, we know each other's sweet spots and ticklish spots. We counter balance each other, we aren't reluctant to change, and we always go with the flow. Many people think that finding balance requires a brute amount of force, but on the contrary it requires just as much surrender.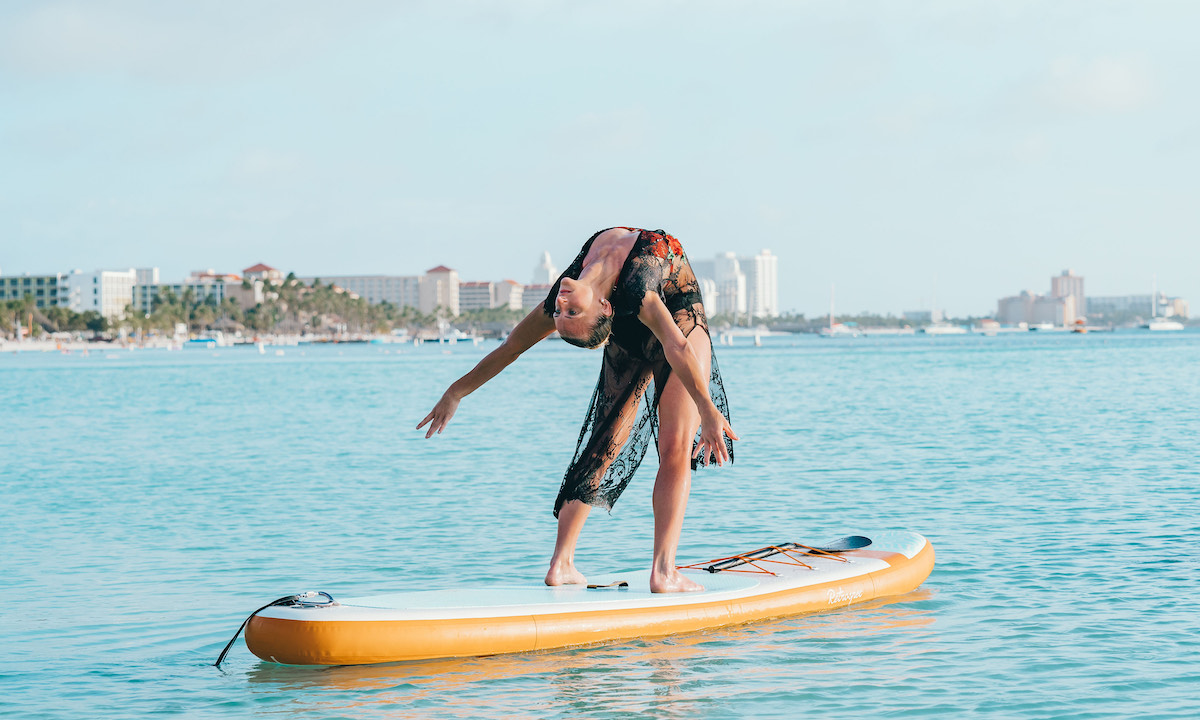 Photo: Edrick Krozendijk
Sometimes perfectly balanced people appear to be still from the exterior, however internally so much is circulating and bubbling below the surface. A multitude of actions and reactions take place in order to find a happy medium and achieve equilibrium, which is constantly fleeting, just like foamy waves.
I love that SUP is so widespread and global, it can be so much to so many people. It is a demanding sport, an enjoyable hobby, a killer workout, a place for a picnic, a yoga class, or even a graceful art form. I want to continue to perform on my paddle board for outdoor audiences, and to maybe even inspire others to reveal the artsy side of the athletic sport. You can customize your SUP exactly how you want it to be, sail away to new possibilities, and of course find balance.
Last modified onWednesday, 09 March 2022 14:13

Tori Kubick is a TEDx speaker, world traveler, contortionist, performer, writer, and stand up paddle boarder. She performed for Cirque du Soleil, was featured in Ripley's Believe it or Not, SUP International, on several local and international news networks, the Tonight Show, and she even opened for Miley Cyrus. She uniquely fuses acrobatics with speaking, writing, and the water because she believes physical movement and going upside down unlocks creative pathways.
Website: ConTORItion.com
Email

This email address is being protected from spambots. You need JavaScript enabled to view it.