SUP World Record: Fastest Handstand on a Motorized SUP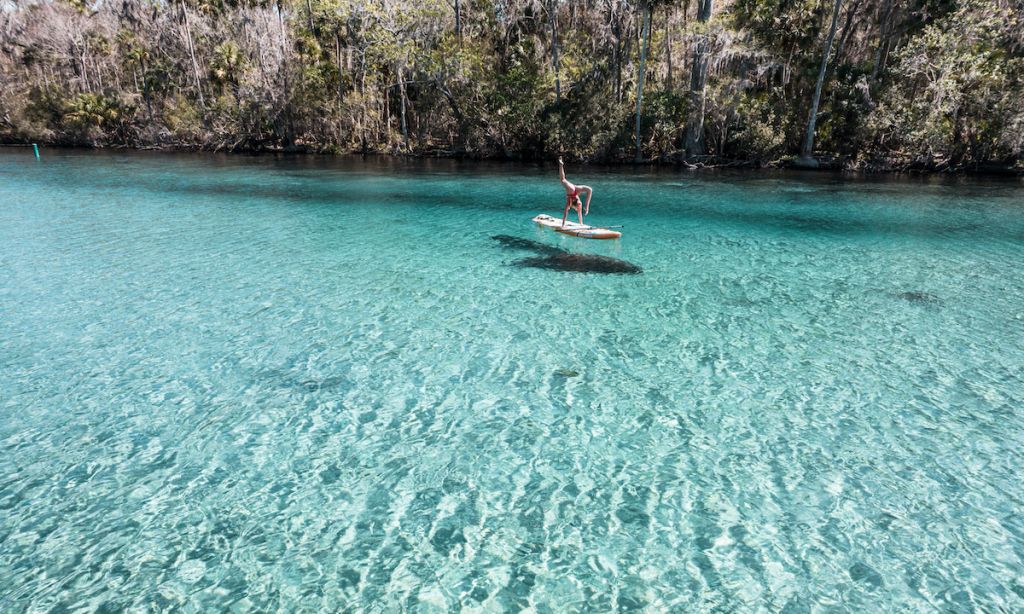 Tori Kubick in the Florida Springs. | Photo: Mike Winkles
There are several world records involving SUP's.
Most people riding on a single SUP: 73
Longest distance travelled on a paddle board: 2641.3km
Largest stand up paddle board: 48ft 8inches
Longest distance travelled on a paddle board in 24 hours: 193.8km
Largest parade of stand up paddle boarders: 844
But I was determined to set a new one. I utilized my background with Cirque du Soleil to come up with this one. I wanted to really challenge my equilibrium, while feeling the salty breeze. I wanted to literally hang ten! That's when I partnered with Bixby motors. I saw that they had a portable motor that attaches to the fins of your SUP, which was perfect for my nomadic adrenaline lined lifestyle!
A motorized paddle board meant I could do a handstand on the board, and let the motor propel me! I saw my friend and photographer Mike Winkles cruising all over the Florida springs with one, and when I told him my idea, he was like "You are crazy, that sounds impossible, but if anyone could do it, it's you!"
So I popped the Bixby motor onto my iRocker board, had several test runs, and loads of wipeouts. But eventually, I had all hands on deck, and found the sweet spot in the center of my board. Then, I was able to gradually increase the speed. The record I ended up setting was … fastest handstand on a motorized SUP!
Tori Kubick in Grand Cayman. | Photos by Alice Gostrick with Deep Blue Images
I was stoked! A lot of the times when people see me training at the gym or one the water, they always say, wow you should be in the Olympics. But the type of athletic things I do, don't really exist in the Olympics, and I'm not a SUP racer. I'm more of a SUP balancer. But last I checked, SUP yoga isn't in the Olympics either, and definitely not SUP contortion.
So exuding my energy into setting a world record was a great thing to challenge me, and to inspire others. The sports and trendy athletics that are set in stone by our schools/society aren't the only options we have to challenge our bodies and minds. We can start with whatever makes us happy, and fuels our soul, then from there we can really get creative, and amp up the intensity level.
Collaborations, and combining tools with other athletes and makers are the things that will revolutionize the world of SUP. There are many great boards out there, but I found that my new iRocker board is the best for stability.
I was recently in Grand Cayman, celebrating my record achievement with some SUP water therapy. In Grand Cayman I took a SUP yoga class with the amazing Kiristen Cousins of Vitamin Sea Cayman. If you are in the Cayman Islands, I highly recommend you take her class. Even as someone who does this for a living, it was so humbling and rejuvenating to be back in a classroom, where the breathtaking Cayman horizon is your chalkboard, the board is your desk, and the waves are your pencil.
Kiristen inspires, guides, empowers, and reminds us that the water always wins. This is true, even when you're trying to set a world record on the water. You have to train until you want to scream bloody murder, but conversely, you have to remember to be patient. Mother Nature has a mind of her own, but the more we communicate with her, nurture her, trust her, caress her, the more forgiving she will be when we do fall.
Last modified onFriday, 02 June 2023 13:09

Tori Kubick is a TEDx speaker, world traveler, contortionist, performer, writer, and stand up paddle boarder. She performed for Cirque du Soleil, was featured in Ripley's Believe it or Not, SUP International, on several local and international news networks, the Tonight Show, and she even opened for Miley Cyrus. She uniquely fuses acrobatics with speaking, writing, and the water because she believes physical movement and going upside down unlocks creative pathways.
Website: ConTORItion.com
Email

This email address is being protected from spambots. You need JavaScript enabled to view it.