Travis Grant and Terrene Black Win M2O 2013
by Erin Robbins, Staff Writer and Assistant Editor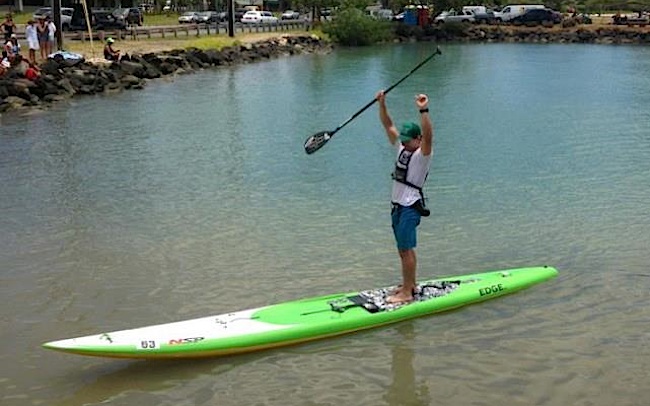 Travis Grant winning Molokai 2 Oahu 2013 - Photo via NSP.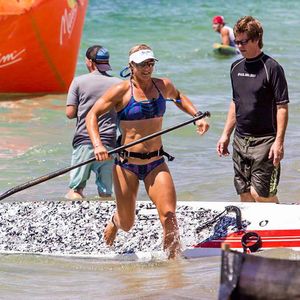 Terrene Black earlier in 2013
OAHU, Hawaii - Congratulations to Travis Grant (NSP, FCS SUP) and Terrene Black (NSP) for winning the 2013 Molokai 2 Oahu Championships!
The 17th annual M2O (Molokai 2 Oahu) took place yesterday, Sunday, July 28th where world class male paddlers like Connor Baxter, Kai Lenny, Danny Ching, Scott Gamble, Travis Grant and female paddlers such as Jenny Kalmbach, Terrene Black, Andrea Moller, Sonni Honscheid and Mariko Strickland faced off in one of the most grueling Stand Up Paddle races to date.
This year the race was expected to have decent wind for the "downwind" race, but it never really picked up and the paddlers ended up stroking out a relatively slow and cumbersome 32 mile grind. In the end it was Grant and Black who glided in first in the SUP unlimited divisions and claimed the 2013 titles.
Grant finished the race in 4:50:17 but you can see how much slower the race was this year when compared to the course record of 4:13:26 which was set by Connor Baxter just last year in 2012. Terrene Black completed the women's race this year with a winning time of 5:40:40 and the course record is 4:55:02 which was set by Talia Gangini-Decoite, also in 2012.
Despite the slow course and lack of wind, the race was still epic and turned into a paddle that tested fitness and required mental and emotional strength. It was very hard to know who was in the lead at times due to the very different course strategies but in the end Grant and Black earned the bragging rights. Congrats again!
UNOFFICIAL RESULTS:
MEN'S SUP
1st: Travis Grant (4:50:17) Australia
2nd: Scott Gamble (5:00:53) Hawaii
3rd: Connor Baxter (5:02:02) Hawaii
4th: Kai Lenny (5:07:57) Hawaii
5th: Kaeo Abbey (5:11:48) Hawaii
6th: Luiz Guida (5:17:29) stock? Brazil
7th: Travis Baptiste (5:22:59) stock? Hawaii
8th: Eric Terrien (5:24:36) France
9th: Kody Kerbox (5:26:21) stock? Hawaii
10th: Mo Freitas (5:27:43) Hawaii
WOMEN'S SUP
1st: Terrene Black (5:40:40) Australia
2nd: Jenny Kalmbach (5:45:22) Hawaii
3rd: Sonni Honscheid (5:52:07) Germany
4th: Andrea Moller (5:52:24) Hawaii
5th: Mariko Strickland (6:10:43) Hawaii
.
Last modified onThursday, 12 December 2013 10:48
Email

This email address is being protected from spambots. You need JavaScript enabled to view it.