The Triple Crown of SUP 2011 Wraps Up
The third and final race of the Triple Crown of SUP race series had stand up paddlers fighting high winds and even higher swell on their crossing from Maui to Molokai. Connor recounts his fierce battle with Dave Kamala below.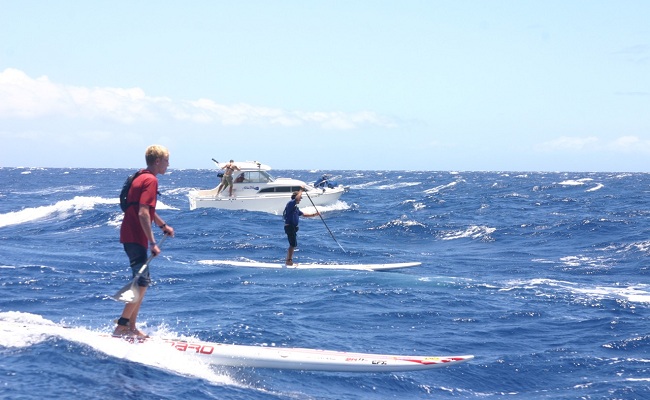 For most of the race, Connor Baxter and Dave Kalama were head-to-head, exchanging the lead almost 20 times during 27 miles of exhausting paddling. Photo: Karen Baxter
Mormaii World Cup Men's Elite Results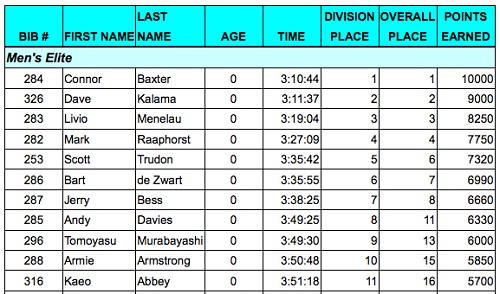 Click here for full event results in all divisons.
Triple Crown of Stand Up Paddle 2011 - Overall Results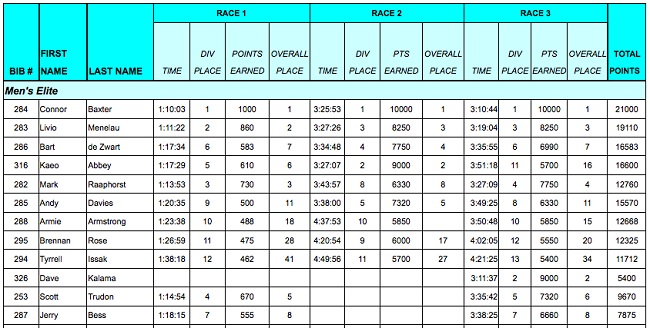 Click here for Triple Crown of SUP overall race results.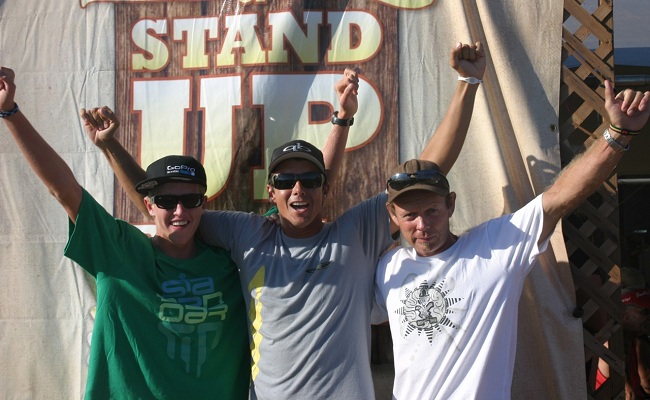 Winners of the Triple Crown of Stand Up Paddle 2011 from left to right: 1st place - Connor Baxter, 2nd place - Livio Menelau, 3rd place - Bart de Zwart. Photo: Karen Baxter
Conor Baxter recounts the third and final event in the Triple Crown of SUP below:
All I can say about the last leg of the 2011 Triple Crown is WOW!!! This race could not have been better. The conditions were epic; East North East winds blowing 30+ knots with some swells breaking over my head in the channel.

The race was from Maui to Molokai crossing the Pailolo channel – 27+ miles. This channel is one of the more gnarly and challenging channels.

The race started inside Honolua Bay around 10:30 am. Before the race started, we had some technical difficulties with my water pack, so I decided to start the race without it – which proved to be a bad idea – which I'll get back to later.

Around 35 people were on the start line ready for battle. When the race started I was up toward the windward buoy. My plan of attach for this race was to head downwind right from the get go – but I got stuck above two guys that decided they were headed upwind – so I had to stop paddling and let them pass so I could start going downwind.

After about ten minutes of flat-water paddling, we hit the wind line and that is where the fun started. Dave Kalama, Bart de Zwart and I were leading the pack. After about a half an hour, Dave and I took the lead. And talk about a paddle battle – Dave and I did it for 27 miles, exchanging the lead at least 15-20 times. Side by side most of the entire race.

But back to the beginning of the race – which was really exciting. In the middle of the channel there were easily double overhead swells or should I say waves breaking.  Riding these on a race board was challenging but way fun!  

And then I got lucky enough to catch one of those double overhead swells, but it didn't go too well. I paddled so hard to catch it and it just doubled up and I was full Waimea stance dropping into it and I still pearled and did a full front flip. When this was happening I thought my board was for sure going to break, but it didn't and I got back up and kept going.

And, while still in the channel, I finally decided I needed the water pack. My mom passed it to me – and trying to get this on in these huge swells was not a smart idea. And yeah – I fell again!

The race just got better and better the closer we got to Molokai. And once again Dave was right next to me. It was so much fun racing with him. I mean it didn't even feel like a race, it felt like a training run or something. We were talking and just having a great time, until we got closer to the finish.

About 20 minutes before the finish he got a nice glide and had a good gap on me. So at this point I was getting tired and thought I might lose, but then I told myself to shut up and paddle. My mom gave me an energy drink and I just felt like superman and I sprinted as hard as I could until I caught up and passed him. And then I got this endless glide, which gave me a good lead. So now I put him in the same position I was just in, but he didn't get that perfect glide to catch back up.

I was still paddling as hard as I could even though I was in front and I rounded the outside buoy into Kaunakakai Harbor – and OH MY GOSH, I had a good 500 yard paddle with 30 knot winds on my starboard side – never a fun way to end a long race. When I crossed that finish line in first place it was one of the best feelings in the world. I won the Molokai Crossing, and all three of the Triple Crown events. So, I am the first Overall Winner of the Triple Crown SUP Hawaii Event.

At the awards we had good food and live entertainment. I got a fantastic Glass Trophy, Ocean's Vodka (which I had to give to my mom), Maui Jim Sunglasses and Prize Money.

Thank you to my mom and dad and our friend Mike for the boat support!!

And a big Mahalo to all the event organizers and volunteers.

Aloha –
Connor Baxter
.
Last modified onSunday, 25 January 2015 18:00

After spending the first part of her life in Minnesota, Morgan traded in her snow boots for sandals and moved to sunny California. After graduating with a degree in Communication from The University of Southern California, she eventually made her way down south to San Diego and is taking advantage of the living by the best beaches and burritos California has to offer. If it's sunny, you can find her at the beach relaxing, or exploring the calm water in the bay via paddleboards and kayaks.
Email

This email address is being protected from spambots. You need JavaScript enabled to view it.