Target Golf Introduces A Mix of Golf and Paddle Boarding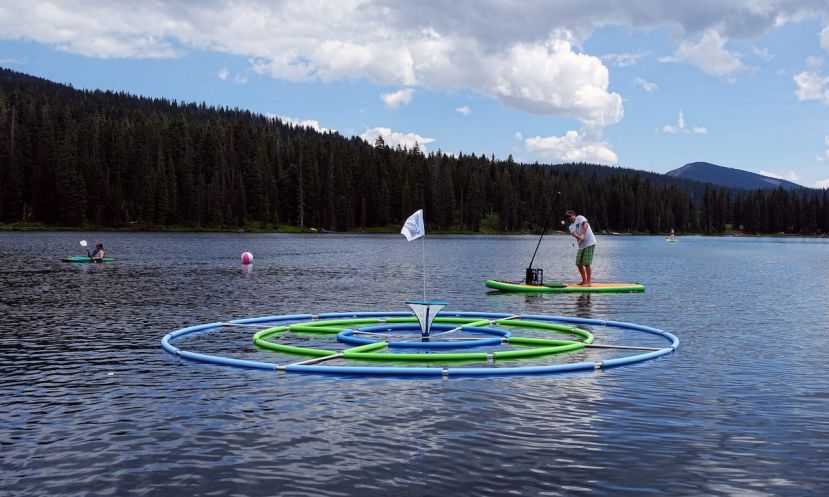 Target Golf: Mixing Golf and SUP | Photo courtesy Brandon Maxwell
SAN DIEGO, California - If you love both golf and paddle boarding and find yourself having to choose one activity over the other, fear no more because Target Golf now combines the two. Created by Brandon Maxwell, Target Golf allows you to play the ultimate off course golf game, all from your SUP. We caught up with Brandon to learn more about his invention that brings golf to the water. Check out our interview with him below.
So tell me, how did this concept of bringing the game of golf and SUP together? What are you calling it?
Well, here's the story on how the idea was born. I have been golfing since the age of 8 and I discovered SUP in Hawaii on a vacation in 2009. I was instantly hooked on the sport, so much so that I decided to introduce SUP to the Rocky Mtn. region where I live, Crested Butte, CO to be exact. I dove in head first with a bunch of inventory and started a SUP sales, rental and instruction business called Stand Strong. I pretty much became completely obsessed with Stand Up Paddleboarding from the moment I experienced it.
In the summer of 2012 I was spending a lot of time at Blue Mesa Reservoir outside of Gunnison, CO, the largest body of water in the state. It was an unusually dry summer and the water level of the reservoir was extremely low. There was a multitude of islands popping out of the water that I had never seen. Prior to my discovery of SUP I spent the majority of my free time on golf courses, with my new obsession I was spending most of that free time on the water. I was missing golf in my life and the wheels began to turn. While driving along the shore of the lake one morning, I had a vision of a water golf course that would be played from island to island with stand up paddle (SUP) boards.
My initial name for the new sport was FLOW, it's like golf spelled backwards with a W for the water. Now I am just calling it paddle board Golf or SUP Golf, which has led to the development of the ultimate off course golf game called Target Golf.
How did you figure out how to make the two work successfully?
I began to experiment with outfitting a paddle board to play golf off of. This involved attaching artificial grass hitting surfaces to the board, experimenting with various floating golf balls and figuring out ways to hold golf clubs on the board, as well as make everything float. I found that swinging a club on the board felt almost natural to me and immediately created a new form of balance training on the board, lightbulbs were going off like crazy.
My first attempts at striking a ball off the SUP with a golf club were with tennis balls and rubber floating doggie fetch balls. I graduated to floating practice golf balls, and then discovered real floating golf balls at an Aqua Driving Range in Denver, CO. At this point, I was out on the lake hitting 200 yard shots from the board, paddling to the ball and picking it up to hit again, and playing from island to island. I found this to be rather hilarious and was laughing ridiculously hard at what I was doing, so were the fishermen on the shore witnessing this new spectacle. I believe that this was one of the driving factors to continue the pursuit, the absurdity of the idea while I was doing it just made me smile and laugh at myself, the bottom line is ridiculous fun.
Photos courtesy Brandon Maxwell
You've been working and developing this concept for the past five years. Tell us a little bit about the process and what you're developing.
It has definitely been a process of experimentation and become the pursuit of a life changing endeavor. I went on a quest to have a floating golf club manufactured for my new game in Denver, CO with a small custom golf club company, this was in August of 2012. It was in this meeting that one of the big "aha moments" happened, and a major advancement occurred, they introduced me to the inventor and owner of the company Birdieball, John Breaker.
An explanation of the birdieball is an entire article in itself, but it is basically a limited flight floating practice golf ball that looks like a napkin ring, yet flies and reacts exactly like a golf ball. This discovery solved several major issues I had, one being the danger of a real golf ball flying around people at the lake, and two, being the roll of a ball while trying to balance on the board and swing. John was also beginning to experiment with floating target systems for the birdieball, but was not familiar with the emerging SUP industry. We made an immediate connection and I began experimenting with his products and my new concept, it worked really well. The culmination of this effort is the creation and launching of a new off-course tournament golf game that can be played on water, grass or sand called Target Golf.
Do you think there is a market for this hybrid sport?
Absolutely, in this day and age people are always looking for the next cool new sport, activity or invention to partake in. I think the video captures the essence of the fun potential for this combination of SUP and golf.
With golf being such a classic sport and being around for ages and SUP being a newer sport, do you think that merging the two will/can be successful?
I believe the success of combining the two activities lies not so much in actually playing golf off of the board but with the synergistic combination of playing Target Golf from the shore and utilizing SUP for the ball retrieval. The ball retrieval system I invented from the SUP is an advanced form of balance training that requires focusing on a central point in the water and performing maneuvers that you would never do on the board. This is an activity in itself that seems to have the feel of some sort of fishing or clamming endeavor. Being able to play a meaningful golf game from the shore of the lake, or just hitting birdieballs into the water with a golf club, adds an entirely new dimension of fun on the water.
I think that golfing off of the board itself is most appealing to the younger crowd, especially kids, and maybe a sport of the next generation. I still hold the dream of creating SUP golf courses played from the board and paddled through in the many iterations I hold in my head.
Who is this best for?
Target Golf is a new game and activity that is best for anyone who likes to spend time on flat water with stand up paddle boards and has a desire to learn the game of golf, or already plays golf. The versatility of the game and target system is incredibly vast and can be used on or off the water. I spent a lot of time SUPing on flat water, which can sometimes become monotonous whereas Target Golf adds an exciting new element to a day at the lake.
The ocean poses a different set of challenges with the currents sweeping balls away faster, and eco friendly is a primary concern. We recently set up the game off the beach in Naples, FL on a relatively calm Gulf day and the target bobbing on the swell looked amazing. As long as you have a full time caddie manning the target on a SUP and retrieving the birdieballs, so as not to litter, it works really well on calmer ocean locations.
We believe that Target Golf is destined to become the ultimate off-course golf game of the future and the next great tournament sport, on and off the water. We are launching a crowdfund campaign for Target Golf on www.indiegogo.com later this month. For information and updates you can go to www.targetgolf.com to get on our mailing list and link to our Facebook page.
© Supconnect.com Copyrighted Exclusive Content
Last modified onWednesday, 30 August 2017 14:20

Allie Beucler is orginally from Kona, Big Island and, as an islander, her life has been in the water – ocean more precisely. She has been a sponsored competitive surfer, represented the NSSA College National Champions while surfing for San Diego State University, and today remains deeply connected to the watersports lifestyle. Brown is both a shortboarder and a paddleboarder, loving to take out her inflatable SUP for a ride. With a journalism degree from San Diego State University and her passion for the water life, she brings an excellent combination of skill and passion to Supconnect.
Email

This email address is being protected from spambots. You need JavaScript enabled to view it.