Starboard Sprint Expedition: Deep Dive With Bruce Kirkby
SAN DIEGO, CA—In light of Starboard's recent release of the Sprint Expedition, we've connected with the man behind this masterpiece, Bruce Kirkby, to gain his perspective on this expedition SUP. Check out our Q&A with Bruce below.
What problem are you trying to solve with this board?
The Starboard Sprint Expedition is designed to excel on multi-day SUP expeditions—the first paddle board of its kind.
By way of background, I came to paddle boarding a decade ago, with 30 years of wilderness expedition experience —and specifically loads of time paddling sea kayaks in extreme environments, from Borneo to Greenland, from the Yellow Sea to Canada's West Coast. And I immediately recognized that SUP offered a unique opportunity to explore wild lakes and ocean environments. Apart from the joys we are all familiar with on a SUP (the freedom of standing, the enhanced views, the complete body workout), it also offers a degree of safety that is not yet widely recognized. If you flip a sea kayak in a stormy sea, the situation can be quite serious. But if you fall off a SUP in the same environment, you just crawl back on, and seconds later you are on your feet again.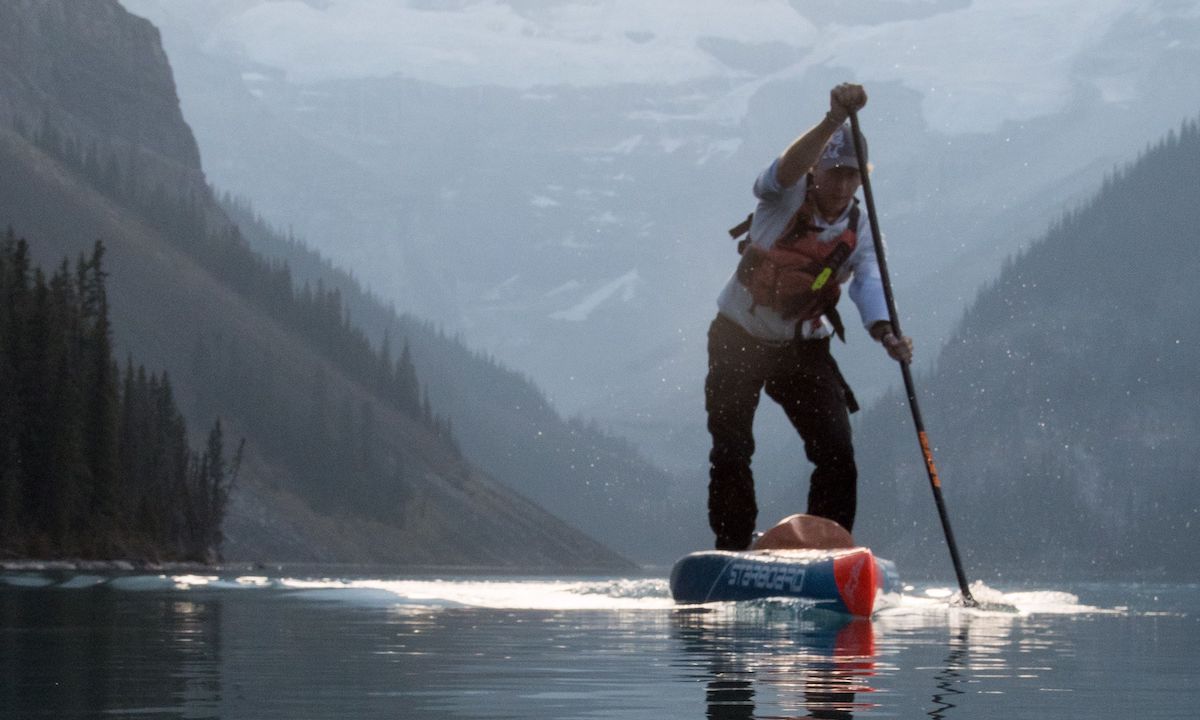 Photo via Starboard
So I saw an opportunity for SUP to become a serious vehicle for adventure travel. But when I looked for a board designed to navigate a variety of water conditions, move quickly, and carry loads that might be expected on a two-week expedition, I was amazed to discover there was nothing available. There were a variety of 'touring' options on the market, but most appeared designed to carry a daypack at most.
Initially I jury rigged my own solutions, adding d-rings to a 16x32 tandem board, and paddling solo along the outside coast of Vancouver Island. It did the job, but was far from ideal—the board was slugging and a beast in crosswinds. In the years that followed, along with my paddling partner Norm Hann, we set ever more challenging objectives; rounding Cape Scott, the Brooks Peninsula, and finally Cape Caution. On these journeys, we experimented with a variety of boards, and continually discussed refinements that could be made to create the ultimate expedition SUP.
Photos via Starboard
When I joined the Dream Team three years ago, I immediately wrote to Svein, sharing my ideas. Thankfully, he recognized the opportunity, and together with the design team at Starboard we set off on a three-year journey that ultimately led to the brand new Sprint Expedition.
2. How does this model solve these problems better than other models?
To be truly excellent, an expedition paddleboard must be able to carry at least 40kg of gear while meeting three fundamental design requirements:
Stability — reducing exhaustion on long days
Speed — allowing long distances to be covered, day after day
All round water capabilities — the board must excel in a variety of conditions, from chop to swell, from downwind to crosswind and upwind
My initial thought was why not take the years of research and development put into race boards, and build on that? I regularly paddle a Sprint and an AllStar. They are both extraordinary boards. I suggested to Svein that we should use those as a base, and then fine tune them for the requirements of multi-way trips. So that is where we started.
Photo via Starboard
To achieve stability we widened the boards, all the way to the tail, and expanded the dugout area. Having gear inside the dugout is a huge advantage. It lowers the centre of gravity (which increases stability), gets the bags out of cross winds (which can be exhausting) and allows the rails to control how the board tracks, (rather than having waves wash across a flat deck and smash into luggage).
I initially suspected the AllStar would prove to be the better prototype (we experimented with both Sprint and AllStar, along with an expanded Touring model), but when the AllStar design was expanded to 29.5" in width, it simply lost too much speed, and felt sluggish. The Sprint on the other hand still glided like a race board, and proved itself to be very fast.
We added height to the foredeck, allowing the needle-nose design to paddle with additional confidence through chop and swell. The extra volume up front means the board pops reassuringly up and over waves, instead of plowing through them.
Photos via Starboard
Of course beauty lies in the details, so we outfitted the Sprint Expedition with lavish tie downs. The 14x29.5 comes with 12 lash points, carefully placed both fore and aft of the paddle. The crossover 14x27 has six.
The nose and tail were designed to be grasped confidently by a wet, cold hand, meaning a pair of paddlers can move a fully-loaded board out of the surf zone quickly. A race handle, rather than a recessed handle, allows for a critical central lash point if required. A pair of redesigned centre-line drainage holes funnel any water that enters the dugout towards the middle, increasing stability and drainage efficiency.
3. What conditions is this model best suited for?
The Sprint Expedition simply flies over smooth (and slightly ruffled water), even when fully loaded. But where it really stands out—and where I think most paddlers will be pleasantly surprised—is how well it handles bumps and chop. We tend to think of the Sprint as a flatwater racing machine, and of course that is what the race models are designed for. But with its extra width, the Expedition feels at home in almost any condition. And it while it was designed to carry heavy loads, I've been loving taking it out for quick laps on my home lake. It's a lovely board to paddle every day.
Photo via Starboard
4. Who is this board for? And why?
Anyone able to handle a 14' foot board will enjoy the Sprint Expedition. It is a very easy and pleasant board to paddle. I'd put a first time paddler on it without worry. But it's those who wish to go for an overnight adventure on their SUP, or a multi-week trip, who will truly appreciate all this board is capable of.
5. Are there new paddling possibilities that are now available with this model?
People were finding ways to carry heavy loads on boards before this. But never with as much comfort and confidence. So yes, I do think paddlers will feel inspired to perhaps tackle longer trips, or new things, because of the Sprint Expedition.
More than anything I hope the board raises awareness of the possibilities for adventure travel and wilderness expedition that SUPs offer. They are a truly incredible vehicle for exploring. And here is so much opportunity that has yet to be realized. Now, with the Sprint Expedition, that door is open to everyone!
Photos via Starboard
6. Since the base model for this board is a sprint design, is it for flat water only? Why so?
Admittedly the Sprint Race models are designed for flat water, but the tweaks made to the width and thickness of the Sprint Expedition allowing it to be confidently paddled in nearly any water condition.
7. What additional accessories help complete the Expedition kit?
Beyond the modifications outline above to the hull shape, dugout and lash points, the Sprint Expedition features:
A deck vent allowing the Expedition to breath as temperatures change.
Two leash plugs, so paddlers have a choice of attachment position.
Carbon drain covers allowing maximum efficiency.
A flat deck pad makes it easy to move around the dugout and trim the board.
An ultra lightweight prepreg carbon Flash+ fin offers the highest level of performance.
Large stomp pad allows paddler to step over gear and get foot on the trail for down winding and surf landings.
14x29.5 includes a Tuttle box, for oversized fin, in conditions that demand maximum stability.
8. Which of your paddling expeditions inspired and informed you to design this board?
Over the last ten years I've spent a lot of time paddling on Canada's West Coast, a demanding environment with high winds, large tidal currents, and swell from the open Pacific. The Sprint Expedition was designed the handle anything that could be encountered on a long coastal journey.
Photo via Starboard
9. Where have you tested this board? And what were the conditions like?
We've taken the board out at every chance possible, from the coast of Thailand to the lakes of Canada. And we've been consistently pleased with the board's ability to handle upwind, downwind, waves and glassy conditions.
This summer I'll be taking the board on a large coastal expedition, and hope to be able to report back soon on how it handles a 14 day journey in challenging conditions.
10. How should a paddler progressively use this board, from beginner to expert level?
The Sprint Expedition is a stable and confident platform, so first time paddlers will enjoy learning even the basics of SUP paddling on this board. The next natural step would be to take advantage of the board's possibilities, and try an overnight trip. Nothing too hard or complicated, just a paddle to a remote campsite near home with food and tent, then return again the next day. From that point, trips can gradually be increased in length and difficulty.
Like any wilderness endeavour, safety is always of utmost importance. Weather can change quickly, and spending even one night camping in the wild with a SUP is vastly different than a day trip.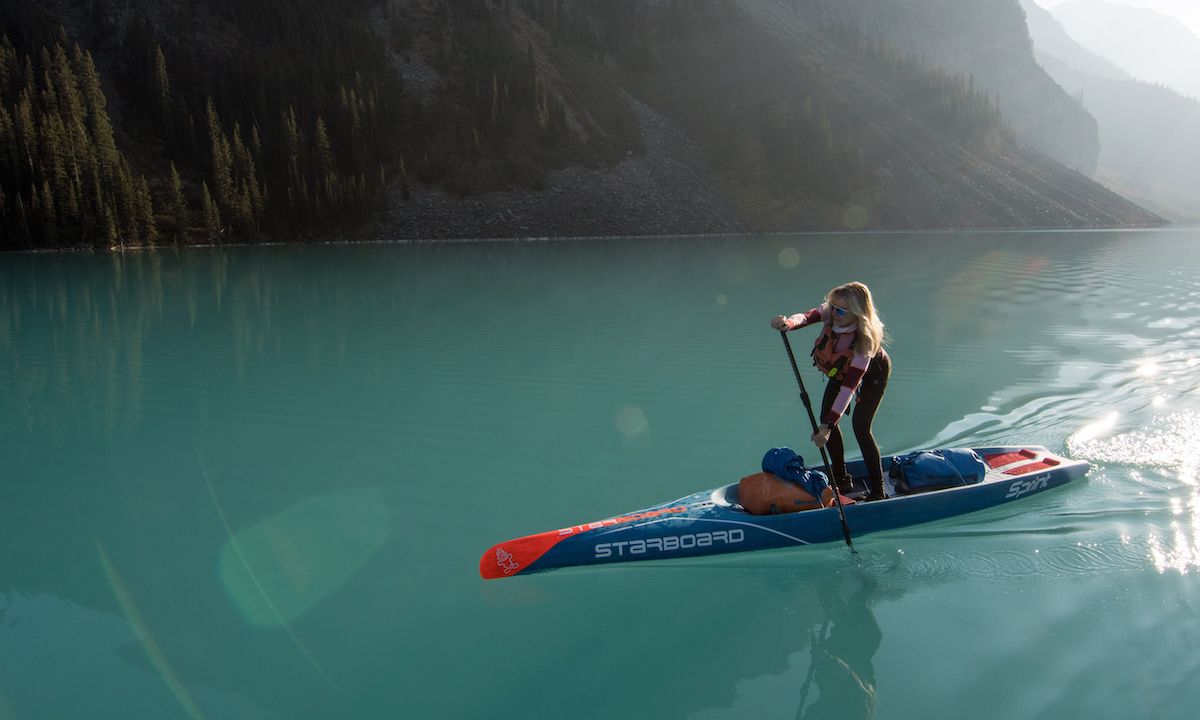 Photo via Starboard
My suggestion for people interested in building wilderness SUP travel experience is to seek mentors. There is a growing community of SUP travellers around the world, and nearly all are more than willing to help newcomers. You can find online groups discussing gear and routes. Never be afraid to reach out and ask questions.
11. Are there resources that you recommend for aspiring expedition paddlers?
Beyond the mentorship mentioned above, there are now professionally guided courses, offering introduction to touring curriculum. And in the coming months, I'll be posting instruction videos on Starboard's website looking at packing strategies for a SUP journey, and how to secure gear properly to the board.
About Bruce Kirkby
With decades of expeditions spanning the globe – from Africa to Arabia, from Mount Everest to the high Arctic – Canadian adventurer Bruce Kirkby brings a wealth of wilderness experience to the Starboard Dream Team.
Growing up in Toronto and graduating in Engineering Physics may seem like an unlikely start for a world adventurer, but by the age of 20, Bruce had already chosen the road less travelled. Guiding rafts in the Yukon and sea kayaks in the Caribbean led to more challenging expeditions. Bruce has crossed Iceland by foot, descended Ethiopia's Blue Nile by raft, traversed Borneo's north coast by sea kayak, and crossed the Empty Quarter by camel. Along the way he established himself as a world-class photographer and writer (National Geographic, NYT, Outside) with three best-selling books.
Ten years ago, on a whim, Bruce ordered an inflatable SUP, which arrived on his doorstep in carboard box. Less than a month later he paddled from Vancouver to Victoria – a five-day, 155km journey that changed his life. And he's never looked back. Today, Bruce continues to relentlessly push the limits of what is considered possible on a paddleboard. His journeys include traversing the outer coast of Vancouver Island, following an ancient coastal Grease Trails thought British Columbia's Great Bear Rainforest, and rounding the capricious headlands of Cape Scott, Brooks Peninsula, and Cape Caution.
"2023 is lining up to be absolutely incredible, the brand-new 14x29.5 Sprint Expedition is being released, and I'm so stoked. I've worked alongside the Starboard design team on this concept for 4 years. It's turned out absolutely amazing. And it is going to revolutionize expedition paddling. My first priority with the new board is top-secret mission. I'm a bit superstitious, so I won't share any details until it's in the bag… but it's a mind bender."
Thank you Bruce for your unique perspective on the Sprint Expedition! Find the Sprint Expedition online HERE.
For more SUP news, click HERE.
Last modified onMonday, 06 February 2023 16:20

Submit your news, events, and all SUP info, so we can keep promoting and driving the great lifestyle of stand up paddling, building its community, and introducing people to healthier living.
Website: supconnect.com
Email

This email address is being protected from spambots. You need JavaScript enabled to view it.