Stand Up Paddle Mania in California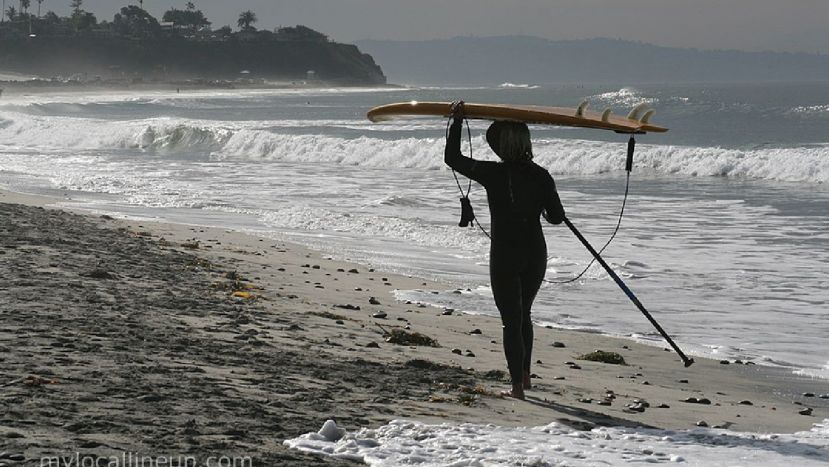 Rhonda Daum taking a walk down the beach after a Cardiff Reef surf session on her stand up paddle board.
SAN DIEGO, CA -- An exceptionally large crowd of surfers gathered at Cardiff to get on stand up paddle boards. From beginners to experts, there were myriad people paddling up and down the lineup.
For the past few months, Cardiff has seen a significant increase in the amount of stand up paddle surfers. The days of a lone soul (usually living legend Rick Thomas) riding the waves with paddle in hand are long gone. Today, not only Cardiff, but virtually every break along the San Diego coast has become a witness to the growing popularity of stand up paddle surf.

This past Tuesday, however, there was an extraordinary number of stand up paddle surfers at Cardiff. This was no coincidence, for C4, a surf company that specializes in the sport, was holding a demo day at the beach. In addition, some surfers--surf shop owner, Bob Long, among them--brought their own equipment and generously made it available to the public. Long, for example, hauled in a hollow stand up board made of carbon fiber. So with a panoply of boards and paddles to choose from, surfers were constantly running in and out of the water to try something new. At a particular moment in the morning, there were over ten stand up paddle surfers in the water.

The stand up crowd at Cardiff was as diverse as the selection of boards and paddles. Rob Machado, a renowned professional surfer, appeared on the outside riding a lengthy board designed for long distance paddling. Pulling helicopters and stylish noserides, Scott Bass, the assistant editor of Surfer Magazine, wasn't shy in showcasing his large bag of tricks. Tom English, from TomTom Productions, who is also known as 'El Mysterioso', unleashed his power surf and electrifying vibe. And uniquely sharing the Aloha spirit was none other than the legendary Rick Thomas, one of, if not, the Duke Kahanamoku of stand up paddle surfing in Southern California. Thomas, English, Bass, and Machado joined experts and novices for a memorable day of stand up paddle surfing at Cardiff.

But the boards, paddles, and surfers weren't the only reason Tuesday was a memorable day. C4 supplied a surfeit of doughnuts and coffee for the event's participants. The feast, therefore, satiated the crowd's appetite in more ways than one -- first with good surfing and then with a caffeinated sugar rush. And as if all that was not enough, there was a raffle with prizes ranging from dvds to a carbon fiber paddle. Needless to say, the raffle winners walked away with more than simply a taste for different boards.

Yet in the end, whether or not one was a raffle winner, the unquestionable prize was the aloha and the camaraderie that existed amongst all the event's participants. In this game, stand up maniac or not, there are no losers.
Last modified onThursday, 27 August 2015 17:59