San Diego Surf Aglow in Bioluminescence
written by Morgan Wood
San Diegans have been treated to a natural light show in the form of bioluminescence this past week as an algal bloom has peaked off the southern California coast.
The dark waters of night-time surf are momentarily lit by the bioluminescence from phytoplankton.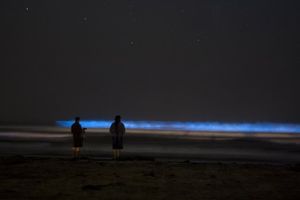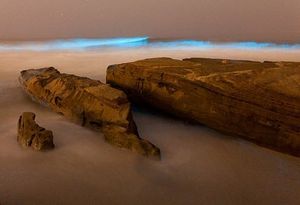 ENCINITAS, California – The red tide is peaking and the ocean water off the San Diego coastline is in full bloom with dinoflagellates. These busy phytoplankton have been turning the waters red with their sheer numbers during the day time and electric blue at night.

When disturbed, these little guys generate an eerie pale blue glow through a process known as bioluminescence, a word derived from the Greek base bio (living) and lumen (light). From the sweep of a hand in the calm waters of San Diego's many inlets to the crashing force of a wave at North-County breaks, the resulting charge of light is mesmerizing.

It is estimated that nearly 90% of deep-sea marine life produce some form of bioluminescence. But unless you have a spare Alvin lying around in your backyard, this beautiful aspect of nature often goes unobserved.

Many red tides are said to be triggered and fed by numerous factors, including both natural and human influenced. Naturally occurring coastal upwelling can contribute as well as coastal water pollution produced by humans. Remember that little power outage? Remember the resulting raw sewage spill? San Diegans, as it turns out, may have a very personal link to the recent algal bloom.

Possible causes aside, the beautiful effects of bioluminescence are impossible to deny. Many people have already flocked to the beach at night to capture this natural phenomenon on camera, submitting videos and posting pictures online.

Get to the beach before the bloom fades and post your best pictures on SUP Connect.
.
Last modified onMonday, 26 January 2015 12:29

After spending the first part of her life in Minnesota, Morgan traded in her snow boots for sandals and moved to sunny California. After graduating with a degree in Communication from The University of Southern California, she eventually made her way down south to San Diego and is taking advantage of the living by the best beaches and burritos California has to offer. If it's sunny, you can find her at the beach relaxing, or exploring the calm water in the bay via paddleboards and kayaks.
Email

This email address is being protected from spambots. You need JavaScript enabled to view it.