Record-Setting SUP Expedition to Raise Awareness of Threats to CA Coastline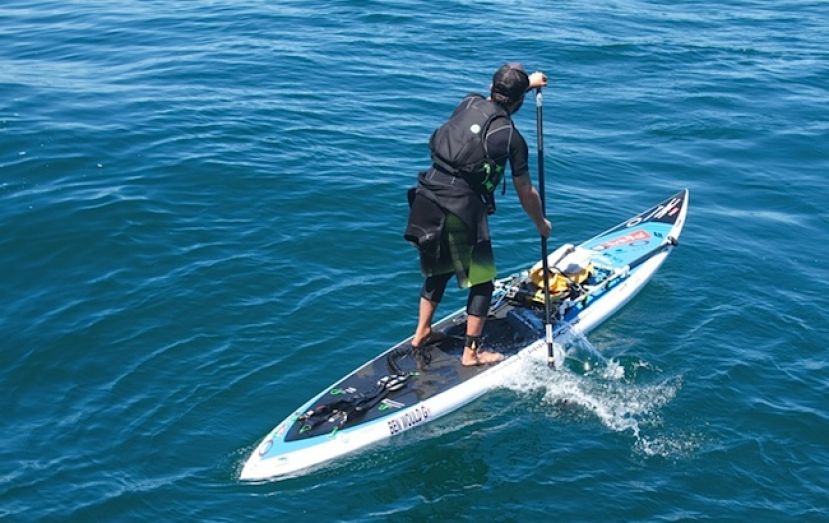 Will Schmidt during his expedition down USA's West Coast. | Photo: Supconnect
CHANNEL ISLANDS, California - Researcher Tom Holm and renowned endurance athlete Will Schmidt have begun training for a hazardous Stand Up Paddleboard (SUP) expedition which will reach each of Southern California's eight Channel Islands, consecutively, in one 300+ mile voyage. This passage, which has never been completed, begins September 2, 2017 and is meant to raise awareness of new pressures on endangered species and ancient Native American cultural sites within the Southern California Bight. The "Bight" includes the coastline from Point Conception through San Diego and the Pacific Ocean westward just beyond, and including, the Channel Islands National Marine Sanctuary.
Threats to the unique cultural and natural resources within this biosphere intensified when President Donald Trump issued an executive order in April 2017 to renew offshore oil drilling in federal waters, including those adjacent to the Channel Islands. On June 12, 2017, the Trump administration further impaired existing environmental policies by rescinding rules enacted to protect endangered whales, sea turtles and dolphin from gill-net fishing off the Southern California coast. In 1969, a massive oil spill occurred in this area, which, at that time, was the largest such disaster in United States waters. It killed thousands of marine species, damaged numerous Native American cultural sites, and still ranks as the third worse oil spill in American waters, after only the Deepwater Horizon and Exxon Valdez spills.

In May 2015, another oil spill deposited over 140,000 gallons of crude oil on Santa Barbara's shores and into its waters. As a reminder of that disaster, Holm and Schmidt will begin their voyage close to the origin of that spill at California's Point Conception. From there, they will paddle across international shipping lanes and near towering oil drilling rigs to reach the Northern Channel Islands. During the subsequent weeks, Holm and Schmidt will visit sensitive ancient coastal villages and ecosystems at each of the Channel Islands, including ports associated with the indigenous Chumash, Kizt (Gabrieleño/Tongva), and Luiseño tribes, some of which date back over 12,000 years. This expedition will culminate at an ancestral Luiseño/Juaneño village at Dana Point Harbor, sometime in mid-September.

Tom Holm, at age 53, sold his media business to fulfil a life-long ambition to study Marine Biodiversity and Conservation at Scripps Institution of Oceanography (SIO) in San Diego. At SIO, Holm earned his Master's degree (summa cum laude) and was appointed the Lead SCUBA Diver for the Scripps Center for Marine Archaeology's inaugural expedition to Greece. During his studies, Holm developed methods to use both modern science and ancient teachings of Indigenous Peoples to preserve natural and cultural resources. His research regarding San Nicolas Island (made famous in Scott O'Dell's book, Island of the Blue Dolphins) upset the exclusive archaeological establishment by including input from non-academic Native elders and cultural leaders. However, Holm's multi-cultural and interdisciplinary methods regarding this, the most remote of the Channel Islands, led to the U.S. government acknowledging cultural connections among California's indigenous islanders and mainlanders. A success of Holm's work was that, after 163 years, he found the most-like descendants of the real-life "Lone Woman of San Nicolas Island," who was immortalized in O'Dell's novel. Further, it helps enable those descendants to reclaim hundreds of human remains, which were inappropriately taken from their graves, and rebury them on their island home. This, in their beliefs, will enable the souls of their exhumed ancestors to return to heaven among the Milky Way.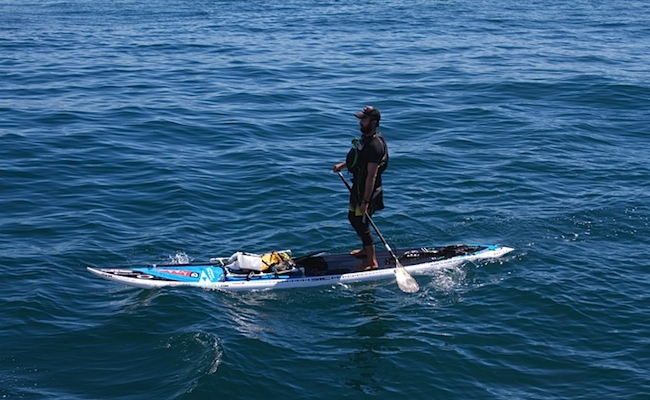 Will Schmidt off the coast of California. | Photo: Supconnect

While at SIO, Holm wrote a paper entitled, Contemplating Oceanic Trade Routes of Southern California's Indigenous Mariners. At that time, he imagined, one day, retracing some of those theorized trade routes on a SUP. The realization of attempting such passages came when SIC Maui Paddleboards and Will Schmidt offered their time, resources and expertise.

SIC's unique commitment to maritime exploration is evident in their enthusiasm for SUP expeditions worldwide. SIC's president, Anthony Scaturro offered Holm his support immediately upon hearing about his quest. "Tom's impassioned approach to use Stand Up Paddleboards to further scientific and cultural research is contagious for all the right reasons. He is finding ways to connect with our water-bound ancestors, through our common love for the ocean, to preserve not only the creatures of the sea, but those of us who depend upon them for our own survival. Tom's vision, and Will Schmidt's selfless commitment to help him, are perfect examples of how SIC Maui and our own tribe of paddlers from all cultures, age-groups and backgrounds, are all bound by water," said Scaturro.

Will Schmidt is a world-renowned SUP athlete who furthered his legend by paddling, unassisted, down America's entire West Coast from Canada to Mexico. He is the first and only person to complete such an arduous journey. Subsequently, Schmidt attempted to paddle to all of the Channel Islands, but was able to reach only the inner five islands due to extreme ocean conditions. Such a failed attempt by Schmidt reinforces the extreme difficulty of this journey. When he heard about Holm's routes to all of the Channel Islands, which are longer in distance, but leverage prevailing wind, current and swell directions, he offered to reattempt his jaunt, which, this time, will be at least 300 miles long. If successful, he will be the first person to reach all of the Channel Islands consecutively on a SUP during one voyage. Equally daunting, and remarkably selfless, he is training Holm, who is new to paddling, to complete much of this quest with him.

Holm's EcoTrek Foundation is building a custom "Eco-Expedition Vehicle" with parts made from recycled/recyclable materials and powered by biodiesel made from oceanic algae and other organic materials. It will transport the project team to training locations on the California coast, and then be used for outreach programs that encourages students to pursue advanced degrees in science, technology, engineering and math (STEM) subjects, especially those that preserve natural and cultural ocean resources.
To see more SUP news click HERE.
Last modified onWednesday, 14 June 2017 17:37

Submit your news, events, and all SUP info, so we can keep promoting and driving the great lifestyle of stand up paddling, building its community, and introducing people to healthier living.
Website: supconnect.com
Email

This email address is being protected from spambots. You need JavaScript enabled to view it.