Paws and Paddleboards at Dog Jam 2011
DogJam 2011 was held this past weekend in the Santa Cruz harbor. Organized by local SUP instructor Neil Pearlberg, the event raised money for the Santa Cruz Animal Shelter.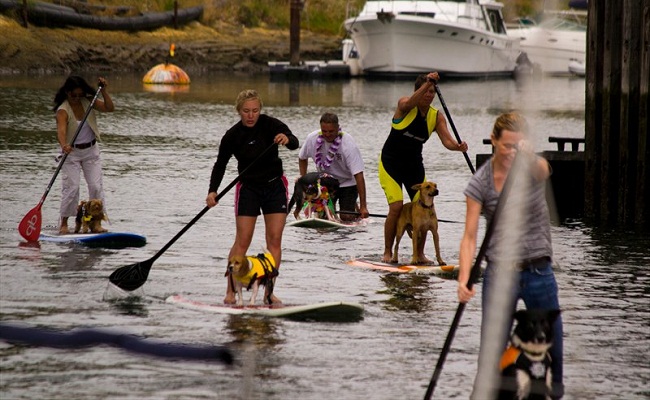 Participants in this year's DogJam dash around the Sana Cruz harbor in the 'Paddleboard and Pooch Race'. Photo: Neil Pearlberg
Check out more great photos of the event posted by Neil Pearlberg on SUP Connect.
SANTA CRUZ, California - This past weekend the second annual DogJam was held in the Santa Cruz harbor and while, at first, images of a dog-clogged highway or an ill-conceived doggie biscuit spread may come to mind, there was none of either.

The event hosted local stand up paddlers and their dogs for a day filled with races, tricks, splashes, smiles and more than a few barks. Organized by local surf and SUP instructor Neil Pearlman, the event was held this year to raise money for the Santa Cruz County Animal Shelter.

When asked how he first thought of the idea, Neil says, "I paddle board with my dog Rusty at all the breaks, big and small in Santa Cruz and people always come up to me and say that they want to do it, so I thought to myself to promote my business and raise some money for the SPCA I would have a paddle surf contest with dogs."

After realizing that a contest held in the surf of Santa Cruz may endanger the dogs (and participants) if the surf was too big, Neil says "Then one night I was watching the Westminster Dog Show on TV and the idea came to me that I could have a similar 'dog show' on SUPs in the flat water of the Santa Cruz Harbor." Now, in its second year, the event is gaining recognition in the local community and this year raised over $1,000 for the Santa Cruz Animal Shelter.

With at least six legs on each stand up paddleboard, participants competed in events such as best trick, the paddle board and pooch race, best dog and owner costume and most dogs on a SUP. This year Joanie DeNeffe, a local dog trainer, helped Neil organize and run the event.

When talking about the drive behind the DogJam, Joanie says, "Our goal is to try and bring together two different communities that have things in common," and goes on to say, "If we can reach a new part of our community and educate them about the Santa Cruz County Animal Shelter and have fun doing it we have more than succeeded."

Neil has seen the growth of SUP first hand and says, "The growth of the sport is remarkable, not just here in Santa Cruz where it will always be a surf town, but in the Bay Area it is literally growing weekly." With that growth has come interesting subdivisions and derivations on the sport; whitewater SUP, SUP surf, SUP Yoga and now…. PUP SUP, "At Lake Vasona in Los Gatos (Bay Area) where I teach SUP, I have on a weekend probably 10 people a day SUP with their dogs," comments Neil.

Without a doubt, events like this will gain in popularity as more and more people join the SUP community. Look for the DogJam again next year in Santa Cruz and for similar events in your area.
Do you SUP with your dog?
.
Last modified onWednesday, 10 August 2011 21:51

After spending the first part of her life in Minnesota, Morgan traded in her snow boots for sandals and moved to sunny California. After graduating with a degree in Communication from The University of Southern California, she eventually made her way down south to San Diego and is taking advantage of the living by the best beaches and burritos California has to offer. If it's sunny, you can find her at the beach relaxing, or exploring the calm water in the bay via paddleboards and kayaks.
Email

This email address is being protected from spambots. You need JavaScript enabled to view it.