Boardworks Sponsors Whitewater SUP Event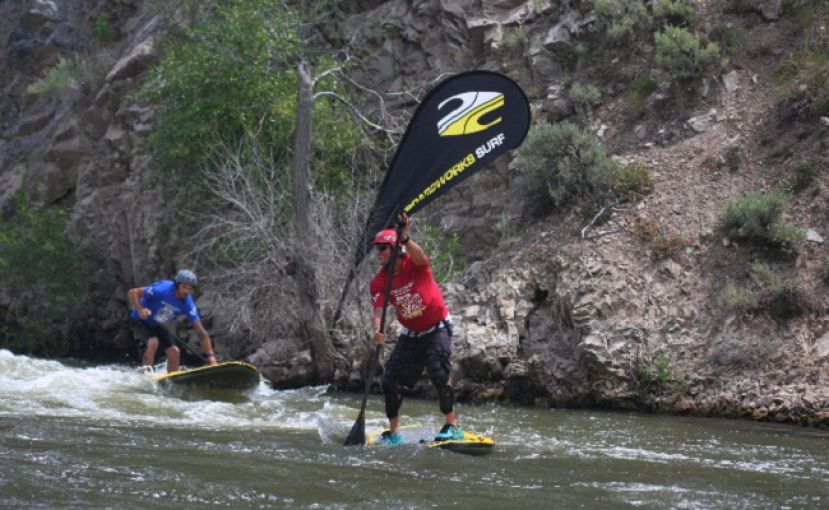 This past weekend, stand up paddle athletes tested their skill (and luck) on the Weber River in Utah using only the Boardworks Xtra-Wide SHUBU "Show Up and Blow Up" Inflatable SUP. The whitewater of the Weber River was a test to those more at home in ocean or flat water conditions.
Watch live video from the H20 Overdrive Weber River SUP Cross on SUP TV
SALT LAKE CITY, Utah - This past weekend, Boardworks sponsored the H2O Overdrive Weber River SUP cross, the first whitewater Stand Up Paddle event of its kind in Utah. This was a one-design event with all racers on identical boards, dramatically leveling the playing field and enabling the top paddlers to stand out through a short, yet demanding racecourse.

The Boardworks Xtra-Wide SHUBU "Show Up and Blow Up" Inflatable SUP was the board of choice, which enabled racers to feel confident while navigating rapids that held rocks, strong currents, and challenging moves. At the end of the day Slater Trout emerged as champion in the men's and Nikki Gregg in the women's race.

The event attracted an impressive field of athletes. Some of the strongest river and ocean SUP racers from around the world battled it out in a series of heats that lead to a grueling final round.

Some of the top Race contenders from the Whitewater realm included; Dan Gavere, known as the best whitewater SUP paddler in the world; Michael Tavares, professional whitewater paddler and newest addition to the Boardworks Team, Nick Turner of WRSI helmets, renowned whitewater paddler and SUP racer, and Boardworks' own Ryan Guay of Boulder Colorado.

Stand up paddling's top ocean racers and SUP surfers included; Slater Trout the teenage SUP phenom from Hawaii; Jay Wild of Lake Tahoe; Jim Terrell of Quick Blade; Colin McPhillips, 3 time world longboard champion and elite SUP racer; Rob Rojas of Ohana; Matt Becker of California, David Boehne, Chance Fielder and Brent Pascoe of Infinity to name a few.

The women's race brought out some top names as well as introduced some new comers to the exciting world of river racing. The field included; Nikki Gregg, SUP fitness expert and top whitewater SUP racer; the powerful Brandi Baskic, Terri Plunket and Jamie Donnely of Southern California, Kerry Stuart of Bend Oregon and Jennifer Mrovek of Salt Lake City.

The racecourse brought both clean and smooth lines, as well as a good amount of carnage for racers. The 1/4 mile course consisted of one challenging class II rapid sandwiched in between two moving water sprint sections.

Racers started the course off in heats of 4 where they sprinted back and forth across the river touching two mandatory buoys that were precariously placed in shallow sections near shore. From there, racers sprinted towards the main rapid and were forced to pick one of many lines through a fast, shallow, and slightly technical rapid.

Once the racers were through the main drop, a mandatory buoy turn was attempted in a swirling and boiling eddy on river right. Once successfully negotiating the buoy, it was an all out sprint for about 100 yards until reaching the finish line.

Some of the most exciting and crushing moments of the race came from the main rapid and the buoy turn at the bottom. Heats were won and lost, swims were taken, and an amazing spectacle of flying boards and racers were seen here at the crux of the race.

The river professionals showed an incredible amount of control through the crux moves, but had to contend with the speed and experience of top elite SUP racers in the sprints. Overall, it was a great mix of talent and racers from all disciplines put on a good show.

Being the first event of its kind in Utah, this race showed the potential for SUP racing and surfing in whitewater. With nearly unlimited access to inland rivers and lakes, SUP has proven to be one of the most fun and exciting things you can do on the water. Boardworks proved that SUP boards such as the SHUBU are the perfect tool to utilize your local rivers and broaden your SUP abilities.

The day's event brought nothing but smiling faces for both competitors and spectators alike and showcased the bright future for inland SUP. Here are the final results from H2O Overdrive Weber River SUP Cross brought to you exclusively by Boardworks.

Men

1st Place - Slater Trout
2nd Place - Michael Tavares
3rd Place - Nick Turner
4th Place - Dan Gavere

Women

1st Place - Nikki Gregg
2nd Place - Teri Plunkett
3rd Place - Kerry Stuart
4th Place - Jennifer Mrovek

A huge thanks goes out to Barrett Tester and Kelly French for all their work in organizing and running the event and to Randy Olshen from H2O Overdrive and Bob Risner of GOYA. Thanks to Dan Gavere for his help in setting the course with Ryan Guay and for providing the safety tips and Instructions. Thanks to Morgan Mason for helping plan the course. Thanks to Utah Paddle Surfing for supporting the event and special thanks to the Weber Beavers who provided safety support and to all the volunteers that helped make the day so much fun. And thank you to all who came to race!

About Boardworks Surf:
At Boardworks we are passionate about all things to do with the water lifestyle we all embrace. Our goal is to share that passion, to promote respect for the planet, it's creatures and each other and to make stand up paddle and surfing more fun for more people. Boardworks represents some of the best shapers in the world and bring their premier SUP and Surf models to the global water community manufactured with our proprietary construction technologies.

For more info go to www.boardworkssurf.com or follow us on Facebook at www.facebook.com/boardworkssurf.
Have you tried a SHUBU SUP before?
.
Last modified onTuesday, 24 March 2015 15:10

After spending the first part of her life in Minnesota, Morgan traded in her snow boots for sandals and moved to sunny California. After graduating with a degree in Communication from The University of Southern California, she eventually made her way down south to San Diego and is taking advantage of the living by the best beaches and burritos California has to offer. If it's sunny, you can find her at the beach relaxing, or exploring the calm water in the bay via paddleboards and kayaks.
Email

This email address is being protected from spambots. You need JavaScript enabled to view it.