Major SUP Events Span The World This Weekend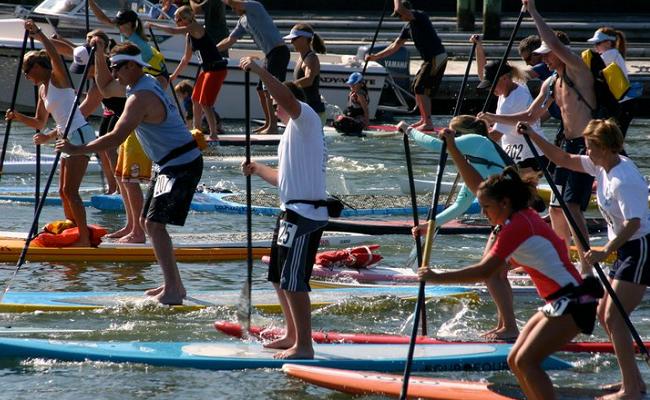 SAN DIEGO, California - If you thought the SUP season was already underway, wait until you hear what is in store for stand up paddle competitors this weekend! It is an incredible line up of events across the world. From Southern California, to North Carolina and all the way to La Torche France, this is one weekend to definitely be aware of and get involved in the action!
DAVE KALAMA, JAMIE MITCHELL, QUICKBLADE CLINIC:
Southern California will have plenty of action starting with a stand up paddle clinic with the amazing Jamie Mitchell and legendary waterman Dave Kalama. Together these two men have teamed up with Quickblade Paddles to share an in depth paddle technique clinic as well as share massive information on how to "train smarter, race faster and HAVE MORE FUN at races". The event will take place at the Newport Aquatic Center on Saturday the 28th and begins at 9am sharp! All you need to know is on the Quickblade Website.
DECADE OF DOMINANCE PREMIERE:
Following the previously mentioned clinic there will be a movie premiere titled, Decade of Dominance, about the Molokai-2-Oahu World Championship of Paddle boarding and how Jamie Mitchell was able to win an astounding 10 years in a row! It will be featured at 6:15pm Saturday the 28th of April at the Lido Theatre, 3459 Via Lido, Newport Beach, CA. Tickets are available from the Newport Beach Film Festival Website and more information is available at the Decade of Dominance Facebook Page.
PADDLE FOR HUMANITY, DANA POINT:
The west coast will also hold the Paddle for Humanity races. It all begins with a fun paddle at 4pm on Friday afternoon April 27th followed by a Pre Event Party at the Double Tree lounge in Doheny at 6pm. The party will offer a chance to spend time with 10x World Champion Jamie Mitchell, World Champion Slater Trout, BOP Champion Conner Baxter, Paddler Extraordinaire Chuck Patterson and others from the paddling world. Movie clips from Jamie Mitchell, Chuck and Slater Trout and the M2O group will be an added bonus. The racing will begin Saturday morning at 8:00 and will feature 3 main races including a Chuck Patterson rally style race followed by the awards and after party. For all the details visit the Paddle For Humanity Website.
THE CAROLINA CUP:
Moving to the East of the United States, the Carolina Cup will be another huge event this weekend. Things kick off on Friday the 27th with a stand up paddle clinic by Anthony Vela and Candice Appleby from 10:00am to 2:00pm. On Saturday morning a series of races will begin at 9:30am followed by the awards at 3:30pm and an after party at 7pm. More instruction, kids sprint races, and a clinic by Danny Ching will wrap up the incredible weekend on Sunday. All the details and schedule are found on the Carolina Cup Website.
THE STAND UP WORLD TOUR, FRANCE:
Last but not least of the major events this weekend is the start of the Stand Up World Tour in La Torche, France. From April 28th to May 6th some of the finest stand up paddlers from across the world will gather together to compete primarily in stand up paddle surfing to fight for the La Torche, France Pro Title. The schedule and details can be found on the Stand Up World Tour Website.
OTHER:
Beyond the above mentioned, there are also many more great events happening all over the globe. Some include the Funglisse SUP event in Loire Atlantique, France and the Maui to Molokai event which starts at Flemings Beach on Maui and finishes at Kaunakakai Harbor on Molokai. For details on these races please visit the Supconnect Events Page. Also, don't forget to post your sup fun, activities and photos on the Supconnect Community Page so that everyone can find a way to participate and supconnect no matter where they are.

Have a great weekend, good luck to all the competitors and most importantly share the stoke!
How many of you will attend one or more of these events?
Last modified onThursday, 26 April 2012 23:30
Email

This email address is being protected from spambots. You need JavaScript enabled to view it.