February On The North Shore With Fiona Wylde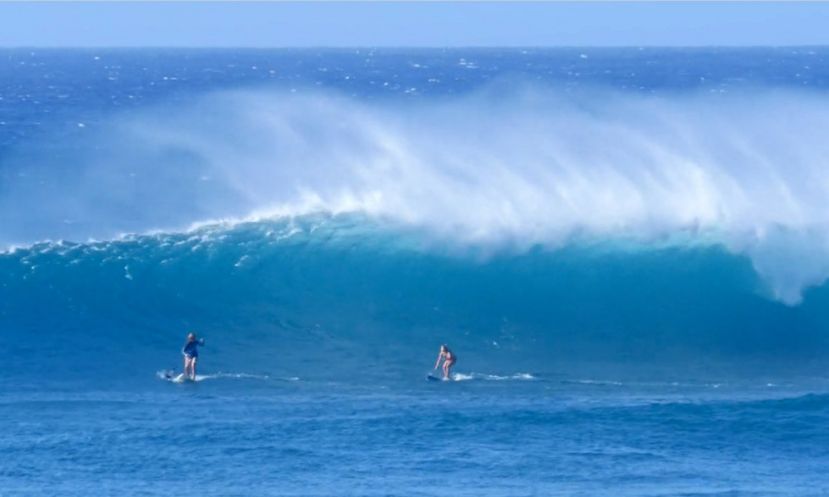 Fiona Wylde charging Sunset Beach in Feb. 2016.
OAHU, Hawaii - With the start of the 2016 Stand Up World Tour women's and men's events taking place in February on the North Shore of Oahu, SUP surfers from all over the globe gathered to take part in the annual Turtle Bay Pro and the Sunset Beach Pro. One of these surfers, Fiona Wylde, spent a good amount of time here on the North Shore in February and not only did she place second at the 2016 Turtle Bay Women's Pro behind Starboard SUP teammate Izzi Gomez, but she also was a trialist in the men's event the Sunset Beach Pro in massive double overhead plus surf.
Fiona Wylde has improved drastically in both her SUP surfing and racing in recent years and she's a double threat out on the water. With help from her sponsors Starboard and Werner Paddles, Fiona is well on her way to a long and successful career in professional stand up paddling.
Check out the video below to watch Fiona rip on the North Shore in February 2016.
To see more on Fiona Wylde, click HERE.
Last modified onTuesday, 08 March 2016 15:49

Hood River, Oregon - Fiona Wylde comes from the American capital of wind and kite surfing. So (no surprise!) she is into both of those sports. But more interestingly, she comes from one of the greatest kids SUP programs, hosted by Steve Gates, owner of Big Winds. Wylde's raw talent and discipline found a catalyst in that venue and group, catapulting her into the world stage and the top of the stand up paddle competitive scene. After graduation, she was diagnosed with Type 1 Diabetes. But that has not stopped her. Instead, Wylde is now becoming all the more of an inspiration for the millions of people who face that challenge while aiming to continue to live that outdoors athletic life.
Website: www.fionawylde.com/
Email

This email address is being protected from spambots. You need JavaScript enabled to view it.