Cape Cod Bay Challenge 2010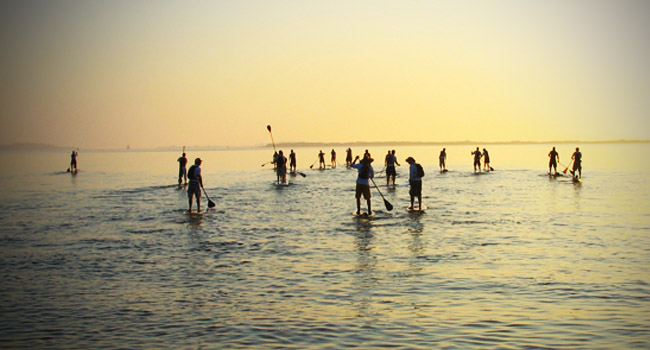 Christopher's Haven and the Cape Cod Bay Challenge board are pleased to announce the 3rd Annual Cape Cod Bay Challenge Event.  On August 14, 2010, a group of stand-up paddle surfers will make the marathon paddle across the open waters of Cape Cod Bay from Plymouth to Provincetown. The paddlers have been training for months in preparation for this event, to help kids and their families deal with their own challenge of battling cancer. Standup Paddlers from as far as California, Canada, Oregon and Hawaii are coming out to show their support for this the longest event of its kind on the east coast.
The group will launch from Plymouth harbor at approximately 5:30am and land around 3:30pm in Provincetown. You can join the celebration at the pre-party August 13th at the Cabby Shack in Plymouth with music from the Chris Fitz Band and at the after-party to be held at the Surf Club in Provincetown August 14th from 2:00pm until 5:30pm, featuring the Nate Mott Band and sponsored by Wachusett Brewing Company's RYDE Beer. Help us give the paddlers a great sendoff and welcome them when they arrive, take a chance on some amazing raffle prizes, including a new Naish 14' Glide standup paddleboard, nights at the Hyatt, Maui, great gear, artwork and more.
All proceeds from the event will benefit Christopher's Haven, a 501-c3 non-profit dedicated to helping kids and their families while they deal with cancer treatment at Boston's Mass General Hospital. Kids from around the country and world come here for specialized treatment. Insurance doesn't cover the cost a family incurs for living expenses while their child is treated, typically a 6-8 week stay. The haven is a short walk from MGH and allows up to 6 families at a time to stay in a comfortable homelike atmosphere helping to relieve some of the strain from a very difficult time. Christopher's Haven is a home for kids when cancer hits home. http://www.christophershaven.org/
For additional information regarding paddling, event details, dates, and volunteering, please contact Bob Babcock at
[email protected]
e-mail address is being protected from spam bots, you need JavaScript enabled to view it , or Mike Brown at
[email protected]
e-mail address is being protected from spam bots, you need JavaScript enabled to view it Donations can be made in a number of ways. You'll find all of them and our free downloadable event poster on our donations page.
Not online? You can send a check made out to "Christopher's Haven" to:
Christopher's Haven - 1 Emerson Place  -  Boston, MA  02114 Please be sure to include your information so we can thank you and note that your donation is in support of the Cape Cod Bay Challenge
Take a look online for more information about the CCBC and the other associated events this summer including the Challenge on the Charles, a standup race from Community Boating July 17th and the Humarock Late Summa Paddle, September 11th. http://www.capecodbaychallenge.org
Last modified onMonday, 01 November 2010 14:10
Email

This email address is being protected from spambots. You need JavaScript enabled to view it.