ISA Ramps Up SUP Coaching Initiatives Ahead of 2020 Olympics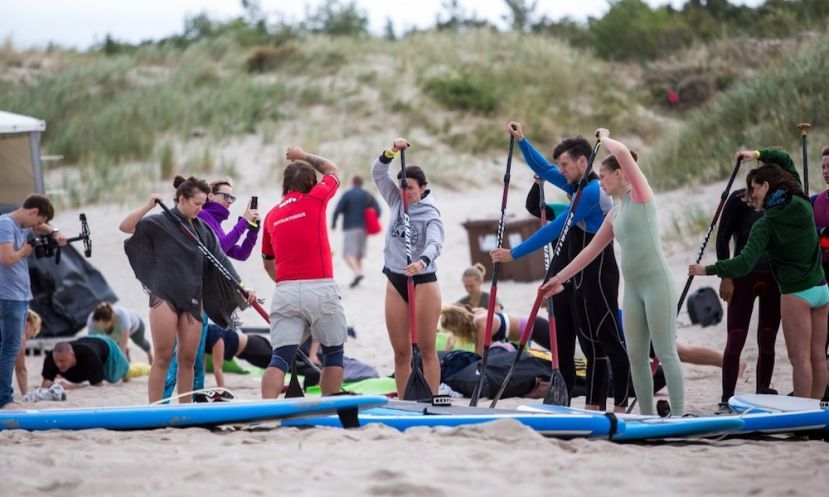 Lithuania launched a slew of ISA Educational Courses in 2017, holding an ISA Judging Course, ISA/ILS International Surf + SUP Instructor Aquatic Rescue and Safety Course, ISA Surf Level 1 Course, and ISA Flat Water SUP Instructor Course. | Photo: Lithuania Surfing Association
LA JOLLA, California - As Surfing approaches two years until its Olympic debut at the Tokyo 2020 Summer Games, the International Surfing Association (ISA) has ramped up the development of its coaching and instructing initiatives to help promote the worldwide growth of Surfing and Stand Up Paddling (SUP), particularly in non-traditional surfing nations.
In conjunction with the Surfing Federation of Sri Lanka, the International Surfing Association has been continuing with their program of delivering ISA Level 1 Instructor courses through ISA and SFSL Course Presenter Tim Jones.
The ISA saw a record number of participants take part in its Coaching and Instructing Program in 2017, with over 2,500 coaches and instructors from 65 countries involved. The landmark year boosted the ISA's total amount of certified Surfing and SUP instructors to well over 5,000 worldwide.
In particular, great strides were made in the development of SUP, with courses offered for the first time in new ISA Member Nations such as Iran (2016) and Lithuania (2015). 34 Iranians and 22 Lithuanians participated in ISA SUP Courses, highlighting the ISA's fundamental goal to introduce and develop SUP, the world's fastest growing water sport, to new territories around the globe.
For 2018, the ISA has built on this record participation and increased the course offerings and opportunities, with nearly 200 Surfing and SUP courses scheduled across all five continents of the globe.
In another landmark development in 2017, ISA and the International Lifesaving Federation (ILS) established a universally recognized, global standard water safety course and certification for Surfing and SUP coaches and instructors. In its first year this course proved to be a success – running 27 times across 17 countries for 290 instructors.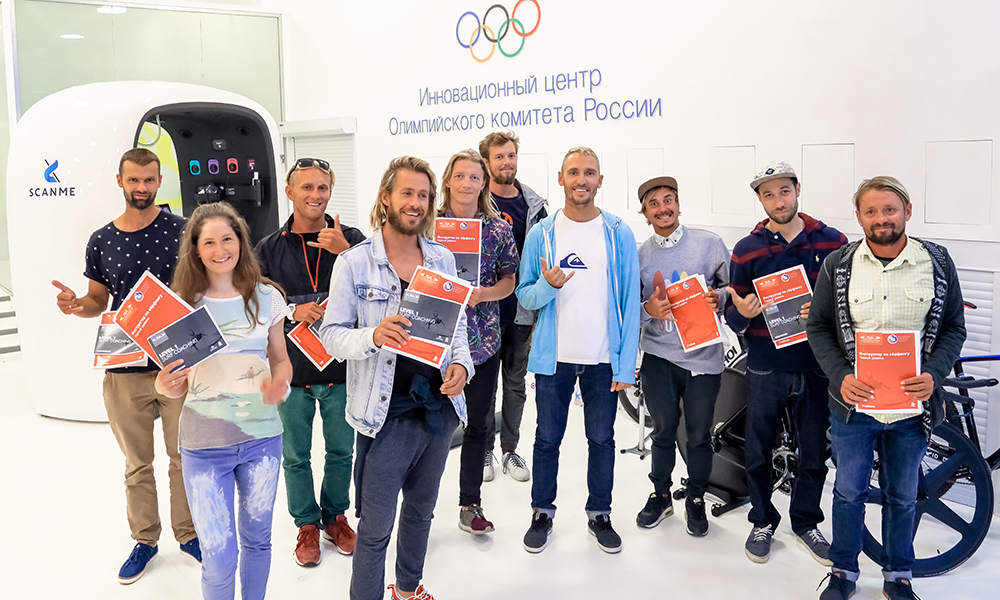 Nine Russian surf instructors participate in the first ISA Surf Level 1 Course held at the Innovation Center of the Russian Olympic Committee in 2017. | Photo: Tania Elisarieva
The ISA/ILS Water Safety Course is specific for the surf instructing environment and available for all ISA and ILS Member Federations to access. The ISA will continue pushing this water safety program in 2018 with increased courses offered across the Americas, Europe, and Asia.
On top of this, the ISA accessed the benefits of Olympic inclusion during 2017 – partnering with Olympic Solidarity – the IOC's development initiative – to foster the grass-roots growth of Surfing in non-traditional Surfing nations. Solidarity Funds were used to hold courses in Fiji, the Dominican Republic, and Guatemala, and were aimed at growing the sport on a national and regional level in collaboration with the respective countries' National Olympic Committee. The Olympic Solidarity development initiatives focus on creating increased opportunities and platforms for surfers to participate in the Olympic Games, while also promoting Olympic values and sharing knowledge of the sport.
The ISA will continue to work with its members to utilize the Olympic Solidarity program to develop the sport, with particular emphasis on Asia, Africa, Oceania, and Latin America.
The global growth of the ISA's development programs mirrors the growth of Surfing as a whole, particularly since Olympic inclusion in August of 2016. Non-traditional surfing nations such as Russia, Iran, Taiwan, and Lithuania, to name a few, have seen an increase in Surfing's popularity and as a result, more demand in ISA Courses.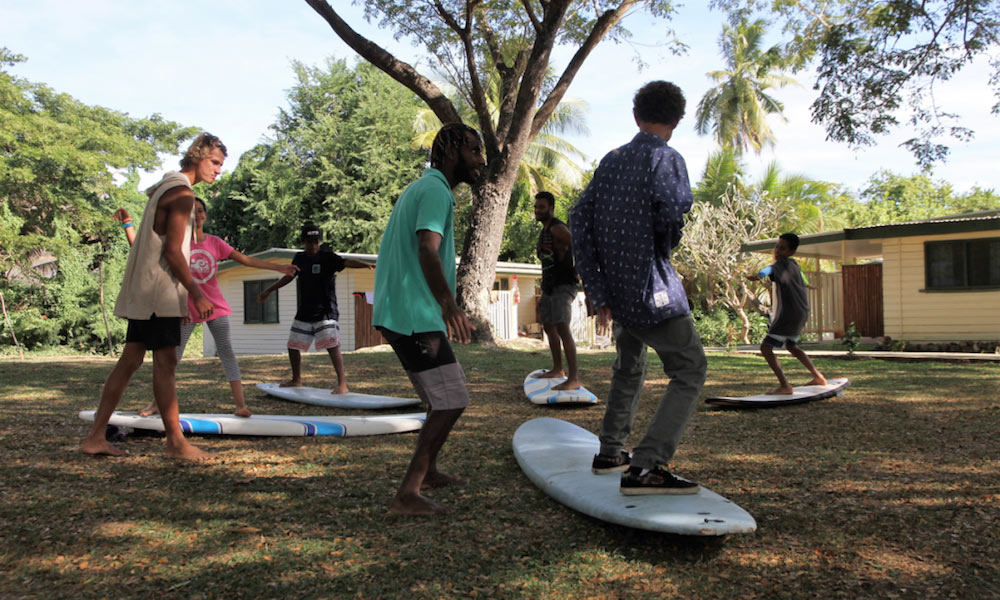 Young surfers learn their fundamentals via the ISA's first Olympic Solidarity Course in Fiji. | Photo: ISA
ISA President, Fernando Aguerre, said:
"As the driving force behind the growth and development of Surfing and SUP, it is the ISA's aim to make sure that our initiatives reach all levels of surfers around the globe. We promote surf coaching at its highest level, while also working with nations where surfing is relatively unknown to promote grassroots movements.
"Since Olympic inclusion our educational programs have experienced resounding success and are spreading the power and joy of Surfing to others around the globe. Surfing has proven to be a catalyst of social change and we are using it as a tool to make the world a better place one surfer at a time.
"Through these initiatives we are not just shaping surfers, but also potential future Olympians, who now have a dream to pursue to represent their nations as surfers on the world's greatest sporting stage."
For a full list of upcoming and past ISA Educational Courses, click here.
If you are interested in participating in or organizing an ISA Course, please contact the ISA Membership and Development Department.
About The International Surfing Association:
The International Surfing Association (ISA), founded in 1964, is recognized by the International Olympic Committee as the World Governing Authority for Surfing. The ISA governs and defines Surfing as Shortboard, Longboard & Bodyboarding, StandUp Paddle (SUP) Racing and Surfing, Bodysurfing, Wakesurfing, and all other wave riding activities on any type of waves, and on flat water using wave riding equipment. The ISA crowned its first Men's and Women's World Champions in 1964. It crowned the first Big Wave World Champion in 1965; World Junior Champion in 1980; World Kneeboard Champions in 1982; World Longboard Surfing and World Bodyboard Champions in 1988; World Tandem Surfing Champions in 2006; World Masters Champions in 2007; and World StandUp Paddle (SUP, both surfing and racing) and Paddleboard Champions in 2012.
Last modified onMonday, 09 April 2018 12:38

Submit your news, events, and all SUP info, so we can keep promoting and driving the great lifestyle of stand up paddling, building its community, and introducing people to healthier living.
Website: supconnect.com
Email

This email address is being protected from spambots. You need JavaScript enabled to view it.