Paddle Boarding Playa Danta, Costa Rica
written by and photos courtesy of Martyn Hoffmann
Playa Danta in Costa Rica Offers Multiple Opportunities for the Stand Up Paddle (SUP) Enthusiasts.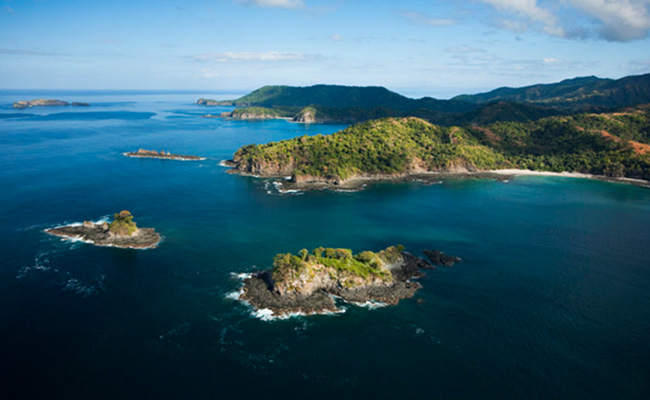 The "Catalina" Islands off Playa Danta in Costa Rica in the Guanacaste Region lays out excellent stand up paddle (sup) routes.
Join the SUP Destinations Group.
PLAYA DANTA at Las Catalinas, Costa Rica – Playa Danta in the Las Catalinas community is poised to become a pre-eminent international stand up paddle (sup) board destination. The Guanacaste coastline along the north west of Costa Rica is a dramatic and rich area that offers inspiring venues for all kinds of ocean water sports. Playa Danta is located in the heart of the Guanacaste "Gold Coast" and is particularly unique in that it is an amazingly scenic flat-water bay with near-shore islands within a one-mile paddle. (Visit Pura Vida Ride for more SUP Details in Playa Danta, Costa Rica.)
1. Highlights

---
The bay boasts three islands within a 2 mile area, and other islands in the distance that allow for compelling and exciting longer distance paddles. The wildlife off the Playa Danta coastline is unparalleled. On a typical paddle you can expect to see manta rays, schools of tropical fish, turtles, jellyfish, flying fish, and the list goes on. It is not uncommon to see dolphin and pods of whales on their migratory path.

A full outfitter shop is located 150 feet from the water's edge and includes a rental and retail store devoted to SUP and other outdoor sports. Lola's Norte, a highly popular and delicious beach front restaurant, is located adjacent to Pura Vida Ride and offers simple, fresh, and scrumptious lunches under umbrellas on the sand.

Liberia International Airport (LIR) is just 45 minutes from Playa Danta and offers daily non-stop flights to Miami, Houston, Dallas, and other destinations. Airlines serving Liberia are predominantly American Airlines via Dallas or Miami, Continental Airlines via Houston, and Delta Airlines. Various other carriers offer flights from Canada and Europe as well. (Read about Stand Up Paddle Boarding in Huasteca, Mexico.)
1. Seasons

---
Water and air temperature along this stretch of the coast are consistently around 85 degrees year round making stand up paddle or SUP board suconditions absolutely ideal. Sunrise and sunset both come early in the tropics and don't change much throughout the year. First light comes around 5:15am throughout the year and sunset comes around 6:00pm. Tides fluctuate dramatically in the tropics making tide selection and knowledge critical when looking to find surf waves or when exploring off shore reefs. A typical tide fluctuates about 10 ft between high and low.

Guanacaste has a "green" and a "gold" season. The green season begins in May with daily light and temperate rains, increasing moderately through June, July, and August and becoming torrential during September and October. The landscape during this season is lush, tropical, and breathtaking. November marks the start of the "gold" season when the rains stop and the coastline begins to dry out increasingly until April, which is the hottest and driest month of the year. During this season the landscape looks more like an African dry landscape and the hills turn "gold".

The best season to visit Playa Danta for stand up paddling is between November and February when the rains have stopped and the winds are calm. During these months we can have clear blue skies and sheet glass ocean conditions all day, and sometimes all week. In March, April, and May, we have hot, dry weather and higher winds. The winds typically kick up in the afternoon from the northwest and can cause blown out white cap conditions. Typically the morning hours from 5:00am till 10:00am still provide glassy, cooler, and first class paddle conditions. In late May the winds die and we start to get seasonal daily rains and cooler temperatures. May, June, and July also provide great paddling conditions tempered at times by storm systems and daily rain showers. September and October are the rainiest seasons of the year and are not recommended for traveling to Costa Rica. (Watch Stand up Paddle Board Surfing in Cabo San Lucas on Sup TV.)
2. Hot Spots

---
Playa Danta is an intimate bay that is protected from wind and has incredibly clear water quality with very active sea life. From the beach, stretches of the coastline largely inaccessible by car become your private adventure.


2.1. "Catalina Islands"
Paddle straight out for 1, 2, 3, or even 5 miles and visit the "Catalina" islands, small outcroppings of rock that define this stretch of the coastline. Each island is unique with its own geography, biology, and bird life. Link 2 or 3 islands for a more challenging and exciting paddle.
2.2. Cobblestone Coves
Staying closer the coastline you can paddle north and discover unvisited beaches and small cobblestone coves nestled against cliff faces. Off shore reefs and crystal clear water offer amazing game watching and snorkeling.
2.3. Punta Gorda

Three miles north of Playa Danta is Punta Gorda, one of the most western points along the coast. This dramatic stretch of coastline culminates at the point with a series of caves and a keyhole archway that can be walked through at low tide for the extra adventurous.
2.4. Secret Little Wave
Closer to shore, Playa Danta offers a secret little wave that presents itself at the right tide and swell. For those in the know, this little gem will give you a few hours of entertainment until the water gets too high or low. (Join the Destinations Group.)
3. Other Paddlers

---
The greater region of Guanacaste is amazing for Stand Up Paddlers. The city of Tamarindo is 45 minutes south of Playa Danta and is a busier more commercial alternative to the more tranquil coastline around Playa Danta. Tamarindo offers good stand up paddle board or SUP surfing opportunities and a few regular Stand Up Paddlers to connect with. The SUP community in Costa Rica is in its infancy but exploding exponentially. Tamarindo offers several rental and sales locations for Stand Up Paddlers with SUPs ranging from NSP's to some Surftech brands. The surf culture in Guanacaste is very healthy and some of the more popular surf destinations like Playa Grande and the Rivermouth in Tamarindo are not always welcoming of stand up paddle boards (SUP). Discretion is advised in these areas.

The good news is that outside of Tamarindo you can explore to your hearts content down the Nicoya Peninsula and have entire beaches and breaks to yourself. For new travellers to Costa Rica it's advisable to explore as part of a tour to maximize your exposure to out of the way spots and offshore reefs.
About Pura Vida Ride

Pura Vida Ride is a retail, rental, and guide shop located 150 feet from the waters edge at Playa Danta in the Las Catalinas community north of Potrero, Guanacaste, Costa Rica. Our shop caters to a range of outdoor and ocean sports such as mountain biking, snorkeling, kayaking, and stand up paddling. Our stand up paddle board (SUP) rental fleet is best in class and is comprised of high quality Surftech SUPs such as Laird Hamilton and Randy French lines. Our goal is to provide top quality equipment so that visitors to Costa Rica don't feel compelled to ship their own boards down and have to deal with the high cost and potential damage to their own equipment. Our rental rates are competitive and generally for a week would be about the same as the cost to ship your board down yourself. Additionally, Pura Vida Ride is establishing a recurring race series to attract regional and international SUP enthusiasts to the area and to showcase Playa Danta and Costa Rica as a SUP destination. Our next event is the Robert August Inaugural Stand Up Challenge on June 18, 2011. Come SUP with us! More information and registration can be found at www.puravidaride.com.

Guiding Links and other information:

Register for the Robert August Inaugural Stand Up Paddle Challenge
Pura Vida Ride: www.puravidaride.com
Las Catalinas Community: www.lascatalinascr.com
How to find us: see Google Map of Pura Vida Ride Location
Equipment rental options: see Rental Rates, Boards, and More
What is your experience of Costa Rica?
.
Last modified onThursday, 22 January 2015 14:58

Submit your news, events, and all SUP info, so we can keep promoting and driving the great lifestyle of stand up paddling, building its community, and introducing people to healthier living.
Website: supconnect.com
Email

This email address is being protected from spambots. You need JavaScript enabled to view it.