Paddle Boarding La Réunion, Indian Ocean
Memoirs by Denis Rey with Starboard Réunion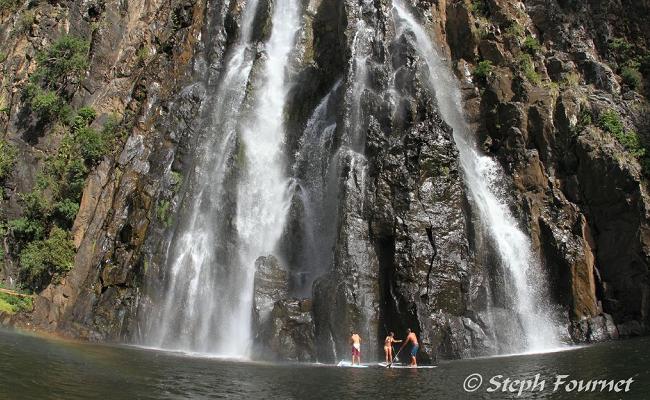 La Réunion is a French island with a population of about 800,000 located in the Indian Ocean, east of Madagascar. See more photos from La Réunion Island Here:·Album 1, Album 2
Memoirs by Denis Rey:
La Réunion Island, 21° South/ 55° East. Bourbon vanilla, volcano, and a superb SUP destination! I have been living here for 20 years.
Réunion Island has something special & mysterious to it. You can feel its constant movement and evolution in its landscapes, in the power of the elements, in its volcano and in its mixed population.
The blending here is a strong symbol. "Créolité " (French for 'creole-ness', ie interbreeding) is everywhere. Yet, I have traveled the world! On all the continents: Africa, Asia, North America, South America, Oceania… Nowhere else have I observed such a respect, a true sense of living together & an accepting of differences between people. Tolerance! This unique model, I believe, should be an inspiring model for humanity!
When I settled here in the early 90's, I had just spent a year & ½ in Hawaii. I soon saw many similarities between these islands: generous & un-subdued nature, strong ®ular waves..yes, this was the place where I wanted put my bag down! 20 years later, and after many adventures, here I am: the Starboard distributor for this region of the world. I am extremely honored to work with Sven Rasmussen whom I had met in my windsurf competition days.
In love with traveling, and above all with surfing, I started imagining a competition that could bring together all those important things : travels, friends, surf! And so I embarked on this new & long adventure : creating, conceiving & bringing to life this new event. It soon became obvious that Scott McKercher had to be part of our first "Boat Trip Challenge Wave Contest," and it did not take long before Scott said: "Yes!"
Scott's arrival:
6 am. Here he is, after a loooooooooooong trip: Tahiti, Bangkok, Réunion! Scott brought all his 'toys' in his luggage: Windsurf & SUP. He's exhausted but excited to be here. And I am so pleased to have him here. Once at home, we get our priorities right : French Breakfast & siesta! Once Scott is awake, I take him to the bottom of the garden , where lies the view on the glassy lagoon. On the coral reef, we can see the solid, clean & tidy swell, so I suggest we go for our first session on a door ("passe"): reef break, left, right, carved & tubular!
"let's go Bro," the answer comes in no time! And here we are, paddling to the spot together, straight from home…
His first session is a real dream! For me it's perfect, but, knowing where Scott just came from I say: "I like it but for you, it might not be quite as perfect as Tahiti, I guess?". He immediately replies, "Are you joking? It's even better!! Feels like we are just 3 of us sharing this perfect wave!" I then realize that we are almost in paradise. So rare & so few are those beautiful spots with near perfect waves, and almost no one on them! Scott, my son Marian & I surfed till sunset! Scott rides a prototype 8'5 pro wave de 2012! Engaged ! He starts with great 2.5 meter walls and I carry on with nice pockets. Tube air is blowing in our ears on almost every single wave. Scott is back side on his left, he impresses me with his late take-offs. He surfs every wave, his master experience at work! I observe & I inspire myself..
The following days will bring more sessions, and the occasional stroll in the lagoon: turtles, rays, fishes…the joys of SUP! After every session, each of them being rich in nice surprises, we celebrate in "family": admiring the spectacular fire red sunset with a Dodo beer in hand (Dodo: local beer). Scott is fully on board with the "Dodo Attitude"!
Another cool day:
I still have some fine tuning to do before the 1st Boat Trip Challenge, so I work every morning, while Scott finished up some articles about his previous trips. The swell is relentless in this time of the year: south swell consistently & generously brought to us by the austral winter winds. No time to get bored! You can get yourself in the water every day in la Réunion!
Competition Day:
A superb day in a very warm & relaxed atmosphere. All competitors are excited about measuring up to Scott. It's the Australian legend vs the little "Frenchies of "La Réunion!" What a memorable day, and very encouraging for me too. I can now envision the 2012 round! Against all odds, Scott ranks 2nd behind Ludo Villedieu. But results come second. Shared pleasure is the best reward for us all.
Island Tour:
Initially, Scott was to go to next door to Mauritius island but that trip was cancelled. So instead I organized an island expedition. Competition is over so we can now relax & enjoy the landscape. Priority to the waves! But a rainy episode has caused average conditions on the sea. So we turn to rivers & water falls. The nature is lush here, and it provides a priceless playground. Scott & I will be the first to explore quite a few inland spots with our SUP!
Niagara Falls un Sainte-Suzanne is in the North of the island. The cliff is 50 meter high & the pond is wide enough for several of us. One at a time, we try to resist the massive water pouring on our backs & make our way through the tiny space between the stone wall & the water fall, improvising a tube here & there… Surf is an addiction!
Water pressure from the falls is so strong that we can hardly stand still on our boards. The water is fresh & stimulating. It runs its way down the green river, through thick trees of all sorts, giant bamboos & creepers. We swim & spend the day like happy children until the sun sets, until the 'Dodo time'!
Réunion has so many of those hidden & wild spots. Takamaka valley is the 2nd most rainy spot in the world. So waterfalls are countless here. When the weather clears off, the time has come to continue our exploration. After a 40 minute walk, we reach Bassin de Grand étang, in the East. It feels like a decor from the Avatar movie! You could feel you are in Indonesia or South America but you are in La Réunion! Huge lakes at the very bottom of a stone throat, very stiff cliffs with roaring 100 meter high falls! The adventure lasted 3 weeks.
We will all keep fond memories of those magic and shared moments. Surfing has this special touch : whether wind surfers, body surfers, or SUPers, we all share a common passion. It is not easy to describe this bond. As far as I am concerned, this great family is united around a strong principle: passion for the ocean, for nature and for earth. We have lived and shared this dream. And it will not stop here.
A bientôt pour de nouvelles aventures!
Travel tips & addresses:
Starboard Réunion: ALOHA FIT CLUB Fitness center, trip & tour operator, long & short term renting; Le Copacabana: Beach restaurant & Bar, SUP rents by the day; Www.copacabana-plage.com; Le Grand bleu, Cruises & Evploration; [email protected] or www.grandbleu.re
.
Last modified onWednesday, 28 January 2015 11:08

Submit your news, events, and all SUP info, so we can keep promoting and driving the great lifestyle of stand up paddling, building its community, and introducing people to healthier living.
Website: supconnect.com
Email

This email address is being protected from spambots. You need JavaScript enabled to view it.