How to Be Safe Stand Up Paddle Surfing
Written by Rob Casey
Tips to Avoid Injuries and Confrontations that Might Come with Standup Paddle Surfing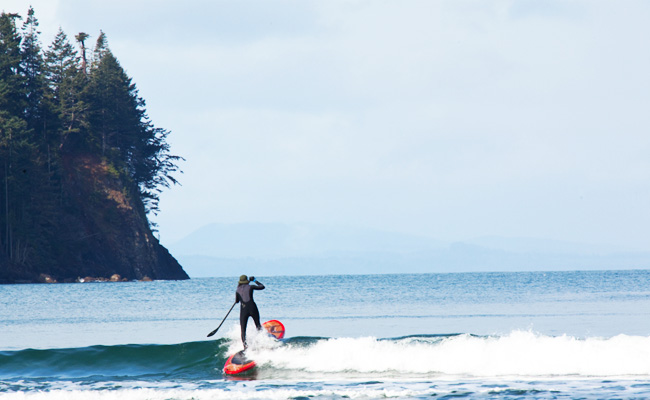 Standup Paddle surfer breaks through the waves, away from the crowd and with perfect learning conditions. Photo: Rob Casey.
As the fastest growing sport in the USA, stand up paddlers are flocking to surfing beaches often without adequate skills or training. This has created tensions between traditional surfers and SUP'ers. Overcrowding at popular beaches in Hawaii and California, such as San Onofre near San Diego, has resulted in SUP specfic surfing areas. Here are a few tips to help give you a better surfing experience:
1. Develop Strong Flat Water Skills First

---
Unskilled Paddlers Are Hazards

---
Waves and other surfers make sup surfing dangerous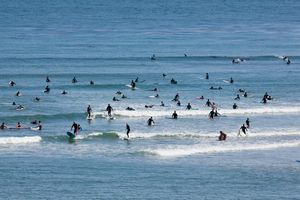 ---
Develop strong flat water paddling skills prior to entering the surf. Learn how to turn the board, stop, go sideways, and perform several turns. Practice in rough water on windy days to become comfortable in bumpy conditions. Work on your balance skills using the pivot turn. Step to the tail of your board which raises the nose. Keep your feet on both sides of the board's centerline. Squat and lean forward the further the board raises out of the water. Try to turn the board in circles without falling off.
2. Pick the Appropriate Surf Conditions

---
Move Slowly with Surf Conditions

---
Beach Breaks and Point Breaks Offer Varying Hurdles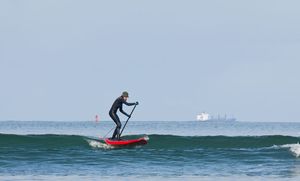 ---
Learn about different types of waves, beaches, surf rips, and how to pick good surfing conditions. Peeling, crumbling, and reform waves are best to start out on. Reform waves are those that form after a larger wave has broken and will be less crowded. Surf shops should be able tell you which beaches are best for beginners. Websites such as Magic Seaweed, Storm Surf, and Surfline can help you figure out weather forecasts, swell direction, wave period, wind speed and direction, water temperature, tides, and other important information. Wannasurf has descriptions of beaches listing hazards, pros and cons, and best conditions. Webcams can be useful in checking real time conditions.
3. Learn and Practice Surfers Etiquette

---
An Outcast by Default

---
Be ready to be frowned upon but don't be the reason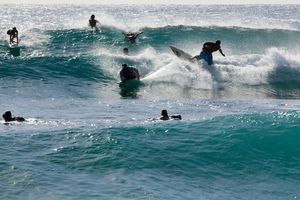 ---
Learn Surfers Etiquette. Everyone surfing any beach uses Surfer's Etiquette to prevent collisions and unnecessary tensions. Research it on the web and make sure to follow the rules when in the water. One of the most important rules is not to drop in on someone else!
4. Ride Equipment Suited for Your Skills

---
Don't Turn Fun into Funk

---
Have the board that will give you fun not status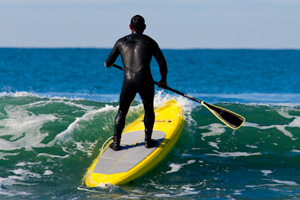 ---
Gear. Your first SUP in the surf should be 11'-12' and 30"-33" wide. You'll want the most stable board possible. Always wear a leash when surfing. Losing your board or having one out of control in a crowded area isn't a good way to make new friends. Your leash should be as long as your board or slightly shorter. Helmets protect your head from being hit by the board and paddle during a wipeout. Some prefer short paddles in the surf, others longer for power in paddling out. If you wear glasses, there are a few products that go over your glasses and others that provide a rubber-wrap-around goggle with your prescription. A good waterproof sunblock is essential on protecting your face from the sun reflecting off the water.
5. Keep Your Distance from Other Surfers

---
More Difficult to Control Board

---
Steer clear of surfers in the water to avoid collision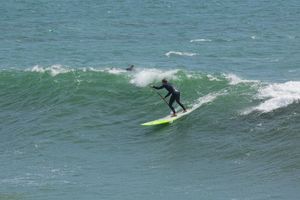 ---
Paddling Out. Until you can control your board in the surf, do not join others for a surf session. Pick an uncrowded beach and keep your distance from other surfers. Don't paddle out where others are surfing and don't enter the water where families are playing in the surf. Avoid obstacles such as rocks and pilings. Stay on the water side of your board if standing in shorebreak. A wave can push your board into you causing injury. Start with smaller waves until you feel in control enough to go larger. If it doesn't feel right, pass it and try another day. When in doubt, don't go out.

If you can't stand up, sit on your knees to paddle out. Never turn your back on the sea and always keep a watchful eye out for waves coming in and other surfers around you. If you are skilled enough to be in a line-up, sit down while waiting for waves to avoid towering over others. Start a conversation with other surfers if you feel any tension. Stay out of the line-up if you can't control your board 100%.
6. Catch Wave Only When Pathway is Clear

---
Check the Route Before Going

---
Do not drop in on a wave before looking ahead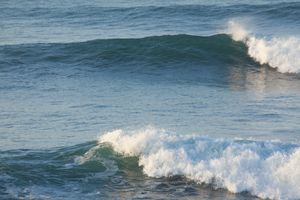 ---
Catching a Wave. When you pick a wave to catch, make sure that your route is clear. Is there anyone paddling out near you? Are other surfers wanting to catch the same wave? Much like crossing a busy street, look both ways before crossing. Don't go if it doesn't look good. There will be another wave! SUPs can catch more waves than traditional surfers, so don't be a wave hog and avoid catching waves on the outside if in a line-up. This is a sure way to irritate other surfers. Give a wave and make a friend.
7. Wipe Out Tactifully & Safely

---
Keep Board & Paddle Close

---
Avoid hitting other surfers with your sup equipment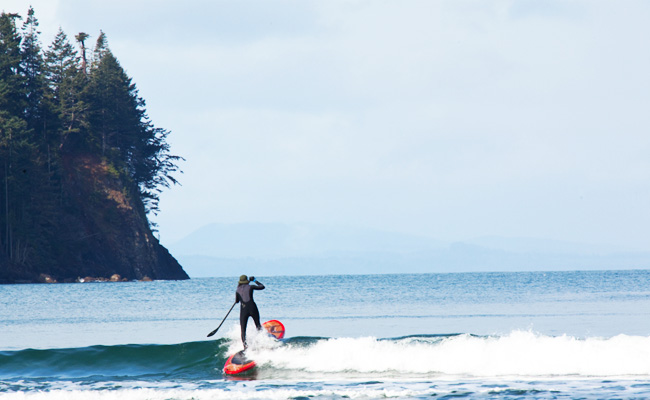 ---
Wiping Out. Never let go of your paddle! When you come to the surface after falling off your board do a visual check to see if there are more waves coming and if there's anyone around you. Flip your board over and get back on as soon as possible. If a wave is coming and you don't have time to get up on it, hold on to the handle of your paddle and the leash where it attaches to the board. Then dive under the wave allowing for your board and paddle to follow behind you. Keep that board in close so the leash doesn't fully extend out putting your board near others. A loose 12 foot board on a leash can extend 24 feet!
About Rob Casey
Seattle based Rob Casey's book "Stand Up Paddling Flat Water, Surf, and Rivers" my Mountaineers Books will be available in April 2011. The book includes interviews with Nikki Gregg, Dan Gavere, Brandi Baksic and others. Rob teaches SUP through his business Salmon Bay Paddle and reps SUPs for the Perfect Wave Surf Shop near Seattle. When not on his board, he loves to waveski and sea kayak. www.salmonbaypaddle.com Become friends with Casey on Sup Connect.
© Copyrighted & Exclusive SupConnect.com Content
Last modified onWednesday, 04 February 2015 15:37

Seattle, Washington - Rob Casey is a SUP instructor. When not instructing, Rob loves to spend his time on in SUP looking to catch fish!
Website: www.robcasey.net
Email

This email address is being protected from spambots. You need JavaScript enabled to view it.