The Fastest Man on a Paddle Board?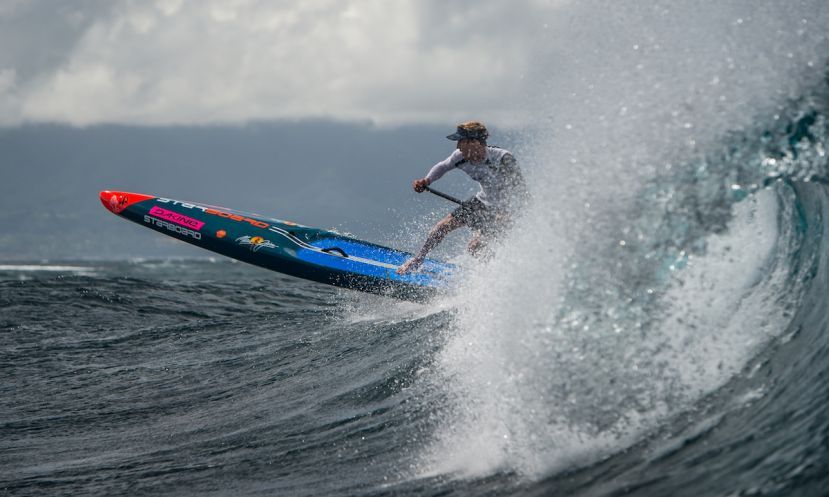 Connor Baxter racing in the waves. | Photo Courtesy: APP World Tour
Connor Baxter is making a name for himself in water sports. The twenty-two-year-old Maui-born waterman is fast becoming recognized as stand up paddle boarding's elite male athlete, owning an impressive list of first-place finishes, including winning the overall 2016 APP World Tour title.
MAUI, Hawaii - Connor Baxter is making a name for himself in water sports. The twenty-two-year-old Maui-born waterman is fast becoming recognized as stand up paddle boarding's elite male athlete, owning an impressive list of first-place finishes, including winning the overall 2016 APP World Tour title.
In 2017, the pressure to remain on top has increased. The surge in popularity of stand up paddle boarding has brought with it a great swell of talent, talent that is now paddling hungrily after the Champion and constantly raising the bar of competition. We caught up with Connor before he kicks off his 2017 season to learn more about his passion for paddle boarding, his motivation to be the best in the world, and his thoughts on this year's APP World Tour.
Connor grew up in and around the Pacific Ocean waves. Born to water sport athletes, at the age of eight he entered competitions in surfing and windsurfing – sports which nurtured the athletic ability and tactical mindset that serve him so well. Paddle boarding for the first time at age eleven, it wasn't until he first tasted competition at fourteen that Connor really embraced the sport, winning the inaugural 2010 Maui2Molokai. It's a race that he has never lost.
"Winning my first race really gave me that stoke," Connor remembers. "I beat a couple of older guys and took home a bit of prize money which is always nice. Paddle boarding has been a passion of mine ever since and I've been training super hard and traveling the world because of it."
Photo: (L) Connor (center) battling with Kai Lenny and Casper Steinfath for the lead during the Red Bull Heavy Water Event. / (R) Connor coming in for the win in Germany. | Photos Courtesy: Waterman Leage
Connor's 2016 season was packed full of big races (eighteen in total throughout the year). Although supported by his sponsor, Starboard, the traveling involved with so many competitions can be exhausting. "It's the most challenging thing," Connor explains. "At home the routine is great – you can eat your normal breakfast, sleep in your own bed, and have a solid day of training. Traveling breaks that all up, so it can be pretty tough to stay on form."
Maintaining form is challenging for any elite athlete, not least one who spends most of the year touring the world and living out of a suitcase. Self-discipline is essential to success, and Connor has it in abundance. He is part of a generation that embraces the general trend of health and wellbeing, using the wealth of information on offer to great effect.
Connor Baxter. Photographed by Georgia Schofield (left) and John Carter (right).
Connor realizes his consistent performances rest on two core principles: the right diet and keeping fit. "It's hard to keep fit on the water when traveling," he admits. "I do a lot of core foundation training and calisthenics. Oh, and a lot of running – you can run anywhere. When I'm at home, I'll mix up my paddle boarding with swimming and cycling to give my joints a rest."
Connor feeds his intensely active lifestyle with what he likes to call 'premium fuel.' "I keep a pretty strict diet," he says. "I eat three meals a day consisting mainly of protein, vegetables and high-quality grains like quinoa and sorghum. I also try to cut out bread and gluten. Again, this is something that's hard to maintain on the road, but when I'm home I'm usually good about my food."

A good diet and attitude he must have, as the talent rising from the ranks in professional paddle boarding is putting more and more pressure on the World Champion to stay in peak condition and on top of the roster. Rivalry is fierce to be ranked among the top twenty paddle boarders in 2017, as demonstrated by the number of immensely capable athletes on the APP World Tour.
But is Connor feeling the pressure?
"It's getting harder to maintain a peak level across all events," he says. "If you look at the competition now, Casper [Steinfath] is winning a lot of the sprints and Michael [Booth] is winning a lot of the long distance. All the competition is really focused and training hard, which at the end of the day is great for the sport, but definitely harder for me!"
The growing number of competitors suggests that professional paddle boarding is slowly but surely pushing itself in front of a bigger audience. Having been involved in the sport since its infancy, Connor appreciates more than most how far it has come in recent years.
"The sport is growing every year," he says. "More people are wanting to watch it and try it; the competitors are out there, and the bar keeps being raised." Connor certainly isn't wary of dreaming big for paddle boarding. "I see the sport continuing to grow and hopefully one day it will be part of the Olympics."
It might be a dream to represent the USA at the biggest sporting event in the world, but thanks to the efforts of many within the paddle boarding community, especially those at the APP, that dream may eventually become a reality. The APP and other big-time event organizers are providing fantastic platforms for athletes like Connor to go out and make a name for themselves, and the 2016 Champion is looking to repay these efforts.
Connor at home on Maui. | Photo: Starboard / Georgia Schofield
"My main focus this year is definitely the APP World Tour," Connor states. "The 2017 stops look insane and it's great to see the places that worked so well last year, like Germany and Maui, are still on the schedule. I'd love to retain the overall title."
It's going to be another year of hard work for him, as the 2017 APP World Tour alone has eight stops. It looks like the challenging routine of traveling will have to be met head-on yet again!
In sport, the harder you work the greater the reward, and it's clear what reward Connor seeks. "I want to make a name for myself, like Laird Hamilton," he smiles. "When I was a kid, my Dad saw Laird on a paddle board doing lengths up and down Baldwin Beach Park on Maui's North Shore. Even back then, my Dad said, 'That's going to be the sport'."
As Connor keeps pushing himself to victory in 2017 and beyond, one thing is certain: the boy from Maui is well on track to one day being recognized among elite watermen like Laird Hamilton. But Connor is quick to add that this goal should never compromise the one piece of advice by which he tries to live: "Always have fun, and never give up."
To see more news and info on the APP World Tour click HERE.
Last modified onFriday, 03 March 2017 11:32

Submit your news, events, and all SUP info, so we can keep promoting and driving the great lifestyle of stand up paddling, building its community, and introducing people to healthier living.
Website: supconnect.com
Email

This email address is being protected from spambots. You need JavaScript enabled to view it.